Ducks first-round notes: Core leadership shows in Game 1
April 17, 2015

When Ryan Getzlaf and Corey Perry won their Stanley Cup with Anaheim, it wasn't yet their team. It was still Teemu Selanne and Scott Neidermayer's team. Maybe Chris Pronger's, too.
It's been trending in the direction of the two top-liners for quite some time now. Getzlaf has been the captain since 2010 and Selanne and Saku Koivu were the final old guard veterans to depart, doing so after last season. After the Ducks' Game 1 victory over Winnipeg in the opening round of the Stanley Cup Playoffs Thursday night, it's clear that this team now goes the way of the Twins.
"They've been doing it for years," said defenseman Francois Beauchemin, another longtime mainstay and an alternate captain along with Perry. "That's what we try to do as older guys, to try to show the younger guys. Leading by example. Working hard. When they produce like they did last night, it's just a great example of that."
But in addition to Beauchemin, there's a fourth person in that core leadership group now, in center Ryan Kesler. 
Considering Kesler once was a Pacific Division foe as the captain in Vancouver, this was a group that no one would have envisioned but only because no one ever knew if they could get along. Perry, one of the peskiest players in the league, feuded often with Kesler, an exceptionally fiery and intense competitor.
But now that they're both in Anaheim, they were shocked to learn a thing or two about one another.
"Corey's a good guy. That's one thing I didn't know," Kesler said. "He's a really good guy. This whole team, we're a close group in here and it's a great locker room. Those two, for example, they're really good dudes."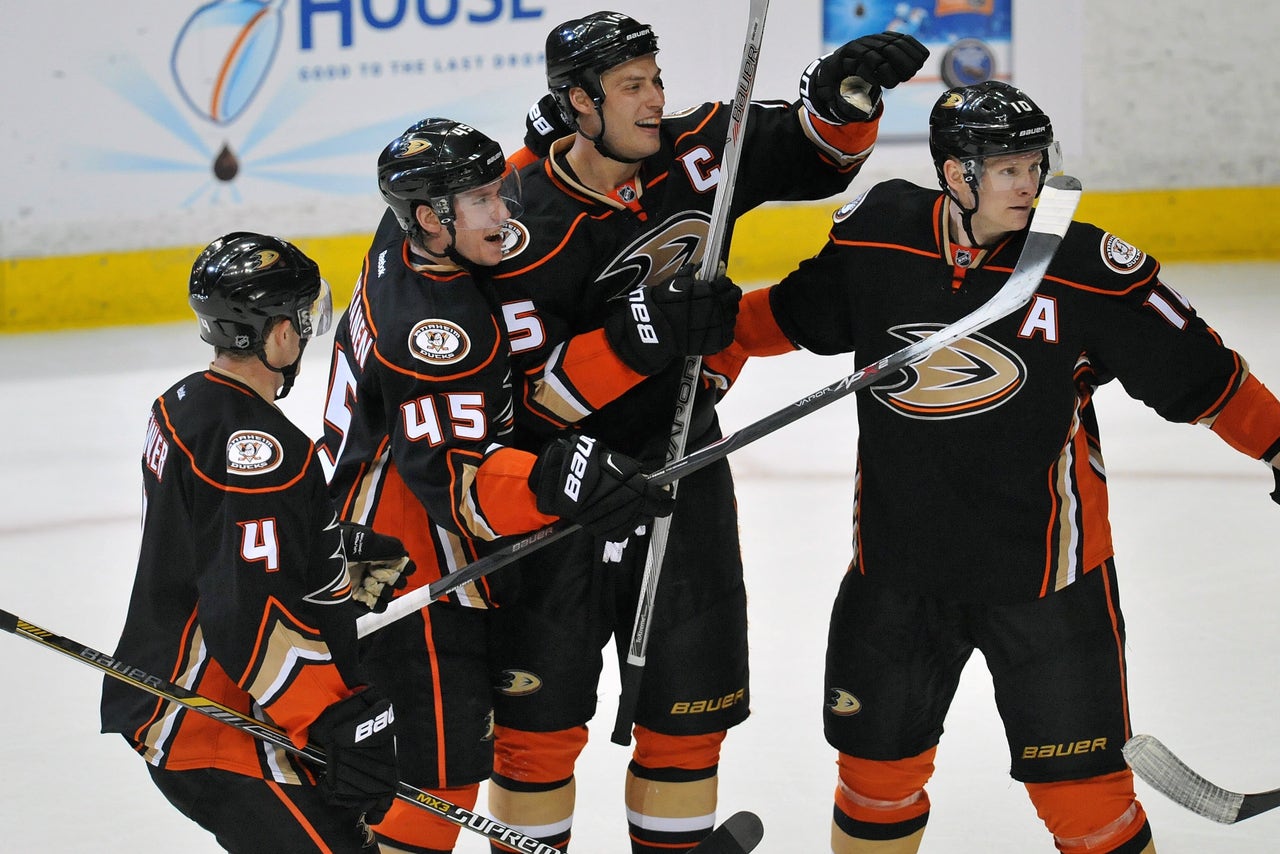 Getzlaf, Perry bail out Ducks in key Game 1 win over Jets
Kesler says the two have since smoothed things over, with the help of a few beers, and he now admires the leadership qualities of both Perry and Getzlaf. 
"Obviously Corey with his goal scoring, finds the way to net, just across the goal line. He's a special player that way," Kesler said. "And Getzy, he talks the talk in the locker room, but he goes out and he's leading by example out there. That's why he's such a great leader."
Familiar Foes
All week, the Ducks have been asked what team the Jets most remind them of. Nearly the entire dressing room has had the same answer: Their Freeway Faceoff rivals in Los Angeles.
"How we've played against L.A. is how we're going to need to play against Winnipeg," said winger Andrew Cogliano. "L.A. makes you work for everything and I think we figured out pretty quickly that Winnipeg is the same team. They make you work for chances and they make you work for opportunities and you're not going to get anything easy. So, in order to win, you have to earn it."
Tim Jackman even went as far as to say that the atmosphere of the Freeway Faceoff games mirrors the atmosphere of playoff games. Between similar systems and personnel, he felt as though they were playing the Kings at times on Thursday night.
"We've had some really high intensity games this year against the Kings," he said. "It's as close to playoff hockey as I've experienced. I won't say that it was like so far ahead of playing against the Kings, because there's shifts against the Kings where there's no puck out there and guys are just running around trying to hit each other. It was similar at times last night."
Anaheim went 4-0-1 against the L.A. Kings this year, and the Ducks plan to use similar game planning and a similar mindset against the Jets.
Ducks' Jackman feeling 'really good' about first NHL playoff series
"I think at the end of the day, they're very similar teams. And we've played really good against L.A.," Cogliano said. "I think you need to have that compete-and-battle mentality against them, like we have against L.A."
Ballerinas on Blast
Ducks coach Bruce Boudreau had ballerinas up in arms Friday morning. When the topic of physical play came up, Boudreau said, "I don't think Winnipeg or us is going to turn into a bunch of ballerinas and play that kind of game."
Boudreau unknowingly upset ballerinas everywhere, who thought he was insulting them by calling them weak. After the recorders and cameras were turned off and Boudreau was informed that he had offended several dancers on Twitter, he insisted he meant no harm, not equating ballet to weakness, but to gracefulness, something that two teams out for one another's heads on the ice don't display much of. 
---