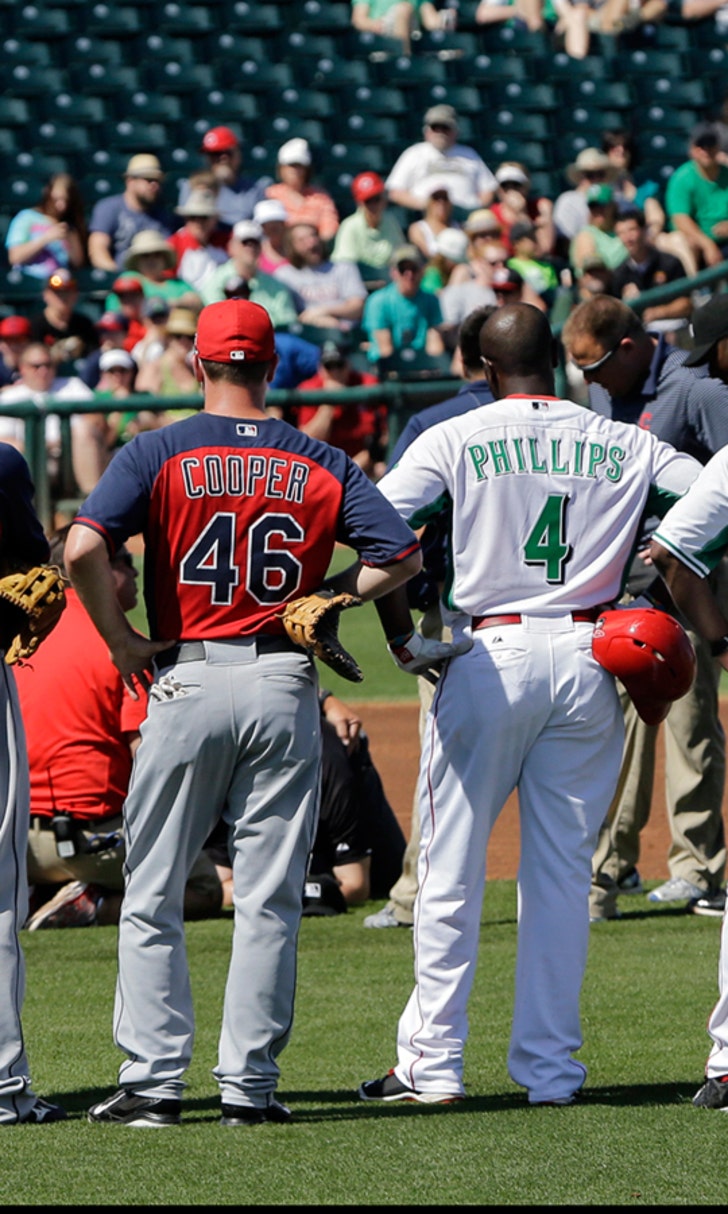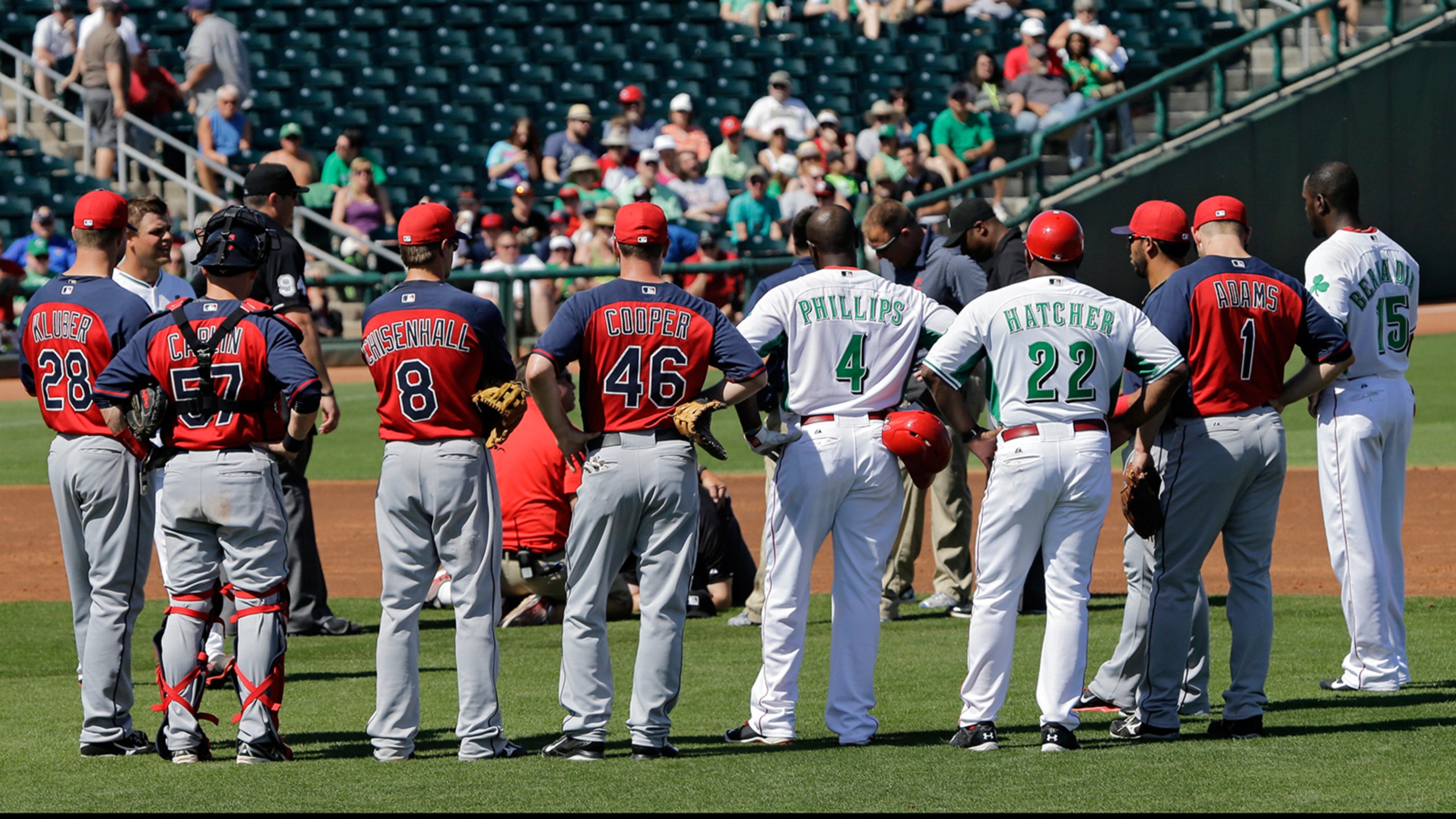 Despite a very strange Indians loss, Kluber emerges as bright spot
BY foxsports • March 17, 2014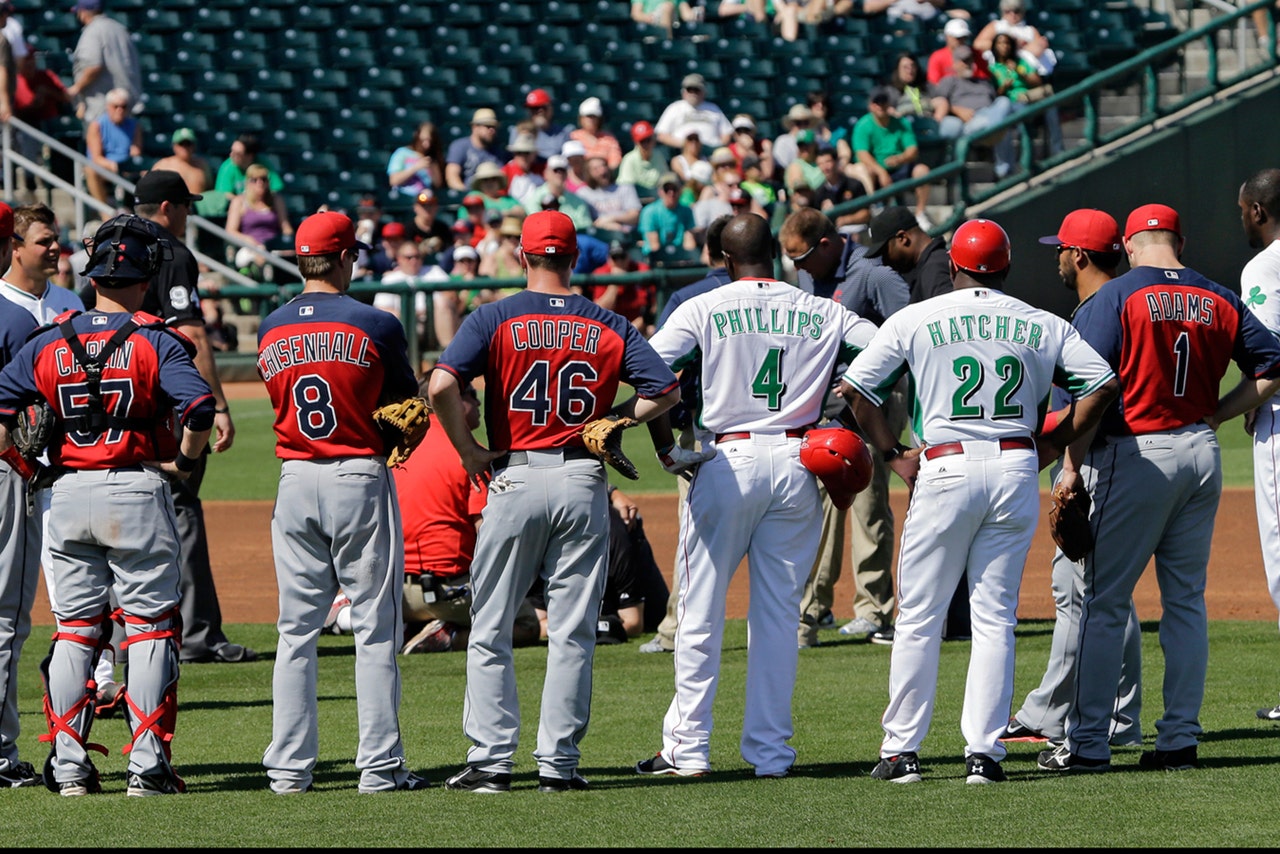 GOODYEAR, Ariz. -- There are some spring training games that have a little bit of everything. And then there was Monday's Cactus League encounter between the Indians and Reds at Goodyear Ballpark.
Between two umpires getting hit in unfortunate places, a replay reversal and bats flying all over the place, Cincinnati scored twice in the bottom of the ninth to rally for a 5-4 win after Cleveland broke a 3-3 tie to take the lead in the top of the frame.
Even the game-ending play was far from routine. Steven Selsky doubled to left but Indians outfielder Tyler Holt slipped in the corner as he was trying to field it. Argenis Diaz had already scored the tying run but the fall by Holt allowed Ramon Santiago to come home with the winning run.
Holt was carted off after the game. Manager Terry Francona said that Holt might have tweaked something with his neck and that he got the wind knocked out of him.
Tony Wolters had given the Tribe a 4-3 lead earlier in the inning with an RBI single following a pair of walks by Jumbo Diaz.
KLUBER EFFECTIVE: Corey Kluber pitched well for 3 1/3 innings but he did encounter some trouble in the second when he gave up three runs and five hits (three were for extra bases). He also hit a batter as the Reds sent nine to the plate.
It is the second-straight start where the right-hander has given up three runs, but Kluber said he feels like he is right where he needs to be.
"Now is the time to kind of start locking in for me at least. I have to go out there and consistently execute my pitches," he said. "I'm doing what I need to in order to be in the best position when the season starts."
Kluber has already been penciled in as the Tribe's starter April 1 at Oakland, which is the second game of the season.
The thing that pleased Francona is how Kluber responded in the third and fourth innings. Kluber got the side in order in the third on six pitches and then threw seven in the fourth. Zack Cozart reached on a fielding error but Devin Mesoraco grounded into a double play.
Said Francona: "In a spring training game you can hang your hat on that. Because it was a long second inning you wonder if you take him out but then you get deep enough where it is a productive outing.
"I think he looks real good. He has such late action on all of his pitches that he's aggressive. I think the more he pitches, the more people are going to realize how good he is."
Kluber ended up pitching 4 1/3 innings. Besides giving up three runs, he also allowed seven hits while striking out five, walking two and hitting a batter.
SWISHER HEATING UP: Nick Swisher hit his second home run in as many days. His solo shot down the right-field line off Mike Leake in the fourth got the Indians on the board. Lonnie Chisenhall had an RBI triple in the seventh and then scored on Mike Aviles' sacrifice fly to tie it at three.
"We said it a couple weeks ago, as guys start to play in back-to-back games and they string some at-bats together you will start to see them get their timing together," Francona said.
REPLAY DEMONSTRATION: The Indians saw what life with instant replay is like during the fifth inning. Brandon Phillips was called out at third on an attempted steal but Reds manager Bryan Price challenged it. A view from a camera in the first-base dugout showed that Phillips beat the tag and the play was reversed.
Francona agreed with the call and said had that been one of his players trying to steal, he would have challenged it too. Francona said that he would have challenged the play at the plate with Chisenhall had Reds catcher Corky Miller not dropped the ball as he was attempting the tag.
LONE NIGHT: The Indians only night game of the spring is Tuesday against the Giants in Goodyear. First pitch is at 10:05 p.m. EDT.
---