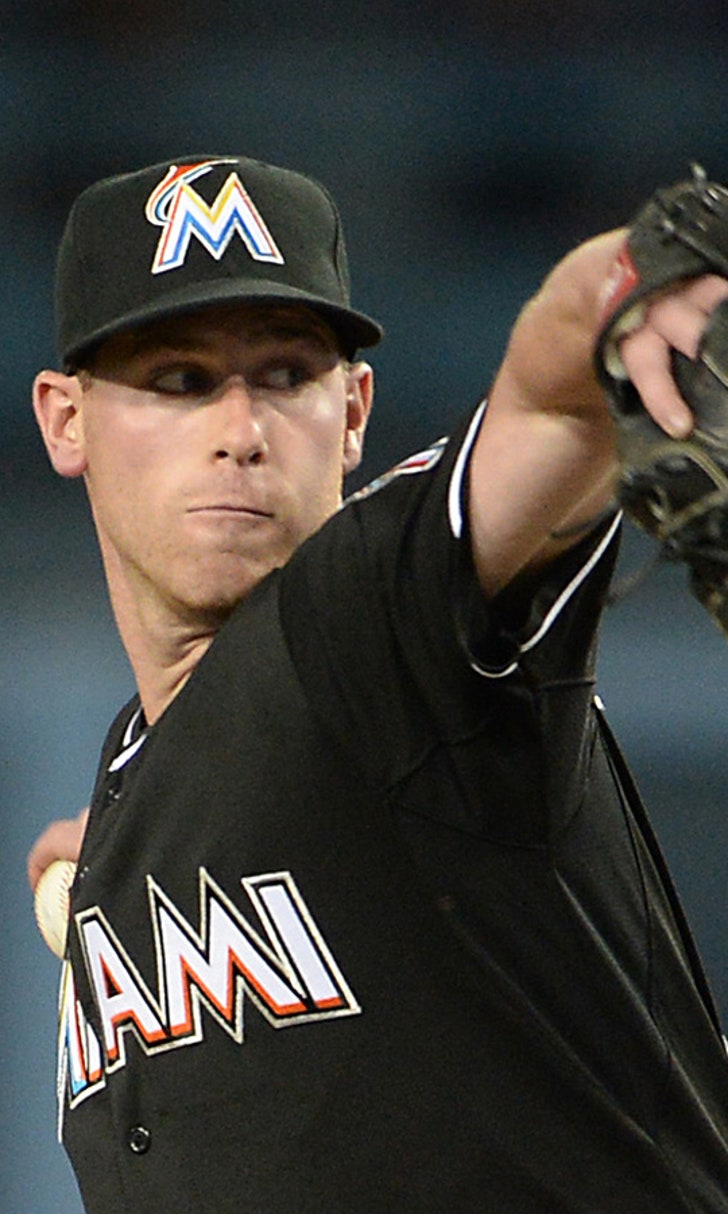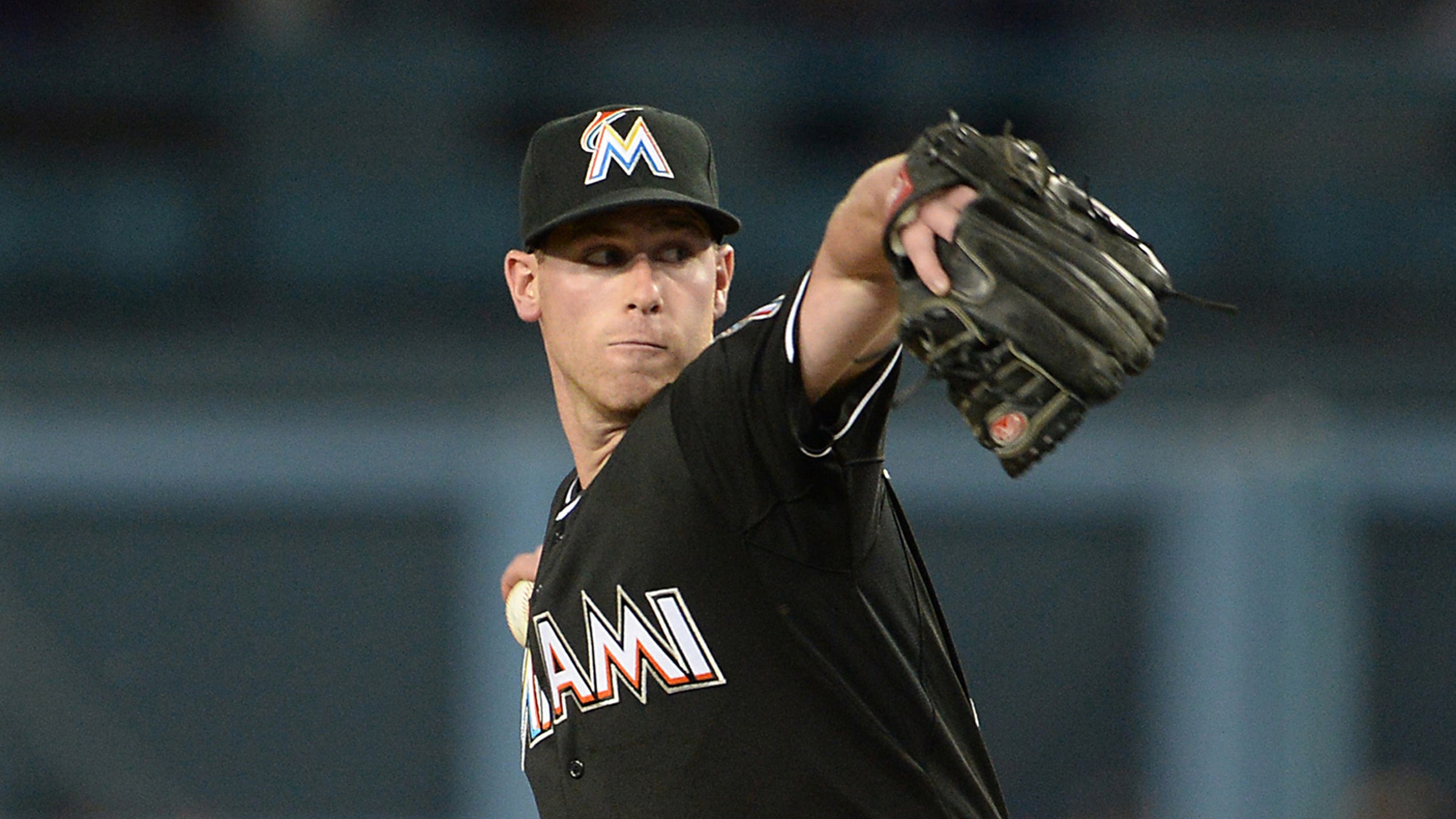 DeSclafani overcomes nerves, shows poise in winning Marlins debut
BY foxsports • May 15, 2014
LOS ANGELES -- Wednesday's series finale at Dodger Stadium was supposed to be Marlins ace Jose Fernandez's start. That changed two days ago upon the news of the ligament tear in his right elbow.
Instead, right-hander Anthony DeSclafani got called up from Double-A Jacksonville to replace him -- at least for a game --€" in his major-league debut.
With family members and friends from New Jersey in the stands, DeSclafani recorded a quality start and received a barrage of run support in a 13-3 victory over the Dodgers.
Miami (21-20) had lost five in a row on its current 11-game road trip, seeking any sort of sign that things would head back in the right direction.
DeSclafani (1-0) provided it by allowing just two runs over six innings, scattering seven hits with a walk and seven strikeouts. Of his 93 pitches, 66 went for strikes. Four of the final six batters he retired were via the strikeout.
"It's such an unreal moment," said DeSclafani, who traveled to California for just the second time. "I can't believe I got the win, can't believe I'm in L.A. pitching against the Dodgers. It still hasn't hit me."
Yasiel Puig drove in Los Angeles' first run in the fifth on an RBI double, scoring pinch-hitter Juan Uribe who opened the frame with a two-base hit. Carl Crawford blasted a one-out solo homer to right in the sixth for the only other run off DeSclafani.
The 24-year-old became the ninth Marlin to start and win his debut, and the first since Adalberto Mendez on Sept. 6, 2010. He set the tone early with a scoreless first by working out of a jam.
Dee Gordon, a thorn in the club's side this season, failed to reach on a bunt to lead off the inning. After Puig walked, DeSclafani caught Hanley Ramirez looking on an 80-mph slider. Adrian Gonzalez singled, but Andre Ethier flied out to left to end the threat.
"In spring training you get to know those guys and you work with them even if it's for an inning or a couple of innings," catcher Jeff Mathis said. "You learn a lot about a guy going through situations, but as soon as I saw him out there get through that first inning I think a couple of guys had gotten on and he continued to make his pitches, didn't get too excited. I was impressed by that."
The Marlins responded with a six-run second to hand DeSclafani all the support he would need.
Reed Johnson and Garrett Jones opened with singles before Adeiny Hechavarria flied out. Mathis singled to load the bases. Gordon booted DeSclafani's grounder on a would-be double play, allowing two to score. Christian Yelich hit a sacrifice fly and Ed Lucas homered to drive in a pair. Jeff Baker capped the frame's scoring with an RBI single.
Miami tacked on another six in the fourth on a pair of two-run long balls by Johnson and Mathis, a double play and Hechavarria's RBI single.
During the five-game skid, the Marlins scored just 14 runs. They blasted three dingers for the third time this season.
The offensive production did wonders for DeSclafani's demeanor. He admitted to being nervous ever since learning from Suns manager Andy Barkett that he would be heading up to the majors. He remembers taking a big gulp and the inability to breathe.
"I was nervous, really anxious sitting in the dugout waiting to go out and pitch," DeSclafani said. "I got on the mound and the first few fastballs were up. 'Alright, I've got to calm down and stay within myself and try to pound the strike zone.' Once I got the first out settled down a little bit. Once I got through the first inning it felt like any other regular game."
Now comes the tough decision the club must make.
Hours earlier, the Marlins signed veteran southpaw Randy Wolf in a possible long-term solution for the final spot in the rotation. Wolf came in for DeSclafani in the seventh, earning his first career save in his 15th big-league season with one run given up over three frames.
Prior to the game, president of baseball operations Michael Hill said Wolf's role with the club was to be determined. How that spot in the Marlins staff played out would be reassessed following Wednesday's outcome.
"He's in the rotation right now," manager Mike Redmond said when asked if DeSclafani would get another start. "I think he did a pretty good job."
As one of the organization's top prospects acquired in the November 2012 blockbuster trade with Toronto, DeSclafani did his job without the certainty he would remain in California with the team.
"Dreaming as a kid -- you get the call-up and make your debut -- you picture yourself doing pretty well," DeSclafani said. "It was cool to throw the way I did. Just get the win and got the Marlins a win. Had great defense and offense. It was an awesome night.
You can follow Christina De Nicola on Twitter @CDeNicola13 or email her at cdenicola13@gmail.com.
---