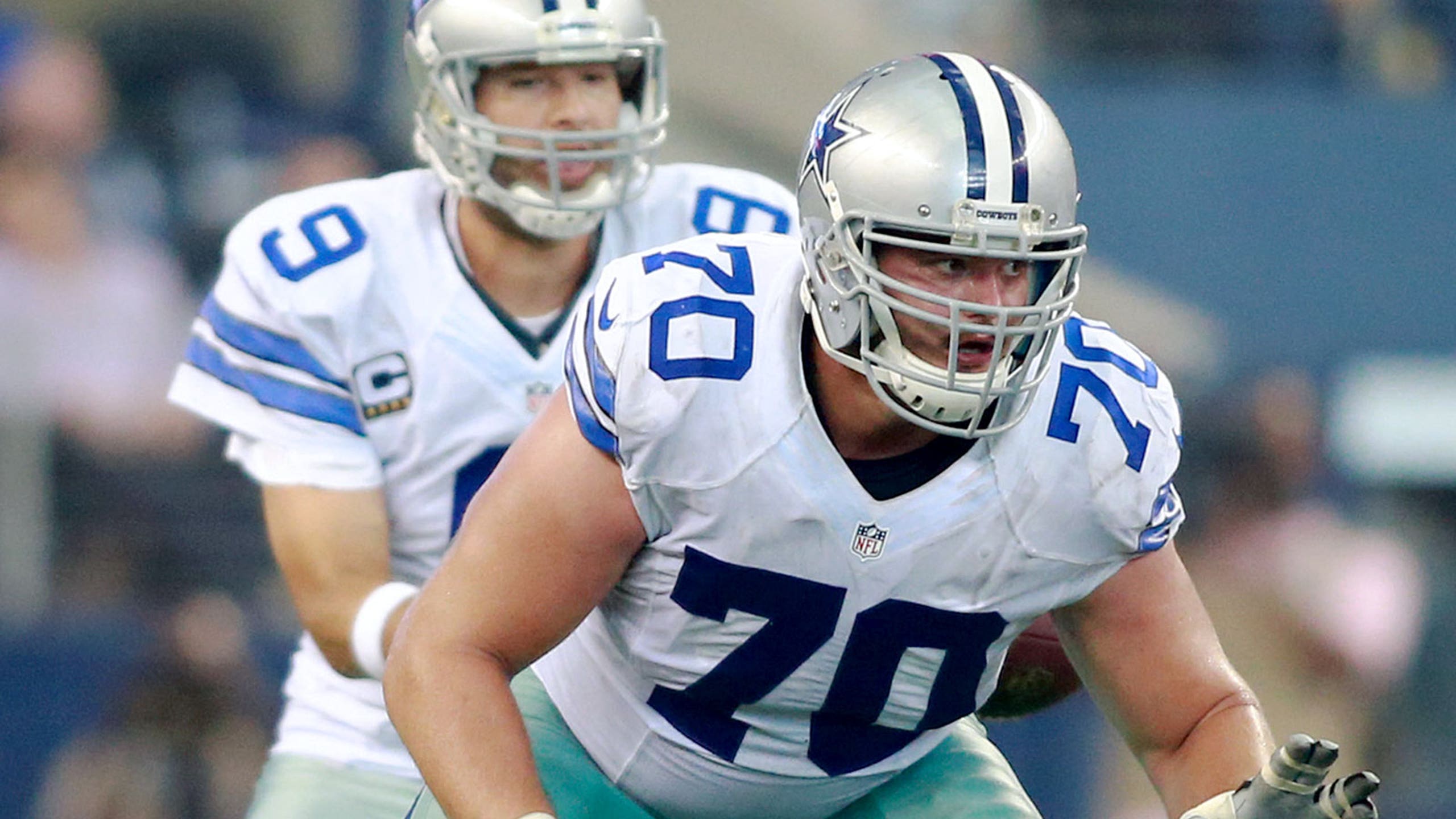 Cowboys' offseason outlook: Offensive line
BY foxsports • February 9, 2015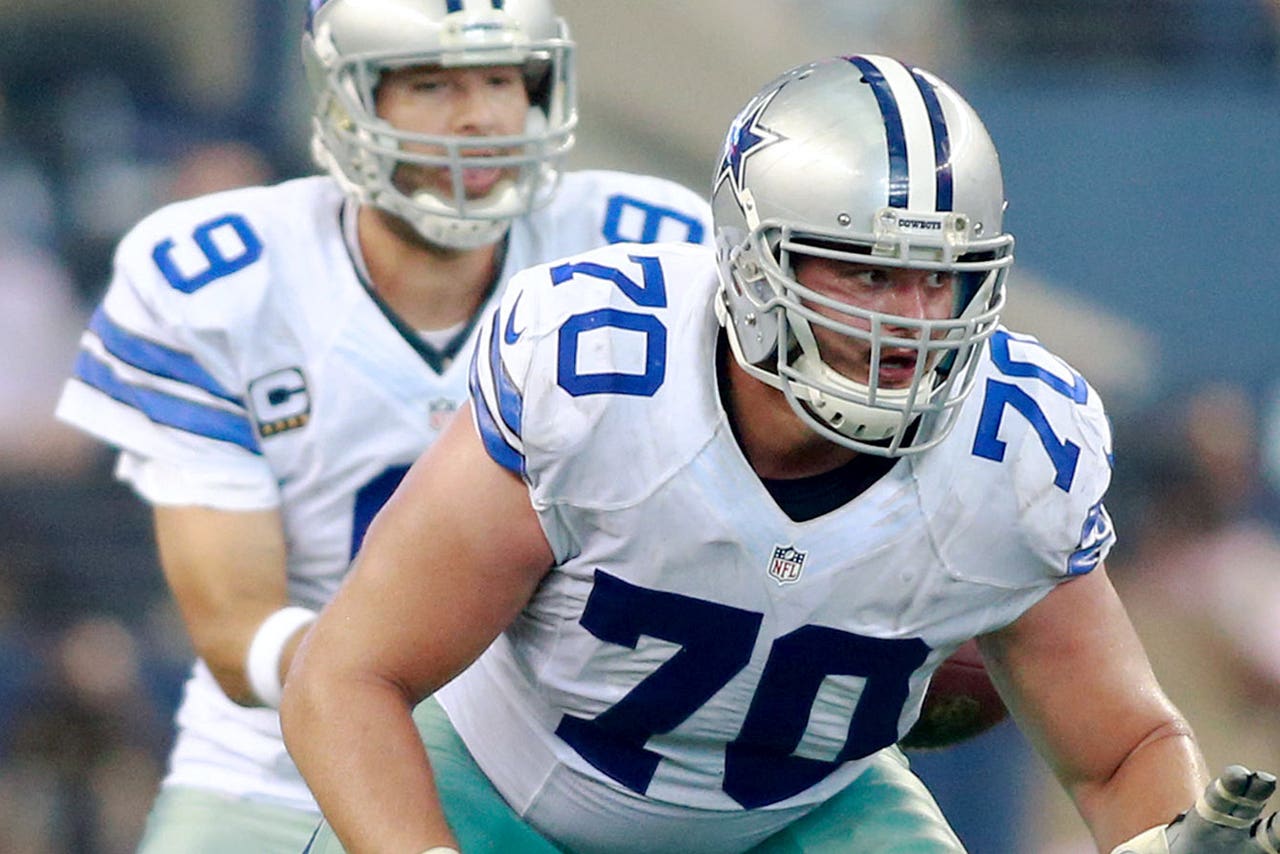 With the Super Bowl finally concluded, we can finally settle into the true business of the offseason - assessing the coming months and the way they'll affect the makeup of the Cowboys' roster.
The start of free agency is still roughly a month away, and the NFL draft is still nearly three months away. Despite that, I wanted to look at the roster that's currently in place at Valley Ranch - who's in place for the future, who isn't, what needs to be upgraded and what doesn't.
The series continues with a look at the offensive line, which might have the brightest future of any position on the team - although there are questions to be answered.
Offensive Line
2014 Overview: Several of the dominant storylines from this past season - Tony Romo's amazing revival and consistency, as well as DeMarco Murray's career year - can be traced back to the work the Cowboys put into their offensive line. The drafting of Zack Martin at No. 16 overall gave Dallas a trio of first round picks on their line, and they meshed well with an eight-year veteran in Doug Free and an unsung talent in Ronald Leary. The unit paved the way for one of the best ground games in the NFL, which allowed the Cowboys to exert their will on offense and keep their defense off the field. The pass protection lagged at times, particularly in Week 8 against Washington, but it did more than enough to help Romo post the best completion percentage and passer rating of his career. The entire season could be summed up by the fact that all three first-round picks - Tyron Smith, Travis Frederick and Martin - were selected to the Pro Bowl. Smith and Martin also earned All-Pro distinctions. 
What's Changing: For all the continuity created by the three first-round picks, there are still a few questions to answer. Namely, the right tackle spot. Free and Jermey Parnell are both entering free agency this spring. Free was the preferred starter, but he struggled with injuries to his foot and ankle for a solid 50 percent of the season. He had surgery after the season and those problems aren't major, so there isn't too much risk in bringing the 31-year-old back into the fold. Parnell started seven games in 2014 while Free battled those injuries, and he responded well. The Cowboys would ideally love to keep both, but it's a good bet that another team would be willing to pay Parnell to be a starter on their line. The best guess is that Free, a fourth-round draft pick in 2007, re-signs with the Cowboys, while Parnell moves on. Leary is technically a free agent, as well, but he is an exclusive rights free agent, which means the Cowboys will have every opportunity to keep him around.
What Isn't: The core trio of Smith, Frederick and Martin isn't going anywhere any time soon. The Cowboys locked Smith up for the next decade with a 10-year contract during training camp last year. Frederick just finished his second season, which means he's under contract for two more years, while Martin just finished his rookie campaign. Both players were first-round picks, which means the Cowboys have the option to extend both of their deals for a fifth-season. Neither guys looks likely to go anywhere for at least another three or four seasons - assuming the Cowboys don't sign them to long-term deals. Key reserve Mackenzy Bernadeau, who has plenty of starting experience in his own right, is also under contract for one more season. Assuming Leary stays, that gives the Cowboys four quality interior linemen going forward. Both Bernadeau and Martin can play center if need be. 
Going Forward: It's not a stretch to say that the 2015 Cowboys could have the same starting offensive line as the 2014 Cowboys. It seems unlikely that Free will be an overly expensive free agent to sign, especially given his long history with the team - not to mention the talent surrounding him on this line. If they don't sign Free, it could free them up to keep Parnell from signing elsewhere. Either way, it seems likely one of the two right tackles who started in 2014 will return for 2015. If not, you could see the Cowboys once again look toward the offensive line in the first round of the draft. You also can't completely rule out an upgrade at guard. Leary was solid in 2014, but the Cowboys could look to upgrade their final interior position. It's well-known that, had they not traded up to draft DeMarcus Lawrence in last year's draft, they were considering drafting LSU's Trai Turner to replace Leary at left guard. There are obviously bigger needs to address on this roster, but you can't rule anything out when you consider how late the Cowboys' selections are this year. They may be forced into drafting the best player available, rather than a specific need. The depth at tackle also needs to be addressed this year, as reserve tackle Tony Hills, and Darrion Weems - who spent the season on injured reserve - are both free agents this year. 
1. Michael Oher - His release from the Titans last week has already raised questions about him possibly joining the Cowboys' ranks. The fact that he was released after one year of a four-year deal isn't exactly encouraging, but it'd probably make him less expensive. The Cowboys can afford to pay a lesser talent, given the strength elsewhere on their line.
2. Bryan Bulaga - He plays right tackle - the position the Cowboys are most likely to need. He's also just 25, and his signature promises to be pretty expensive to acquire. He's struggled with injury issues during his career, but he had one of his better seasons in 2014.
3. Doug Free - The Cowboys can always stick with the "If it ain't broke, don't fix it" mantra. Free has been great for the Cowboys since they asked him to take a pay cut before the 2013 season. It makes sense that he'd re-sign in Dallas, as he has eight years' worth of ties here - not to mention an exceptional offensive line to work with. This might be the last big contract he'll get in the NFL, though, so he may want to seek the best deal possible. 
4. Tyler Polumbus - It'd be hard to sell Polumbus as an upgrade over either of the Cowboys' right tackles, as the seven-year veteran was benched during 2014. He's got plenty of experience, however, and he'd likely be affordable. Perhaps playing with three Pro Bowlers would raise his level of play.
5. Jermey Parnell - He'd likely be cheaper to bring back than Free, but there's also a dropoff in production. Parnell held his own when replacing Free for stretches of 2014, but it's hard to shake the feeling that the unit didn't hum the same way as it did. That said, Parnell is still developing and probably hasn't hit his ceiling yet as a player. However it shakes out, the Cowboys have said they felt good about what they got from both Free and Parnell last year.
6. Corey Hilliard - The journeyman started seven games at right tackle for Detroit in 2013, but he broke his foot in Week 1 of last season and was ruled out for the year. He's probably not a guy you want to sign to be a Day 1 starter, but he could provide depth if the Cowboys lose linemen to free agency. 
7. Mike Iupati - In the unlikely event Ronald Leary departs in free agency, San Francisco's Iupati is widely considered the best guard available in free agency. The 27-year-old is going to be due a big payday after a successful stint with the 49ers, so it's hard to imagine the Cowboys investing the resources to sign him. He'd complete an unbelievably dominant front trio with Travis Frederick and Zack Martin, though.
8. Orlando Franklin - The Broncos' first-round pick finished out his rookie contract this year, and it'll be interesting to see if they can hold on to him with all the other contract obligations they must tend to. Again, when you consider the other contracts the Cowboys have to work out, this is probably too much money to invest.
9. Ronald Leary - The logical option. Leary is an exclusive rights free agent, which means the Cowboys simply have to offer him the league minimum for his level of experience in order to keep him. Simple enough, and a cheap option for the time being.
10. John Jerry - The reviews weren't good when Jerry filled in for injured Giants starter Geoff Schwartz. But again, if we're looking for bargains, Jerry probably won't be expensive to attain. Even if the Cowboys retain Leary, he likely wouldn't cost a lot to bring on as a reserve. The talent on this line could only help him.
---