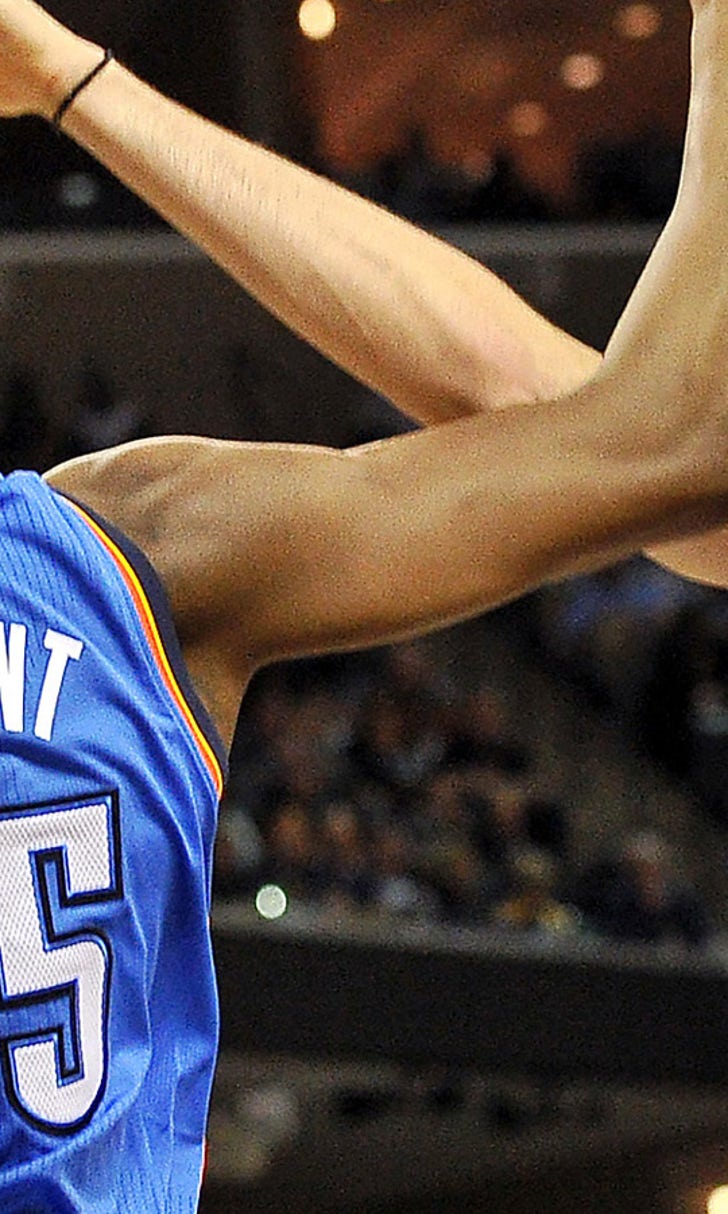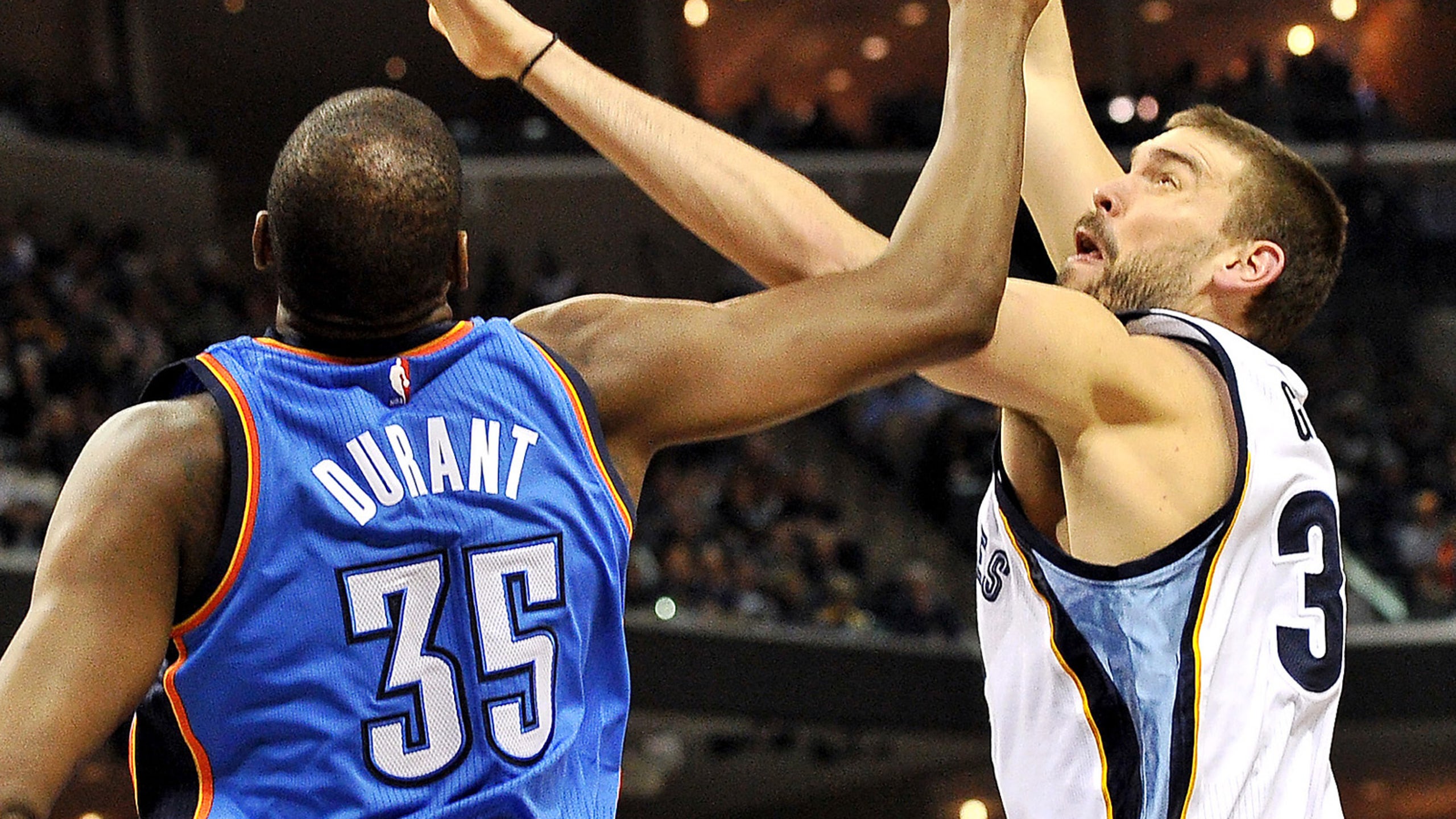 Court Vision: More Randolph, more wins for surging Grizzlies
BY foxsports • February 1, 2015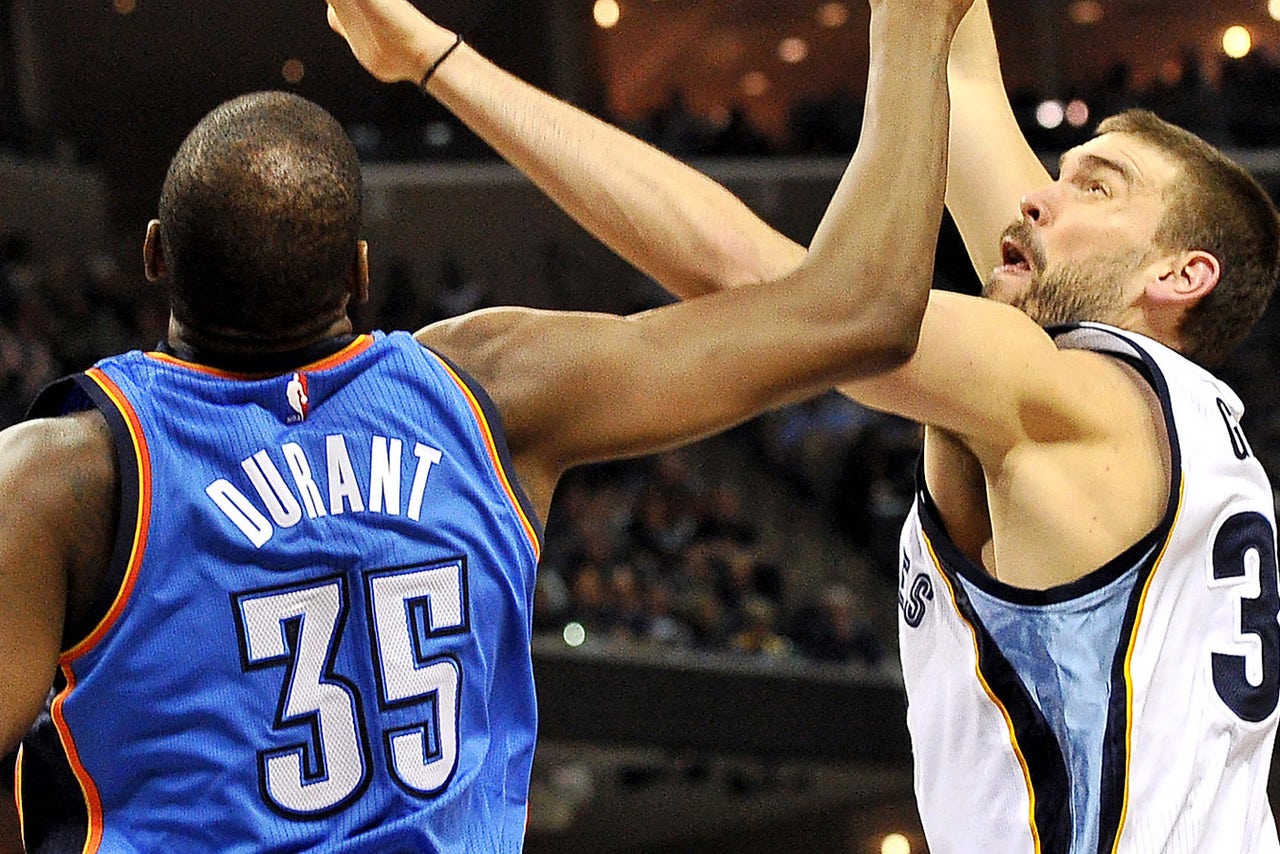 MEMPHIS, Tenn. -- For a second straight game, the Memphis Grizzlies held their opponent under 75 points, this time in an 85-74 win against nemesis Oklahoma City. The Grizzlies (35-12 and 2.5 games back of first-place Golden State in the West) have won six straight games and now hit the road for three, beginning Monday at Phoenix.
1. Unfortunately, Zach Randolph will still not wake up an all-star
There will always be all-star snubs. This may be the first city snub. As NBA coaches thumb their noses at Memphis and the rest of the basketball world screams about the omission on Damian Lillard, Zach Randolph stacks up unnoticed credentials.
For the 12th straight game, Randolph racked up a double-double, his 27th of the season.
Randolph laughs off the all-star snub, though following Thursday's win against Denver, he did let on to a little angst.
"It's all good, man. I'd rather let little brother, let Mike be an all-star. He deserved it," Randolph said.
But little brother Mike Conley wasn't chosen, either, despite the point guard averaging 17.4 points, 5.6 assists and 3.4 rebounds a game. All-star starter Marc Gasol finished with 15 points and 12 boards.
Randolph outplayed all-stars Kevin Durant and Russell Westbrook, who have missed a combined 39 games, and finished with 21 points and 18 rebounds -- 10 of them of the offensive glass -- and has the longest double-double streak of any player this season. He is two shy of tying a career best set in 2011. His 27 doubles is tied for third in the league, three behind Pau Gasol in nine fewer games.
"I'd rather get a championship than an all-star any day," Randolph said.
2. Wrestling night a perfect fit for the rivalry
There is no love lost between Memphis and OKC (23-24). Past incidents are easy to find, the last one Randolph's suspension in Game 7 of last season's first-round playoff match after punching Thunder center Steven Adams.
So what better night than Saturday for the Grizzlies to host "Wrestling Night." Memphis is a wrestling town, way back from the days of Dave Brown and Lance Russell hosting Saturday morning "Memphis Wrestling", where stars, Jerry Lawler the biggest, were born.
Brown and Russell made their return Saturday, on the call for Lawler vs. an Oklahoma City fan named "Maverick."
With a wrestling ring perched in the terrace, the Grizzlies fought their way to 18 turnovers and scored 18 points off of them and arm-barred their way to 44 points in the paint, compared to the Thunder's 22.
Memphis started the night by giving out 3,000 "Grizzlyweight World Championship belts." Fans lined up in chilly, long lines to get the souvenir -- two were on eBay by game's end.
When the door's opened, there was a collective "Woo." Indeed, "Nature Boy" Ric Flair, who was born in Memphis, showed up with Lawler, as even some of press row couldn't keep their cell phone cameras on the table as Flair walked out.
Leaving the court after one of his cameos, Flair made his way to Randolph, who left the timeout to speak with Flair.
"Anytime you can get to meet a legend like that, you've got to shake his hand," Randolph said. "He told me, 'Woo.'"
3. Tony Allen: Super Sub
Grizzlies forward Tony Allen is the heart and namesake of grit and grind, off the bench or not. Allen came off the bench again against the Thunder and when he came in, did what Tony does. Memphis was stuck in a five-minute scoring drought and had given up eight straight and its lead. Allen's layup started an 8-0 run, in which he also had a steal that led to a pair of Randolph free throws.
Allen finished with eight points, five boards, two assists and three steals in 25 minutes, 52 seconds.
"If Tony is playing at that level for 20-25 minutes, giving us that from the second unit, it gives us that much more ability to try different things on the offensive end," Conley said, "because defensively you feel in good hands with him making plays. And offensively, that second unit, Beno (Udrih), Nick (Calathes), all those guys coming in, he just adds to that energy. He adds to that level of play that they're playing with an it gives us a little bit of an edge."
Conley called it the best energy of the season. It seems brought on by explosive forward Jeff Green, who had a dunk Vined before he landed.
Oklahoma City is still trying to figure things out. Reggie Jackson, a Grizzly killer in last season's playoff series, took only four shots. Durant was rusty. New add Dion Waiters missed a wide open layup. They have battled injuries to stars and sit in a similar spot as Memphis sat last season. If the Thunder can work into a playoff spot, there may be more wrasslin' nights coming to Memphis, ring and all.
.313 -- The Grizzlies held Kevin Durant and Russell Westbrook to a combined 29 points on 10 of 32 shooting. The duo averages more than 25 points per game each. Durant had missed two straight games with a painful big toe.
.339 -- Over the last two games, Memphis has held its opponent (Denver on Thursday) to a combined .339 field goal percentage.
---