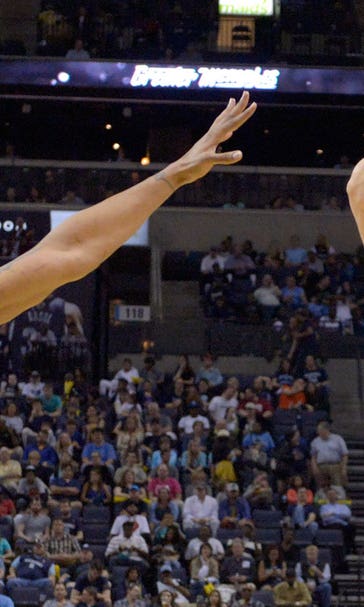 Court Vision: Grizzlies grab homecourt with season-ending win
April 16, 2015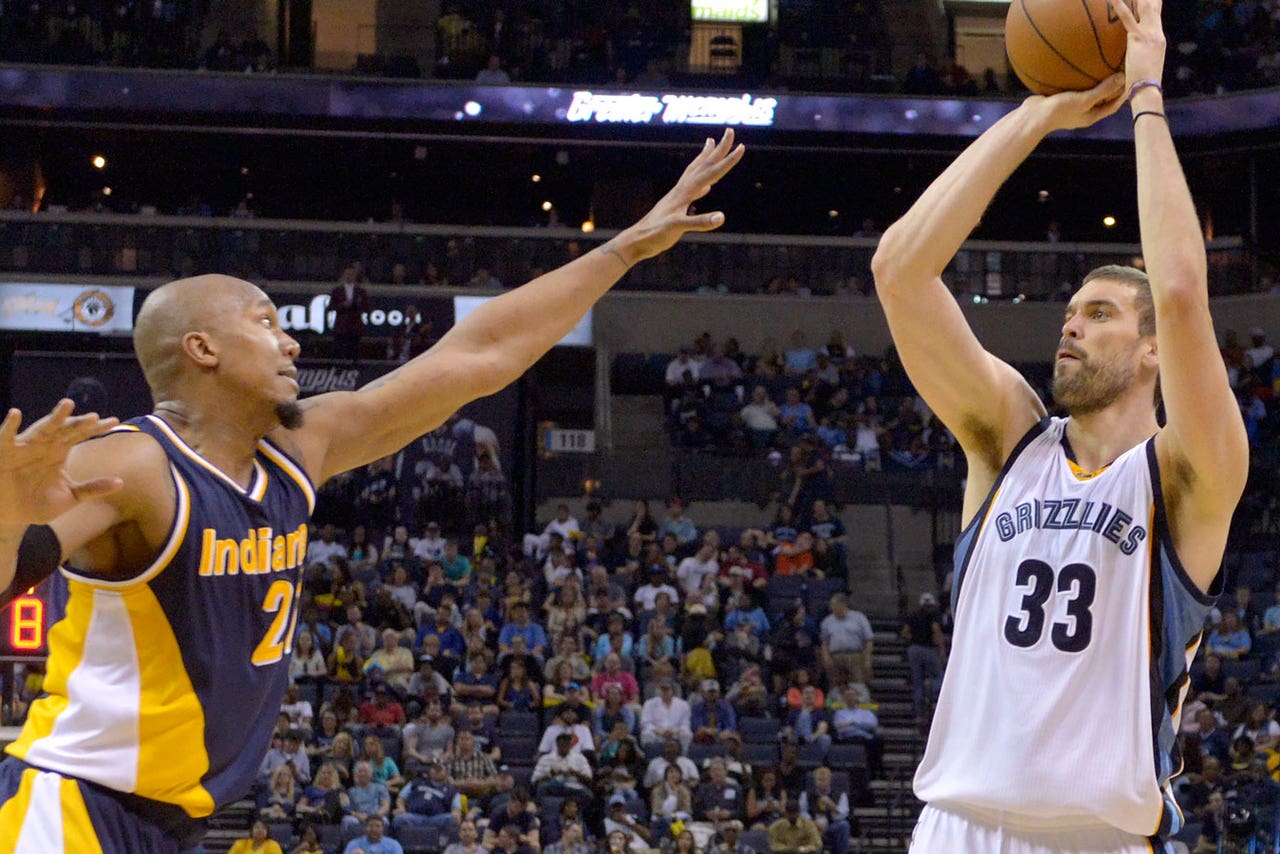 MEMPHIS, Tenn. -- Still without two of the Core Four -- Mike Conley and Tony Allen sitting to rest a foot and a hamstring, respectively -- the Memphis Grizzlies relieved Indiana of its playoffs hopes as former Grizzlies coach Lionel Hollins and Brooklyn got in, thanks to Memphis' 95-83 win over the Pacers. Memphis (55-27) nabbed the five-seed and will have homecourt Sunday when it starts the playoffs against Portland.
Here are three takes from the Grindhouse, where in the fourth quarter Pacers guard Paul George was carried off the floor, sending an eery silence through the arena for the recovering star. It was diagnosed as a sore left calf, but he did not return.
1. Marc Gasol finished the year better than he started – and that was already really good
Two days before Halloween, Marc Gasol opened the Grizzlies season with a career-high 32 points in a win against Minnesota. That night he hit 12-of-17 shots and grabbed nine rebounds.
He was scarier Wednesday. In nearly 38 minutes, Gasol scored an efficient career-high 33 points on 13-of-19 shooting and had 13 rebounds.
"Marc Gasol and this basketball team was too much for us," Pacers coach Frank Vogel said.
With the Pacers (38-44) cutting into what was a 14-point lead, Gasol came off the bench with 4 minutes, 57 seconds to play. He proceeded to hit a 16-foot jumper to put the lead back in double digits.
As Gasol waited to reenter, he watched bigs buddy Zach Randolph get two offensive rebounds and a putback to put Memphis ahead nine with 5 minutes to play. Randolph finished with 18 points and nine rebounds.
It was Gasol's fifth 30-point game of the season and first since Dec. 9, his first 30-10 since November 23.
"I took the shots that they gave me and I got in rhythm and that was good," Gasol said. "My teammates kept finding me and I was open and I made shots, but at the end of the day we won the game on the other end."
The Grizzlies held Indiana to 41 percent shooting and bigs David West and Roy Hibbert to 11 points on 4 of 10 shooting.
2. Memphis finally knows its playoff opponent
At halftime of the final game of the season, the Western Conference's playoff match-ups were finally starting to reveal. There had been no simple strategy to the madness.
"Usually it's this or that, one team or another, so you can split," Grizzlies coach Dave Joerger said. "We haven't been able to split. We've had four teams to concentrate on."
The Grizzlies swept the Blazers 4-0 this season, but there are similarities as the new season begins. Conley and Allen may or may not play the first two games of the series, but Portland has injury woes of its own.
LaMarcus Aldridge delayed thumb surgery to play these games and Portland played with eight players in a meaningless loss Wednesday to Dallas. Wes Matthews is out for the season. Nicolas Batum (right knee contusion) missed the game, as did CJ McCollum (ankle sprain) and Aaron Afflalo (shoulder sprain).
"They'll play," Joerger said. "Afflalo will play and Nic Batum we anticipate playing. I don't know who's going to play and who's not going to play for us."
3. Priming Jordan Adams for the playoff stage?
The first images that pop up of Jordan Adams on a Google search are photos in UCLA jerseys. The Grizzlies rookie has averaged less than eight minutes per game in 29 appearances. But in the last two, he has played 21 and 23.
Monday, his 21 minutes came in a comeback attempt at Golden State where he had a season-high 19 points, two rebounds, two assists and two steals.
Wednesday, Adams scored six points and had five rebounds, two assists and a steal. But his dazzle was more than a solid stat line.
In the first half, he grabbed a loose ball and drove through three Pacers on a solo fastbreak. Later in the half, he spun CJ Miles out of his shoes on a corner pull-up.
"I always feel confident, but just getting out there, getting the reps and playing live with the team is helping out," Adams said.
Adams has gone from draft-night crickets to Grizzlies cult hero and flashes like he displayed Wednesday makes it hard not to wonder what would have been if he had been with the big boys all season.
The late crash course has been quite a tease.
22.2 -- The Grizzlies 3-point struggles are real, 2-of-9 against the Pacers. Memphis enters the playoffs shooting 34 percent, tied for 21st in the league with Sacramento. The Grizzlies attempt only 15 3s per game, next to last in the NBA.
6 -- Grizzlies backup point guard Nick Calathes had 6 rebounds and 6 assists in a solid 32 minutes off the bench. He also had eight points and four steals.
---