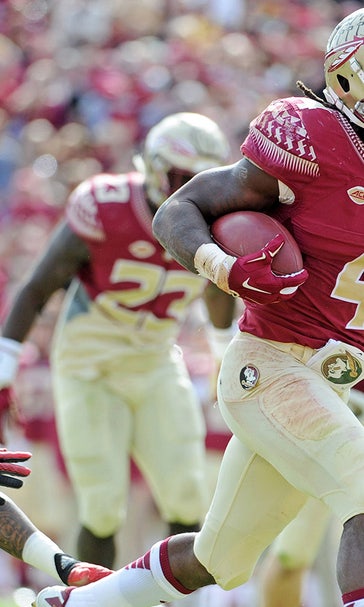 Cook breaks Dunn's Seminoles record, but what could have been if stayed healthy?
November 14, 2015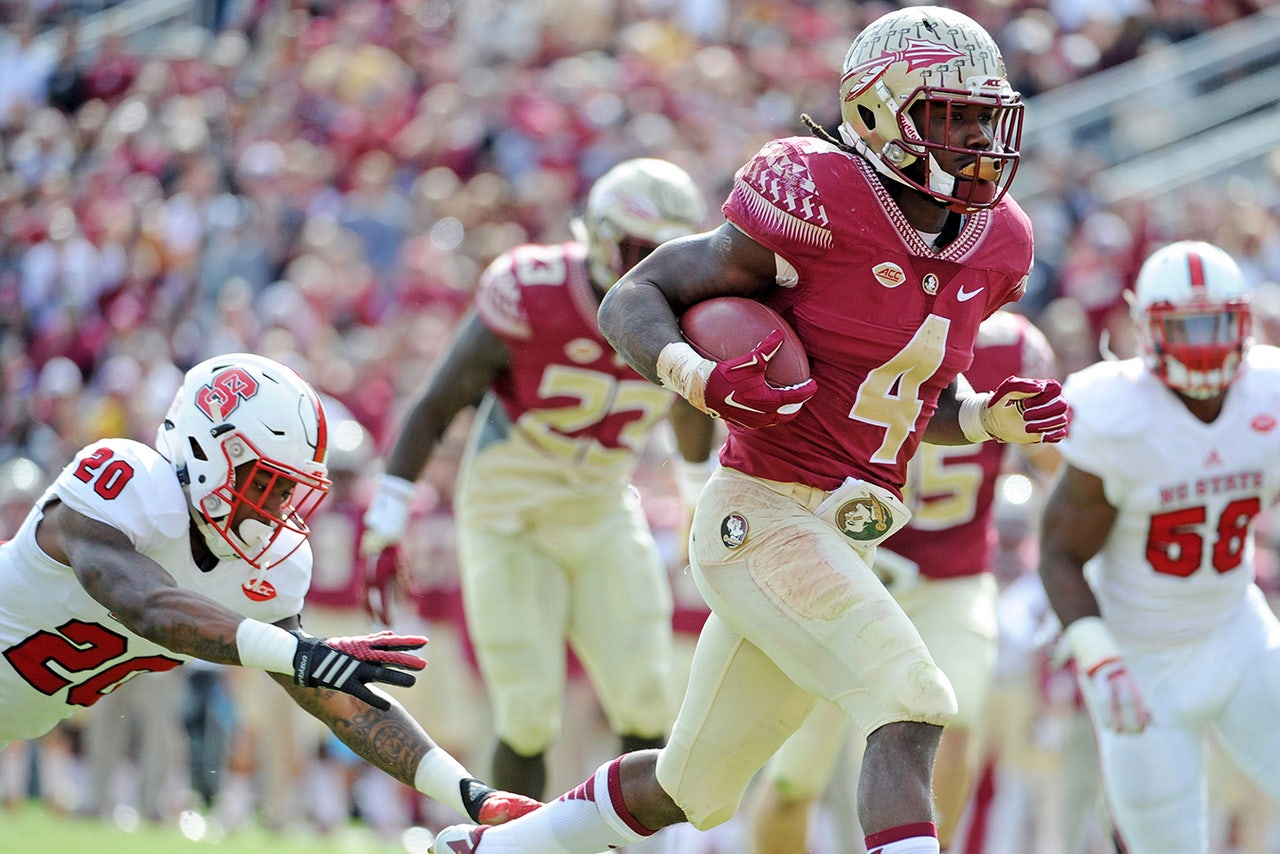 With an 11-yard run in the first quarter, Dalvin Cook claimed his place in Florida State history, and with everything that came -- and will continue to come -- after it this season, he'll add to it.
But the running back's now record-breaking sophomore season comes with a sense of what could have been.
That aforementioned rush Saturday against NC State pushed Cook past Warrick Dunn's 1,242 yards in 1995 for the highest season total in Seminoles history, a mark he left in the dust with 138 yards on 22 carries -- to go along with two touchdowns -- in a 34-17 victory.
What's staggering, is that while Dunn needed 11 games to reach that mark, Cook has played in nine of Florida State's 10 games (missing Oct. 31 vs. Syracuse with an ankle injury) and on Oct. 3 against Wake Forest, he had just two carries.
Give him his season average of 152.1 yards per game against the Orange and their 62nd-ranked rush defense, and his full share vs. the Demon Deacons (he had 94 yards on those two attempts), and we're talking 1,579 yards on the season.
That's more than the nation's leading rush, LSU's Leonard Fournette at 1,383), and would have Cook on pace -- with two regular-season games and a bowl to play -- for a 2,000-yard season.
As it stands, Cook could finish with 1,825 yards if he stays at his current output, which would be the third-highest rushing season in ACC history. Eclipsing Andre Williams' 2,177 yards from 2013 seems far fetched, but he could still get by Don McCauley and his 1,863 set in 1970.
Cook is very much a part of this Heisman Trophy race. But with the Seminoles out of the College Football Playoff conversation, and thanks to that loss in Week 10, unable to win the Atlantic Division, it would have taken a monumental season for him to be a legit threat to win the award.
Contenders have faced more difficult schedules, but none arguably were more daunting when you consider the ranks of defenses faced.
Already, Cook and Co. have faced units that are currently No. 1 (Boston College), No. 5 (Clemson), No. 9 (NC State) and No. 15 (Louisville), and in the regular-season finale against No. 11 Florida, they'll see a D that's ranked sixth.
When you take the average position of FBS defenses their entire season includes, Cook's opponents come in 26th (with no one lower than Miami at No. 75 , while Fournette's are 68th (including five of 90th or worse) and Henry's 58th (topped by No. 101 Louisiana-Monroe).
It makes Cook's season all the more impressive, though the reality is the best he can hope for is to give the Seminoles a second Heisman finalist in three years.
But he has rewritten history, and underscoring the ridiculousness of Cook's second season in Tallahassee, every time he carries the ball over the next three games, he'll continue to do so.
It just makes you wonder what Cook would have been capable of if he hadn't missed nearly two games.
Follow Cory McCartney on Twitter @coryjmccartney
---