Clippers' entire team gives back in South Central
BY foxsports • October 25, 2014
The Clippers are continuing to win the community.
Merely weeks after Chris Paul went to the Salvation Army Siemon Family Youth & Community Center in South Central to open a new media room with computers, an exercise room and a library, the entire Clippers team was back for another day of giving back.
Partnered with the U.S. Army , Feed the Children and the Clippers Foundation, coach Doc Rivers, Chris Paul, Blake Griffin, Jordan Farmar and all 15 players on the roster helped families by handing out food, clothes, school uniforms and personal items.
"It's cool to come out and be a part of it and actually give back and show your appreciation for fans," Griffin said.
And wonderful for the Salvation Army and its employees, who see some of the same folks often and understand the impact these visits have on people. They know a chat from Rivers or a selfie and handshake with J.J. Redick can go a long way.
"It's wonderful to see the players interact with people in this community, who have less, unfortunately," said Lt. Colonel Douglas Riley, divisional commander of Southern California for the Salvation Army. "They're disadvantaged. They come from situations that are difficult and challenging. To see them interact, it inspires people. It encourages them. It gives them hope to go on. I think it's wonderful they do this. They take the time to come down and personally help others."
Rivers said new owner Steve Ballmer has reinforced that the organization will continue to give back. Players wore T-shirts that said "Commitment to Service" on the back.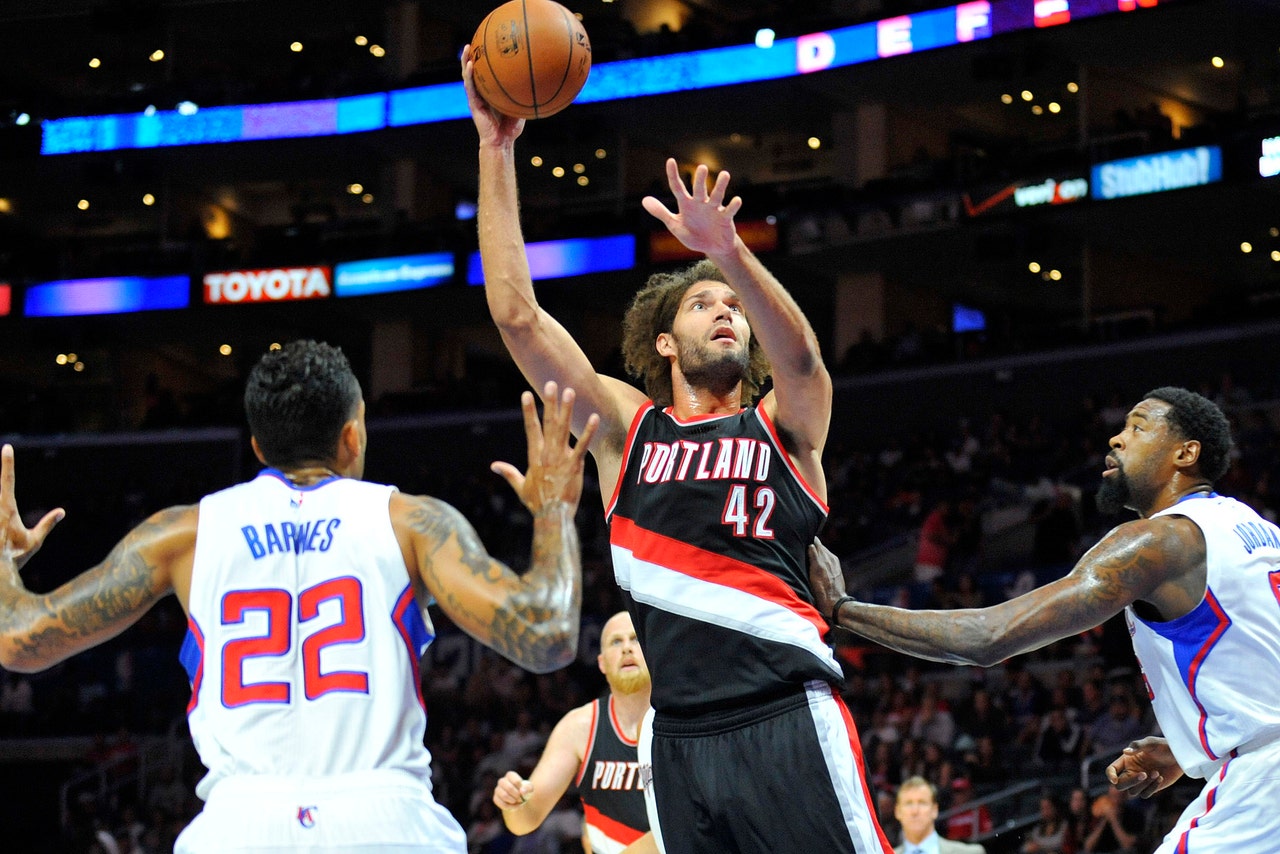 Clippers hope preseason woes stay in rearview mirror
"We know everyone is not doing great," Rivers said. "When you can lend a helping hand with your name, with money, with food, with clothes and with support, it's important. It brings up the moral in the family. And a confident, happy family does better."
As Rivers was about to speak with reporters, his phone rang. It was Kentucky coach John Calipari, he said. Calipari would have to wait. Rivers had interviews, handshakes, photo opportunities and words of encouragement for many of the 1,600 families who formed a long line out the Salvation Army door on Central Avenue. Approximately 5,000 people were expected to benefit from items khaki pants, pink polo shirts, shoes and more.
Armahn Thomas and Karena McQuater brought their two sons to the event. Each family had to pick up a ticket before the event.
Thomas had a chance to talk to Jamal Crawford, get a picture with rookie C.J. Wilcox and saw Glen "Big Baby" Davis.
"I see them on TV, and it's good to see them here in South Central," Thomas said. "I think a lot more athletes should do it."
The Clippers are here often and will be back for a Thanksgiving event in which they will hand out turkeys. The Salvation Army here holds a special place in the heart of Chris Paul, who came here right after he was traded from New Orleans.
Players learn from the day as well.  
"I've always believed when players come out, they feel better than the people who are receiving things," Rivers said. "They feel better. They feel more enriched when they leave."
An event like this also puts things in perspective for players. The Clippers finished the preseason 2-6 on Friday. And about 12 hours later, they were spending their Saturday morning helping others. They learned so much from families. McQuater said the items they received: "should get us through the rest of the year. This is very helpful."
Said Chris Paul: "You never know what a particular family is going through. A lot of these families, when they do have that last $20 or whatnot, sometimes they spend it to come cheer us on. These are truly are fans. It's the least we can do."
The Clippers were there to make the day even brighter.
Chris Douglas-Roberts would put his arm around folks and hunch over to make sure he was taking photos at their eye level. Reggie Bullock spent most of his time indoors helping people find their sizes in pants and shirts. Jared Cunningham, who learned that morning he made the Clippers roster, was wheeling boxes back-and-forth all morning.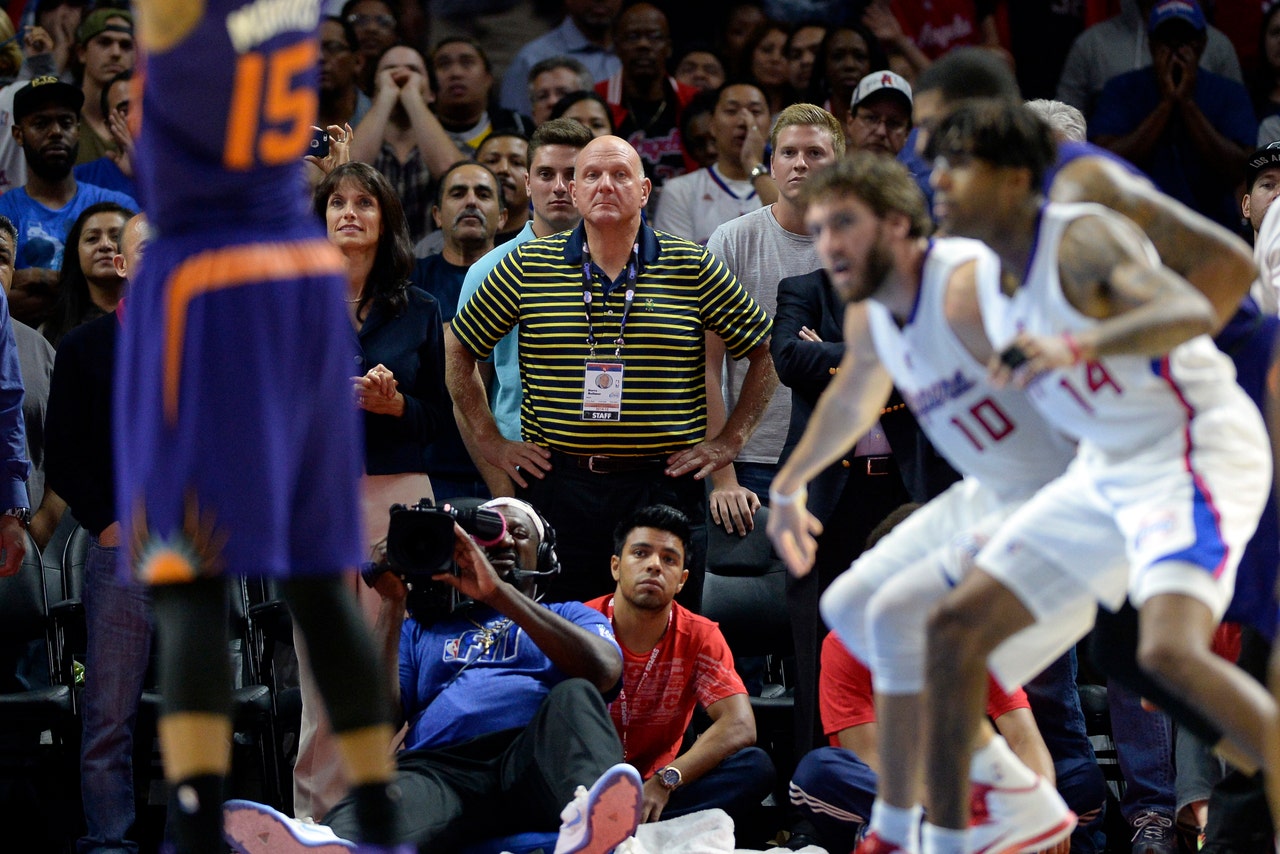 Ballmer's Staples Center debut as Clippers owner was an energetic one
Hedo Turkoglu found a helping spot under a tent where he helped get boxes together for families. Everyone had a role.   
"You're only as good as your fans and all behind you," Paul said. "We understand that as a team. The fans, it's no secret, have really stuck by us through the good times and obviously the bad times. And we're very appreciative."
Clippers players would wheel items and walk with families to the gate in the back parking lot, where members of the Army would then wheel the items to their cars.
"I love it. I just like being involved," Rivers said. "When you join into a community, you should join into the community. I preach that to my players, and I have to practice what I preach."
---