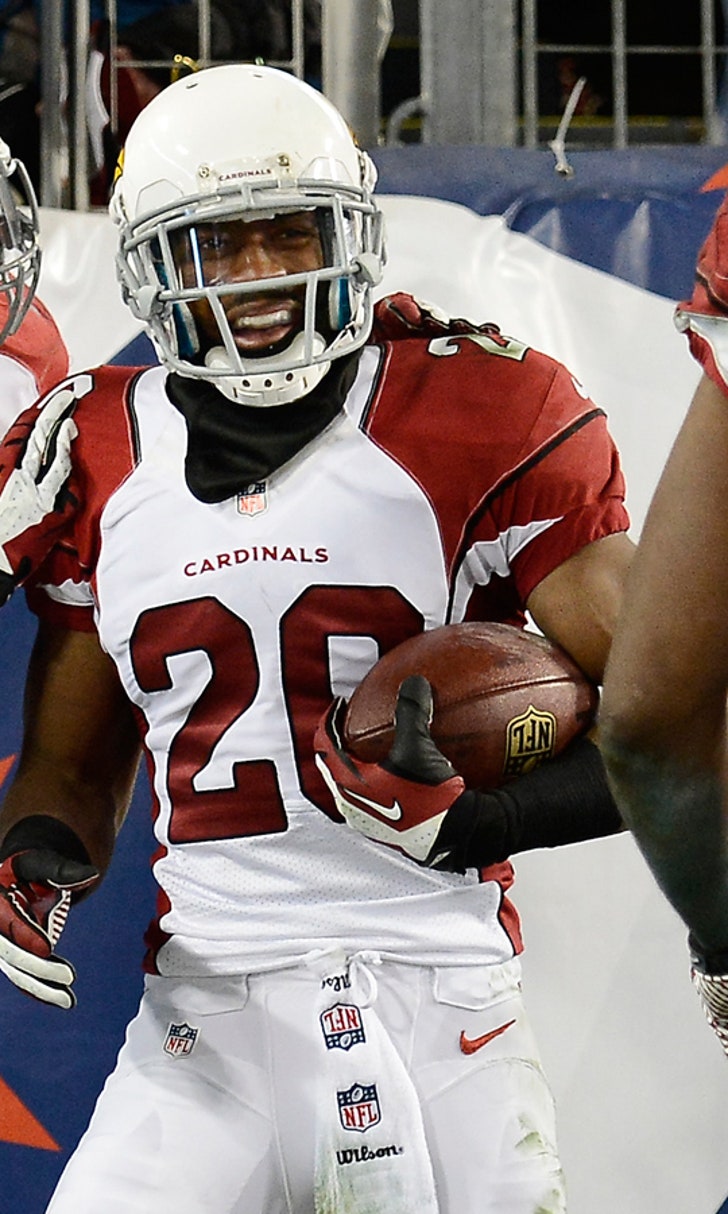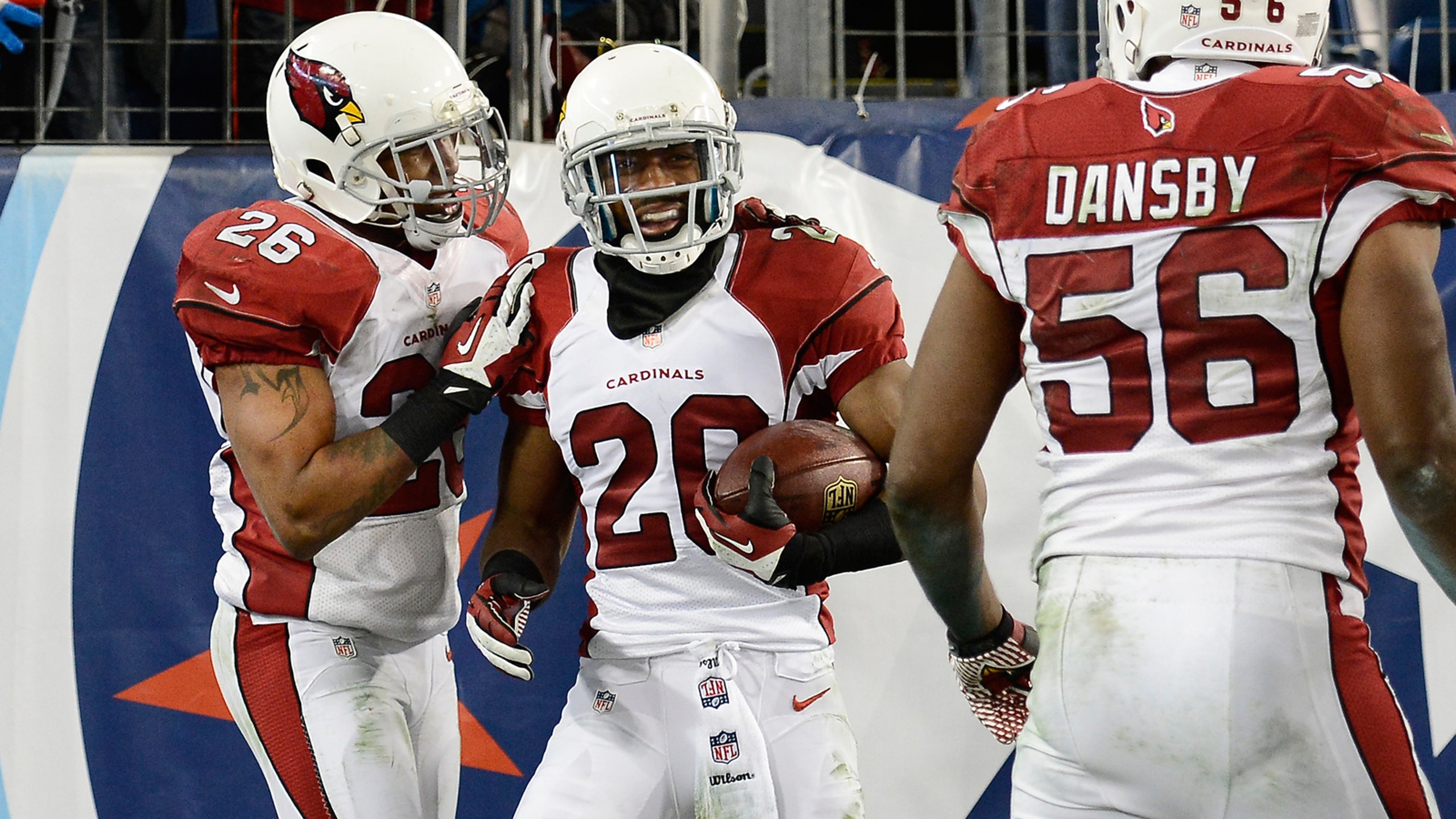 Cason stepping up in Mathieu's absence for Cardinals
BY foxsports • December 19, 2013
TEMPE, Ariz. -- Had anyone been following Cardinals defensive back Antoine Cason around with a recorder last week, they might have recommended he undergo a psychological evaluation.
"All night, all week, I told myself, 'I'm going to make plays, I will make plays, I expect to make plays,'" Cason said Wednesday. "Who knows how it was going to happen, but those were the words I would say to myself continuously, throughout the week and throughout the night, all by myself."
Visualization techniques have become a part of the sports lexicon in recent years, but Cason made a strong case for verbalization of that visualization with his effort Sunday against the Titans.
Cason recovered a muffed kickoff to set up a field goal. He intercepted Ryan Fitzpatrick's pass at the Titans' 20-yard line and returned it for a touchdown to give Arizona a 34-17 lead midway through the fourth quarter. And with the Cardinals in danger of blowing that 17-point lead and losing in overtime, Cason intercepted Fitzpatrick again, setting up Jay Feely's 41-yard, game-winning field goal.
Cason hadn't played more than 10 defensive snaps before he logged 21 on Dec. 8 against the Rams when Tyrann Mathieu went down for the season with torn knee ligaments. In nickel packages, starting cornerback Jerraud Powers moved to nickel cornerback and Cason entered the game, defending receivers on the outside. But in 69 snaps in Tennessee, he looked ready to play despite that long and unexpected absence from the secondary rotation.
Larry Fitzgerald, dealing with his first concussion, understands the risks of playing but still expects to be on the field Sunday. FULL STORY >>
"Everyone noticed that Antoine didn't like his role, but at the end of the day, he was a classy professional. He came every day to work and he went about his business," cornerback Patrick Peterson said. "When his number was called, obviously we didn't miss a beat. There were some things in the secondary as a whole with the communication part, but he came in and he did his part and he won the game for us."
Cason knew when he signed a one-year, $1.5 million deal this offseason after five seasons in San Diego that he'd have to compete for time on defense. But the competition didn'€™t go as he expected or planned.
"It is tough sitting and watching, and there's definitely days where it's harder than others, but you talk yourself through it and you feel better when you push through it," the University of Arizona product said. "You never know how things will go, but when they go differently than what's expected, it's on you to adjust and make your situation better than it may seem."
Cason said he relied on his extended family for support and encouragement during the lean times. His mother, his grandmother, his uncles and others attend home games, and his dad, who drives 18-wheelers for a living, regularly attends road games.
"My father is a big part of my life and has always been," Cason said. "He's been with me every step of the way in my football career, so even though he's driving a lot, we talk all the time."
Defensive coordinator Todd Bowles said Cason's experience helped prepare him for this situation because he knows how to play the pro game, but that only goes so far when you aren't getting game reps.
"He made a lot of plays (Sunday), but there were a lot of other plays where his technique could have been better (and the passes) happened not to be thrown his way," Bowles said. "He understands that, and we're trying to work on that in practice."
The Cardinals identified Cason as a free-agent target with the help of cornerbacks coach Kevin Ross, who coached Cason from 2007-08 in San Diego. Coach Bruce Arians has talked since training camp about the importance of depth in the secondary, and Bowles reiterated that on Thursday in light of recent injuries to Mathieu and Rashad Johnson (ankle).
"Since I've been in the league, I've never finished the season with four starting DBs that went all the way through," Bowles said. "You always have to be ready."
For Cason, staying ready has finally paid off.
"If I would have gone through the whole season and never got this opportunity, I still would have no regrets about how I handled it. That's just how things happen sometimes," he said. "But when that time comes for you, you have to be ready and you have to make plays. To make a couple of them on Sunday was huge for us, and huge for me."
Follow Craig Morgan on Twitter
---