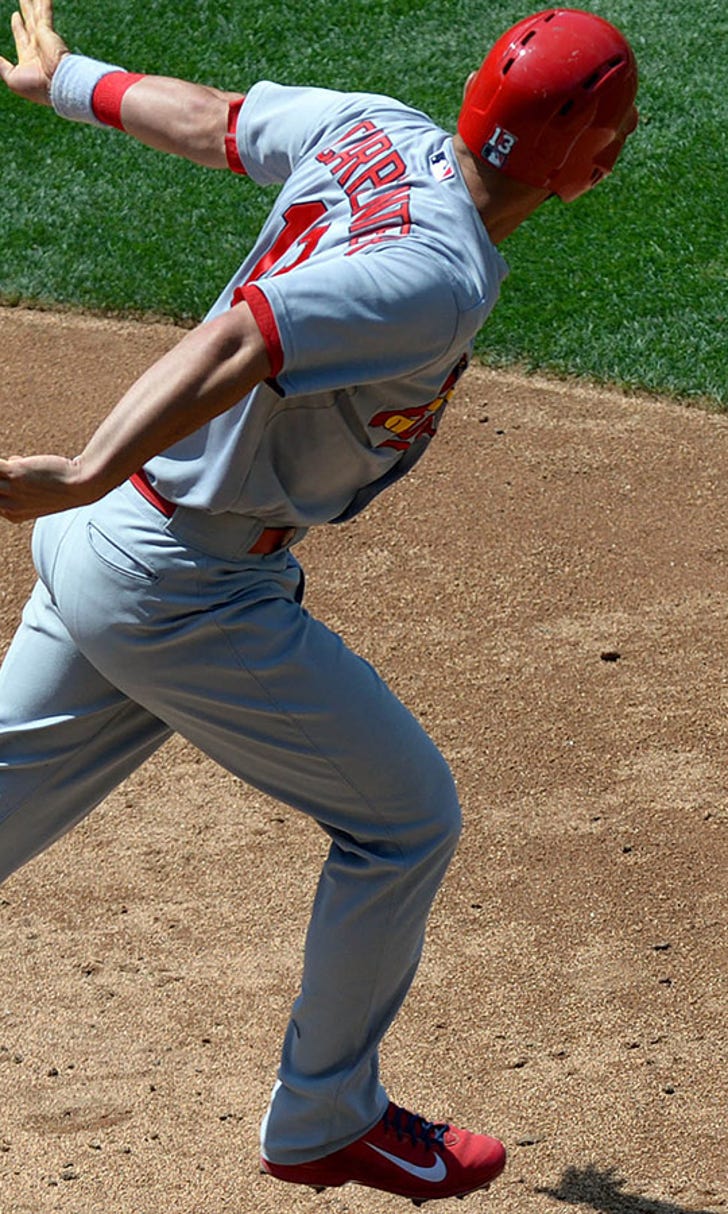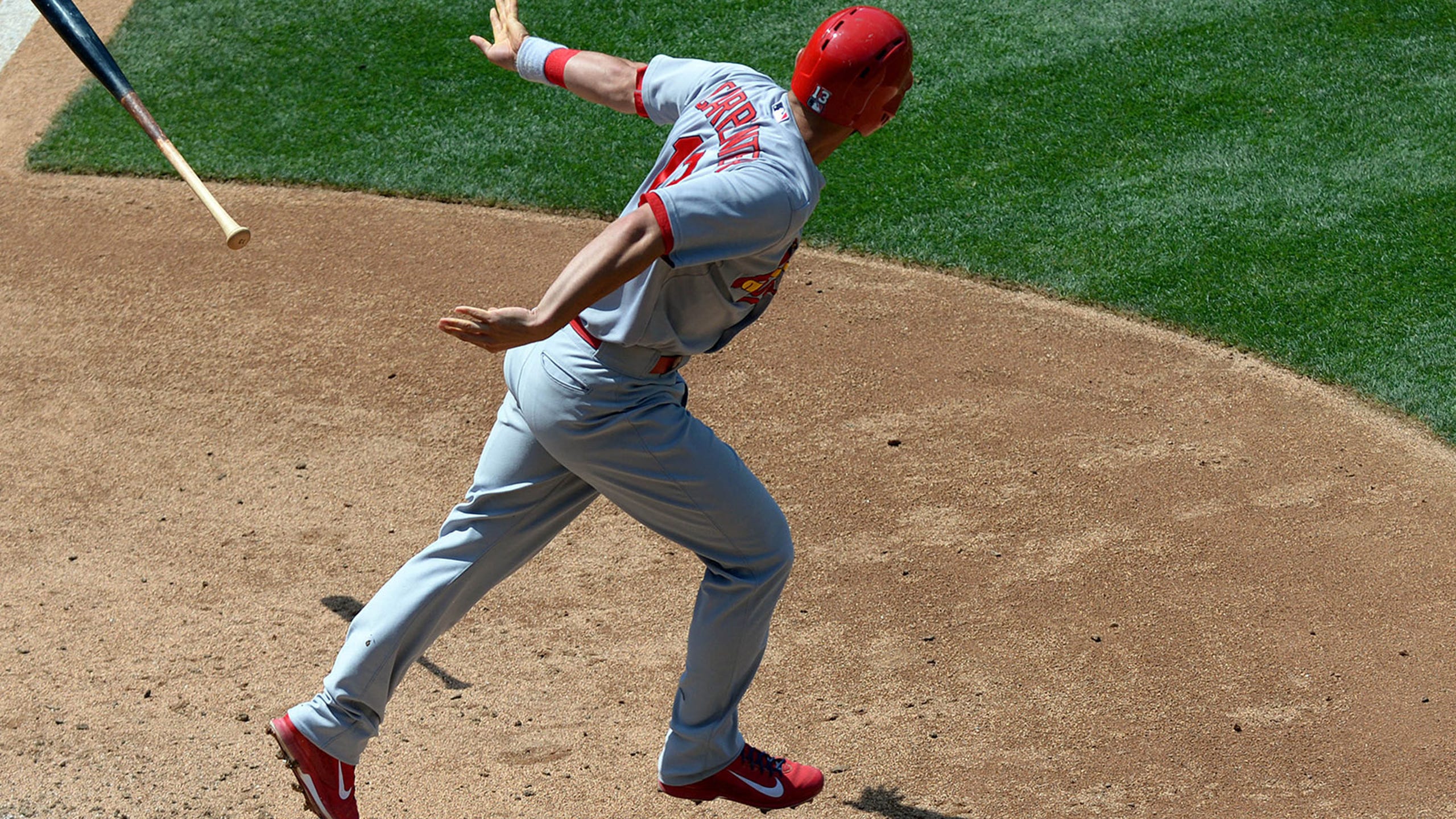 Cardinals value Carpenter's plate discipline more than his TCU coach did
BY foxsports • August 7, 2014
ST. LOUIS -- When Matt Carpenter played at TCU, he showed the same dogged discipline at the plate that he does for the Cardinals.
But in college, his excellent eye wasn't always so appreciated.
"I didn't need him to lead off. I needed him to hit," TCU coach Jim Schlossnagle said Wednesday. "He would get in 3-1 counts with a runner on first and second and that pitch would be right there (just outside) and most left-handed hitters are swinging. He'd take it and now we would have the bases loaded for the next guy. 'Come on, Carp. The next guy is not as good as you. I need you to swing.'"
Carpenter, who spent five years at TCU, eventually listened to his coach, and in more ways than one. "He had double-digit homers his last two years (11 in each), so he did a little more of that," Schlossnagle said. "But his walks were always more than his strikeouts and the quality of his at-bats always were incredible."
His ability to work a count already was so developed that Carpenter sometimes proved too good for college umpires, who tend to call strikes on pitches that are off the plate more than big-league umps. Carpenter would strike out looking on a pitch that Schlossnagle would tell him was too close to take.
"Then you go back and look at the video and he was right," Schlossnagle said.
There is no doubting that Carpenter's hitting approach has paid off for him and the Cardinals. His ability to take close pitches and turn them into walks is in part why he has become one of the game's top leadoff hitters. Carpenter sees more pitches per plate appearance (4.34) than anyone in the NL and he ranks top five in walks (61) and top 10 in OBP (.380) and runs (71).
While he might have exasperated Schlossnagle a bit at TCU, he nonetheless made his Horned Frogs coach a proud man. Schlossnagle should be, too. Carpenter was overweight and underachieving at TCU until he was injured in his junior year and Schlossnagle called him and his parents in for a meeting. After more than two years of trying to convince Carpenter he needed to be more serious about his game and his schoolwork, the coach finally got through to him.
Carpenter dropped what he has called his "freshman 40" and dedicated himself to being the best player he could be. In just his third full season in the majors, he arguably has become the best player to come out of TCU. In Schlossnagle's 11 seasons at the school, he has produced several major leaguers, but Carpenter is the only one to become a two-time All-Star.
Schlossnagle is visiting this week to watch Carpenter play in person for the first time at Busch Stadium. Walking around downtown, the coach has been as excited as any fan to see No. 13 jerseys in the gift shop and on the backs of fans inside and outside the ballpark.
"I'm so happy. I'm taking pictures and sending them to my wife," Schlossnagle said. "He's earned this. He's a self-made player. That doesn't mean he's not talented, but he's a self-made player and I don't think that will ever change. He's the perfect combination of confident and humble."
Schlossnagle said what has surprised him the most about Carpenter's rise in the majors was not his offensive breakout last year but his successful move to second base. At TCU, Carpenter was mostly a third baseman – where he is playing this year for the Cardinals -- and sometimes a first baseman, but never did he play in the middle of the infield.
Watch the Cardinals Live pregame and postgame shows before and after every St. Louis Cardinals game on FOX Sports Midwest.
"It doesn't surprise you that he was going to work hard enough to do it because I knew what his makeup was, how coachable he is," Schlossnagle said. "But in terms of foot speed and all that, to be able to turn himself into an All-Star second baseman was surprising."
Another part of Carpenter's hitting that has become well-known is his refusal to wear batting gloves. Schlossnagle said he remembers Carpenter wearing them once at TCU -- in a game against Air Force in the altitude of Colorado Springs when "it was 20 degrees, windy and sleet." But even then he didn't wear them long. "Maybe for an at-bat," Schlossnagle said. "He was over and done with it."
Carpenter, 28, has remained a regular presence at TCU during offseasons since he was drafted in 2009. He lives close to TCU's ballpark in Fort Worth, works out at the school and reaches out to Horned Frogs players whenever his former coach asks. After making two All-Star teams and securing a $52 million contract extension, he's a big man on campus even though he already has his degree.
"He's done such a good job of figuring out who he is as a player and he commits to it every day," Schlossnagle said.
Still, the coach believes there could be a day when the Cardinals might turn to him for power, too. "As he evolves, I'm sure there will come a time they may ask for more out of him," Schlossnagle said.
Well, if they do, it won't be anything he didn't hear about in college.
You can follow Stan McNeal on Twitter at @StanMcNeal or email him at stanmcneal@gmail.com.
---