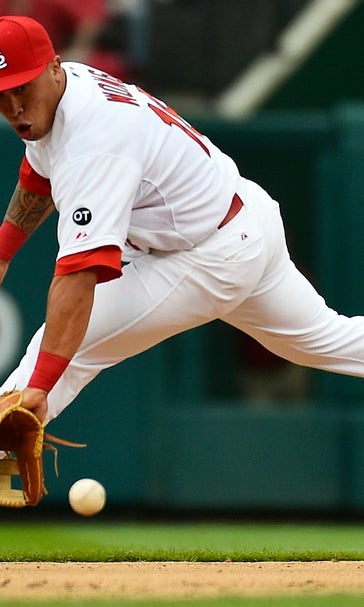 Cardinals defense leaves much to be desired in home opener
April 13, 2015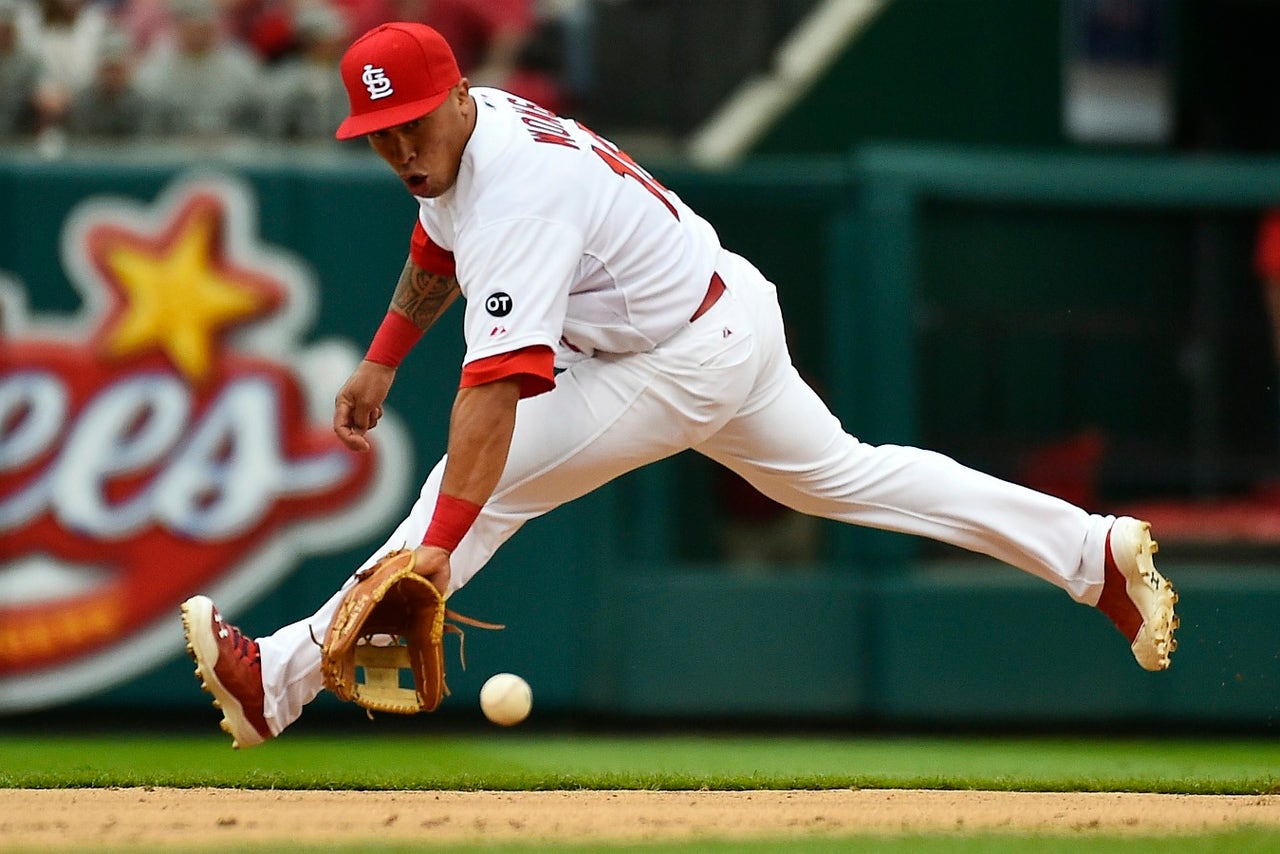 ST. LOUIS -- A record crowd came out to Monday's home opener at Busch Stadium to celebrate the beginning of a new season and a winning tradition built on the "Cardinal Way."
Although it would be difficult to ascribe one definition to that lofty and somewhat nebulous philosophy, St. Louis certainly didn't embody it in an ugly 5-4 loss to Milwaukee. Execution and fundamentals were painfully lacking at times for a team seeking to carry forward its momentum from a hard-earned two-game win streak in Cincinnati.
Instead, Kolten Wong's fielding error on Adam Wainwright's second pitch allowed Carlos Gomez to reach first and set the tone for the afternoon as the Brewers' leadoff man eventually came around to score without the benefit of a hit. Another error by Wong on an ill-advised throw with one out in the seventh allowed Gomez to score what turned out to be the deciding run.
"I take pride in defense and for this to happen, I think it's kind of something that has to bring me down to realize that I still need to continue to work," said Wong, who misplayed another grounder in the ninth and barely recovered in time to get the out. "I'm going to take the blame on this loss because it's probably my fault."
That's an admirable sentiment from a 24-year-old with a mostly sterling defensive reputation, one he continued to build on during a solid spring. But manager Mike Matheny and the other Cardinals know many others deserved some blame as well.
Another fielding mistake from an outstanding defensive player gave Milwaukee a run in the second inning, when Jason Heyward lost his footing while tracking down Jean Segura's hit to deep right-center. The ball bounced off Heyward's glove for a double, and even though he wasn't charged with an error, it's a play he usually makes that turned into a second run.
Wainwright settled in after that play to retire the next 11 batters as the St. Louis offense rallied to tie the game on a pair of RBI groundouts. Despite some help from five Matt Garza walks and a rare error by Segura, the Cardinals couldn't ever take the lead.
"We had a little bit more out there, no question," Matheny said. "Right now we're just kind of fighting to make something happen and we had some good opportunities and couldn't capitalize on them, couldn't get that big hit when we needed."
The Cardinals left 12 men on base and went just 2 for 9 with runners in scoring position, including a line-drive single by Matt Holliday that moved Matt Carpenter from second to only third. Even Jhonny Peralta's two-run double in the seventh could have easily been an out if Ryan Braun had been a step quicker in right field and not let the ball drop in front of his glove and squirt behind him.
An unusual day only looked worse if compared to the first five games away from home, when St. Louis committed just two errors and made several outstanding defensive plays to save runs. Offensively, Cardinals hitters delivered plenty of clutch hits late to hand the Cincinnati bullpen two losses and win the weekend series.
None of those games featured an atmosphere that could compare to the one created by 47,875 fans at Busch Stadium, the most since St. Louis moved across the street to its new digs in 2006. Matheny and Heyward said the crowd's energy made it a special day, but dismissed the notion it affected the team's play in any way.
Wong admitted some players might be more inclined to go above and beyond in front of such a crowd, not to mention all the Hall of Famers on hand for the pregame ceremonies. It's not as if the Cardinals haven't been in huge situations before, but that doesn't mean they're immune to the pressure.
Whatever the reason, St. Louis played considerably below its best, resulting in disappointment both on the concourse and in the clubhouse. But if history is any indication, that won't become a trend.
You can follow Luke Thompson on Twitter at @FS_LukeT or email him at lukegthompson87@gmail.com.
---