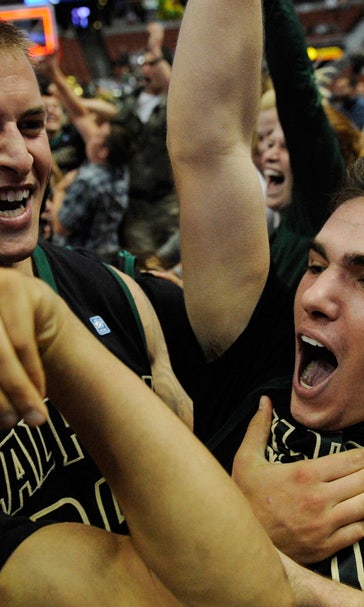 Cal Poly punches ticket to NCAA tourney
March 16, 2014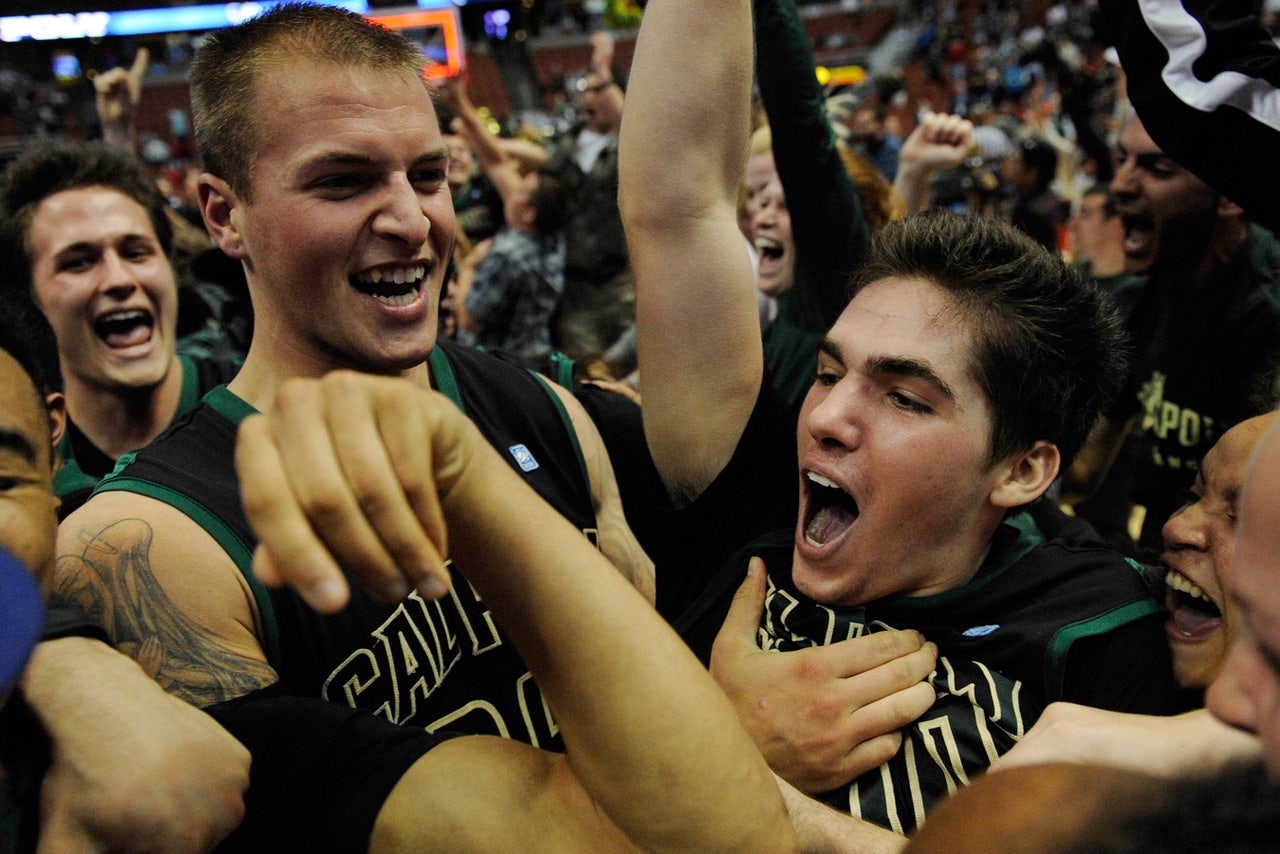 ANAHEIM, Calif. -- It was a quintessential March college basketball game where one shot made all the difference and a Cinderella booked a trip to the Big Dance.
Ridge Shipley, a true freshman who played like a seasoned veteran all weekend, drained the go-ahead three with only 13.7 seconds left, securing a championship win for Cal Poly and extending the 7th-seeded Mustangs' improbable run through the Big West Conference Championship Tournament, Saturday night at the Honda Center.
The 61-58 win was more than just improbable: It was unlikely, unbelievable and most importantly, historic as Cal Poly became the first-ever seventh seed to win the championship game and it gives the Mustangs their first-ever trip to the NCAA Tournament. Cal Poly might have won their last three straight but that still wasn't enough to put them over .500 - the Mustangs make the Tournament with only a 13-19 record. 
"This is surreal," said fifth-year head coach Joe Callero. "The day was about as perfect as could be."
"To be honest it's really like a blank memory right now," Shipley said of his game-winning shot. "I just remember Chris (Eversley) throwing it to me, catching it and I've been dreaming about that kind of play for a while. I shot it and I made it."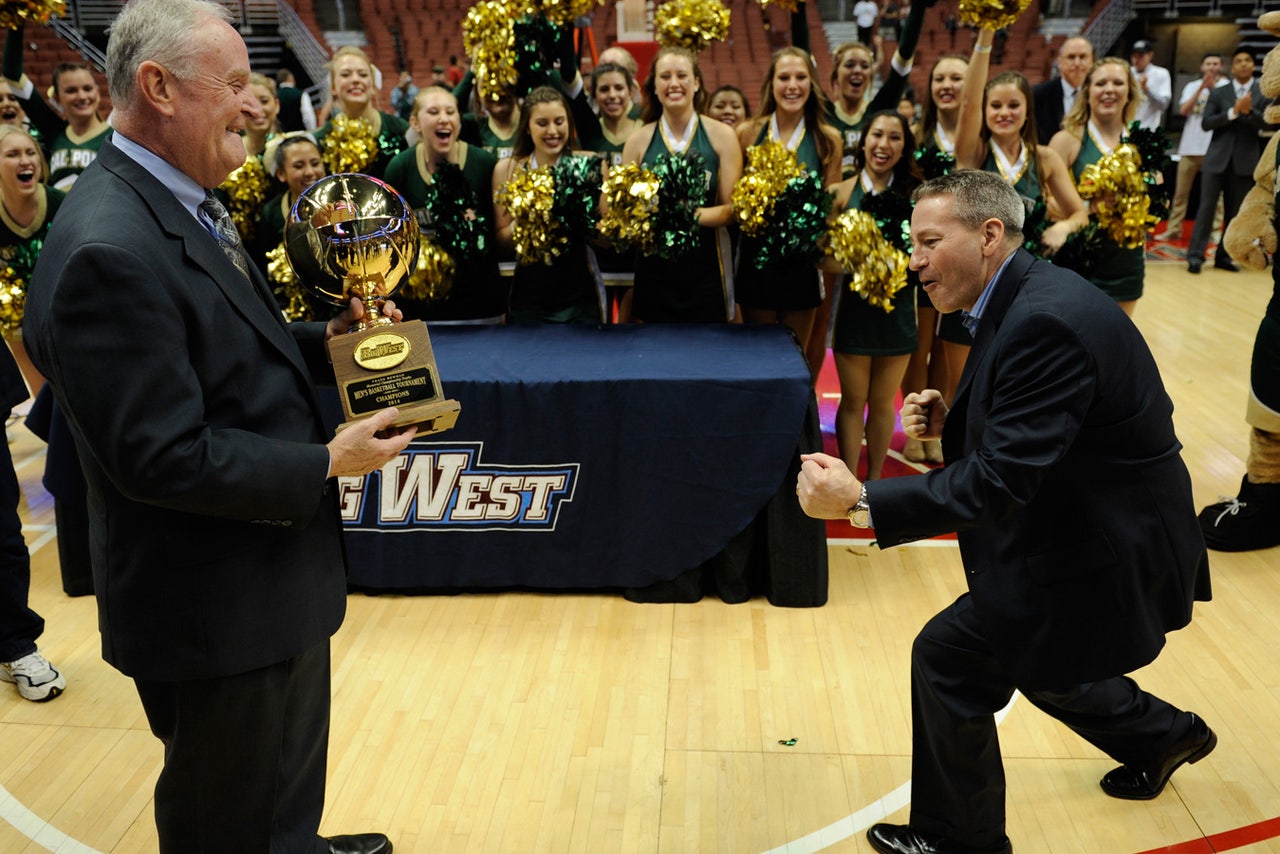 Wacky press conference caps off wild night for Cal Poly
But it was far from a perfect game. March comes with upsets and Cinderellas much like Poly but it also comes with controversy and this game wasn't devoid of it. 
Cal State Northridge, itself a Cinderella as a No. 5 seed and playing in its first postseason tournament in three years, is none too pleased with calls made in the final minute. A timeout wasn't awarded on a tie-up and a would-be game-winner was called off on a charge. 
Neither call was reviewed.
"The one thing that I'm not going to do is criticize the referees but those are tough calls to make at the end of the game. I thought we made the shot. Was it an offensive foul? I haven't seen the tape," CSUN head coach Reggie Theus said. "They made the shots down the stretch. Sometimes the calls go against you, sometimes they don't."
Theus defended his decision not to call a timeout following Kyle Odister's trip to the free-throw line with four seconds left. He didn't want to reset the offense after a timeout, he wanted them to space the floor and throw an outlet. 
"I'm very proud that we had the opportunity to potentially go to the NCAA (Tournament)," Theus said. "And coming a basket away from making it."
Theus doesn't want to get caught up in the minutiae of the final minute of play. His Matadors (17-18) left everything out on the floor with the celebratory confetti and that's all he could have asked for in his first season at the helm of a team that didn't really know how to win. 
"Nobody expected us to be here," Theus said. "The effort that they put in started in the summer. Believing in themselves, learning how to win some games, learning the identity of the team and staying within themselves. 
"If we played outside of ourselves I don't think we would be very good. We played within ourselves and really capitalized on the things that we did best and that gave us an opportunity every night to win."
For the Matadors, Josh Greene (12 points), Stephan Hicks (11 points, 12 rebounds) and Stephen Maxwell (18 points) were each named to the all-tournament team. Cal Poly's Eversley was named tournament MVP and his teammate David Nwaba was also named to the all-tournament team.
Of the regulars, Cal State Northridge loses only Greene and they will gain a trio of high-profile transfers in Amir Garrett, Kevin Johnson and Devonte Elliott. Theus is clearly a rising star in the head coaching world and promised that his team will be back next season.
Meanwhile, the Mustangs are going dancing for the first time. 
"We lost 9 of 11 games entering this tournament but nobody in that locker room believed that the season was over with," Eversley said. "It felt like a Disney movie."
---