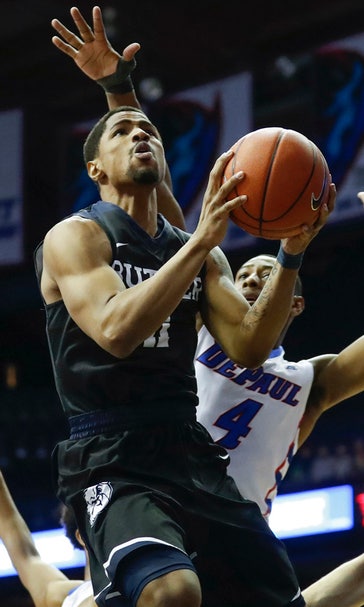 Butler squeezes past DePaul for 70-69 overtime win
January 21, 2017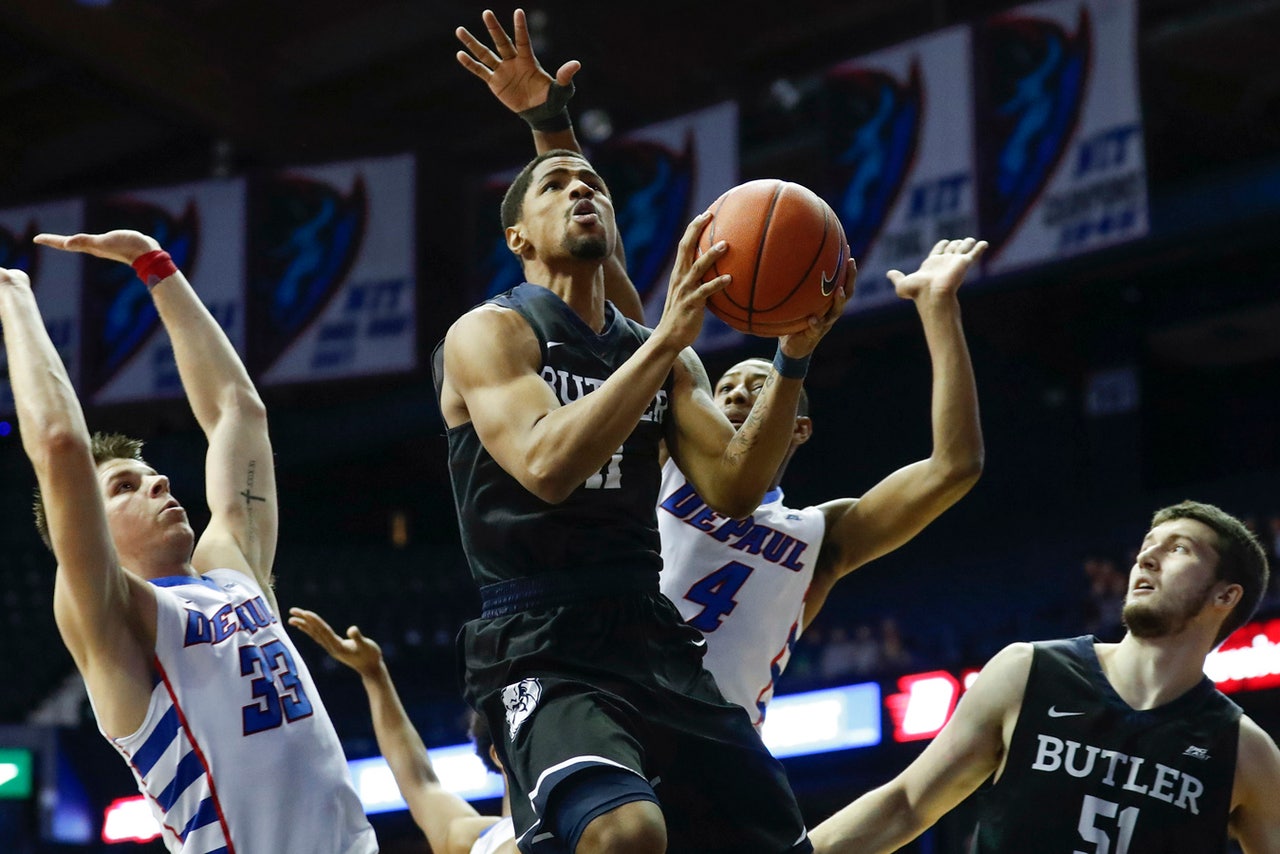 ROSEMONT, Ill. -- Butler continued its habit of struggling early in games.

This time, the issue nearly resulted in a loss to a last-place team.

The 13th-ranked Bulldogs trailed by as many as 20 points in the first half before rallying to hold off DePaul 70-69 in overtime on Saturday.

Kethan Savage scored 20 points, Kamar Baldwin added 18 and Kelan Martin had 12 for the Bulldogs (17-3, 6-2 Big East), who improved to 3-3 in road games after trailing at halftime in six straight conference games.

"There are some significant areas that we have to make major strides in, major strides," Butler coach Chris Holtmann said. "We are not nearly tough enough and we have to play much smarter as well so perhaps that has something to do with it."

Eli Cain scored a career-high 32 points for DePaul, which has lost eight of nine. Billy Garrett Jr. added 16 points and Tre'Darius McCallum had 15 points and 11 rebounds for the Blue Demons (8-12, 1-6).

Baldwin's three-pointer put Butler ahead 68-66 with 24.9 seconds left before Garrett's three-point play gave DePaul the lead with 10.1 seconds left in overtime. Baldwin took the ball nearly the length of the court and was fouled in the lane with 3.7 seconds left. He made both free throws for a 70-69 lead. Garrett missed a three at the buzzer.

Butler has won three straight and six of seven.

"They have big, strong, older guards that quite honestly we struggled with," Holtmann said. "We knew we would struggle with their guards, but when you have Eli Cain and Billy Garrett playing like that ... those two played like all-conference players today."

DePaul most recently beat a ranked team when it upset No. 11 Providence last February.

"We came up a few plays short," coach Dave Leitao said. "You'd like to have a couple of those back on both ends."

Butler had been holding opponents to 30.6 percent shooting from three-point range. DePaul made 11 of 24 3s.

"Guys think this stuff is easy coming on the road. Although we had unbelievable fan support, coming into a different environment and playing a team that is hungry for a win, it's not," Holtmann said. "We have to do a lot of things better, but I have to give DePaul a lot of credit."

Avery Woodson's three-pointer gave Butler its second lead of the game with 2:14 remaining in regulation to complete a 17-7 run. Savage was called for a reach-in foul with 2.1 seconds left. Cain made one free throw but missed the second to send the game to overtime.

DePaul was ahead 33-31 at halftime. Butler has led at the half in just one of eight conference games.

"When we go on the road we have to bring that toughness and throw the first punch," Savage said.



BIG PICTURE

Butler is 3-3 on the road but 14-0 at home and on neutral courts. The Bulldogs will have a chance to regroup against opponents at the bottom of the Big East: they next face Seton Hall and Georgetown.

DePaul fell to 8-4 at home. The Blue Demons have gone 1-5 since nearly upsetting top-ranked Villanova on Dec. 28.

They almost got another upset Saturday.

"Our resilience in both games goes to show the type of guys we have, the high-character guys we have," Garrett said.

POLL IMPLICATIONS

Last week, the Bulldogs dropped one spot after losing 75-64 to No. 7 Creighton. They bounced back to beat No. 15 Xavier, Marquette and DePaul.

TIP-INS

Butler is off to its best start in four seasons in the Big East at 6-2. ... The Bulldogs' bench outscored DePaul's reserves 32-4. ... Holtmann improved to 6-0 in his career against DePaul, including one victory while he was the coach at Gardner-Webb. ... Leitao is 0-3 all-time against Butler.

UP NEXT

Butler visits Seton Hall on Wednesday.

DePaul plays at No. 7 Creighton next Saturday.
---
---