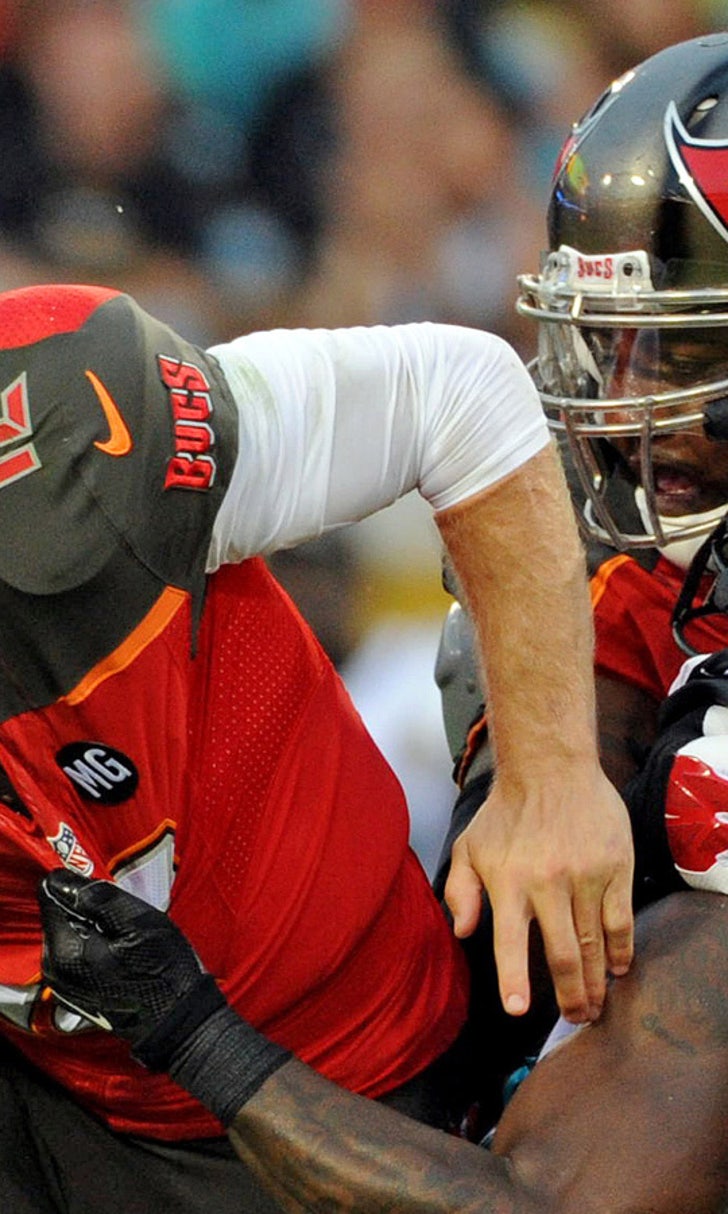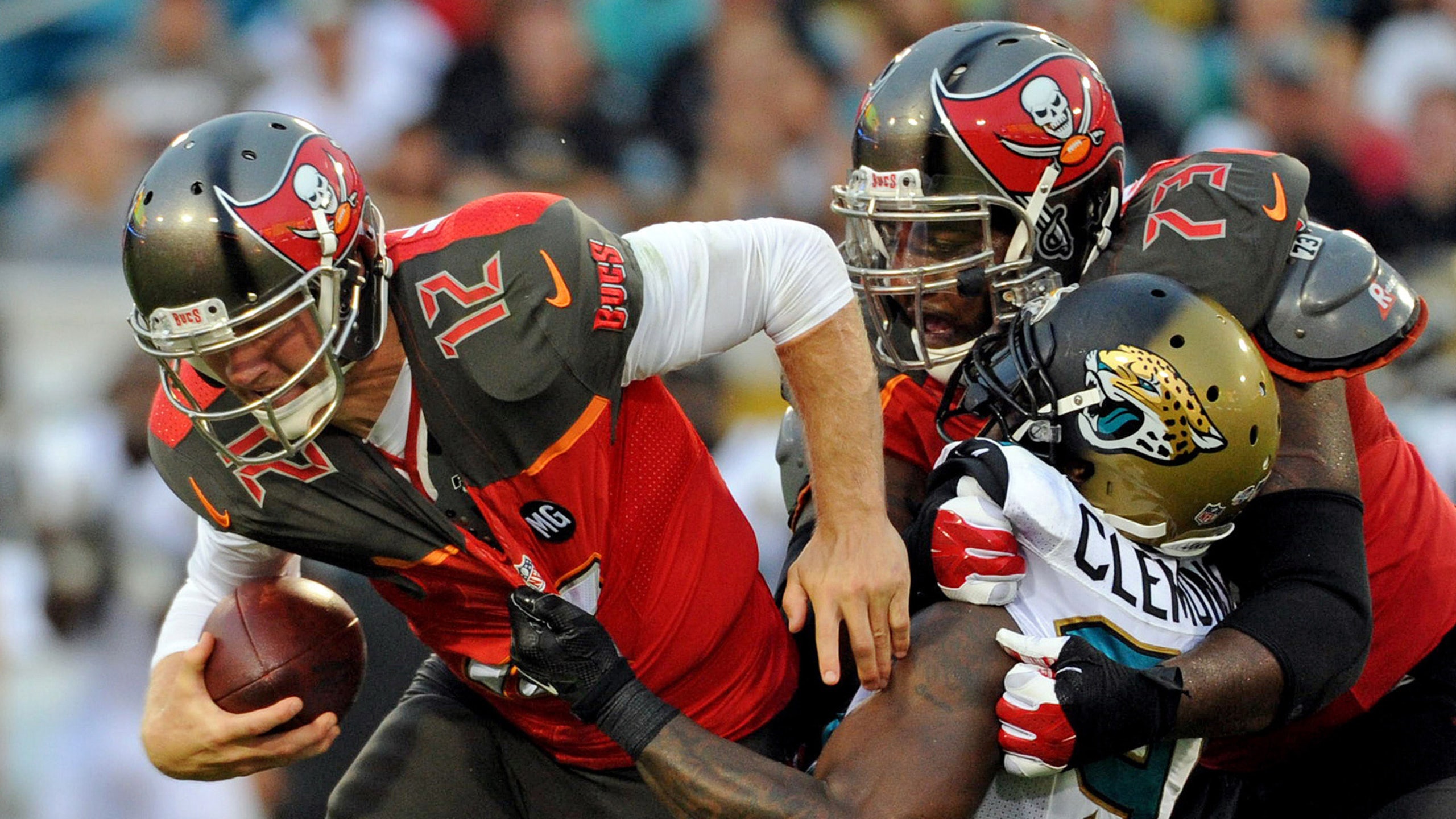 Bucs can't let O-line woes become a season-long problem
BY foxsports • August 10, 2014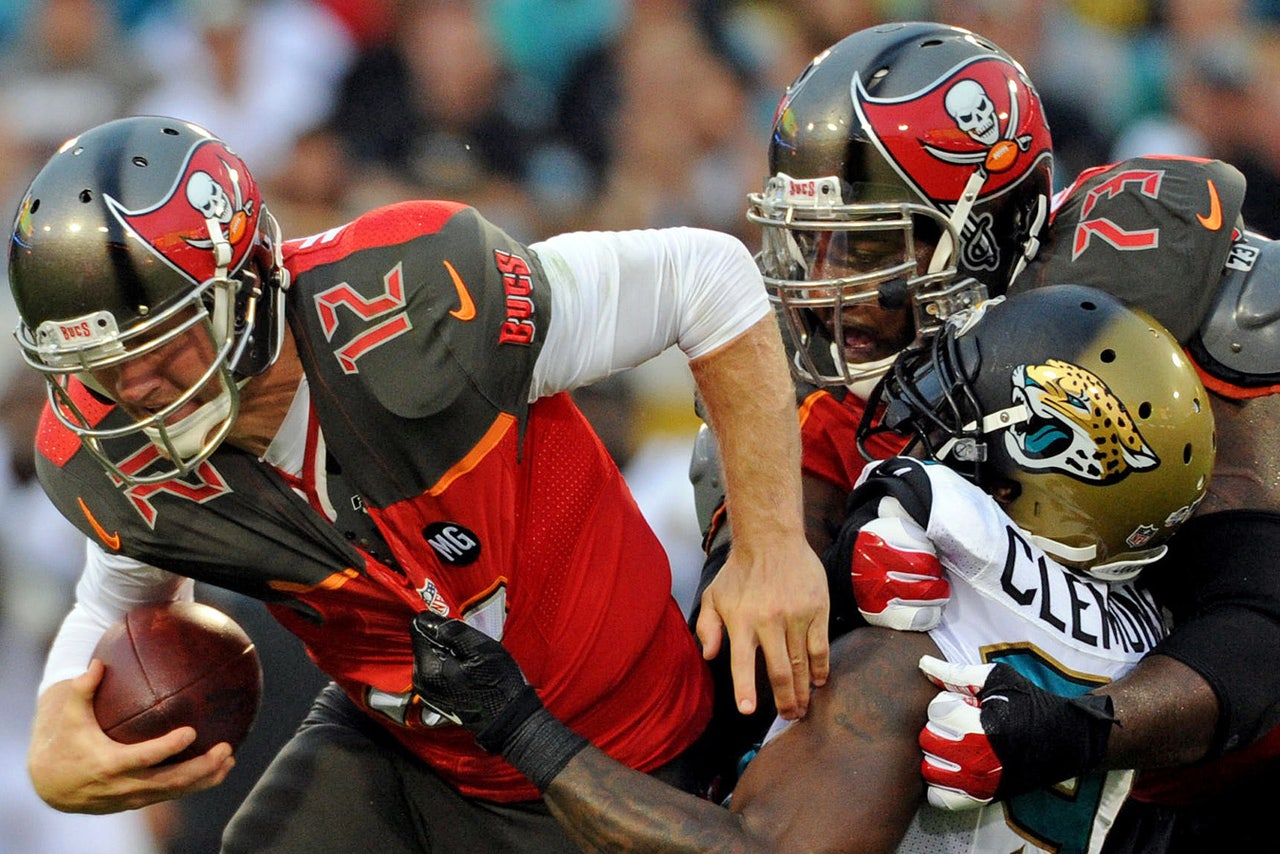 TAMPA, Fla. -- Early Friday night, after each Josh McCown scramble and instance of a Jacksonville Jaguars defensive lineman tearing through the Tampa Bay Buccaneers' top offense, it became obvious that Lovie Smith had a problem.
A rough showing should have been expected from the Bucs in their first preseason game under their new leader, especially with so much change in a philosophical and psychological overhaul since January. But the offensive line went from a question mark to a reason to cringe in one ugly, frightful opening quarter at EverBank Field.
This was the hard truth as the Bucs practiced again Sunday: The issue is beyond a quick fix. Should the problem persist, they should look beyond their facility for at least one answer at guard before Week 1.
''We realized we had problems with protection and just some of our offensive line play,'' Smith said Sunday. ''But you have to get in a game situation to see some of these things. The depth chart hasn't really meant a lot until this past week's game. Now, it does mean a little bit more, because we have something concrete to kind of go off as a starting spot, which we've done. We'll continue to work different combinations for a lot of positions.''
Smith is right about one thing. Early August is no time to overreact, a message he made clear Saturday when he spoke to reporters gathered at One Buc Place like a teacher might when trying to calm a group of unruly students: ''Don't overreact is what I would say. You guys don't lead the charge to start overreacting.''
Yes, it's no time to dash the optimism that came with Smith's hire, just because McCown resembled a rabbit in a fox's line of sight when completing 2 of 4 passes for 20 yards with one interception. Yes, it's no time to spike the hope that came with Smith's arrival, just because guards Jamon Meredith and Oniel Cousins became swinging gates of opportunity for Jaguars pass rushers. Yes, it's no time to charge Raymond James Stadium with pitchforks and lit torches, just because tackle Anthony Collins allowed a sack and no one on the first-team line played well besides tackle Demar Dotson and center Evan Dietrich-Smith.
Yet, doubts about the offensive line will continue to hang over the Bucs until they get this right. Sunday, Jace Daniels -- yes, the same Jace Daniels who spent Weeks 6-17 on the Bucs' practice squad last season -- lined up as a first-team guard along with Cousins.
The development drew predictable reaction from social media on a lazy Sunday afternoon. ''Say what?'' became a common response, one that's fair and understandable given the Bucs' chemistry-lab approach to their guard situation after Friday, where statements like ''nothing is permanent'' and ''working different combinations'' is Smith's way to describe the reality.
''Nothing is permanent,'' Smith said. ''We're working different combinations right now. That's all we've done. Jamon didn't play as well this game, but he's still in the mix. He's been playing guard and tackle. He'll continue. We'll just let him concentrate on one position a little bit more right now. But, yes, nothing is etched in stone right now.''
Nothing will be settled soon. The reality is no position for Tampa Bay looked Week 1-ready on Friday night, an observation that should shock no one.
The offensive line's problems received most of the alarm because there have been concerns about that group, specifically at guard, since the opening hours of Smith's arrival here. Friday's results only confirmed the worries.
However, a correction most likely will require savvy shopping, not a duct-tape repair job. It's hard to watch Friday's leaks and not think at least one of the Bucs' answers at guard, for now, lives outside Tampa. Smith and general manager Jason Licht will have hard questions to answer if the Bucs' first-team offensive line struggles against the Miami Dolphins on Saturday night. A repeat of Friday's performance can't be excused.
''Don't be discouraged,'' Cousins said, when asked what he'd tell the fans about Friday's outcome. ''I take it personally. I'm going to do everything I can in my part of the team ... to help the team win. We've just got to continue to chop wood and just continue to get better.''
''That was the first preseason game,'' Daniels said. ''Every team is rusty.''
What Smith must avoid is allowing the offensive line's rust to become permanent corrosion, damage that will crack the visions he and offensive coordinator Jeff Tedford have for their team: An uptempo attack that maximizes the potential of McCown, wide receiver Vincent Jackson, running back Doug Martin and others. The sight Friday isn't sustainable. Smith has been around the NFL long enough to understand.
''We'll put it on our shoulders,'' Cousins said. ''The offensive unit, the offensive line, we felt like that game was on us. We feel like we have to play better.''
There's no need to overreact, but the questions and concern should continue.
There's no need to panic, but healthy skepticism should remain.
The offensive line's play will continue to be watched, the growth paramount to the Bucs' success this year. For them, an early August problem can't become a season-long identity.
You can follow Andrew Astleford on Twitter @aastleford or email him at aastleford@gmail.com.
---