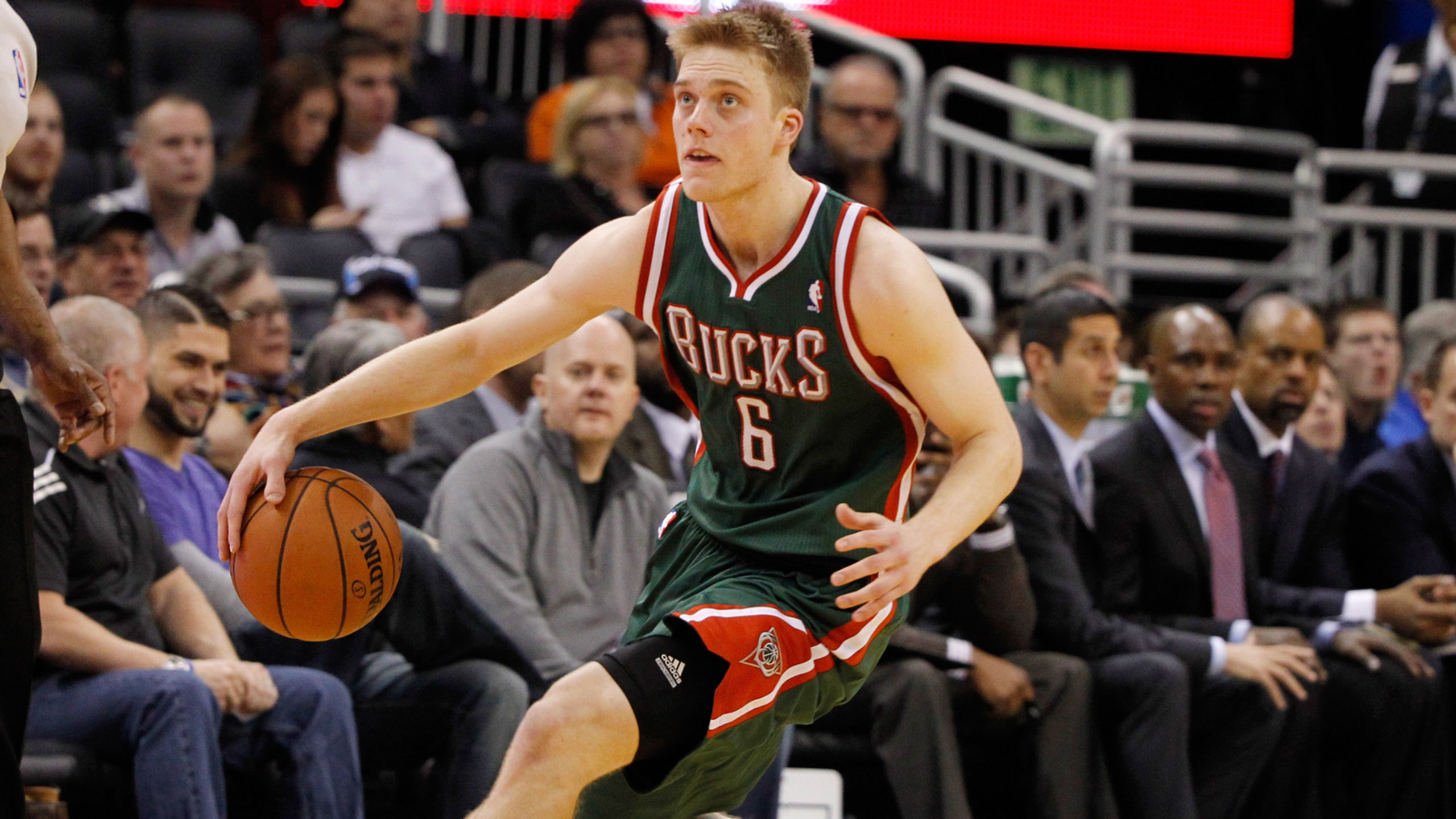 Bucks player profile: Nate Wolters
BY foxsports • October 24, 2014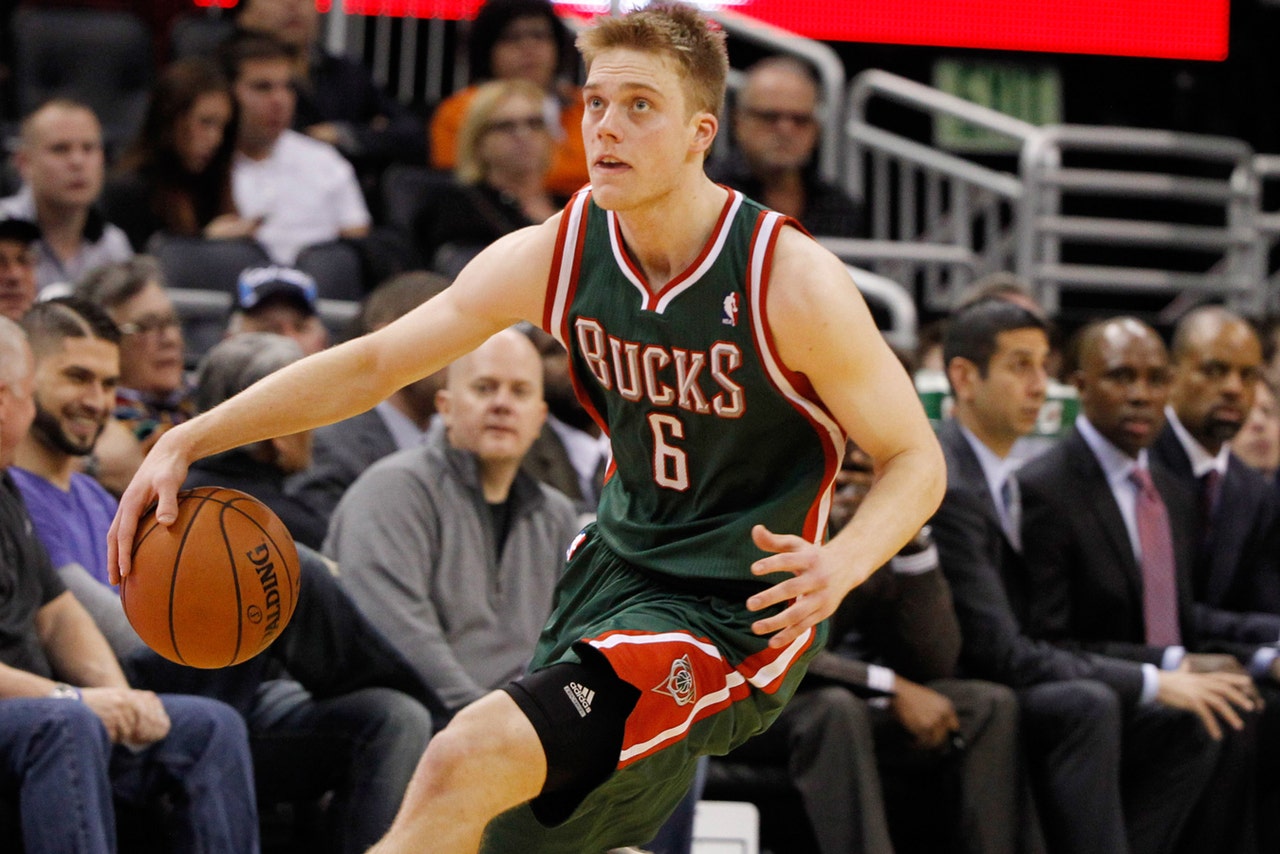 This is the 15th profile in a 15-part series running Wednesdays and Fridays profiling each Milwaukee Bucks player leading up to the start of the NBA season.
Through injuries, trades and other factors, the 2013-14 version of the Milwaukee Bucks provided opportunity for players who may not have played a lot had the season gone according to plan.
Nate Wolters was one of those benefactors, as the second-round pick out of South Dakota State ended up starting 31 games for the Bucks in his rookie season.
As he enters his second season in the league, Wolters finds himself fighting for playing time in the middle of a crowded backcourt.
2013-14 stats: 7.2 PPG, 2.6 RPG, 3.2 APG, 43.7 FG %, 65.6 FT %, 29.0 3PT FG % over 22.6 MPG in 58 games
2014-15 salary: $816,482
Last year: It didn't take long for Wolters to be thrown into the fire, as he quickly found himself as the only healthy point guard on opening night. Backup point guard Luke Ridnour was scratched pregame with a back injury, while starter Brandon Knight suffered a strained right hamstring less than two minutes in.
Wolters ended up playing 30 minutes in his NBA debut, scoring nine points with four assists. With Ridnour and Knight on the shelf, Wolters started seven of Milwaukee's first nine games and averaged 26.2 minutes per game in November.
His playing time dipped significantly in December and January with the two point guards ahead of him on the depth chart returning to full strength, but Wolters' opportunity came again when Ridnour was traded to Charlotte in February.
Wolters averaged 8.3 points and 2.7 assists in 17 games after the All-Star break, playing 24.9 minutes per night. He started the last 24 games he played in during his rookie season, most of the time alongside Knight as former coach Larry Drew opted to start two point guards.
His season ended with 13 games left in the regular season when he suffered a fractured left hand fighting through a screen at Golden State on March 20. The injury did not require surgery and didn't prevent Wolters from missing any time in the offseason.
Wolters shot 43.7 percent from the field and 29.0 percent from beyond the arc last season, but he hit 45.5 percent of his 3-point attempts after starting the year 3 of 29.
Although he missed time at the end of the season, Wolters played more minutes than any other second-round pick from the 2013 NBA Draft.
This year: Wolters certainly proved capable of playing in the NBA last season, but that doesn't guarantee him a spot in new coach Jason Kidd's rotation. The Bucks have Knight, Wolters, Kendall Marshall and Jerryd Bayless capable of playing point guard and there simply isn't enough minutes for all of them.
Barring a surprise, Knight will start at point guard on opening night, leaving the other three to fight for backup minutes.
Kidd spent the preseason mixing and matching different lineup combinations, including rotating his four point guards. After missing a pair of preseason games with a sprained ankle, Wolters averaged 13.5 points per game in Milwaukee's final two exhibition contests.
Wolters is a big point guard at 6-foot-4 and has no hesitation about taking the ball to the basket. His jump shot leaves a lot to be desired, although it was a major focus of his during the offseason.
There are many ways Milwaukee's backcourt situation can shake out. Wolters deserves to be in the mix, but Kidd may opt to use Marshall and Bayless behind Knight. But the 23-year-old knows a thing or two about opportunity presenting itself, and Wolters is a nice bench option to have if he begins the season third or fourth on the depth chart at point guard.
Quotable:
"B-Knight does things differently. His speed is probably the fastest of all of him. Shooting the ball, Brandon shoots it extremely well. Nate is a guy that can get in the paint and cause problems and finish. Kendall can pass and find open guys to knock down a three. There's only 40 minutes and you can't play them all." --€" Kidd on Milwaukee's point guard situation
Follow Andrew Gruman on Twitter
---