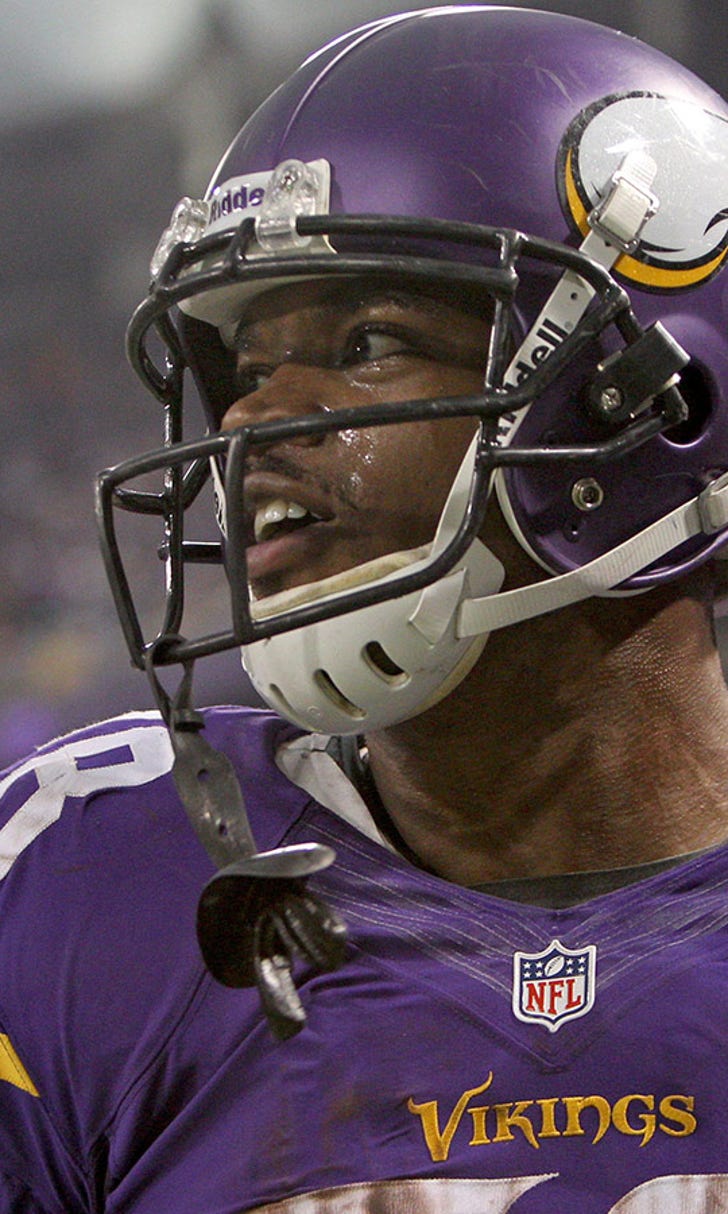 Brian Hall's Dec. 12 Vikings mailbag
BY foxsports • December 12, 2013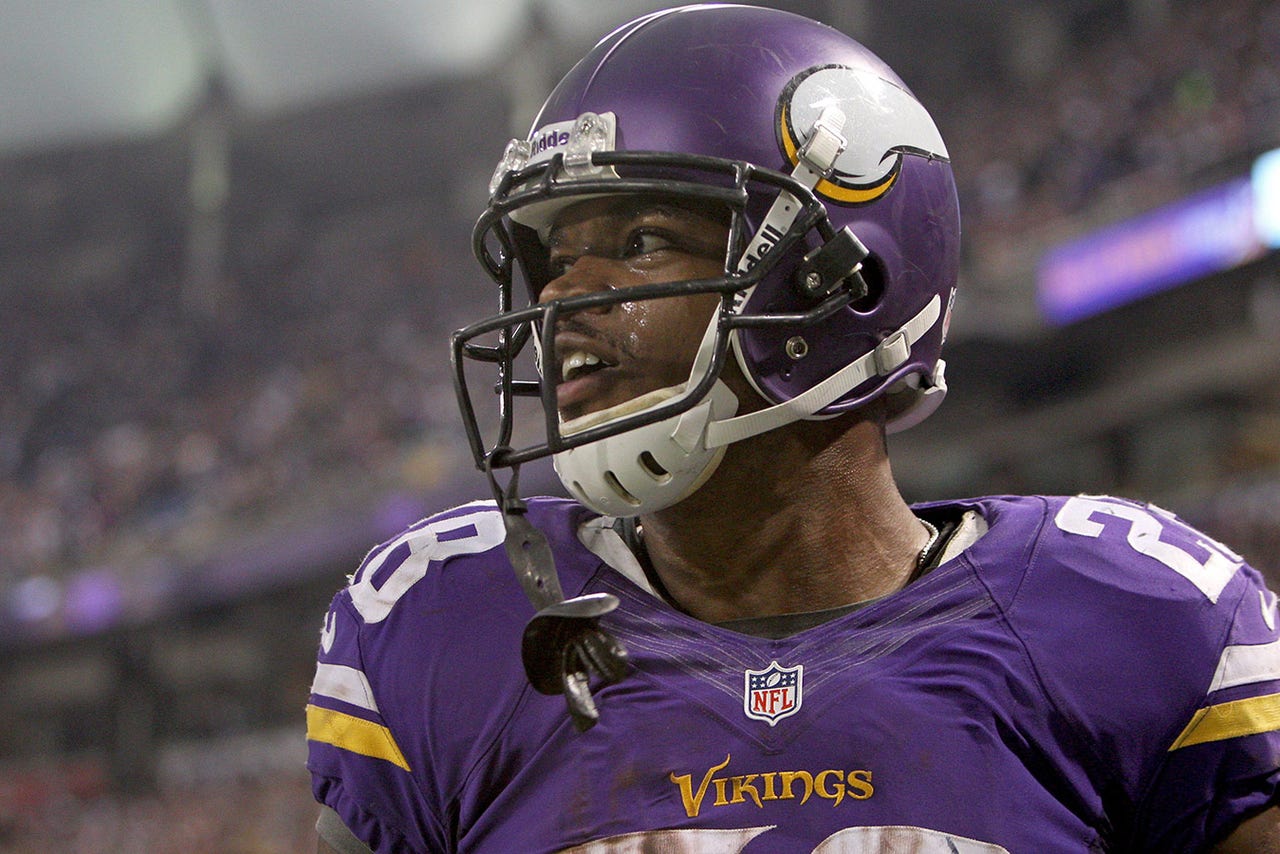 Sunday's game for the Minnesota Vikings brought the good (improved defense, comeback ability), the bad (another late-game collapse) and the ugly (officiating).
Of course, the bad and the ugly dominated the questions in our weekly Vikings' mailbag, particularly the officiating. Without further ado:
Question: Have officials been suspended and disciplined after games.  After so many phantoms calls and a called fumble which was clearly not a fumble by many replays. The Defense did its usual end of the game crumble, but the loss was clearly helped by a very poor officiating crew, phantom interference calls, botched fumble upon replay.-- Tim C., Council Bluffs
Q: Brian, the Ravens have the right idea, just keep throwing long passes and you will draw a penalty on at  least one of them. I watch Sunday NFL Ticket and see a lot of games and the officals are really making bad calls this year. The Vikings had their share Sunday but it was the Browns who really got hit with the worst call of the day which allowed New England to win. What can be done about this?-- Al Tiseth, Chatham, Il
Q: may we please have the refs we had in Baltimore, so we know the outcome of the last three games, and maybe a good guess on our draft picks-- big john, northern mn
Q: I really think those referees should be not only fired, but investigated for the calls that were made in that game. Sure Im a vikings fan and ya partial to the team but that was absolutely disgraceful.  For any team to be jobed like that really stinks.-- tim sander, mo.
Answer: Really, I had to cut it off at the first four questions. The officials were the hot topic after Sunday's game with several more questions in regards to Sunday's officials and the host of questionable calls, such as a fumble by Toby Gerhart, a peel-back block call on Joe Berger and a pass interference penalty on Chad Greenway.
The peel-back block is one of the newer rules and being watched this season, though it hasn't been called very often. Pass interference is and always has been a judgment call that has often led to disagreements. Greenway did have his arm around Baltimore tight end Dennis Pitta, who fell on the play, but didn't seem to cause much interference during the play.
However, the fumble on Gerhart is inexcusable. Gerhart was ruled to have fumbled on the play and the Ravens recovered. The play was reviewed and camera angles showed Gerhart's knee was down before the fumble, but referee Peter Morelli stuck with the call on the field curiously and Baltimore scored a few plays later.
It's little consolation, but coach Leslie Frazier was called by the league Monday. While Frazier refused to discuss the specifics of the conversation, it's clear the league called to apologize for the officiating errors in the game. And it didn't take Frazier calling the league. He received a call on Monday, unprompted, which tells you everything you need to know about the situation.
Officials are reviewed by the league and are "downgraded" after bad performances. The ratings could lead to being left out of playoff and Super Bowl games, and eventually maybe losing their jobs. But the spotlight on officials, with a share of bad calls lately, has never been higher. The topic will continue to be a hot one as fans get an even closer look at the action with the use of technology.
Q: The cover two defense cost the Vikings another last minute Victory. It hasn't worked all season. Why didn't the Vikings stick with the man to man press, which the defense had success bottling the Raven receivers for the majority of the game.-- Mike, Minneapolis
Q: Do you feel as I do that we are getting outcoached at the end of the games in these close losses?-- Paul Penkert, New Ulm MN
A: Minnesota has had more success in recent games using more man-to-man defense and pressing with rookie cornerback Xavier Rhodes. The late-game situations this season have been an issue with the lack of aggressiveness and letting opponents find open field often. The Vikings are better served using a mix of defensive schemes and keeping the pressure on opponents.
On Sunday, the fifth time Minnesota has given up a lead in the final minute this season, Rhodes was out at the end of the game with a serious ankle injury. The nickel defense had Chris Cook, Marcus Sherels and Robert Blanton playing cornerback. Including Blanton's lack of experience in playing cornerback, maybe the Vikings' defensive coaches didn't feel comfortable in man coverage because of the players available.
Q: Why oh why do the Vikings coaches keep making stuped decisions late in the game....for example why kick off to the guy who ran it back all the way and why such loose coverage on the last drive....which is how they have lost at least 4 games this year???????-- Dick Johnson, Elk River
A: We've already touched on the late-game defense. The kickoff returned by Jacoby Jones 77 yards for a touchdown was a strange sequence. Coach Leslie Frazier said the strategy of kicking high and short to Jones in part came after Minnesota was burned in a similar situation a week earlier against Chicago's Devin Hester. The Vikings kicked it deep and Hester returned the kick 57 yards giving the Bears a chance to score late.
Frazier didn't want to do the same with Jones, another dangerous returner. The high, short kick by Blair Walsh was intended to avoid Jones, much like teams have done with Cordarrelle Patterson this season. At the very least, the hope is the coverage team would be down in time to cover the short kick with the high hang time. Only Jones ran forward and caught the kick almost in perfect stride and was hardly touched on his way to the end zone. Avoiding Jones was a good idea in the situation, but the execution was lacking and a different way of kicking away from Jones might have been the better option.
Q: Didn't ever think Adrian would be a sore loser.  If fans were throwing snowballs, why is the refs never saw it and the TV camera didn't either. The Vikings have a good team and an outstanding head coach. Will the Vikings fire the head coach?-- Rich, Bel Air MD
A: An interesting response and commentary on Frazier, UNTIL you see Rich is from Maryland. Fans having fun in the snow is certainly well within their right. But Peterson had reason to be upset. Several Vikings players and coaches said they were hit by snowballs. I can appreciate a passionate fan base enjoying an exciting game, but there is no reason players should feel the target of a snowball attack during a game.
Q: How about us (the Vikings) return a favor to Jerry Jones and the Cowboys. We trade Adrian Peterson to the Cowboys for draft picks? I love Peterson but honestly we aren't going anywhere soon. The Vikings need so many parts on Defense to be legit. Rick and Jerry lets make something happen!!!!-- Thao, Marshall MN
Q: The Vikings are moving outside for the next couple of seasons. Playoff teams WIN in December. Toby Gerhart needs to be on this team moving forward. Please give us your thoughts on the Vikings trading Peterson to move up in the draft for a QB and going all defense with the rest of their picks. Thank you.-- Dayshawn, Mpls.
A: Two similar questions, so we'll tackle this in one response. A package like the Cowboys received for Herschel Walker from the Vikings so many years ago might be the only way Peterson will be traded this offseason. Of course, Peterson's comments last week has sure added extra fuel for rumors when he mentioned he wouldn't mind playing someday back in Texas for the Cowboys or Texans. Peterson's comments were more general though, the type in which an athlete hopes to one day play in his hometown.
I would be shocked if Minnesota was open to the concept of trading Peterson. And the return would have to be monumental. I can't imagine many teams giving up, especially in this pass-happy age, enough for the best running back in the league. A franchise quarterback might draw a big price tag, but the Vikings are built on a run-first philosophy and having Peterson is the best way to have success as they still search for their own franchise quarterback.
Personally, I wouldn't trade Peterson without knowing a franchise quarterback would be coming back to the Vikings. Defensive help is needed, particularly in the secondary. Gerhart is also a free agent at the end of the season. I have no doubt Gerhart will be a strong running back next season. But if I had to choose between Peterson and Gerhart, I'd certainly choose Peterson. And there's no guarantee Minnesota would be getting a franchise quarterback back in return.
Question : What has your thought been on Jeff Locke so far?  It seems like Jeff has put on a quiet but solid rookie season.-- Adam, Bloomington
A:  Locke has had an inconsistent rookie season, certainly. But he's shown improvements in recent weeks, and special teams coordinator Mike Priefer believes the light has come on for Locke recently. Priefer said early in the season, Locke was perhaps thinking too much and trying to be too perfect.
Locke might have struggled a bit Sunday with the snowy conditions. He ranks 22nd in the league in gross-punting average with a 44.8-yard average. He's tied for 21st in net average with a 39.3-yard average. Those numbers will have to improve. Locke is talented but consistency is the key from the punter.
Q: why have the Vikings ingnored DWI from simpson and Henderson? There should have been some impact back to those two for their behaviour? Does not seem like the Vikes care about poor off the field incidents-- Mike Kenney
A: There's certainly been somewhat of a double standard when it comes to Minnesota's legal issues. But does that shock anyone? Caleb King was released in 2012 after an off-field incident and cornerback A.J. Jefferson was released last month after an arrest for domestic assault. Players who have a higher standing on the team, such as Jerome Simpson and Erin Henderson, are still on the team. Both players temporarily lost their starting assignment. In most instances, the collective bargaining agreement limits what a team can do to discipline players.
Minnesota does care about the incidents. Not long ago, the Vikings had some of the most issues with off-field incidents of any team in the league. Coach Leslie Frazier and the organization have worked to change the number of incidents and the perception. The Vikings had gone a year without any legal issues before Simpson was arrested and then they had three in the span of three weeks. A tougher discipline for Simpson's and Henderson's transgressions surely would send a stronger message. Frazier and the team doesn't appreciate having to deal with the incidents though.
Q: Do we have a chance to get Jonnie Football in the upcoming draft?-- Rick Kohn, Corvallis, MT
A: There's a lot of pre-draft speculation and much to still be decided before next summer's draft. Minnesota still has three games in which to set its draft slot. Likely though, if the Vikings fall in love with Johnny Manziel in the draft process, the chance to draft him could be there. Houston is in line for the top overall pick and has a need at quarterback. The consensus top quarterback right now is Louisville's Teddy Bridgewater. Minnesota currently holds the fourth draft spot and Manziel is one of a handful of quarterbacks that will be considered possible first-round picks.
Q: Why haven't the Vikings tried any trick plays? No halfback passes, no halfback pitch back to quarterback passes. No fake punts....With Peterson, Paterson, and Webb for backfield trick plays. Why only the reverse run? Why is Peterson only pass targeted on button hooks? Slants and post routes on the fly? Why is Jared Allen only coming from his normal spot. Move him around on the d-line....He should get more holding calls in his favor.-- Steve Miller, Richfield, Mn
A: There has been a noticeable lack of creativity from Minnesota's offense this season. When Cordarrelle Patterson lined up in the backfield two weeks ago and scored a rushing touchdown, it was one of the rare cases of breaking with what the Vikings' offense typically looks like. You have to believe a creative offensive coordinator could find new wrinkles for Patterson, Peterson and Gerhart, and even Joe Webb, who's variety of skills could make opposing defenses sweat.
Along the defensive line, Jared Allen has never really moved from his typical right end spot. It didn't matter when he racked up 22 sacks in 2011. The team does use Everson Griffen in a variety of roles, even inside as a pass-rusher. But Minnesota, Allen and left end Brian Robison are comfortable attacking from their usual spots.
Q: Do you have a feel or thought about which teams would outbid the Vikings for JA or KW?-- Norskie, Austin, MN
A: Allen is likely looking at his final season in Minnesota and a return by Kevin Williams would seem to be a longshot at this point. Allen, who's making in excess of $14 million this season, will have suitors looking to add a pass-rush end to a Super Bowl hopeful team. And Allen, 31, will likely look for a team in which he can finally win a championship. Allen's had a down season, but he's still a strong pass rusher and will serve a team well and likely earn a multi-year contract. With so many defensive spots needing help, the Vikings can't tie up big money in trying to retain Allen.
Williams has talked of wanting to finish his career in Minnesota. The question is whether the Vikings want him back and at what price Williams is willing to return. And will Williams, 33, be willing to see his playing time reduced on a return. He probably only has a couple of years left in the NFL. Right now, it's hard to tell which teams might have interest in Allen or Williams. Allen should have options in free agency, while Williams' possibilities could be limited. Their leadership is nearly as valuable to Minnesota as their performance.
I've pondered if it would be possible for Williams to return for a team-friendly deal and move to nose tackle and start alongside Sharrif Floyd next season. I believe such a proposal would be beneficial to both sides, but money and egos would have to be worked out for such a deal to work.
Thank you for your submissions. Sorry we're not able to answer each question individually. I've tried to hit as many different topics as possible. I hope we continue to hear from you in the future. Be sure to check FOXSportsNorth.com for upcoming mailbags.
Follow Brian Hall on Twitter
---