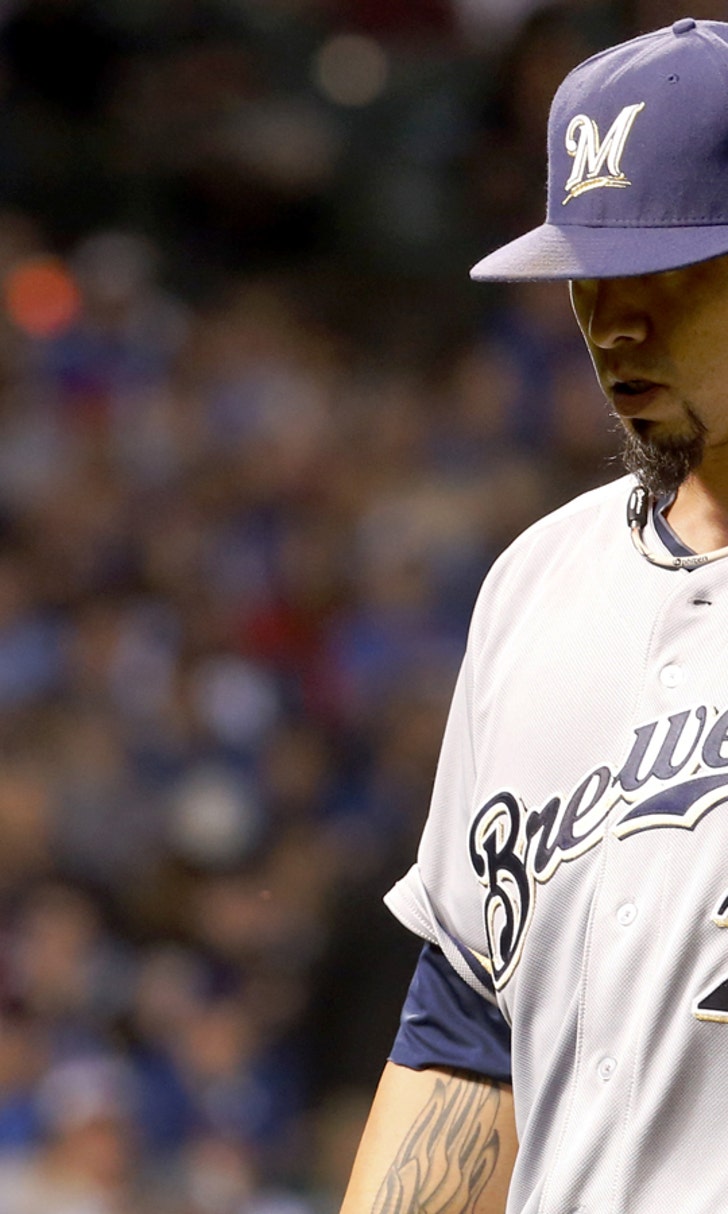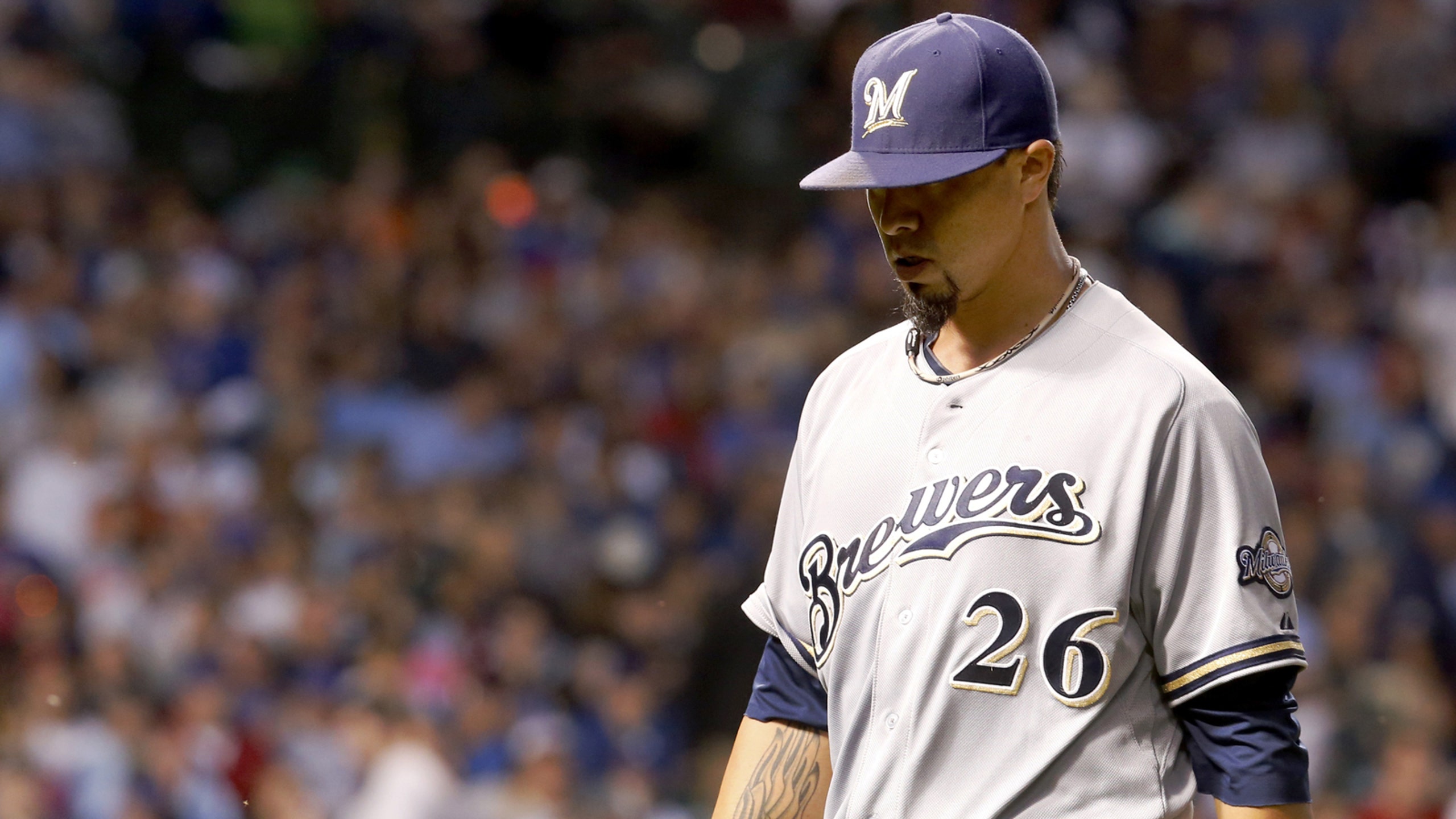 Brewers loss doubly painful considering Lohse injury, hitting woes
BY foxsports • August 13, 2014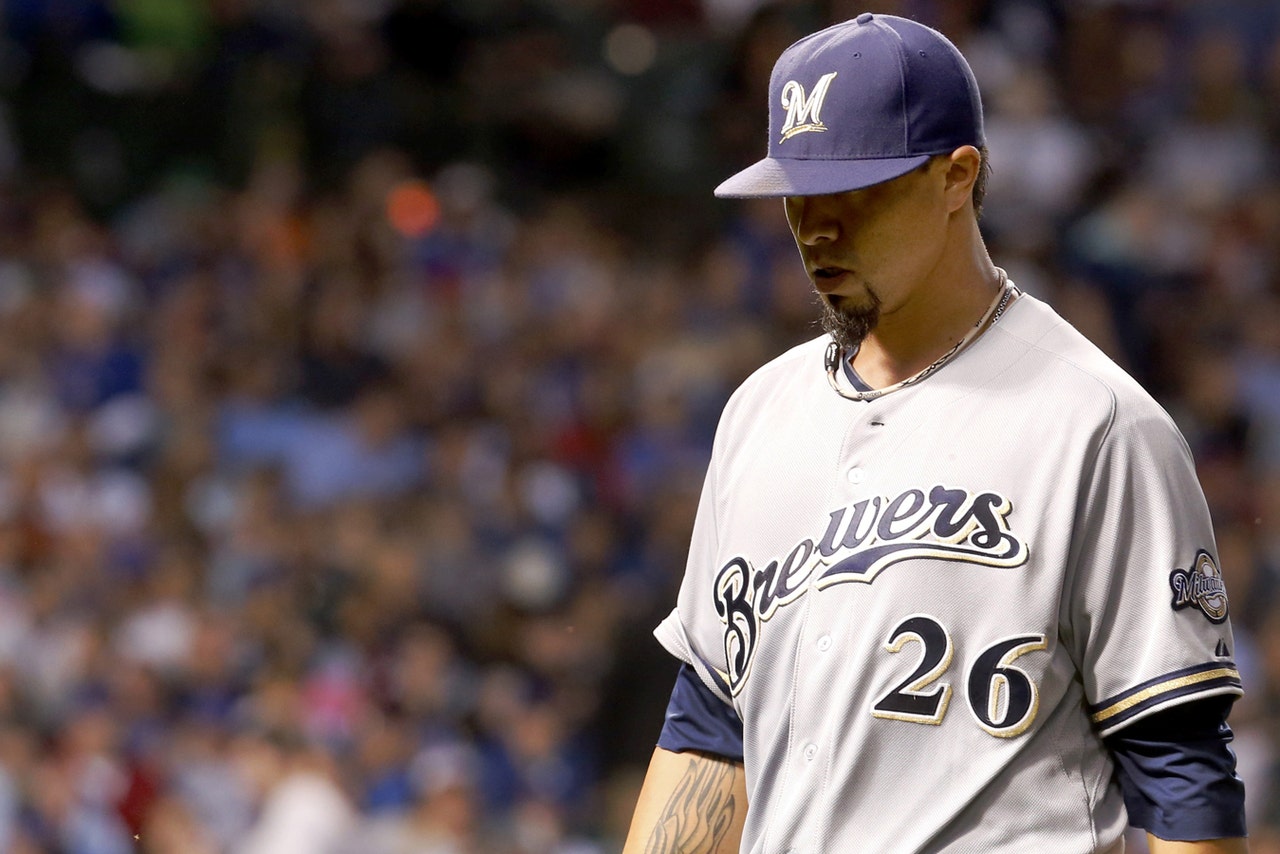 Like Kyle Hendricks the night before, the Milwaukee Brewers had never faced Tsuyoshi Wada prior to Wednesday.
The 33-year-old Japanese rookie left-hander produced a similar result to his teammate, as Wada held the Brewers to just a pair of solo home runs in his 6 2/3 innings of work to send Milwaukee to a 4-2 loss at Wrigley Field.
Not only did the Brewers drop their second consecutive game to the last-place Cubs, but they lost Kyle Lohse to a tweaked right ankle after just three innings Wednesday. The veteran right-hander aggravated a right ankle injury he suffered during his start in St. Louis on Aug. 2 while hitting in the top of the third.
"I was able to make the adjustment, make the pitches to get through L.A. and today," Lohse said. "It didn't feel right from the start, then kind of tweaked it trying to check that swing and from there I just couldn't push off the way I want to. I just need to be careful. I was really sore after the last start because I was making adjustments.
"Last time I pitched I was throwing probably all upper body and today was probably the same. I probably could have kept going, but it's one of those things where you just have to be smart about that and not hurt something else."
After battling through his last start to hold the Dodgers to just one run in six innings, Lohse didn't seem to be right Wednesday. The Cubs quickly jumped out to a 2-0 lead in the bottom of the first inning, as Chris Coghlan got things started with a leadoff double and went to third on a Javier Baez single. Anthony Rizzo plated Coghlan with a sacrifice fly, while Starlin Castro followed with a base hit to center to score Baez.
Lohse was seen grimacing after checking his swing against Wada in the top of the third and limped back to the dugout following his strikeout. He returned to the mound for the bottom of the inning and surrendered back-to-back solo home runs to Baez and Rizzo.
Brewers athletic trainer Dan Wright and manager Ron Roenicke came out to look at Lohse with one out in the third, but he stayed in to strike out Arismendy Alcantara and John Baker to end the inning.
"When you're making an adjustment your stuff's not as sharp," Lohse said. "I don't have the depth to the breaking stuff that I need. It's not breaking late. I found out after giving up the four runs that the changeup was really the only thing really kind of working. As a guy that locates, I wasn't really able to locate the fastball. That's a problem. It wasn't smart to just keep going out there and doing it.
"I'm not going to fret too much about the results of things like that. I know what the cause is; I just need to get to where I can push like I normally do and pitch the way I do."
Marco Estrada took over for Lohse to start the fourth and ended up giving the Brewers four scoreless innings of relief, allowing the offense time to try to overcome the 4-0 deficit. Like Hendricks on Tuesday, Milwaukee simply couldn't solve Wada, a one-time college teammate of former Brewers outfielder Norichika Aoki.
The Brewers had just three hits until Rickie Weeks and Martin Maldonado hit back-to-back solo home runs in the seventh to cut Chicago's lead to 4-2.
"I think his fastball surprised us," Roenicke said of Wada. "I know the first inning all of our guys were behind the ball. Somehow he has a little more life than you think. We get in these little funks. I don't know how much it has to do with the pitching we're facing.
Wada, who spent the last three years in the minor leagues after coming over from Japan after the 2011 season, has allowed two runs or fewer in five of his first six career big-league starts.
The Brewers have a history of struggling against unfamiliar arms and did so again Wednesday.
"I don't know," Weeks said of the Brewers struggling against pitchers they haven't seen before. "We've been playing this game for, what, five months now? It's one of those things that as soon as someone gets up there, they toe the rubber and they throw strikes and you have to hit the ball. . . . Sometimes those guys have pretty decent stuff, but we feel like we should have come out and put some runs on the board."
With Pittsburgh falling to Detroit on Wednesday, the Brewers maintained a 1 1/2 game lead in the National League Central, but third-place St. Louis moved within two games of the division lead.
Already down one starter with Matt Garza on the disabled list, Milwaukee's attention now turns to the health of Lohse. The ankle injury seems to be minor, but it is definitely affecting the way the right-hander can pitch.
The Brewers have a pair of off days next week and can rearrange the rotation to give Lohse extra time or skip his start completely.
"It's just one of those things," Lohse said. "We'll stay on the treatment that we've been doing, and figure out if we can do something to enable me to do the things I need to do to make pitches.
"You can't put a boot on it and completely keep it from doing the things it's going to do when you rotate your ankle through and you push off. We'll figure something out and hopefully it'll feel better next time."
Follow Andrew Gruman on Twitter
---