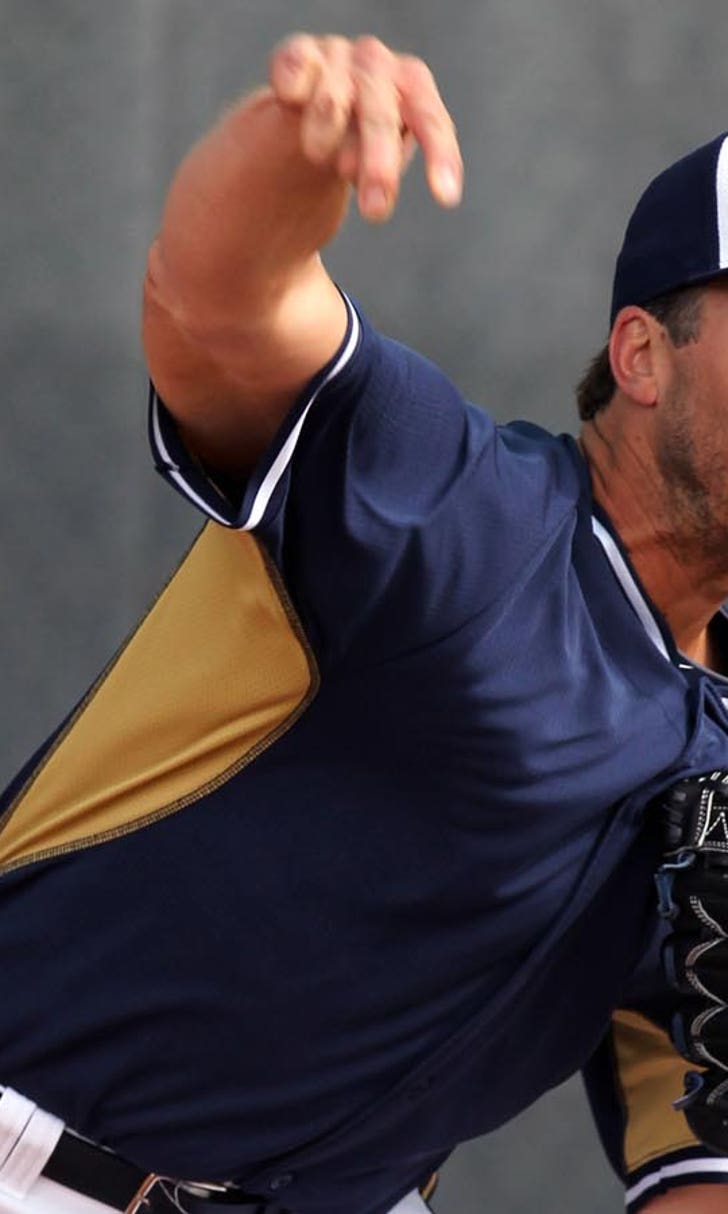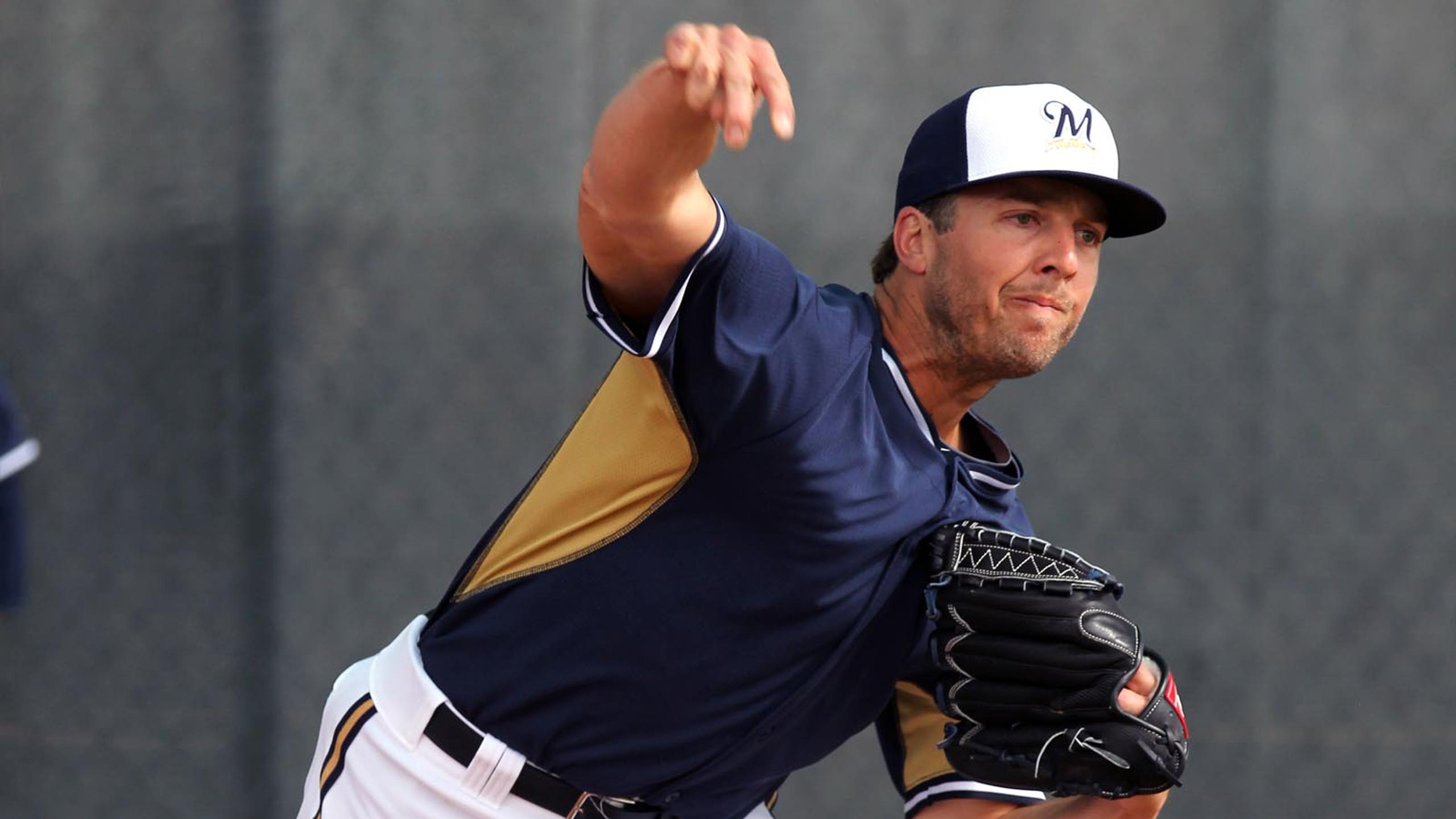 Brewers' Kintzler brings the right approach to the mound
BY foxsports • March 13, 2014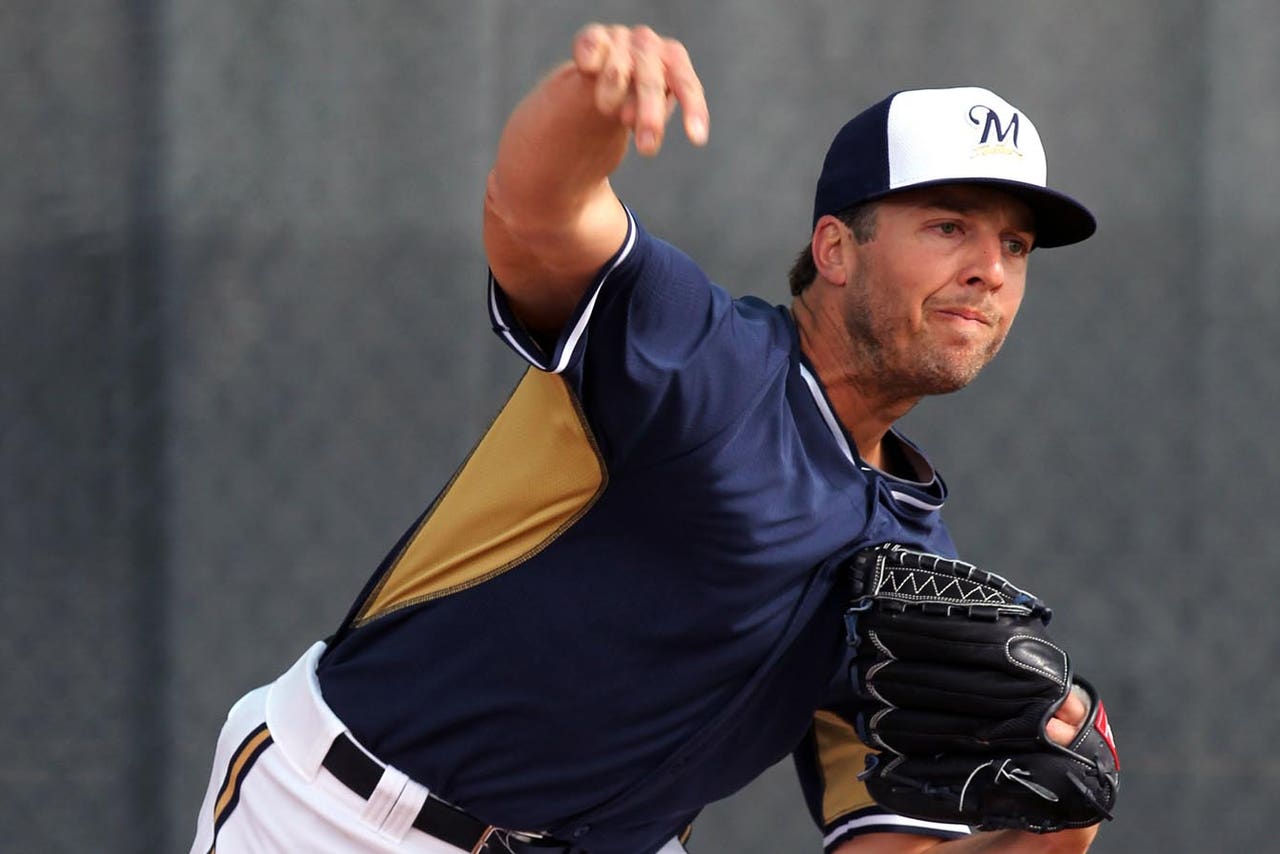 PHOENIX -- For the first time in his career Brewers pitcher Brandon Kintzler is all but assured of that he'll be on a major-league roster on Opening Day. After the work he did last year, his first full season in the majors, the right-hander's place in the Milwaukee bullpen is well deserved. 
Earning a roster spot out of spring training, the 5-foot-10 set-up specialist posted a 3-3 record with a sparkling 2.69 ERA in 2013. Just as impressive, Kintzler stranded 76.2 percent of the runners he inherited and his 1.065 WHIP was the best of any pitcher on the team appearing in more than 25 games. He was even more effective as the season progressed, notching a 2.09 ERA over his final 59 innings while not giving up an earned run over his final nine innings.
The 29 year-old credits much of his success last season to his mental approach.
"Mental focus was key for me last year. Learning to trust what my abilities are and believing in what I was capable of was something I worked on. You have to do that out there, especially in relief. So I focused on what had made me successful and stuck to it last year."
Brewers' catcher Jonathan Lucroy also credits Kintzler's mental approach.
"He's got a great temperament on the mound," Lucroy said. "He attacks the zone.  He's not afraid to challenge and he knows how to use what he's got. He likes to pitch in tough situations. He handles the pressure. That's the kind of mentality you want to have out there in big games."
Manager Ron Roenicke likes the approach Kintzler brings to training camp.
"You like having guys like Kintzler in camp," the manager said early in spring training. "When guys have gone through what he's had to to get to this level, no matter the success they've had they feel like they have to earn their spot on the team every year. I like that. You have to dial it back sometimes, but it's a great attitude."
Also important to Kintzler's success is a sinker that Lucroy describes as, "just devastating."
"If he's on, like he was last year, guys are almost always going to have trouble with that sinker," said Lucroy. "Even when they know it's coming. He can get you out of a tough inning real quick.  Two pitches from him and it can be over."
Drafted by the Padres in the 40th round of the 2004 draft, the Las Vegas native only began experimenting with his sinker after career-threatening surgery in 2006.
"I taught myself the sinker after I had my shoulder done," Kintzler said. "I was playing independent ball and I wasn't really throwing that hard.  So I had to find a way to make the ball move somehow.  So I started tinkering with what I had to do with certain parts of my windup to make the ball sink more and move different ways.  And then once the velocity came back, it was even more effective."
Kintzler's fight back from that shoulder surgery included missing the 2006 season entirely while managing a Cold Stone Creamery and driving a limo in Las Vegas.  He returned to the game in 2007, pitching for two clubs in the independent American Association before having his contract purchased by the Brewers on July 24, 2009.
"Kintzler is a guy that we liked his arm and coming off his shoulder injury, we felt like he had a lot of upside," said Brewers general manager Doug Melvin earlier this spring. "He fits the mold of what our club has to do to develop talent and we've had success with."
While Kintzler admits that someday he'd like to close games at the major-league level, he embraces his current role in the Brewers' bullpen.
"Closing is something every reliever would like to do. But you have to wait your turn and be ready when the door opens. You see that all the time. I closed in the minor leagues and loved the rush of it.  But at this level, seventh inning, eighth inning, closing, it doesn't matter. When the phone rings and the game's on the line, that's a rush and that's what you want as a reliever."
Even in the set-up role, Kintzler is preparing to do even more in 2014.
"I've been working on flexibility this year. I want to add strength, but not lose any flexibility. I pitched in 71 games last year, but I felt strong all the way through. This season though, I'm getting ready to pitch in 80 games, because that's what it's going to take if we make the playoffs."
---