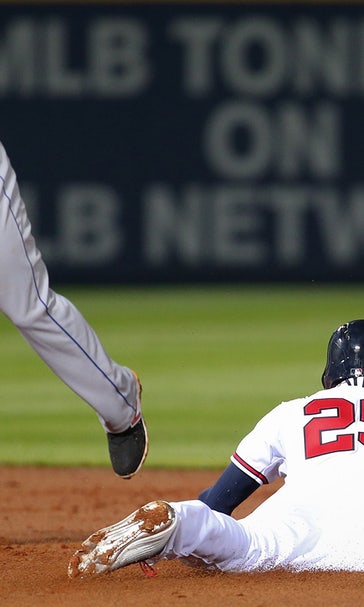 Braves' Maybin healthy, making early case for OF playing time
April 11, 2015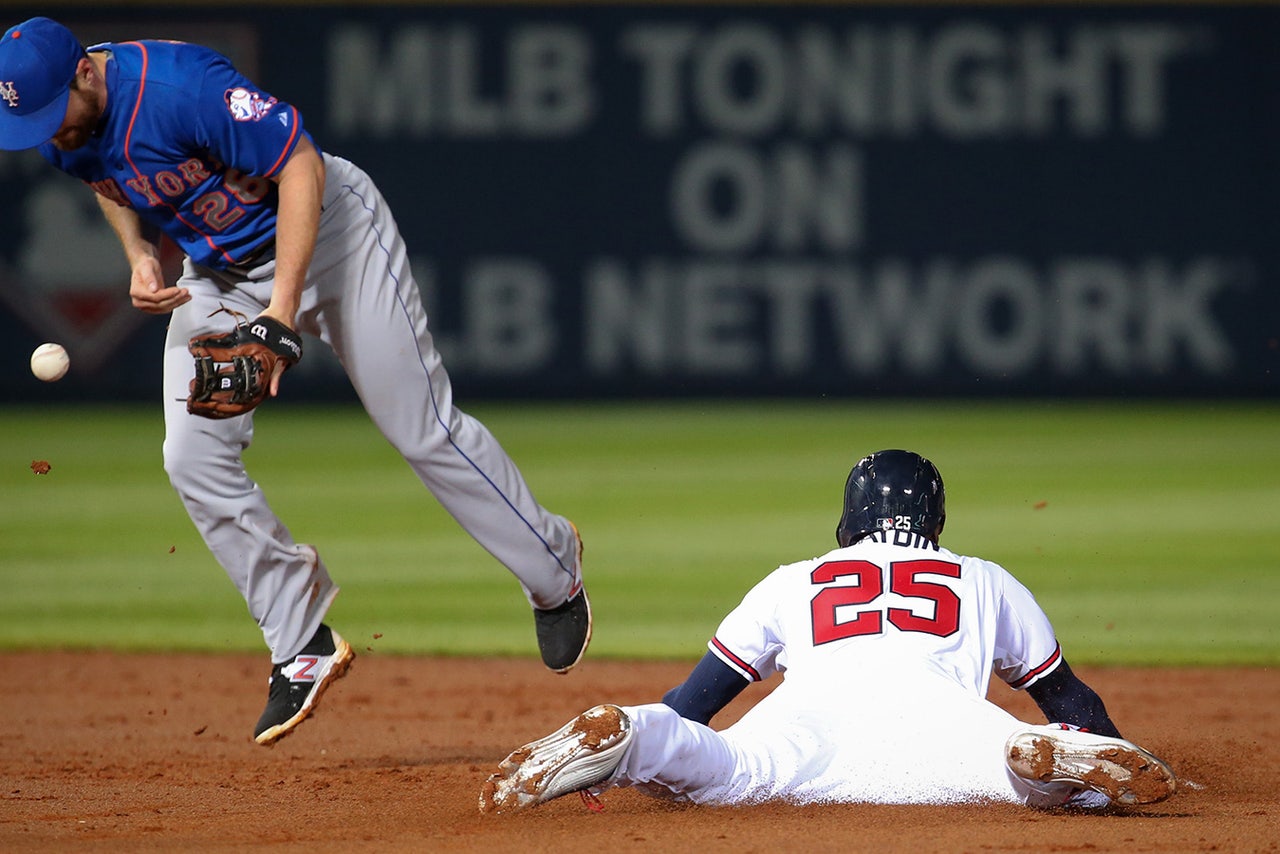 ATLANTA -- In his first MLB home game playing for a team within a drivable distance of his hometown, Cameron Maybin heard the shouts from the Turner Field stands. Asheville, N.C. was present and accounted for at the Atlanta Braves' 2015 home opener, and the franchise's newest outfielder didn't disappoint.
"A lot of people yelling Asheville out there," said Maybin, who was traded to Atlanta earlier in the week. "I was just hearing a lot of, 'Asheville! Asheville!'"
Hitting in the lineup's leadoff spot for the first time this season, Maybin got the offense rolling with his 32nd career home run on the second pitch out of Mets pitcher Jon Niese's hand, sending the two-seam fastball into the seats in center. It was a near-flawless introduction. Coincidentally, it was the second leadoff home run of the 28-year-old's career -- the other coming in August 2010 at Turner Field as well when he was with the Marlins. As the career power totals suggest, it's not Maybin's M.O.
Still, he provided enough of a spark to overshadow a quiet rest of the evening individually -- his seven-pitch at-bat with the bases loaded in the eighth drew praise from manager Fredi Gonzalez, but ended without breaking a 3-3 tie; the next batter, Phil Gosselin, came up with the game-winning hit -- as the Braves improved to a surprising 4-0 start.
Maybin's joined the Braves less than a week ago, but, in small doses, he's shown that he will push for significant outfield playing time. In case Atlanta's seismic shift of an offseason flew under anyone's radar, know this: This team will move its chess pieces around, especially in the outfield where only Nick Markakis is projected to be the everyday starter in right. That leaves the door open for Maybin, among others.
Now it's about putting things together over a 162-game schedule. That's been the primary obstacle in the past.
The Braves are not the first team to put some credence into Maybin's promise. A former high school star and No. 10 overall pick in the 2005 draft -- hailing from T.C. Roberson High School in North Carolina, the same stomping grounds as Atlanta's 2014 first-round pick Braxton Davidson -- Maybin is now on his fourth team in nine injury-plagued seasons after breaking into the majors at 20 years old. He's been a solid contributor, mainly defensively, but teams have consistently seen untapped potential. He was a key piece in the Miguel Cabrera trade between Detroit and Miami back in 2007 and, more than seven years later, he joined big-time prospect Matt Wisler to help complete the Craig Kimbrel deal.
Atlanta is the next in line to put some stock in Maybin, though how he'll be utilized in a platoon-based outfield remains to be seen.
He's started the past two games against both right- and left-handed pitching and has produced (hitting Friday's homer and driving in three runs) while giving the Braves what should prove a better glove in center field. With the departure of Melvin Upton Jr. in the Kimbrel trade with San Diego, Atlanta's center-field spot looks like its left-field counterpart: a matchup-based situation. How will Gonzalez choose to disperse playing time between Maybin and, for now, Eric Young Jr., though? That's still up in the air.
Not that Maybin is pressing for answers just yet. He seems to like the any-given-moment vibe of a roster with few locked-down positions. 
"Everybody's ready. Everybody knows that if you don't start there's some chance you could come in the game and have a chance to do something big. I think that depth is great. I think having so many talented guys that you're not afraid to call on at any point -- I think it makes it easier for (Gonzalez) to do his job," said Maybin, who played for Gonzalez's Marlins teams from 2008 to 2010. " … Wherever you're at, hey, you've got to be ready to make an impact."
Maybin is an odd case as a right-handed bat. His career splits are far better against fellow right-handers. Barring a forthcoming boost from Friday's results against Niese, it will be interesting to see how Gonzalez juggles these numbers into his outfield rotation, where the switch-hitting Young also favors right-handed pitching (via FanGraphs):
After Maybin arrived on an overnight flight before Opening Day, Gonzalez made it known that Young was still the primary center fielder, but that seems unlikely if Maybin is healthy and able to reclaim his productivity from his best days in San Diego.
From 2011 to 2012, Maybin posted a 6.5 WAR -- still nearly double Young's career total -- and, at 24, looked like he was on his way, finally finding his career foothold. Injuries took their toll, though. Ruptured biceps tendon. Strained calf. Torn ligaments. Bone spurs. Wrist surgery. He's averaged just 88 games per year since his 2009 rookie season, including just 109 total over the past two seasons with the Padres. He's learned to take fewer risks as a result.
"It's been nice more than anything. Knock on wood, it's still early, but it's been nice," Maybin said of getting back to 100 percent, health-wise. "I think a lot of it is getting older and realizing that running into walls doesn't benefit you. Some of the plays where you give your body up aren't as important as being in the lineup the next day. Towards the end of last year, I got a lot better at saying, 'Hey man, let's not run into the wall today. Let's get to tomorrow,' and still be able to play aggressive, you know? I'm just picking my spots, man, because the wall is undefeated."
At this point, his career numbers cast doubt on whether he'll ever consistently hit at the major-league level, especially to hold down an everyday leadoff role. Until he proves it over a larger sample size -- and starts delivering on the high expectations set from first-round draft slots or top-10 prospect lists or even his 2011 season in San Diego -- that isn't going to change.
On the other hand, can he see more than just soft-platoon playing time in Atlanta ... or even be a collective upgrade in center, along with Young, from Upton's disappointing two-year tenure? That's a definite possibility. When a team is brand new and undefeated, anything can seem so. Promise sells so easily, and Cameron Maybin looks like he still has some left in the tank.
---