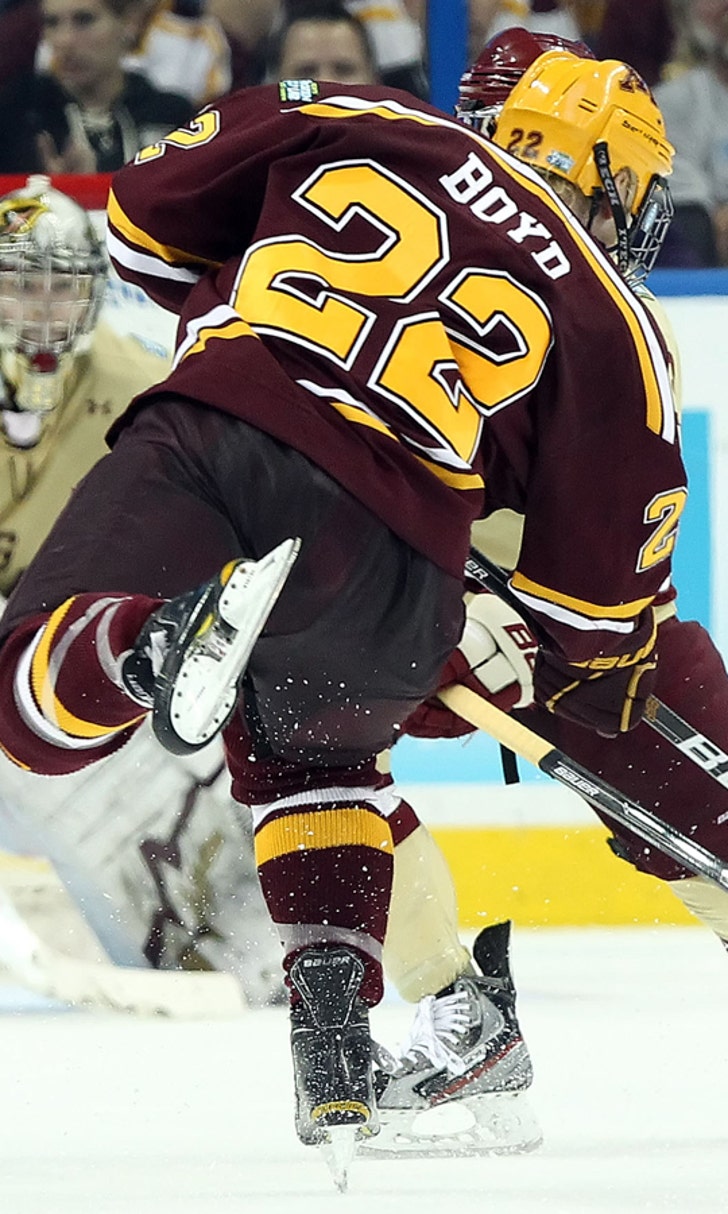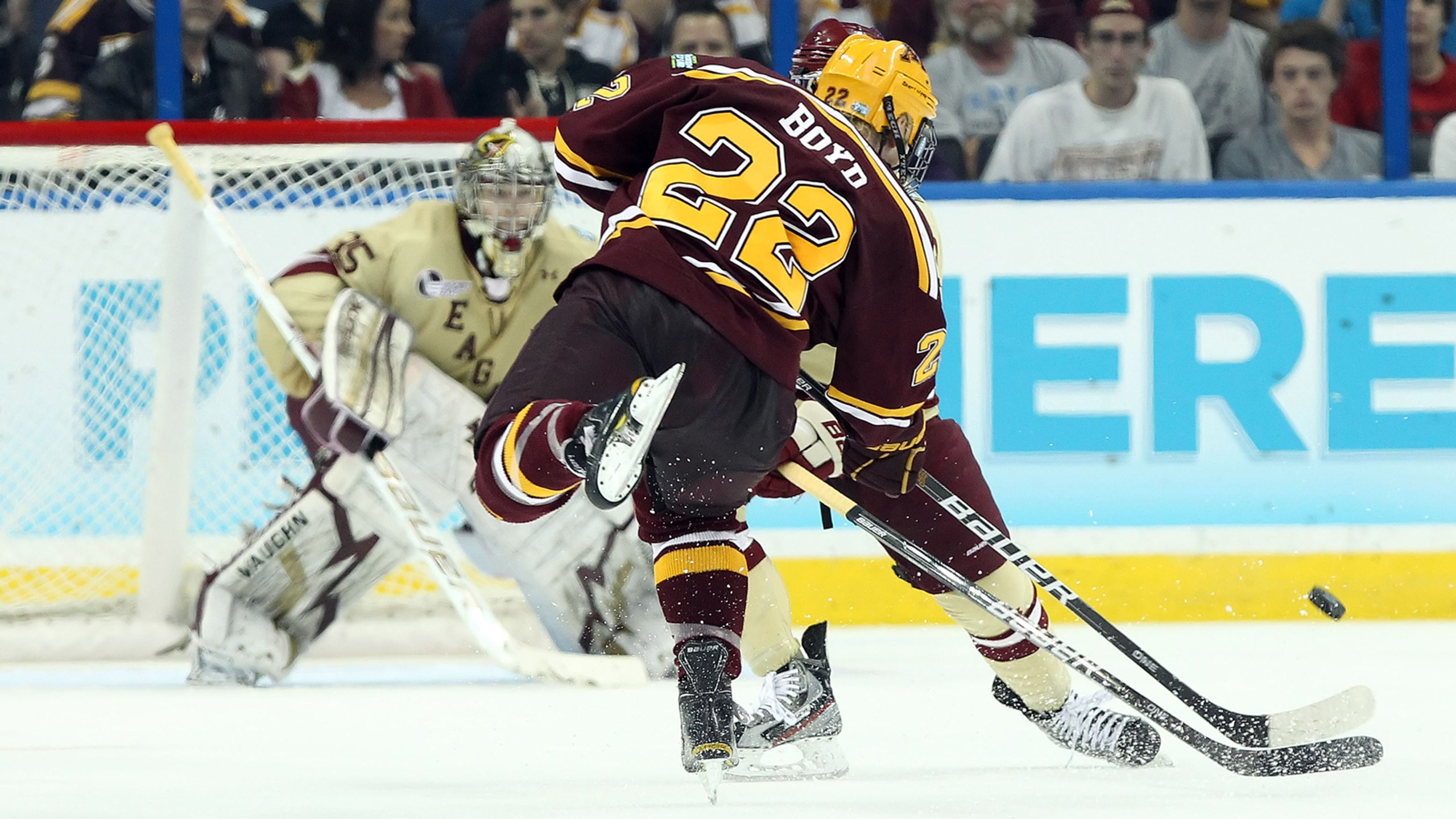 Boyd leads top-ranked Gophers past Bemidji State
BY foxsports • October 25, 2014
MINNEAPOLIS -- Power play. Shorthanded. It didn't matter for Travis Boyd.
The Gophers senior scored a goal of each variety Friday for his first two tallies of the young season as he helped pace Minnesota to a 5-2 win over Bemidji State. It was the first multi-goal game for Boyd and it came in his 119th career game.
Better late than never.
"There's a first time for everything, so it might as well be tonight, right?" Boyd said after the win.
The shorthanded goal was the first of Boyd's college career and his 14th goal in a Gophers sweater. After a penalty to Minnesota defenseman Mike Reilly early in the second period, the Gophers found themselves on an odd-man rush into the Bemidji State zone. Defenseman Brady Skjei fired a shot on net that bounced off the leg pad of Beavers goalie Michael Bitzer.
The rebound found Boyd's stick in front of the net and bounced past Bitzer. The officials initially waved the goal off, but after the play was reviewed, Boyd was credited with his first goal of the year and Minnesota took a 3-1 lead.
Despite the review, Boyd was confident that his goal would count.
"I was really confused. I asked the ref what they're even looking at, because I was right there and I saw it go in," Boyd said. "I knew it. I guess they just wanted to make sure. I wasn't worried, though."
Just under five minutes later, Boyd struck again with another special-teams goal, this time on the power play. The Gophers took advantage of a boarding penalty charged to Bemidji State's Mitch Cain when Boyd fired a shot from the left faceoff circle to beat Bitzer for the second time in the game. Kyle Rau and Taylor Cammarata picked up the assists on Boyd's second goal of the night.
It was the first of two power-play goals for Minnesota, as sophomore Hudson Fasching's tip-in goal in the third period also came on the man advantage. The Gophers have now scored at least one power-play goal in each of their first three games.
"I think it just comes with being familiar and knowing where everyone's going to be and knowing what everyone's tendencies are," Boyd said of the power-play success. "I definitely think for us coming into this year, we feel a lot more comfortable than last year because we had that same power play unit pretty much the whole year last year."
As was the case last season, the Gophers don't appear as if they'll rely on just one or two players to pick up the scoring slack each night. Instead, a balanced offense will be key. Friday night was Boyd's turn after the senior from Hopkins, Minn., went without a goal in Minnesota's first two games.
Cammarata opened the scoring for the Gophers, as he made a move on Bitzer after receiving a pass in front of the net from linemate Sam Warning to put Minnesota up 1-0. Rau, the senior captain, made it a 2-0 lead early in the second period -- just 35 seconds into the period, to be exact -- when he flipped a backhanded shot past Bitzer.
After Bemidji State answered on a goal by Mitch Cain, Boyd single-handedly turned a one-goal lead into a more comfortable three-goal cushion for goalie Adam Wilcox and the rest of the Gophers. Wilcox made 29 saves, including a highlight-reel stop in which he turned and stopped the puck with his stick just before it crossed the goal line to preserve a 4-1 lead.
Without a few key saves from Wilcox, the complexion of the game could have been much different. But it was Boyd's two goals that helped jump-start Minnesota's offense after the Beavers threatened to make a game of it.
"We were always able to play with a comfortable lead," said Gophers head coach Don Lucia, whose team improved to 3-0 with Friday's win. "I don't think the game was a 5-2 game. It was a closer game than that, so we have to be sharper in some areas tomorrow."
Follow Tyler Mason on Twitter
---