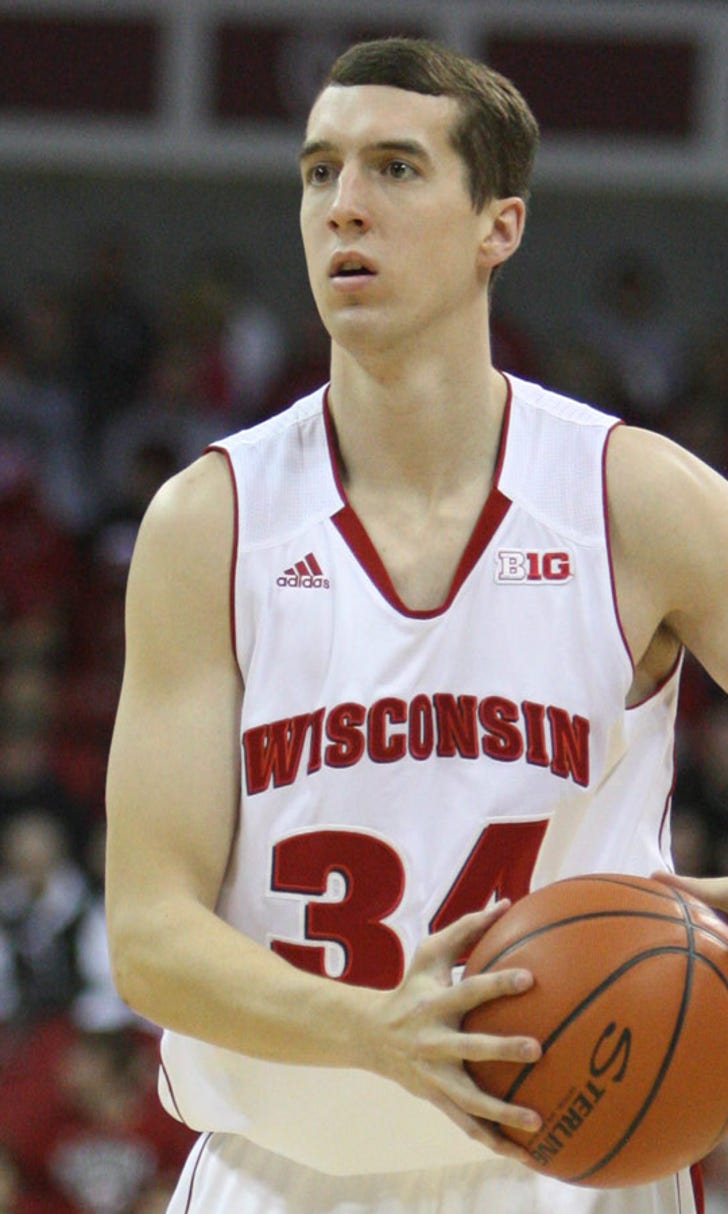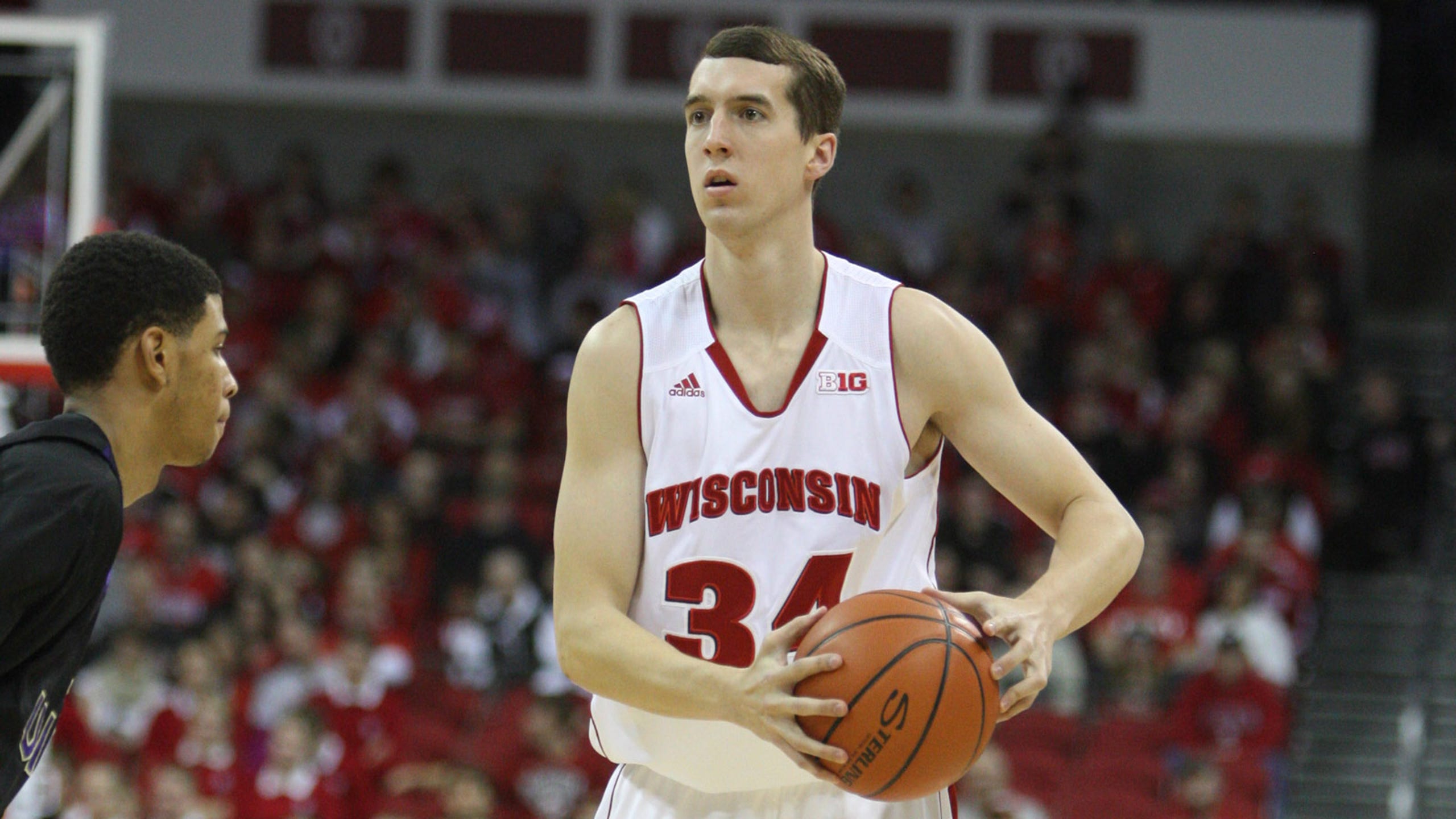 Bohannon teaches Badgers teammates Princeton offense
BY foxsports • March 18, 2014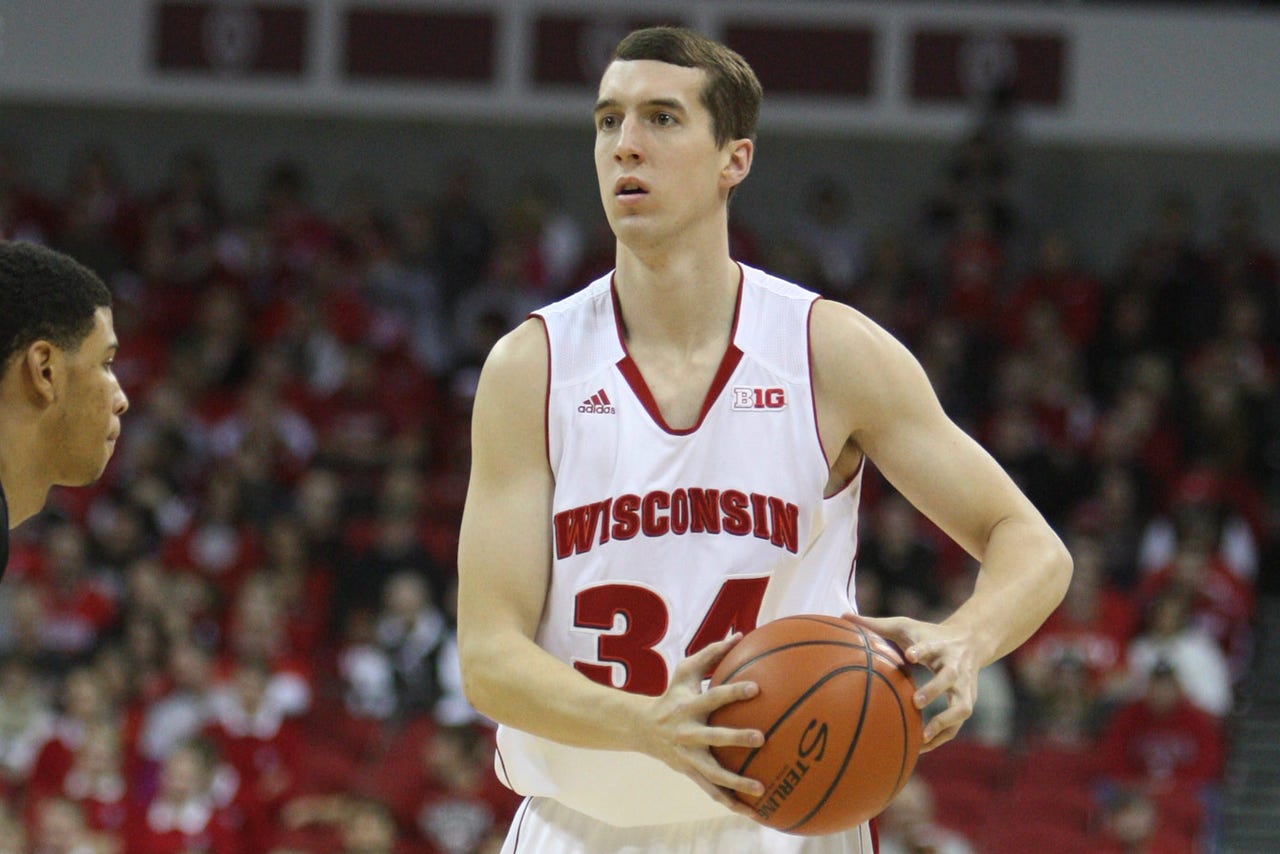 MADISON, Wis. -- The NCAA tournament selection show was barely in the rearview mirror Sunday night when Wisconsin forward Zach Bohannon received a text message from an old basketball buddy. While the Badgers scrambled for information on upcoming first-round opponent American, Bohannon had acquired a useful early tidbit that immediately sent him to work.
American, he learned, ran the Princeton offense -- which happens to be the exact same offense Bohannon ran for two years at Air Force, before he transferred to Wisconsin. And so Bohannon, a redshirt senior, gathered the entire Badgers scout team and many of the starters into the gym for 20 to 30 minutes, trying to explain the intricacies of a system he knew so well.
"I think their heads were spinning even after that long," he said.
No. 2 seed Wisconsin (26-7) plays No. 15 seed American (20-12) at 11:40 a.m. CT Thursday in the NCAA tournament West Region opener in Milwaukee. The Eagles exclusively run the Princeton offense, which head coach Mike Brennan learned as a player at Princeton in the early 1990s. And it isn't easy to defend or run -- particularly in a matter of days -- which is why Bohannon's experience is proving so useful.
During Monday's practice, for example, Bohannon was the most vocal of the scout team members, constantly instructing players trying to run the Princeton offense. He spoke with point guard Jordan Hill during the very first 5-on-5 drill against the regular rotation players. Later, he directed forward Vitto Brown on proper court placement.
The Princeton offense requires a high level of discipline for defenders because of constant movement, backdoor cuts, and screens all over the court. And the offense is equally difficult to learn, according to Bohannon.
"It was one of the most frustrating times of basketball because it almost has to make you rethink on how to play the game of basketball because it's not the typical game of basketball that you'd normally play," Bohannon said. "I kind of had to re-learn a whole new system and get into this whole new mindset."
So, just how difficult is it to learn? Bohannon, one of the most intelligent players on the team, broke it down after Monday's practice.
"By the end of the season, like at this time of the year, the true Princeton system has about 100 to 150 different sets intermingled into one complex system of continuous flow," Bohannon said. "It's one set, and then each set after that has four different options. From that piece, it has another four different options. So it just exponentially gets more complicated, especially as the season gets going."
Fortunately for Wisconsin, many of the Badgers' players are at least somewhat familiar with the style. Former Northwestern coach Bill Carmody ran the Princeton offense for 13 years until he was fired after last season. And Wisconsin sophomore Sam Dekker said the team installed parts of the Princeton offense the summer before his freshman season so players could run a different offense outside of the swing.
Dekker said he understood the level of focus required to beat the Princeton offense.
"That's the type of team that can run you for 31 seconds on the shot clock, and you'll play good D, and then you raise up or you lose focus for one split second, and they take advantage of it," Dekker said. "Against teams like that, you've got to always stay alert and stay patient on the defensive end. Just take each possession one at a time. If you get tired guarding it, you'll get subbed and you'll get right back in. So staying focused and staying ready against a team that runs the Princeton very well like this is what the key will be."
American will be playing in its first NCAA tournament since 2009 and has four players that average double figures in scoring. Badgers assistant coach Greg Gard, who is in charge of scouting American, noted Eagles 6-foot-10 center Tony Wroblicky was among the team's best passers, which helped spread the scoring around even more.
Brennan, in his first year at American, said he adopted the Princeton offense because it was what he knew best, and it was the best possible way to share the ball among the players he inherited.
"I liked all the pieces that we had," Brennon told FOXSportsWisconsin.com by phone Monday. "Tony Wroblicky, our senior, has done an awesome job of picking up what we've asked of him. All these guys have. I'm impressed with their work ethic and how quickly they've embraced and picked up everything that we've asked of them."
Bohannon said Wisconsin had been successful in years past defending the Princeton offense under coach Bo Ryan because Ryan focused on three basic principles to "dumb down" the defense. Chief among the principles was avoiding getting beat on backdoor cuts.
With two days remaining before the NCAA tournament opener, both Bohannon and Gard are trying to push as much information as they can into the Badgers' heads. And Bohannon, who initially came to Wisconsin hoping to be a basketball coach but is now pondering a political career, is enjoying every minute.
Gard noted Bohannon already had taught him pieces to the Princeton offense that he hadn't learned in his first 12 years at Wisconsin.
"If he doesn't become president," Gard said, "I think he'll be a pretty good coach if he decides to do that and give up his life as a politician."
Follow Jesse Temple on Twitter
---