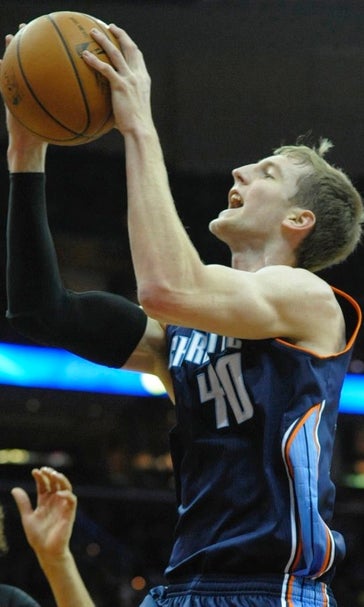 Bobcats clinch playoffs in 96-94 OT win over Cavs
April 5, 2014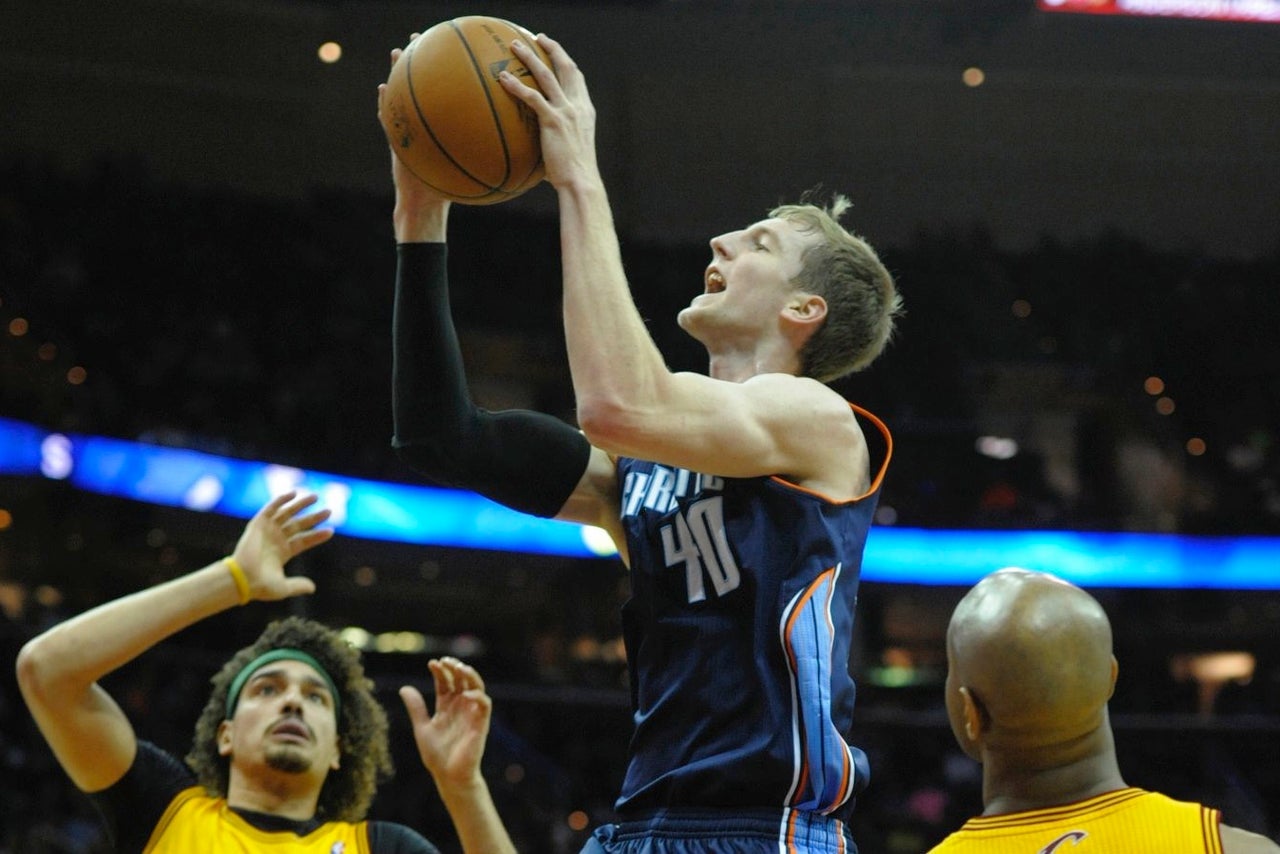 CLEVELAND (AP) -- Al Jefferson scored 24 points, including seven in overtime, and the Charlotte Bobcats clinched a playoff spot with a 96-94 win over the Cleveland Cavaliers on Saturday night.
Charlotte is in the postseason for the second time in its 10-year history and the first time since 2010. The Bobcats (39-38) are over .500 for the second time this season and hold seventh place in the Eastern Conference.
Kyrie Irving scored a career-high 44 points, but the loss further damaged Cleveland's slim playoff hopes. The Cavaliers (31-47) trail eighth-place Atlanta by 3 games for the final playoff spot in the East.
Irving, who defended himself before the game over reports he's unhappy in Cleveland, was 16 of 31 from the field, including five 3-pointers. He added eight assists and seven rebounds.
Gerald Henderson's basket gave Charlotte a 90-89 lead with 1:08 remaining and the Bobcats made four free throws down the stretch to seal the win. Kemba Walker scored 20 points while Henderson added 15 for the Bobcats, who have won four straight and swept the four-game season series with Cleveland.
Walker's 3-pointer with 32 seconds remaining in regulation gave Charlotte an 82-80 lead, but Irving's jumper seven seconds later tied the game.
Walker, closely guarded by Irving, missed a jumper from the top of the key as time ran out.
Irving's basket gave Cleveland an 89-86 lead with 1:55 remaining in overtime, but Jefferson hit a free throw and Henderson's basket put the Bobcats ahead.
Following a Cleveland turnover, Walker missed a jumper, but Cody Zeller got the rebound and passed it out to Walker, who was fouled and made both shots with 17 seconds remaining to make it 92-89.
After Dion Waiters sank two free throws, Walker split a pair of foul shots with 11 seconds to go. Following a time out, Irving took the inbounds pass at the top of the key, but his wide-open 3-pointer rimmed out. Henderson's two free throws with 7 seconds left gave the Bobcats a 95-91 lead.
Spencer Hawes made a 3-pointer with 4 seconds to get the Cavaliers within one before Jefferson hit a free throw with 2.3 seconds left. He missed the second, but the Cavaliers had no timeouts remaining and Hawes' desperation full-court heave was short.
Cleveland took an early seven-point lead against Charlotte, but the Bobcats finished the first half with an 11-2 run to go ahead 40-33 at halftime. Jefferson scored four points, Walker knocked down a 3-pointer and Michael Kidd-Gilchrist hit a jumper to key the run.
Charlotte pushed the margin to 11 points before Irving took over. He scored 16 points in the third quarter to spark a comeback from a 45-34 deficit. He hit two 3-pointers in a span of 24 seconds that gave Cleveland a 61-58 lead.
The Cavaliers had a chance to move within a game of the Hawks with a win in Atlanta on Friday, but instead suffered a 117-98 loss that ended any realistic chance they had of reaching the postseason since 2010.
Kidd-Gilchrist played despite bruising his back in a hard in Friday's win over Orlando.
NOTES: Charlotte has defeated Cleveland five straight times. ... Bobcats assistant coach Mark Price, who starred for the Cavaliers from 1986-95, got a big ovation when he was shown on the scoreboard in the second quarter. ... Cleveland's Anderson Varejao and Tyler Zeller knocked a ball out of bounds as they went for a rebound in the second period. ... The Bobcats are 3-14 all-time at Quicken Loans Arena, the worst record by a visiting team at the 20-year-old facility, but posted an 86-80 win in Cleveland on Nov. 15.
---