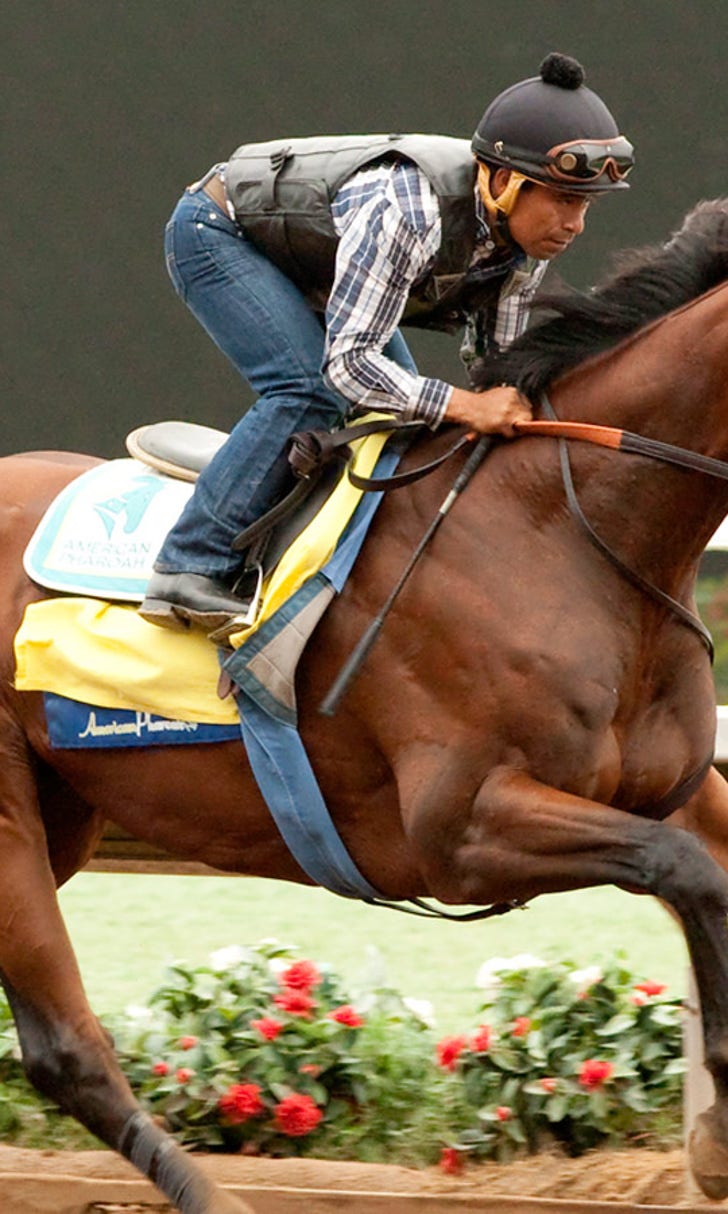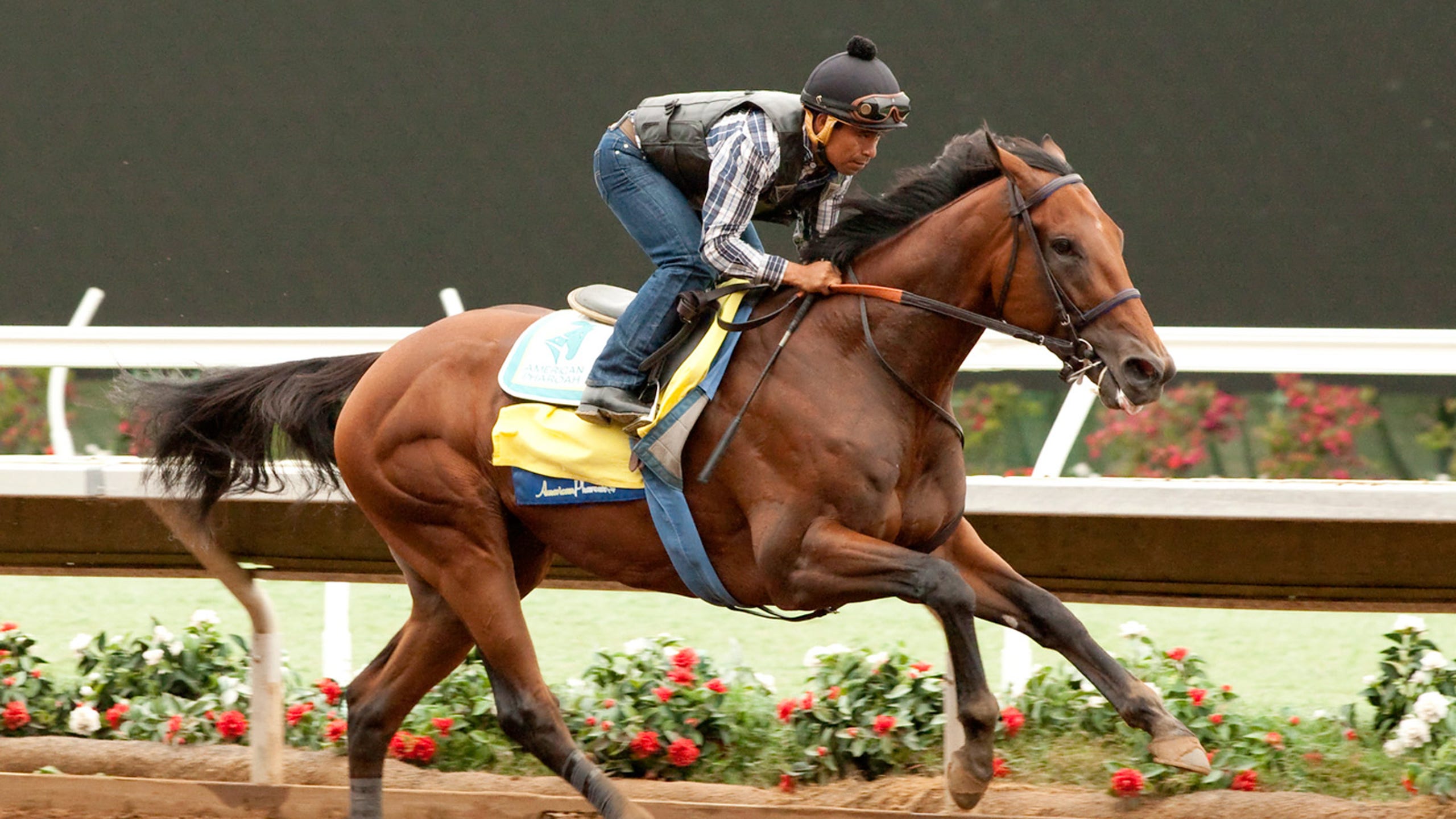 Bob Baffert believes American Pharoah is 'getting stronger'
BY foxsports • July 29, 2015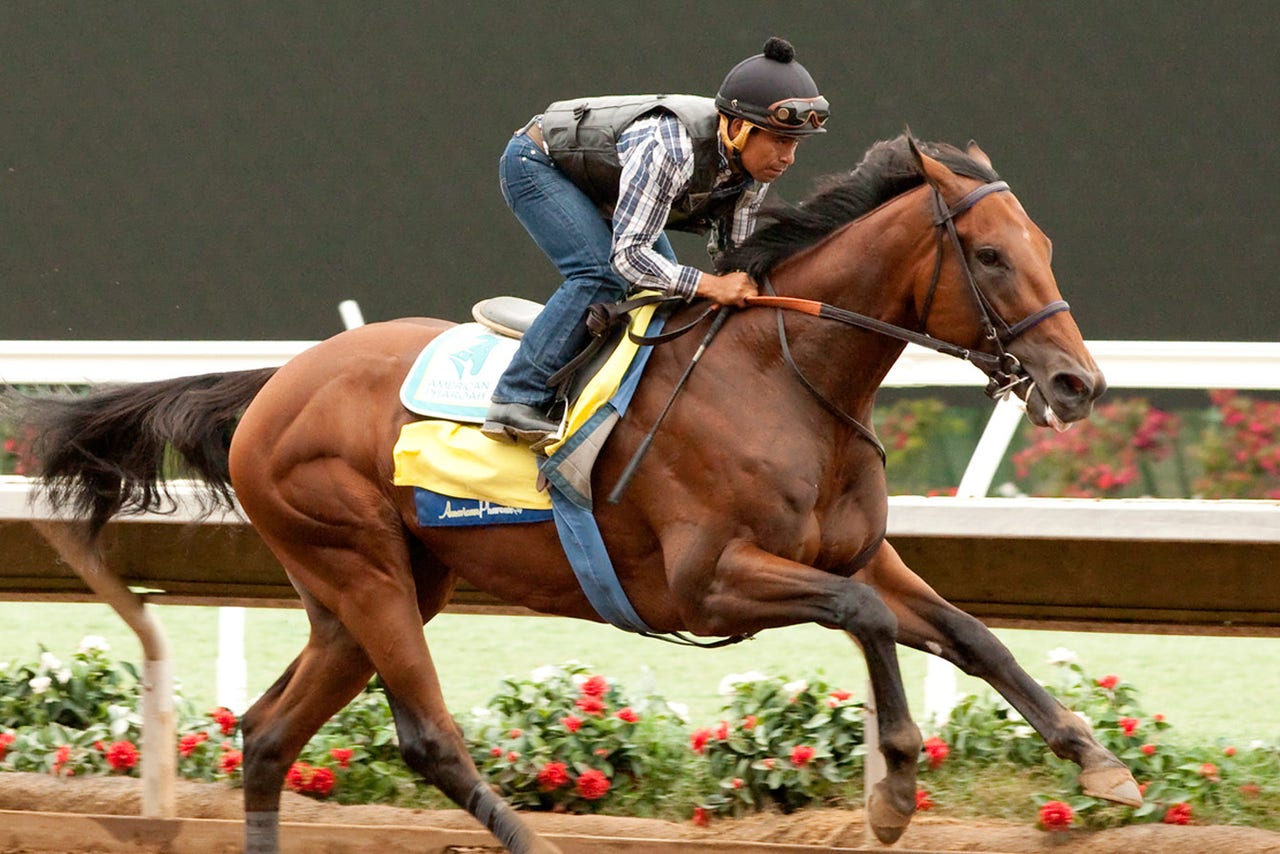 Hall of Fame trainer Bob Baffert casts a wary eye every day to see if American Pharoah shows signs of slippage since his emergence as the first Triple Crown winner in 37 years. There are none.
"He's just holding his form, which is pretty incredible for a horse that has been through what he's been through," Baffert said during a national conference call on Tuesday. "He's getting stronger. He's maturing."
Baffert could not have been more confident as he prepared to ship American Pharoah from Del Mar, near San Diego, to Monmouth Park in Oceanport, N.J. on Wednesday. Racing's long-awaited superstar is to compete in the $1-million Haskell Invitational on Sunday at Monmouth.
"If he wasn't doing exceptionally well, he wouldn't be on the plane," Baffert said. The 12th Triple Crown champion is scheduled to arrive at Atlantic City International Airport on Wednesday.
Baffert is doing everything possible to have the celebrated 3-year-old colt ready for his eagerly anticipated return to competition. American Pharoah was given his third timed work in 10 days on Tuesday morning. With workout rider Martin Garcia in the irons, he went an easy four furlongs in 48 4/5 seconds and galloped out five furlongs in 1:01. He was timed in 1:14 2/5 seconds for six furlongs.
"He went really nice," Baffert said. "Basically, it was more like an open gallop with him."
American Pharoah already had put in his last serious workout, drilling six furlongs in 1:11 last Thursday at Del Mar. Five days before that, he clocked 1:11 2/5 seconds for six furlongs, also at Del Mar. Baffert was so encouraged by those two works that he said American Pharoah appears to be "getting faster."
American Pharoah is expected to face a small field in the 1 1/8-mile Haskell and will be an overwhelming favorite to add to Baffert's domination of a race that is the centerpiece of Monmouth's summer meet. The trainer is gunning for his eighth Haskell triumph. Of his 11 previous Haskell starters on what is regarded as a speed-favoring surface, he had three runner-up finishes and one third to go with his record seven winners.
"We've had a lot of luck there," Baffert said. "But the reason that we've had a lot of luck is that I've taken my best horses there."
Then again, he's never taken one like American Pharoah, who provided Baffert with an elusive Triple Crown sweep after he missed with Silver Charm (1997), Real Quiet (1998) and War Emblem (2002). The son of former Kentucky Derby runner-up Pioneerof the Nile took early command of the Belmont Stakes and was never threatened during a tour de force that captured the imagination of the sports world. Fans erupted as he drew off by 5 ½ lengths in the "Test of the Champion."
Whatever the Haskell brings amid expectations for another overwhelming performance, the only certainty regarding American Pharoah after that is he will return to his home base at Del Mar. Baffert did not rule out the Travers, on Aug. 29 at New York's Saratoga Race Course, but noted that the traditional prep for that race is the Jim Dandy (G2), which is being run this Saturday and may offer an advantage by giving potential Travers starters a race over the track.
---