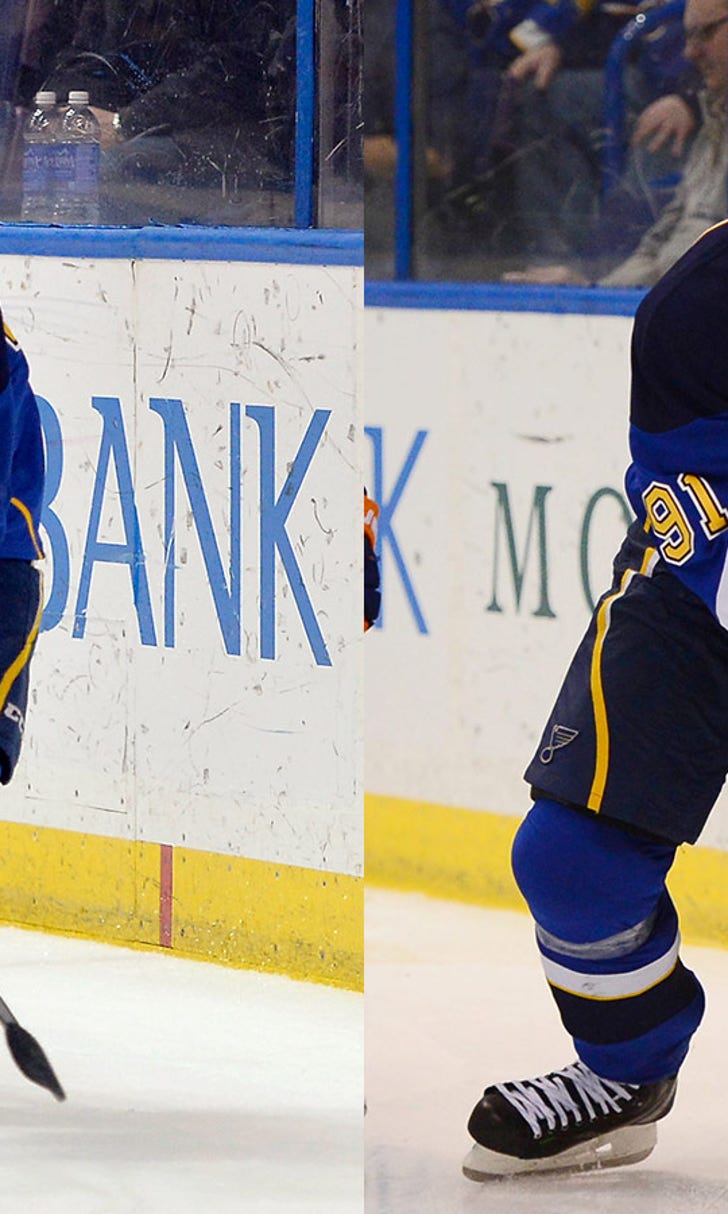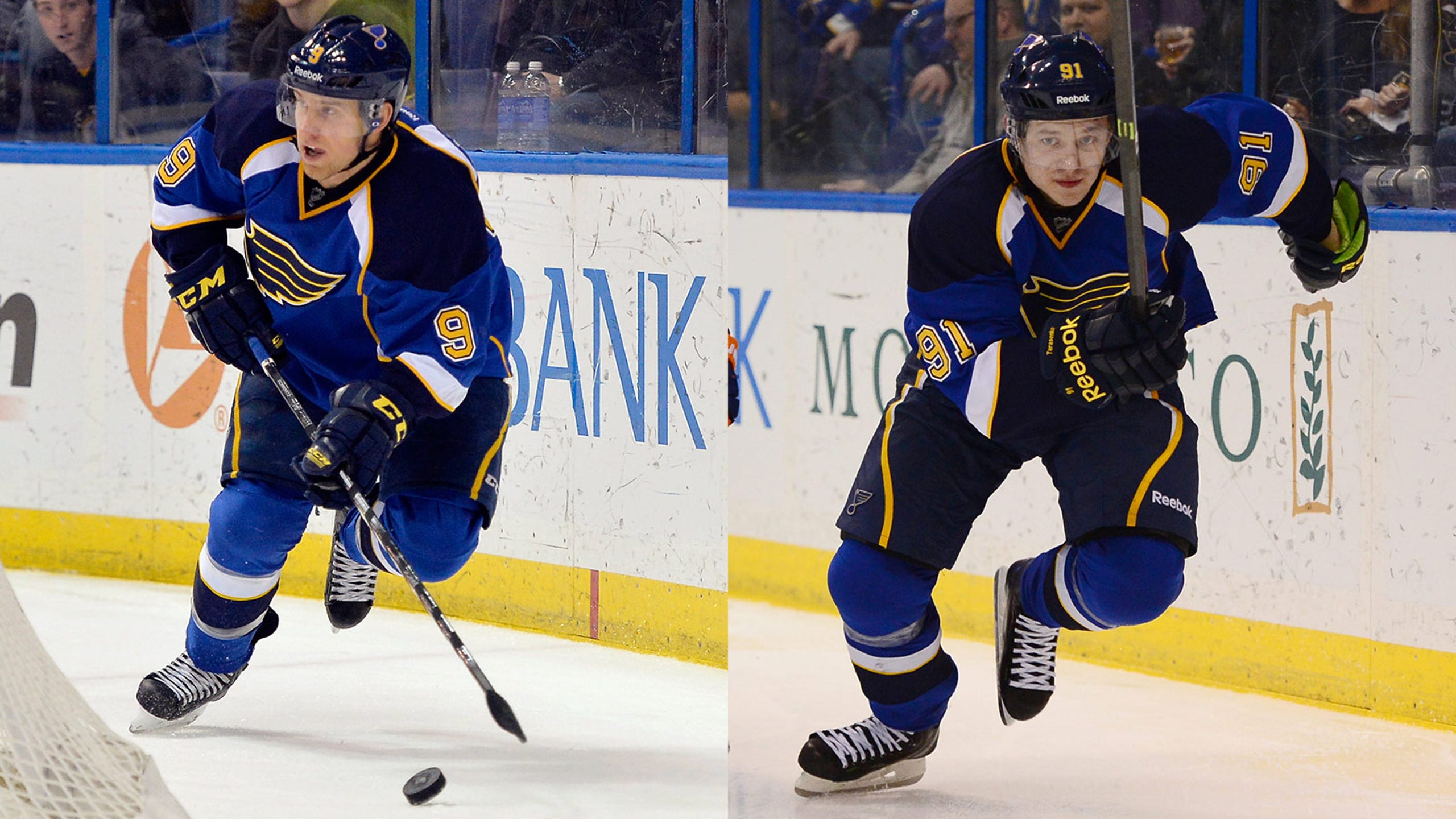 Blues' youngsters taking full advantage of time on ice
BY foxsports • March 14, 2014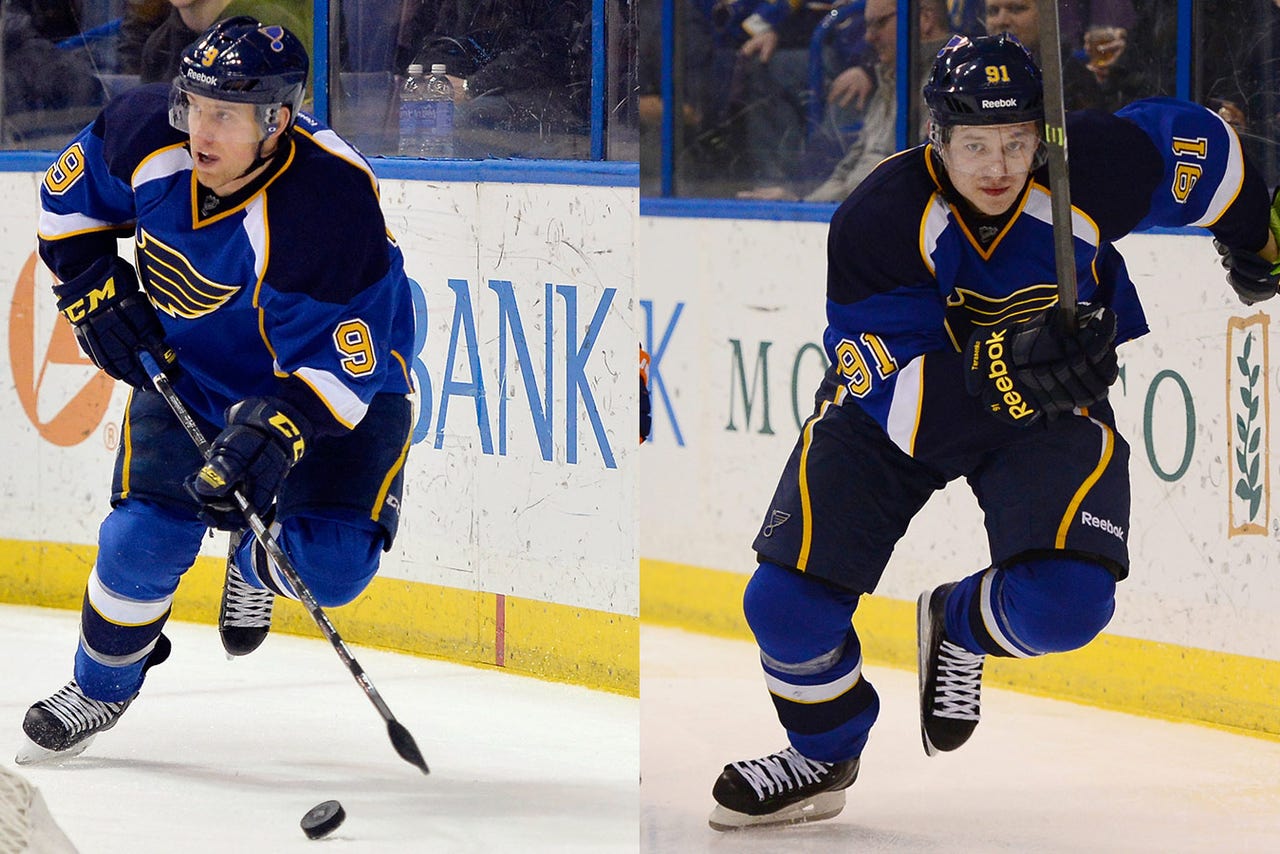 ST. LOUIS -- The beats bumped from the St. Louis Blues locker room while a players spoke with reporters just a few feet away in the team's dressing room area.
Whoomp! There it is. Whoomp! There it is.
The epic party anthem, and apparently a post-victory favorite of your St. Louis Blues, reached No. 2 on the Billboard Hot 100 chart in 1993.
Jaden Schwartz and Vladimir Tarasenko were just toddlers back then.
Schwartz was born in 1992. Tarasenko in 1991. That Blues dynamic duo of '90s babies has grown up oh-so-quickly for St. Louis this season, and Thursday night's convincing 6-2 win against the visiting Edmonton Oilers at Scottrade Center only served as another example of their impact.
Schwartz scored two goals, his 20th and 21st of the season, and Tarasenko added his 20th goal as well as an assist. Both were plus-two on the night while combining for 30 minutes of ice time as the NHL-best Blues improved to 45-14-7 with 97 points in 66 games.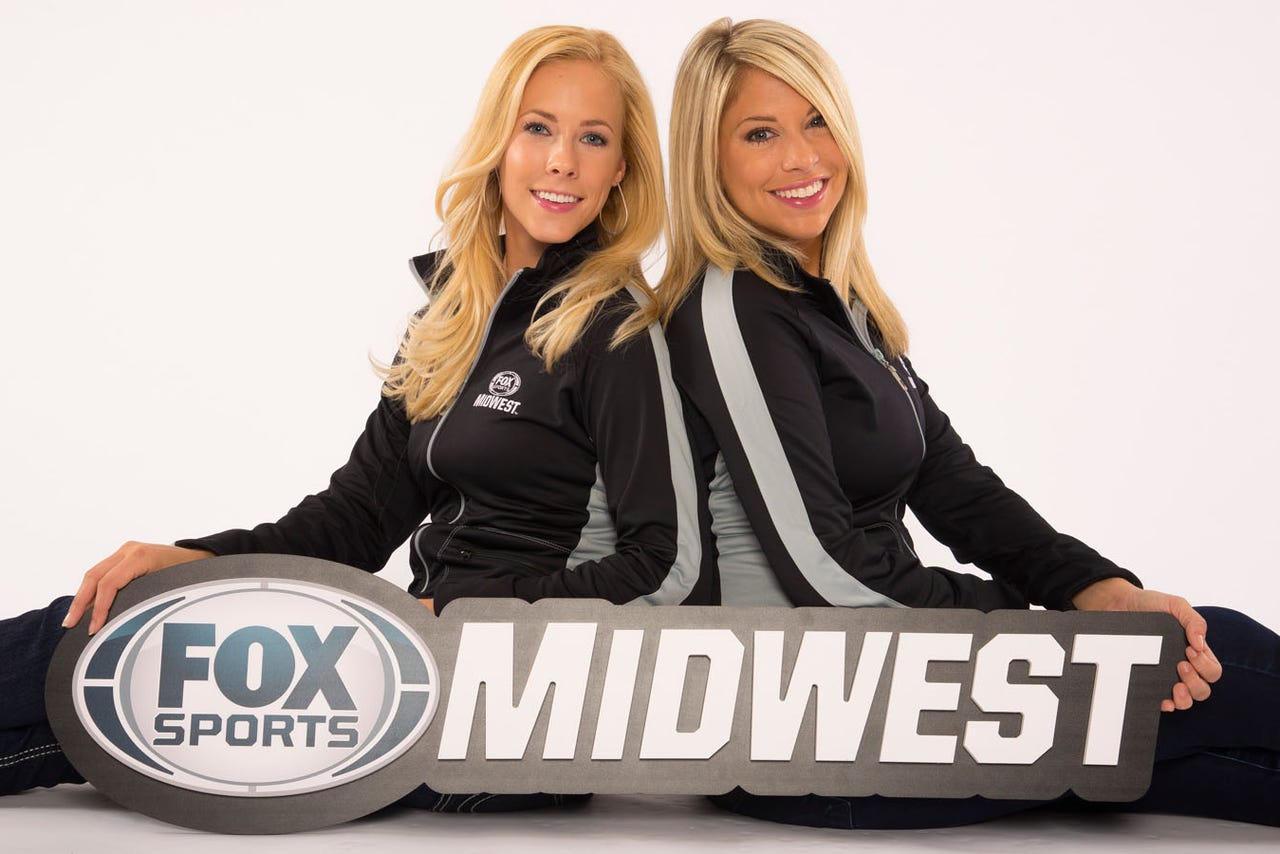 FOX SPORTS MIDWEST GIRLS: Read their bios, check out their upcoming appearances and view their photo galleries and videos.
Whoomp! There it is.
"They are really strong players already, good decision-making," Blues goalie Ryan Miller said. "They have to exist within a really solid system here, so they have to be smart. I think they've done a great job. I've been following them a little bit, just watching how they play. Tarasenko is a guy who's hard to knock off the puck. Schwartzy, same thing. He's relentless. He wants to control the puck, wants to play with it. That's a big difference on this team -- a lot of guys want the puck. Sometimes you get in situations where the boys want to make some passes, make some moves. These guys play with a purpose and it's good to see."
After general manager Doug Armstrong traded David Perron to Edmonton last offseason for Magnus Paajarvi and a draft pick, he told reporters that one aspect of the deal was to create more playing time for Tarasenko and Schwartz this season.
The youngsters have both taken that opportunity and proved that it was a good move.
Schwartz, 21, now has 50 points (21 goals, 29 assists) and is plus-27 in 64 games and has established himself as a dependable first-line player.
Watch the 'Blues Live' pregame and postgame shows before and after every St. Louis Blues game on FOX Sports Midwest.
Tarasenko, 22, has 42 points (20 goals, 22 assists) and is plus-19 in 63 contests and has wowed the NHL scouts in the press box with his lightning quick wrist shot.
Yeah, the kids are more than all right.
"I think we expected this to happen," Blues coach Ken Hitchcock said. "David (Perron) got traded for a positional player. We needed for Schwartz and Tarasenko to take David's minutes as a winger and we wanted to get obviously a player like Derek (Roy) who was a different position. We needed a center and we needed play-making center. The risk we took was that the two kids could take David's minutes and they've been able to do that."
Perron, meanwhile, is having a strong season for the Oilers. He scored the game's first goal on Thursday -- drawing some cheers from fans as well as a smattering of boos -- and now has 47 points (25 goals, 22 assists) and is minus-5 in 63 games. The 25 year old is just three points away from tying his career high, which came in the 2008-09 season.
Schwartz and Tarasenko are learning on the job and continue to get better as the season goes on.
"They are young. They have confidence," said center Vladimir Sobotka, who was paired with Tarasenko and scored a goal on an assist from the Russian and also assisted on his goal. "I would say they kind of learn how to get better. They follow our leaders and they've been doing a great job for us, like Steener (Alexander Steen) and (David) Backes and T.J. Oshie, those guys are working every game. I think they both have learned how to play and they have confidence on the ice and you can see them making plays. They are scoring goals. We're happy for them. Hopefully, they are going to keep going."
Schwartz accounted for 13 points in 45 games last season, while Tarasenko had 19 in 38 contests. They both recently passed the 100-game mark in their young careers.
"They have good guys to follow," defenseman Alex Pietrangelo said. "Whether it's 42 (Backes), 17 (Sobotka), 20 (Steen), you've got some guys on this team that know how to lead, know how to lead by example. (Schwartz and Tarasenko) kind of go as they go. It's great to see these guys having success. They are going to be fantastic players. They have unbelievable skill and work ethic. They see the game well and they are an important part of our team."
Until he was asked a question about it after the game, Schwartz said he hadn't considered that he and Tarasenko had both hit the 20-goal mark in Thursday night's victory.
That's not something he's been thinking about. He's more concerned with winning games and playing better hockey down the stretch.
"Coming into the season I wanted to be more of an offensive-end player and play a bigger role on this team," Schwartz said. "That was my goal coming in, so I wanted to work hard and make sure I can prove myself. If I get ice time I want to make the best of it. So far it's been fun and I'm playing with good players, too. I don't know if they necessarily traded Perry (David Perron) for us to move up, but that's the way it worked out and so far it's been good. I think we both know that we got better, too."
Where would this St. Louis team be without the youngsters' contributions?
Fortunately for the Blues this season, that's not a question that they have had to find an answer for. Instead, they just keep producing points on an almost nightly basis, proving time and time again that they belong.
Whoomp! There it is.
---