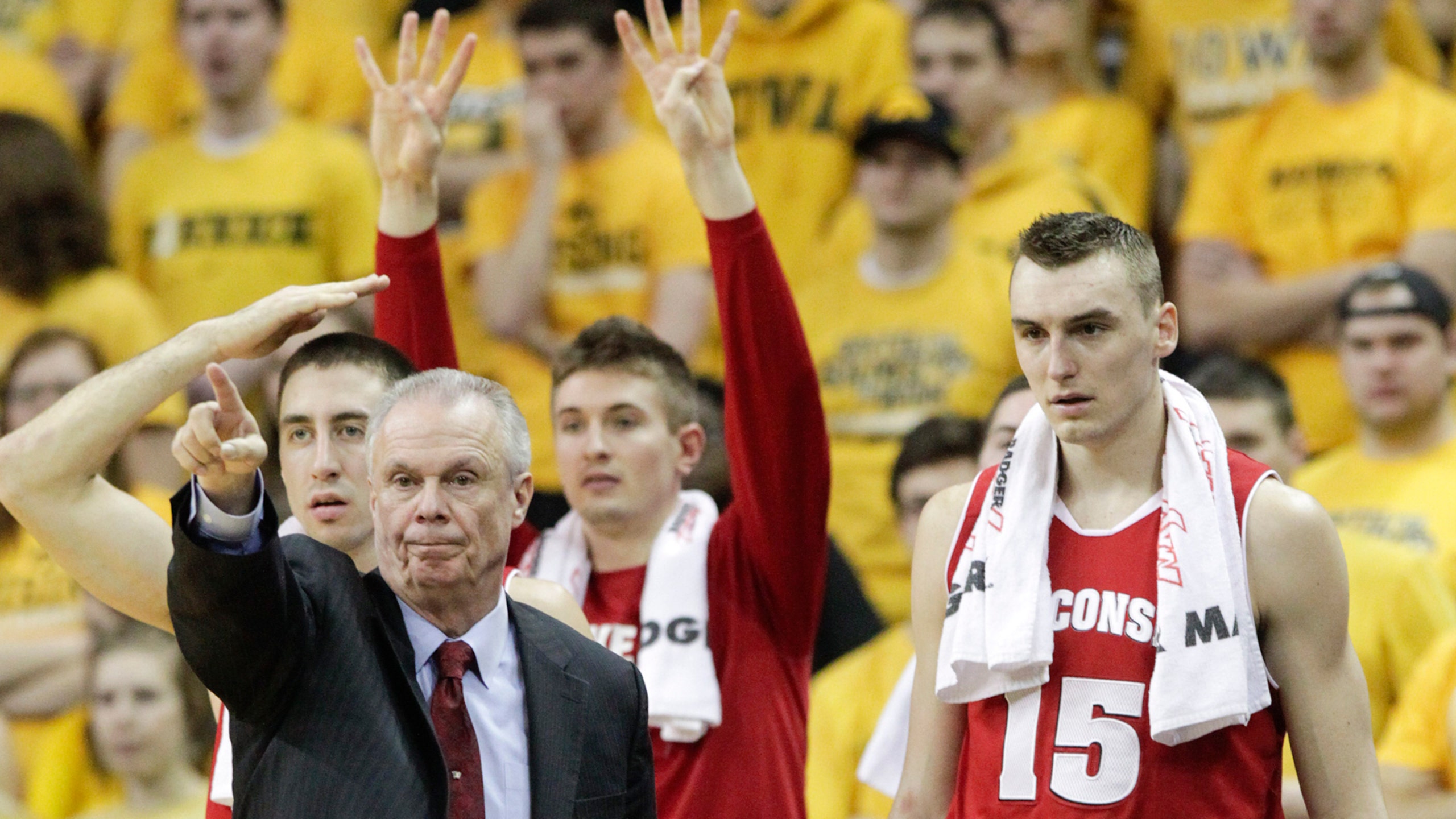 Big Ten leader Wisconsin finishes strong, eases past host Iowa
BY foxsports • January 31, 2015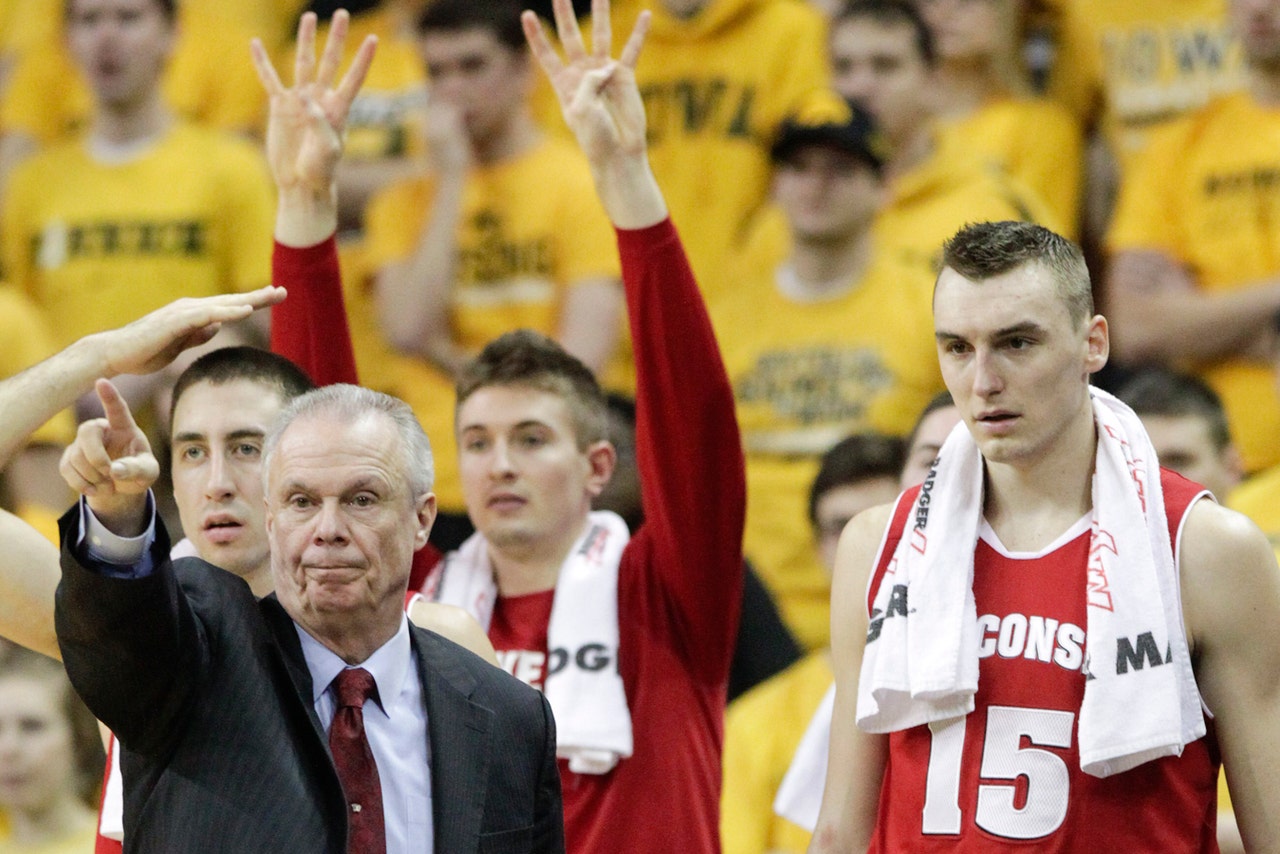 IOWA CITY, Iowa — Wisconsin coach Bo Ryan sat behind a podium in the underbelly of Carver-Hawkeye Arena on Saturday afternoon, trying his best to deflect the heaping of praise directed at his basketball team. He has a National Player of the Year candidate, a Big Ten regular-season crown in his sights and the chance to secure the program's first No. 1 seed in the NCAA tournament.
But on Jan. 31? With 10 regular-season games remaining? No, Ryan was not in the mood to wax poetic about Wisconsin's accomplishments.
"We haven't done anything yet," Ryan said after Saturday's 74-63 victory at Iowa. "That's our motto."
True. But nearly halfway through the Big Ten schedule, this much is clear: Wisconsin is far and away the best in the conference. And — although the Badgers haven't officially done anything yet — they appear well on their way to capturing the program's first outright, regular-season Big Ten title since 2008.
For further proof, see Saturday's game, in which No. 5 Wisconsin pulled away in the second half for an 11-point victory against Iowa. With the win, the Badgers improved to 19-2 overall and 7-1 in Big Ten play — two games ahead in the loss column of any team in the conference.
Impressive? You bet. But while the implications of these early league victories are apparent, Badgers players refuse to waste much time mulling the possibilities right now.
"You're definitely aware of it," Wisconsin guard Josh Gasser said. "We know where we're at in the standings and where everyone else is at. But as cliche as it is, you've got to take it one game at a time, one possession at a time. Because if you look further ahead, you're going to slip up a couple games, and that's the last thing you want. We understand how competitive this league is. Every night is going to be a battle. There's a long season left."
To echo Ryan's favorite line of the season, Gasser added: "We haven't done anything yet."
Saturday's game certainly was something, however. It figured to pose a far different story than when the two teams met 11 days earlier at the Kohl Center. On that night, Wisconsin crushed Iowa 82-50 — the most lopsided result in the 160-game history of the series. On Saturday, the Hawkeyes made it clear soon after tip-off that they were ready to raise their talent level to compete at home.
Iowa (13-8, 4-4) led early and pulled to within 32-30 on Peter Jok's 3-pointer with 5:09 remaining in the first half. But Gasser cut through the lane one possession later and converted a three-point play at the rim to push the Badgers back in front by five points.
Every time Iowa threatened, Wisconsin answered. Although the Hawkeyes shot a blistering 64 percent (16 of 25) from the field in the first half, they still entered halftime trailing 42-36 because of the Badgers' second-chance points conversions. Wisconsin held a 10-2 first-half advantage in second-chance points and finished with a 16-7 edge.
"We knew that we were in the driver's seat," Badgers center Frank Kaminsky said. "We knew that we kind of controlled the game. We weren't getting any stops, but we were scoring, too. So we knew if we got stops and converted on offense, it would kind of break the game open for us."
Kaminsky once again demonstrated why he's a favorite for the National Player of the Year award. He finished with a game-high 24 points and nine rebounds and was one of four starters in double figures. Nigel Hayes added 14 points, while Sam Dekker and Gasser finished with 11 points apiece.
"We've got a lot of guys who can put the ball in the hoop and make plays for us," Gasser said. "Obviously, it all starts with Frank. He had another huge game. He's damn near unguardable at times."
Saturday's game represented a notable step forward for Wisconsin, which had been unable to hold leads in its last two road games. Wisconsin led Rutgers 35-23 at halftime on Jan. 11 and lost 67-62 in one of the most stunning upsets of the college basketball season. Last weekend, Wisconsin blew an 11-point second-half lead against Michigan before winning in overtime.
But Wisconsin never allowed Iowa to pull closer than within five points in the second half. Hayes converted a superb one-handed put-back dunk, and Gasser drilled a 3-pointer from near out of bounds on the left wing — two momentum-crushing plays as the Carver-Hawkeye Arena crowd swelled in a desperate plea for a comeback. Meanwhile, Iowa made only 7 of 23 second-half shots (30.4 percent).
"If you let the crowd get into it, it's kind of like an advantage for them," Hayes said. "Shots always seem to go in when the crowd is the loudest. And when the crowd is pretty quiet, shots aren't going in. We try to do our best to make them take tough shots and limit them to one shot per possession."
Afterward, Ryan noted his team's offensive efficiency and ability to close on the road were crucial. But with a home game against No. 22 Indiana (16-6, 6-3) in just three days, he stressed the importance of grinding and staying consistent to avoid succumbing to all the potential highs and lows of a long season.
Yes, Wisconsin appears poised to pull away from the pack after Saturday's victory. But Badgers players know there is still plenty of work to be done if they want to achieve their ultimate goal.
"None of us have won a championship," Gasser said. "Yeah, it feels great making a Final Four last year. But so what? We can't really improve on that right now. It's Big Ten season. That's what our whole focus is on, and none of us have won a Big Ten title.
"You look across the league, Michigan, Indiana, Michigan State, Ohio State, all these teams have won it in the last couple years. So we should be the hungriest ones out here, and that's just got to be our mentality."
Follow Jesse Temple on Twitter
---