Big Ten hockey tournament preview
Published
Mar. 16, 2016 5:45 p.m. EDT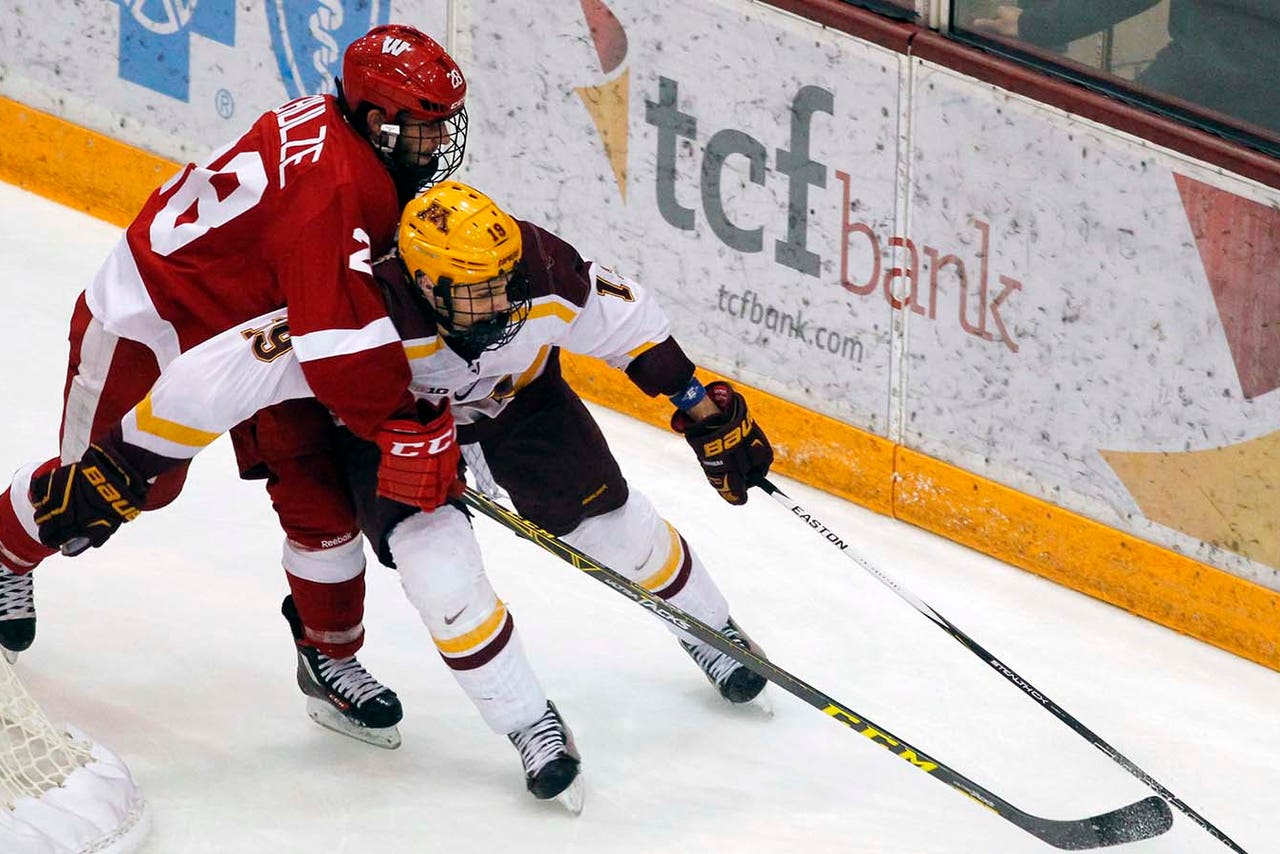 Heading into the final weekend of the Big Ten hockey season, just two things are certain: Michigan is in the NCAA tournament. Everyone else has work to do.
Minnesota may be the top seed this weekend, but the No. 7-ranked Wolverines are the only Big Ten team that has locked up an at-large bid and will become the conference's only representative if they can string together just two more wins in St. Paul.
Penn State and Wisconsin kick off the quarterfinals at 4 p.m. on Thursday, followed by a showdown between Penn State and Wisconsin at 7:30 p.m., while Minnesota and Michigan await the winners on Friday night.
Here's a capsule look at each team (rank in parentheses):
Minnesota
19-16-0 overall, 13-6-0 Big Ten
The unranked Gophers wrapped up a third consecutive Big Ten title on Saturday with a 4-1 win over Wisconsin, but are officially in win or go home territory at this point. Junior Hudson Fasching ranks third in the Big Ten in scoring with 20 goals, while Justin Kloos ranks third in assists. The Gophers came alive offensively in a win over the Badgers on Saturday, but consistent success has eluded Minnesota this season.
Michigan (7)
22-7-5 overall, 12-5-3 Big Ten
The nation's highest-scoring offense at a whopping 4.82 goals per game, the Wolverines are led by JT Compher, Kyle Connor and Tyler Motte, dubbed the "CCM" line after combining for 163 points during the regular season. All three players were named finalists for the Hobey Baker Award (given to the top player in college hockey) on Wednesday, the first time that three players from the same team have earned the honor since 2000.
Penn State (19)
20-12-4 overall, 10-9-1 Big Ten
The Nittany Lions have quietly emerged as one of the better offensive units in the nation. The Big Ten's No. 2-ranked scoring unit is averaging 3.66 goals per game overall, while David Goodwin, Andrew Sturtz and Chase Berger lead a fairly balanced attack. Penn State limps into the postseason on a three-game losing streak, following a pair of blowout losses to Michigan, and needs to win it all in order to continue playing past Saturday.
Ohio State
13-17-4 overall, 8-8-4 Big Ten
The Buckeyes have quietly jumped out to a seven-game unbeaten streak, and haven't loss since falling 6-1 to Penn State in mid-February. That run included a shocking home-and-home sweep of Michigan. Ohio State's offense has averaged 5.20 goals per game during that run, a figure that ranks No. 2 in the country. Leading scorer Nick Schilkey has led the way with 15 points in his last seven games, while Matthew Weis, Tommy Parran and David Gust have kept up a point-per-game pace as well.
Wisconsin
8-18-8 overall, 3-13-4 Big Ten
After spending most of the season in the cellar the Badgers shocked Minnesota at Mariucci Arena on Friday, edging the Gophers 4-3 on a wild sequence of disallowed goals and phantom off-sides calls with the clock winding down. But while the Badgers are improving thanks to strong play from Grant Besse and Luke Kunin, their No. 55-ranked defense could find itself overwhelmed quickly this weekend.
Michigan State
10-22-4, 6-12-2 Big Ten
Their porous defense has led to plenty of big losses this season, but the Spartans have scored at least five goals in two of their last three games, including a 5-0 win over the Gophers. Mackenzie MacEachern leads the way with just 14 goals, while goaltender Jake Hildebrand's .904 save percentage is troubling. There's plenty of offense in this tournament, and it's tough to imagine that the Spartans' defense will be about to hang with the conference's big guns in St. Paul.
---