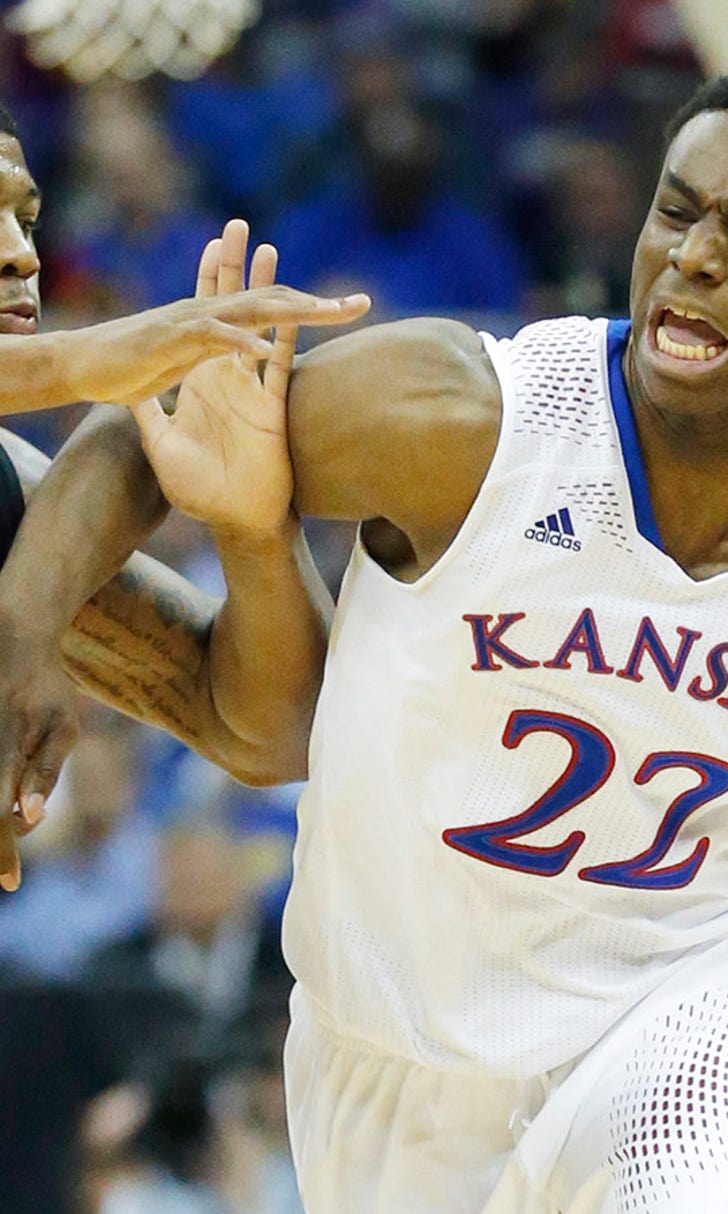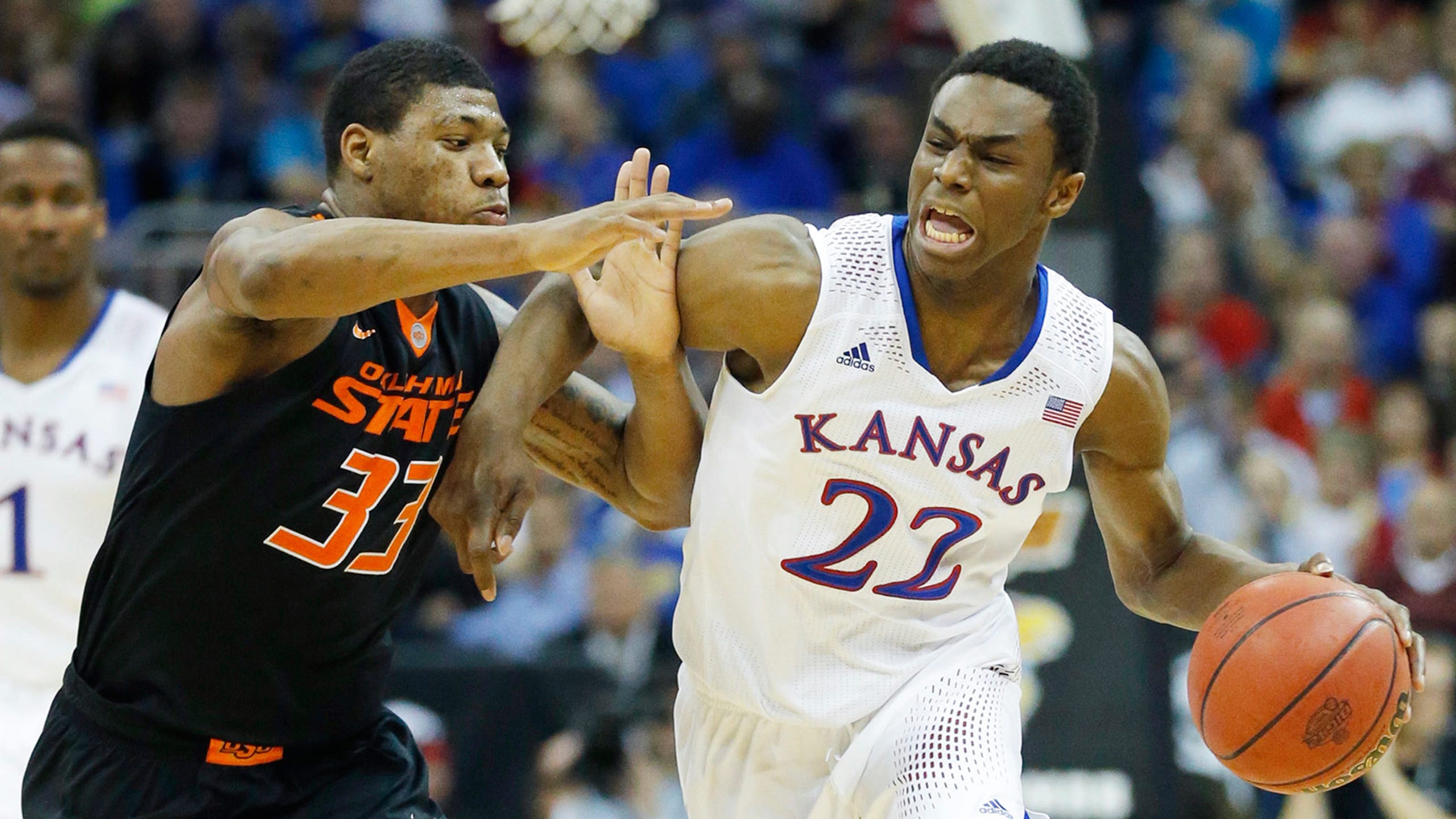 Big 12 thoughts: Forecasting the tournament
BY foxsports • March 16, 2014
The 68-team field is finalized, and with no Big 12 teams truly on the bubble or with legitimate cases for No. 1 seeds, the only drama was who would be playing who and where they'd be headed this weekend.
The league's seven participants are the most of any conference and according to the Big 12, is just the fifth time in history a conference sent at least 70 percent of its teams to the tournament. It's also the first time that's happened since the Big 8 in 1993.
Coincidentally, the old Big 8 sent seven of its teams to the tournament this season, minus Missouri, who constantly fielded strong teams under Norm Stewart in the league. Nine of the original Big 12 members are also in this tournament field, thanks to Nebraska and Colorado.
Let's take a closer look at how the bracket shook out for each Big 12 team:
Kansas, No. 2 seed, South
The Jayhawks had be to sweating a little bit after being bounced in the Big 12 semis, but it seems like the committee chose not to penalize KU for likely being without center Joel Embiid this weekend. KU might have slid to a three or a even a four if that had happened. The possible No. 1 pick in next year's draft missed the Big 12 Tournament and KU's final two games with a stress fracture in his back, but Kansas caught a very favorable draw ... for the first weekend.
Eastern Kentucky is only in the field because it upset heavily favored Belmont in the Ohio Valley Conference final. Belmont is my wife's alma mater, by the way. She was pretty broken up about it, and by broken up about it, I mean shrugged when I told her what happened.
The Jayhawks will have to crawl through a whole bunch of rematches the rest of the way. New Mexico may await in Round 2 if they get past Stanford. The Jayhawks beat the Lobos 80-63 back on Dec. 14 in Kansas City. No. 1 seed Florida may await KU in the Regional Final. The Gators beat KU 67-61 in Gainesville on Dec. 10.
For kicks and giggles, No. 8 seed Colorado is also in KU's region. The former Big 12/Big Eight squads met on Dec. 7 and the Buffs knocked off the Jayhawks in Boulder with a buzzer-beating 3.
KU's got a manageable road, but getting past Syracuse (or even Ohio State) may be asking a lot for a team that hasn't proven it can be very lethal without Embiid.
As for atmosphere, I love that KU, K-State and Wichita State will all be in nearby St. Louis this weekend.
Iowa State, No. 3 seed, East
The Cyclones improved their seed a spot or two with an emotional Big 12 Tournament win, but the road to the Sweet 16 may include North Carolina. The Tar Heels spent much of the season in the top 15-20 in the polls before a 1-4 start in ACC play and subsequent 12-game winning streak. You won't find many better six seeds.
North Carolina Central beat NC State for its lone win over an NCAA Tournament team this year and lost to Wichita State by 11, but the Eagles force plenty of turnovers. ISU will have to prevent those or risk a repeat of the season and team which shall not be named. (Jamaal Tinsley was involved.)
Villanova may await on the second weekend, a team with aspirations of a No. 1 seed. Iowa State had a shot at a No. 2 seed of their own after knocking off K-State, Kansas and Baylor this weekend, but didn't get the nod from the committee, despite racking up an 8-2 record against the top 25. It's fair to call that a mild snub.
Oklahoma State, No. 9 seed, West
The Cowboys are one of three Big 12 teams in the West bracket, but their stomachs had to drop a bit seeing they landed a nine seed, rather than a 10 or a 7. Should Oklahoma State get to the second round, it's hard to see an upset of Arizona happening. OSU's late-season improvement had them looking like a team that could surprise with a tourney in March, but that Arizona hurdle is likely too high to clear. That might not have been the case for a 2 seed like Michigan or Wisconsin.
That Arizona matchup will come only if the Cowboys get past Gonzaga, who has made a first-round exit in the tournament just three times since 1999 and hasn't missed the tourney field during that stretch. Credit Mark Few. Conversely, Travis Ford will be seeking his second tournament victory in 14 years as a Division I head coach and first since 2009, when OSU beat Tennessee as an eight seed.
Peeking ahead just in case the unthinkable does happen: How about Bedlam in the Sweet 16? It might be the single greatest migration of Oklahomans to California since the Gold Rush of 1848.
Oklahoma, No. 5 seed, West
Everybody knows about the infamous 5-12 upset in the tournament. North Dakota State doesn't have a big win on its resume, but the Summit League champs are 25-6 and one of the most experienced teams in the tournament. NDSU lost by 17 to then-No. 3 Ohio State, the only ranked team it faced all year.
Here's hoping Lon Kruger gives old friend Bill Snyder a call to cull some tips on facing an experienced group of Bison.
Round 2 won't be easy either way. San Diego State is 29-4 with big wins over Creighton and Marquette. They're also the only team to beat KU in Allen Fieldhouse this year. Selfishly, I'd love to see the Sooners matchup against New Mexico State, who boasts 7-5 center Sim Bhullar, who debuted in last year's tournament and is averaging 10.3 points and 7.9 boards for the Aggies this year. There's a constant aura of surreality anytime I'm watching a game with him on the floor. I assure you, he is real, and he is spectacular.
Baylor, No. 6 seed, West
Matchups between old Big 12 members are always fun, and Nebraska-Baylor should be no different. Both programs spent a whole lot of time getting beat up in the Big 12, and have since turned around their programs. Baylor's a lot further in those efforts and should win this game against the Huskers, who might suffer from "happy to be here" disease after returning to the tournament for the first time since 1998. Cookie Belcher would be proud.
We saw Texas A&M and OU earlier this year and KU-Colorado as well. There's always a little extra emotion in these games.
The winner should get a high-profile game against Creighton and Doug McDermott, the best player in college hoops this year.
That's a tough draw for Baylor, who has struggled to defend the 3 all year and rank 266th nationally in 3-point defense. The Bluejays are the nation's best three-point shooting team McDermott and teammate Ethan Wragge may go bombs away on the Bears, who are much better defensively inside with the length of Isaiah Austin and Cory Jefferson. Five Creighton players average at least 39 percent from three. That's insane.
The best news for Baylor? That Creighton game would be a home atmosphere in San Antonio. BU fans will flood the Riverwalk this week and thought Nebraska and Creighton should have quite a few as well, Baylor will be the most well-represented team in its pod in San Antonio.
Kansas State, No. 9 seed, Midwest
No Big 12 team got a worse draw than K-State, who faces Kentucky in the 8-9 game. The Wildcats are among the biggest underachievers in college basketball this season. They were the first preseason No. 1 team to fall out of the poll since Indiana all the way back in 1979-80. K-State can win that game, but it's not often you see a No. 8 seed with that much pro talent on the floor. This is the same team that beat Louisville, even thought it also lost to South Carolina, the second-worst team in a weak SEC. The on-court results have challenged the preseason notion that UK's recruiting class was the best ever, but K-State will see Julius Randle, the Harrison twins, James Young and Dakari Johnson in person.
The Wildcats will be salivating in Round 2, too. For as much as the committee insists it doesn't set up intriguing matchups, the idea of 34-0 Wichita State facing either an overtalented eight seed in Kentucky or a team from Kansas is outstanding. Matchups between 1 seeds and 8/9s don't get any more intriguing than that.
Texas, No. 7 seed, Midwest
The Longhorns were in the mix for a 4-5 seed even a couple weeks ago, but you can't lose five of your last eight games and ask the committee for a favor.
Texas landed in the most difficult region of the tournament and face off against Arizona State, who lost five of its last seven games after upsetting then-No. 1 Arizona in double overtime.
Will Longhorn Network feature a simulcast of Steve Patterson's face during the game? He spent almost two years as the Sun Devils' AD before jumping to his alma mater, Texas.
Even if Texas escapes there, future matchups against Michigan and Duke make it hard to see the Longhorns snapping out of their funk and making a deep tournament run.

---