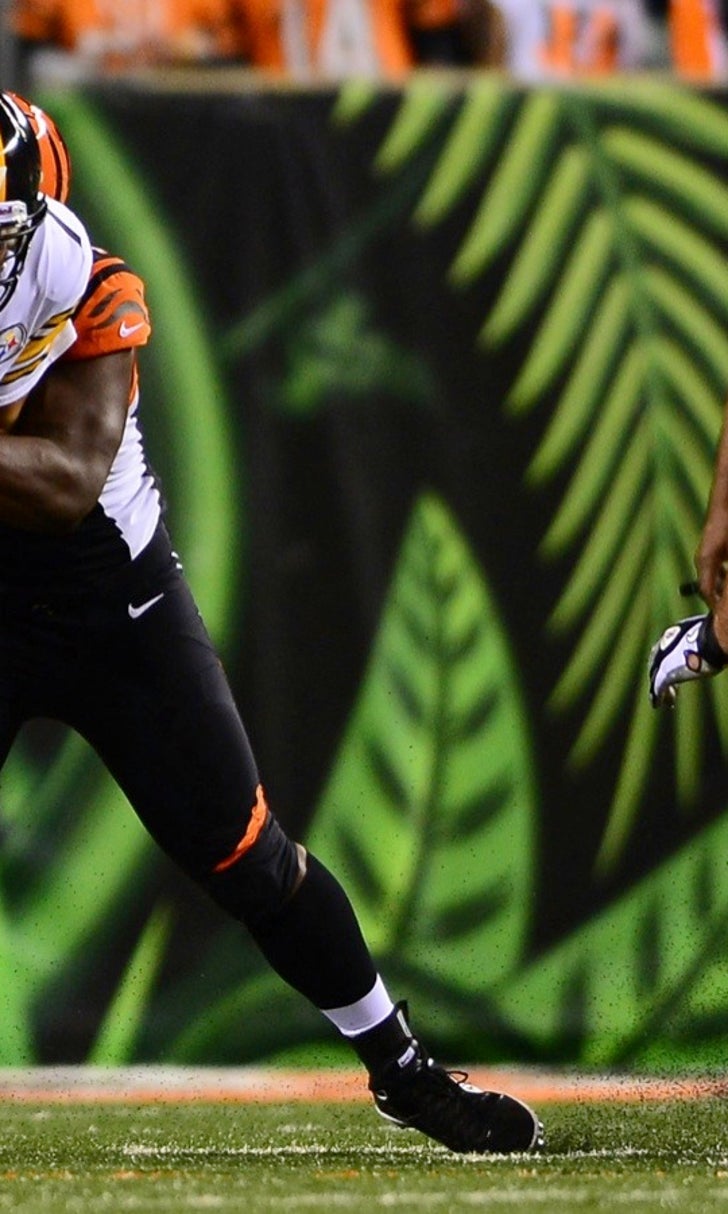 Bengals focused on finishing in Pittsburgh
BY foxsports • December 12, 2013
CINCINNATI -- Marvin Lewis says he's had his practice schedule set in place for a few weeks now, so don't read anything into the fact that the Bengals were practicing in pads on Wednesday. It's not unusual. It's not news.
But it is the week the Bengals travel to Pittsburgh to play the Steelers, so…
There is a little extra emphasis on urgency and focus around Paul Brown Stadium this week. The Bengals might be 9-4 and in first place in the AFC North. They might be leading the division by two games over Baltimore, while Pittsburgh (5-8) never was able to overcome losing its first four games and is out of the division-title chase, all-but-mathematically eliminated from postseason consideration. But…
"The Steelers are the Steelers," said safety Reggie Nelson. "We're going to go in there and play hard-nosed football and we expect the same from them like any other game."
The stage will be a national one for this game, a scheduled 8:30 p.m. kickoff. The Bengals have won three in a row, including a 42-28 victory against Indianapolis last Sunday.
The Bengals have won the last two games against the Steelers; 13-10 at Heinz Field to clinch a playoff berth last December and 20-10 at PBS in Week 2 this season. They haven't won three straight over Pittsburgh since winning six in a row by sweeping the season series in 1988, '89 and '90. This is just the third time since then that the Bengals have won two in a row in the series.
The Bengals actually held a 21-20 overall advantage in the series at the end of the 1990 season. It's now 53-34 Pittsburgh, including the postseason.
This game has big implications for the Bengals this season. The game always has big implications for the franchise. Pittsburgh is still an NFL standard bearer as an organization. Beating the Steelers holds water. Beat them and you've earned something.
"We went through a lull where we were beating the Bengals pretty regularly," said Pittsburgh safety Ryan Clark. "But now with this young group of individuals they have there, all of these good skill players and an extremely good defense, the game has picked up a little bit. I don't think they necessarily understand the history, or know the history, nor care about it. So I don't think there's a lot of respect for the Pittsburgh Steelers in Cincinnati.
"Those guys play hard, they play that way. They talk. And for me, it's exciting. It's always good to play against good players who feel like they're better than you. It's a good game for both teams."
There was a little watching of film from the Indy game on Wednesday, especially in the defensive meeting room. The Colts put up all 28 points they scored in the second half.
The four touchdowns the Bengals allowed in the second half were the most they have given up in a single game all season. They had allowed that many offensive touchdowns in their previous three games combined. They had allowed just four total offensive touchdowns to be scored in five previous home games against Pittsburgh, Green Bay, New England, the New York Jets and Cleveland.
"We take big emphasis on that tackling. Especially me, I hate missing tackles," said linebacker Vontaze Burfict. "I think I missed two tackles last game. For me, I realized, man, I need to bend my knees more in practice or wrap up in practice. I think that's going to be a lot of emphasis today. Reggie Nelson is kind of mad we have pads on so I'm pretty sure he's going to hit somebody in practice."
Burfict leads the NFL in tackles with 139, according to NFL stats. Bengals coaches have credited him with 169 stops in their film review. Wednesday's film session with defensive coordinator Mike Zimmer wasn't pleasant.
"We went through like eight plays. Pretty much just the bad plays," said Burfict. "You'd probably have to put some earplugs in."
Nelson has interceptions in each of the last two games against Pittsburgh. He concurred when it came to Zimmer's reaction and ranking it among the most audible of the coordinator's other film breakdowns: "I think it's off the charts, to be honest with you. You'd better make eye contact or he's just going to keep going. You've just got to sit there and accept the coaching and move on. You know you did something wrong."
The combination of that second half performance and this being Pittsburgh week puts an added edge into the practice week. So the pads go on as planned.
"There's definitely a rivalry that you feel," said quarterback Andy Dalton. "The Steelers have been a good team for a long time. You can feel it."
---