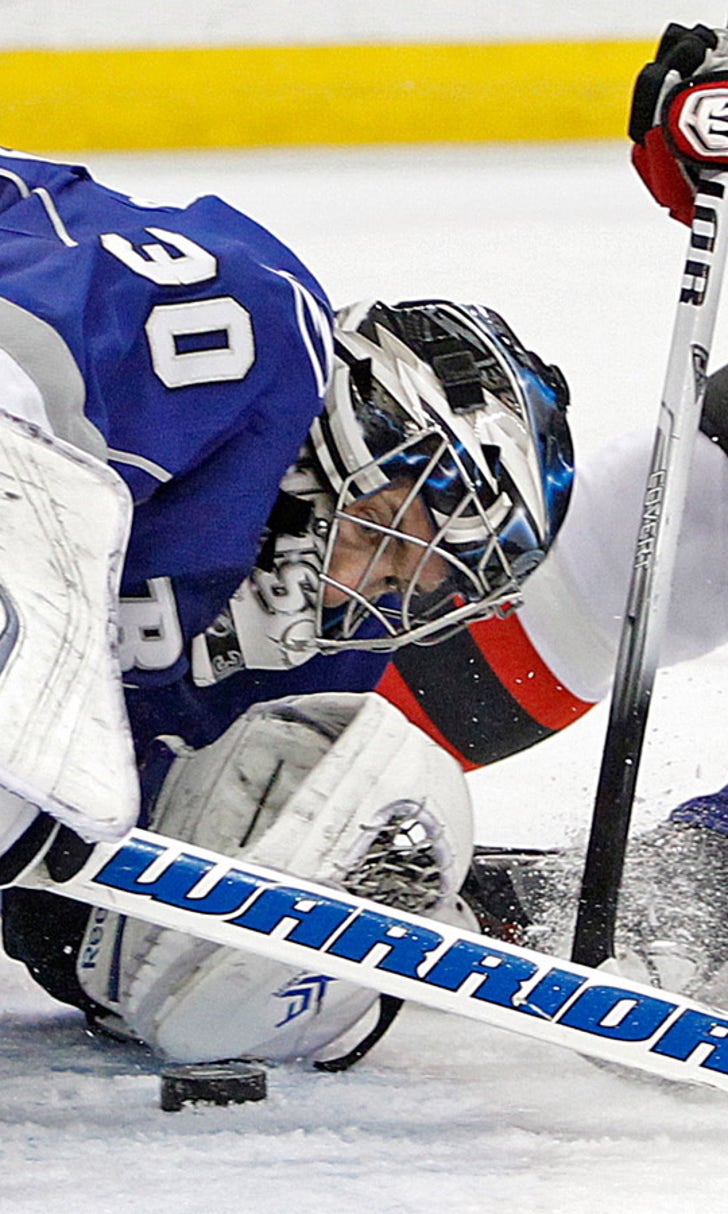 Ben Bishop sets Lightning record with 31st win this season
BY foxsports • March 15, 2014
TAMPA, Fla. -- Pats on the helmet for Ben Bishop came often after the final horn sounded, and for good reason.
He has become one of the Tampa Bay Lightning's most important faces in their playoff push. Now, he owns a franchise record to complement his standout year.
Bishop set a Tampa Bay record for wins in a season by claiming victory No. 31 when the Lightning beat the New Jersey Devils 3-0 on Saturday night at Tampa Bay Times Forum. His total surpasses the former mark held by Nikolai Khabibulin from the 2002-2003 campaign.
"It's a nice accomplishment," Bishop said. "A whole lot of credit to the guys in front of me. I don't get that without them. It's a team thing, so I don't really look at it as an individual anything."
Bishop, 27, had 23 saves Saturday, continuing his strong fifth NHL season. Before Saturday, his victory total was tied for fourth in the league with the Boston Bruins' Tuukka Rask. He ranked sixth with a 2.14 goals-against average, and he was tied for third -- also with Rask -- with a .928 save percentage.
In a short time, Bishop has become a staple of Tampa Bay's roster. In April 2013, he arrived in a trade that sent center Cory Conacher and a fourth-round pick in last year's draft to the Ottawa Senators. He has started 52 games this season -- Anders Lindback follows with 19 -- and his record improved to 31-11-6.
With time, Tampa Bay coach Jon Cooper has seen Bishop grow and become more aggressive.
"He wants that next start," Cooper said. "He's not shying away from it. This was a tough game to play, because they're a pretty structured team, and you're in the middle of a chess match. Everybody is following each other's move. It was big that we got the lead."
Others in his dressing room know what they have in Bishop. They credit much of their rise within the Eastern Conference to him.
"You can pretty much see where we are in the standings, and he's a huge part of it," Lightning center Valtteri Filppula said. "He has been playing well the whole year."
At 6-foot-7, 214 pounds, Bishop stands as an imposing figure in goal. He began the season by winning 13 of his first 15 starts from Oct. 5-Nov. 14, and to this point, he has yet to lose more than five appearances in a single month.
Though Bishop and Tampa Bay had struggled of late, the victory over New Jersey gave the netminder victories in consecutive starts for the first time since winning three straight from Jan. 19-Jan. 25.
Now, his momentum has produced franchise history.
"I feel good," Bishop said. "It's not so hard to get up for games in this league. You're playing against good teams every night. You've got to be ready."
You can follow Andrew Astleford on Twitter @aastleford or email him at aastleford@gmail.com.
---
---