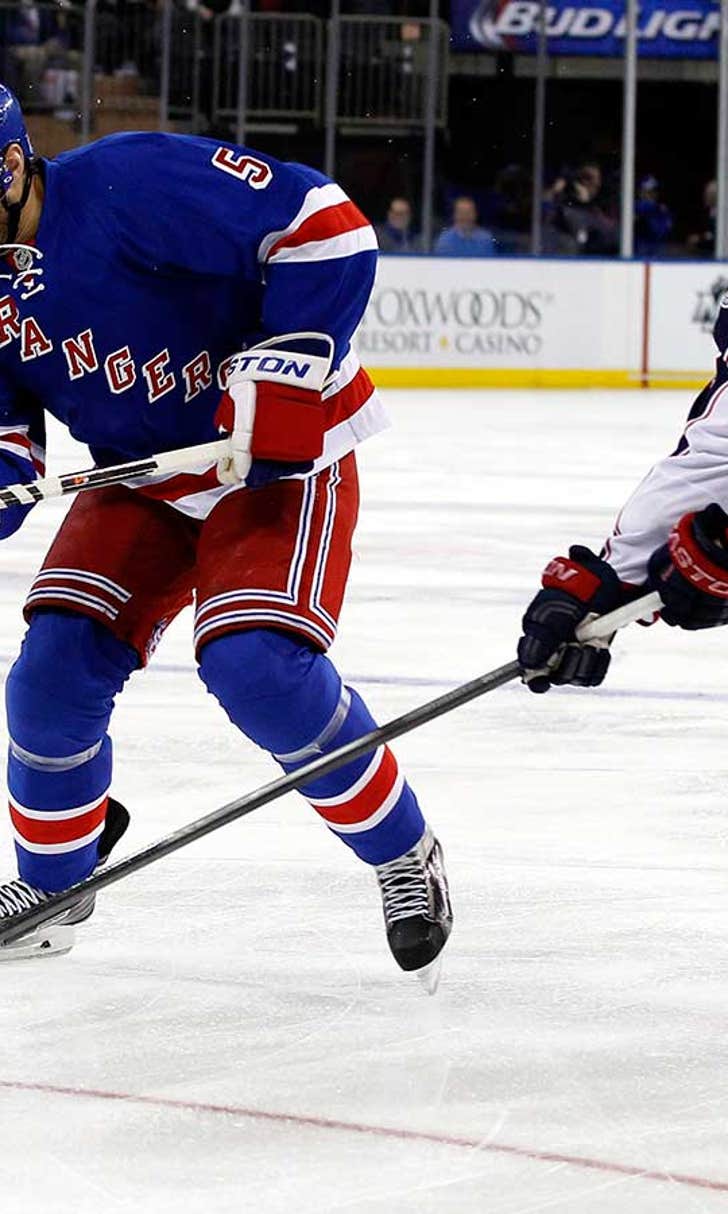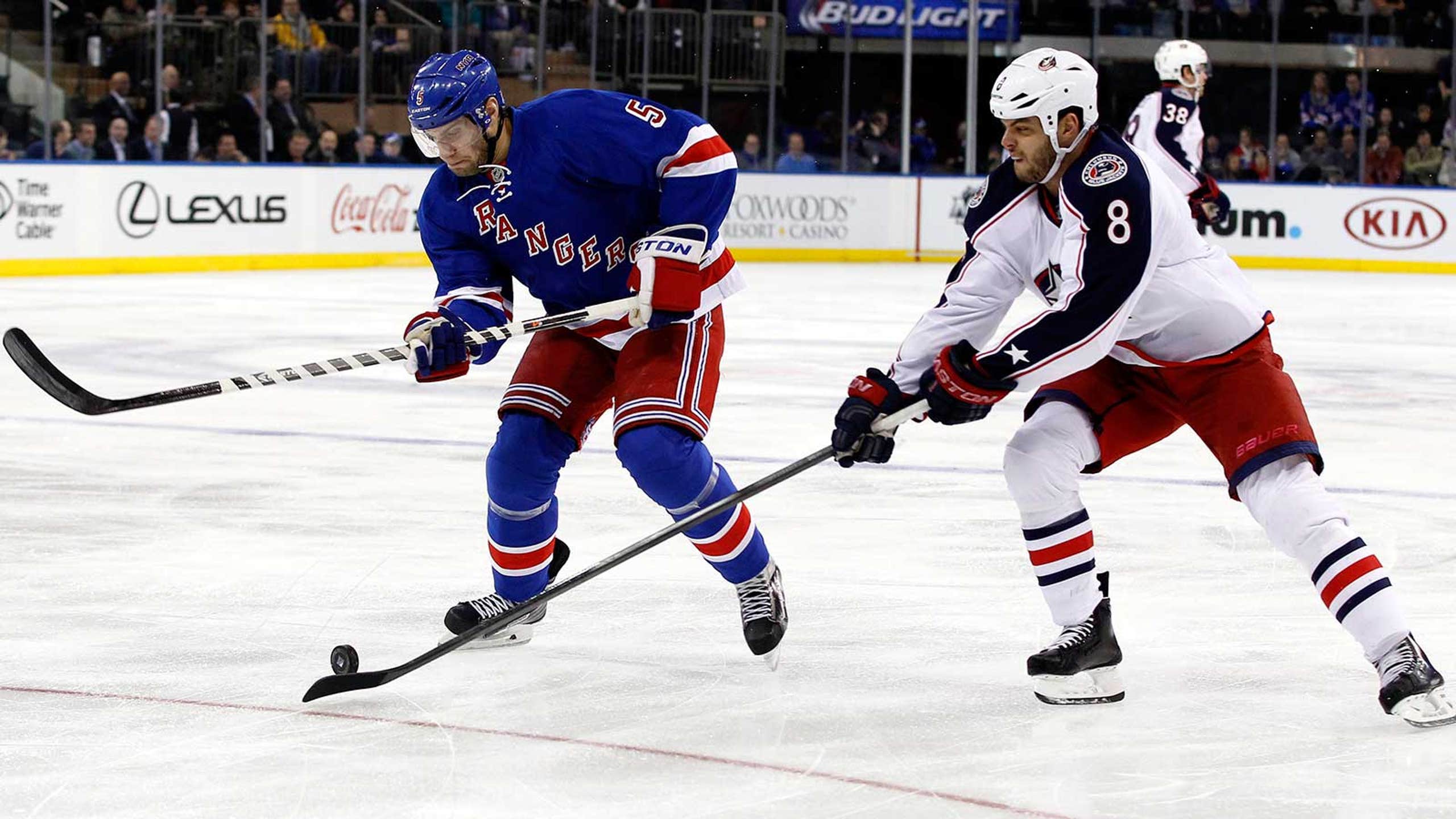 Before the CBJ puck drops: New York Rangers
BY foxsports • March 21, 2014
GAME 70: New York Rangers
37-29-4 -- 3rd place in the Metropolitan Division
4-5-1 in last 10 games
SCORING RANKINGS
New York
Goals for: 2.59 goals/game - 18th in the NHL
Goals against: 2.46 goals/game - 6th
Columbus
Goals for: 2.81 goals/game - 11th in the NHL
Goals against: 2.71 goals/game - 16th
SINCE WE LAST MET (on January 6th):
One of those Metropolitan Division teams in the standings scrum after Pittsburgh excuses itself for a sip of lemonade, the New York Rangers have made quite a run of it this season. They've never been too far from the coveted second place spot, always (I think) right at or above the playoff qualification line. They're a worthy adversary.
What amazes me about the Rangers is that for all the bluster about the team's well-paid stars - and there are a number of them, including Brad Richards, Rick Nash, Martin St. Louis (just acquired at the trade deadline for Rangers captain Ryan Callahan) and Henrik Lundqvist - the fact of the matter is that the stars getting paid are on offense. The incredible on-ice performance, however, is on defense, where the Rangers are sixth in the league in goals against. They're actually in the bottom half of the league in goals for. Ah well, nobody ever accused general manager Glen Sather of spending his owners' money wisely.
The Rangers remain stocked with all sorts of ex-Blue Jackets, including Nash, Derick Brassard, John Moore, Derek Dorsett (who apparently is a scratch for tonight) and Anton Stralman. Should this matchup carry over into the first round of the playoffs, which would happen if Columbus and New York finish the season at second and third in the Metropolitan Division, I can see all sorts of energy and hilarity from the fans at Nationwide Arena.
Top scorers on Broadway are:
- Forward Derek Stepan (13 goals, 34 assists, 47 points)
- Forward Mats Zucarello (15 G, 32 A, 47 pts.)
- Forward Brad Richards (16 G, 30 A, 46 pts.)
- Forward Derick Brassard (15 G, 24 A, 39 pts.)
- Defenseman Ryan MacDonagh (12 G, 25 A, 37 pts.)
Because Columbus fans will be wondering, Rick Nash isn't in the top scorers despite his eighth highest salary cap hit in the entire league largely due to his missing nearly 20 games due to an early season concussion.
I'll presume that Lundqvist is getting the start in goal tonight. In 52 starts, Lundqvist is 26-22-4, has a 2.50 goals against average and a .917 save percentage.
WHY THIS GAME IS IMPORTANT:
The Blue Jackets have 78 points and are in 3rd place in the Metro. The Rangers are in 4th place with the same number of points due to tiebreakers. This is a true "separation" game, especially if it is decided in regulation. Presuming that they can keep up a winning pace, tonight's victor will have much greater control of its divisional destiny over the last dozen games of the season. The loser will be looking for help in a Metropolitan Division where it seems that nobody is interested in helping the others out.
WHO I'LL BE WATCHING:
I appreciate that this is Rick Nash's first game back at Nationwide Arena as a Ranger. Truth be told, I don't care. This is a meaningful playoff race game, and that trumps everything else.
Tonight, I think that Columbus fans have to watch Ryan Johansen. Johansen bailed the team out in a hard fought game against the Montreal Canadiens last night with a third period goal to break the 2-2 deadlock and win the game in regulation, and his forceful presence will be needed to help his team break through the impressive (at least statistically so) Rangers defense. With a .917 save percentage, Lundqvist appears to be good but beatable. It's the blue liners that the Blue Jackets offense will need to break through.
YOUR FOX SPORTS OHIO BROADCAST INFORMATION:
FOX Sports Ohio has it all for you tonight:
- Brian Giesenschlag and Dan Kamal bring you the "Blue Jackets Live Pregame" at 6:30PM.
- The puck drops at Nationwide Arena at 7PM, with Jeff Rimer and Bill Davidge on the call.
- Brian and Dan return immediately following for "Blue Jackets Live Postgame" with postgame interviews, insight and analysis.
It's a big, Big, BIG game in Columbus tonight! Enjoy it, and go Jackets!
---