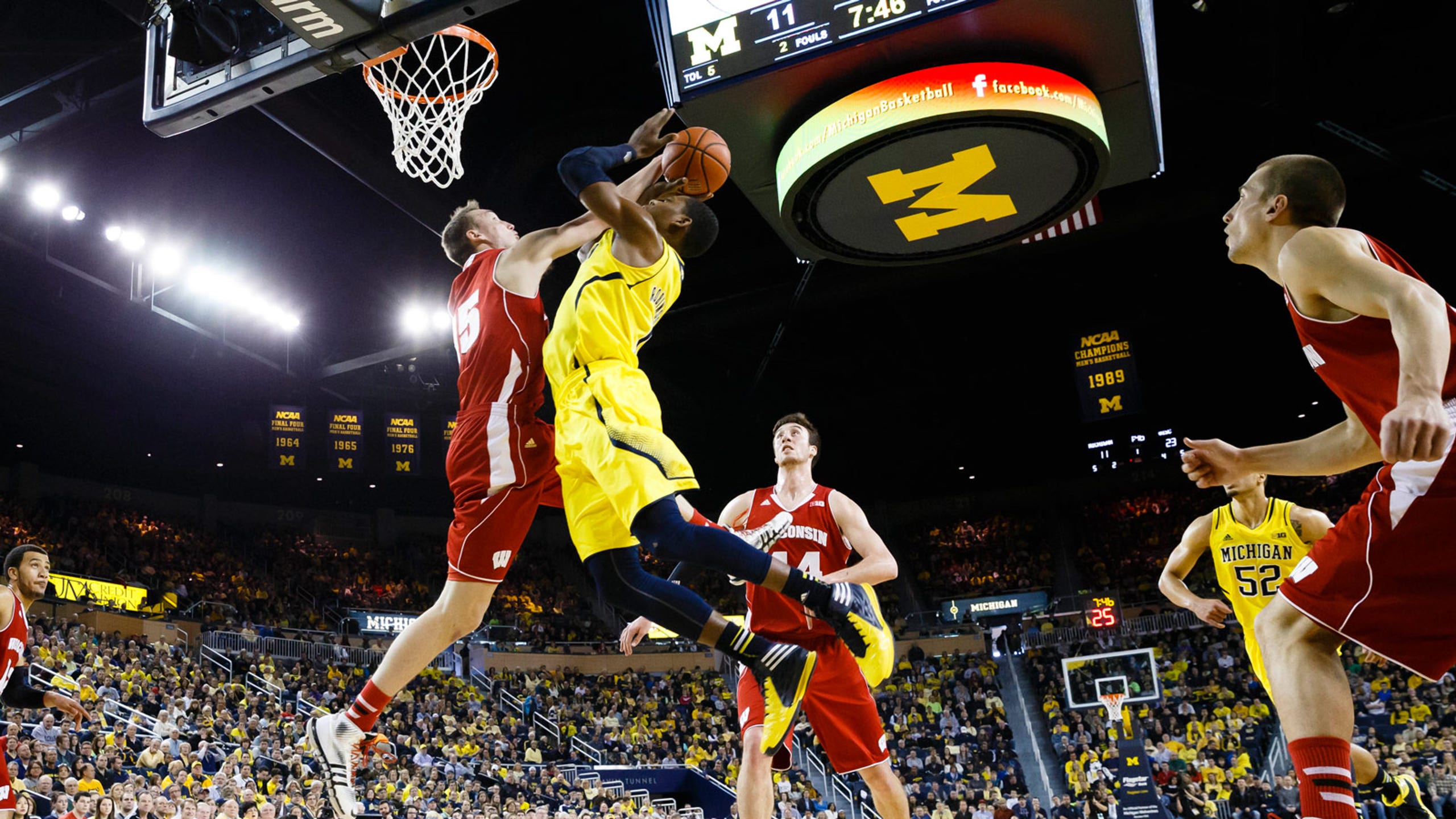 Badgers not road kill away from home
BY foxsports • February 21, 2014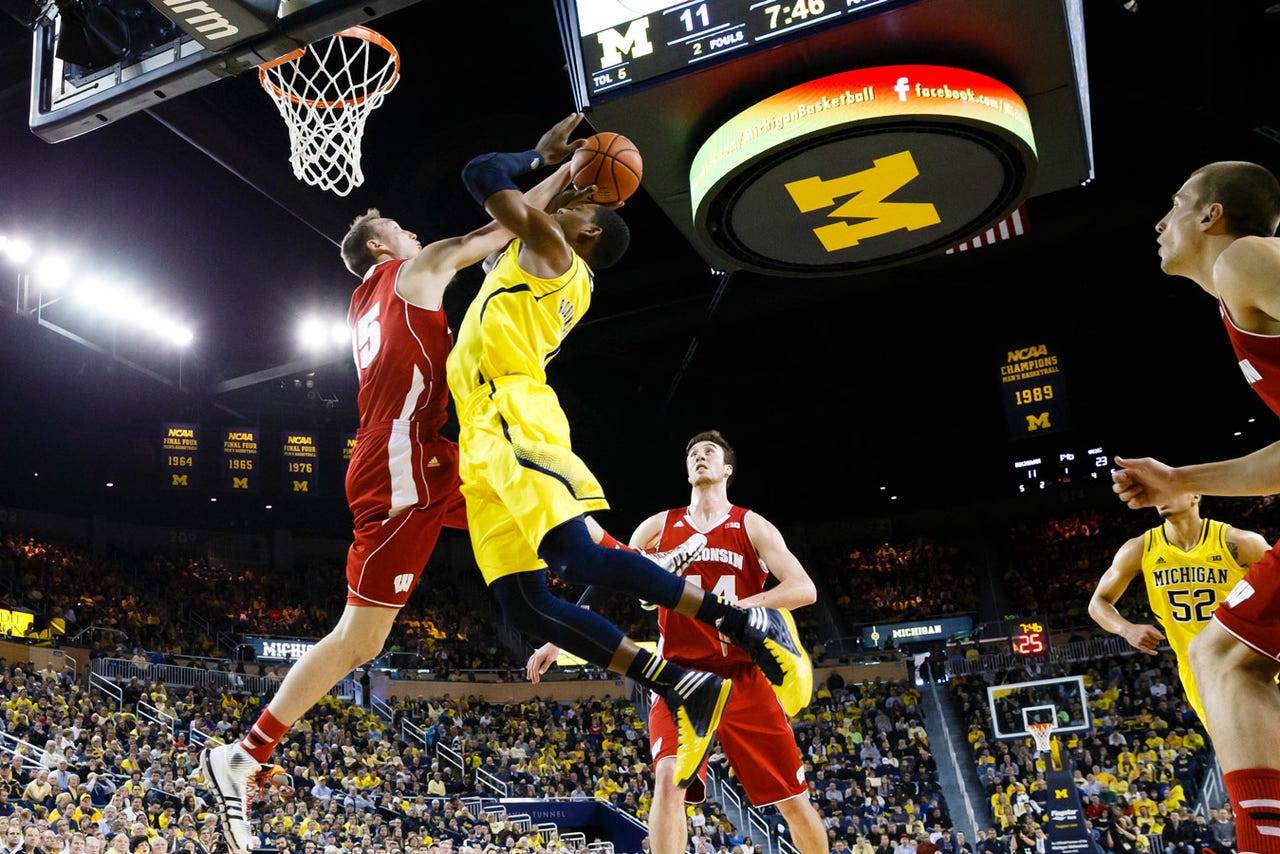 MADISON, Wis. -- There's a well-known scene in the movie "Hoosiers" in which the underdog Hickory Huskers walk through Butler Fieldhouse for the first time before playing for the Indiana high school state championship. While players stare in awe at the cavernous venue, head coach Norman Dale has his team record the free-throw distance (15 feet) and the height of the rim from the court (10 feet) with a tape measure.
"I think you'll find it's the exact same measurements as our gym back in Hickory," Dale tells his team in an attempt to quell their fears. Hickory, of course, goes on to win the state title in magical fashion.
Essentially, that's the same message Wisconsin's basketball team has taken with it on the road, too. Players at this level have little reason to be intimidated, but by sticking to the principles that work at home, the Badgers have proven especially successful in away games.
"We've always really stressed and emphasized that the dynamics of the court are the same," Badgers assistant coach Lamont Paris said. "The rims aren't any higher. Everything is the same. So we prepare as if it's all going to be the same for the most part.
"I think we drill that into their heads. Why can't we win here? Why can't we win on the road? Why can't we win at a neutral site? It's just basketball. Everything is the same."
No. 16 Wisconsin (21-5, 8-5 Big Ten) will play No. 15 Iowa (19-6, 8-4) at 11 a.m. Saturday in Iowa City with a chance to take over third place in the conference. And the Badgers' success on the road has been a key reason for the team's sustained excellence.
This season, Wisconsin is 8-2 away from home, going 3-0 in neutral site games and 5-2 in true road games. Only Michigan State has more road wins among Big Ten teams (six) and total wins away from home (10). Since Wisconsin coach Bo Ryan was hired in 2001, Wisconsin has been the Big Ten's best road team, owning the most true road wins (73-68) and the best road win percentage (.517).
"Sometimes maybe you get focused a little more on the road," Badgers guard Josh Gasser said. "You play at home, you've got everyone on your side. You just think you're supposed to win. On the road, you know you've got to battle each possession. You know you have to focus and grind it out for 40 minutes. That can kind of help you out. It's nice to win at home. But I think it's even more satisfying to win on the road. To see a whole crowd just go stale and all that, I think that's the fun of it."
Paris said the way Wisconsin usually plays -- limiting turnovers, working for good shots and playing solid defense -- also lends itself to the team's road success. Indeed, Wisconsin ranks No. 30 nationally in scoring defense (63.3 points per game allowed), No. 2 in fewest turnovers per game (8.3) and No. 7 in offensive efficiency (1.19 points per possession).
The Badgers' ability to control the ball, hit free throws down the stretch and make smart decisions also contributed to victories on the road, where games tended to be much closer, Paris noted.
Beating Iowa in Carver-Hawkeye Arena will be no easy task. The Hawkeyes are 12-2 there this season, although they have lost consecutive home games to Michigan State and Ohio State.
"You've got to be ready to play, whether it's home or away," Badgers forward Sam Dekker said. "You've just got to have the same mindset going into each game. Not overthink things. Just go in, realize it's the game of basketball, you're here for a reason and you're a good team. If you have that mindset going into a game, you shouldn't have any worries. You should be able to go out there and play hard."
Iowa ranks ninth in the country in scoring offense (83.6 points) by playing an up-tempo style that features nine rotation players that play double-digit minutes per game. By contrast, Wisconsin has its highest scoring team in the Ryan era and averages more than 10 points fewer per game (73.3) with an eight-man rotation.
Wisconsin defeated Iowa 75-71 in the teams' first matchup at the Kohl Center on Jan. 5, coming back from a 35-24 halftime deficit. A similar hole on the road for the Badgers may prove too much to overcome. But the team has rarely put itself in such a position and doesn't intend to do so on Saturday, either.
"We've been a decent road team year in, year out," Ryan said. "I don't see our guys going on the road and not feeling that they can get it done. It's a state of mind. It's how you prepare, and if you believe, then you have a chance."
Follow Jesse Temple on Twitter
---