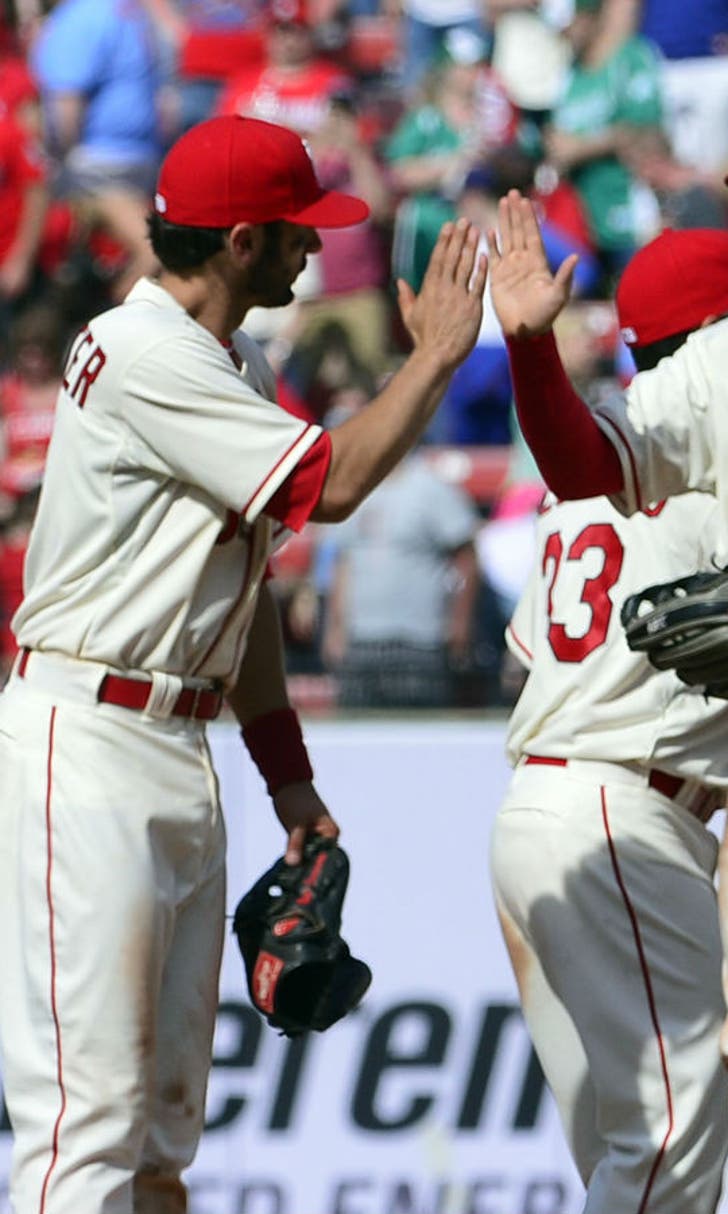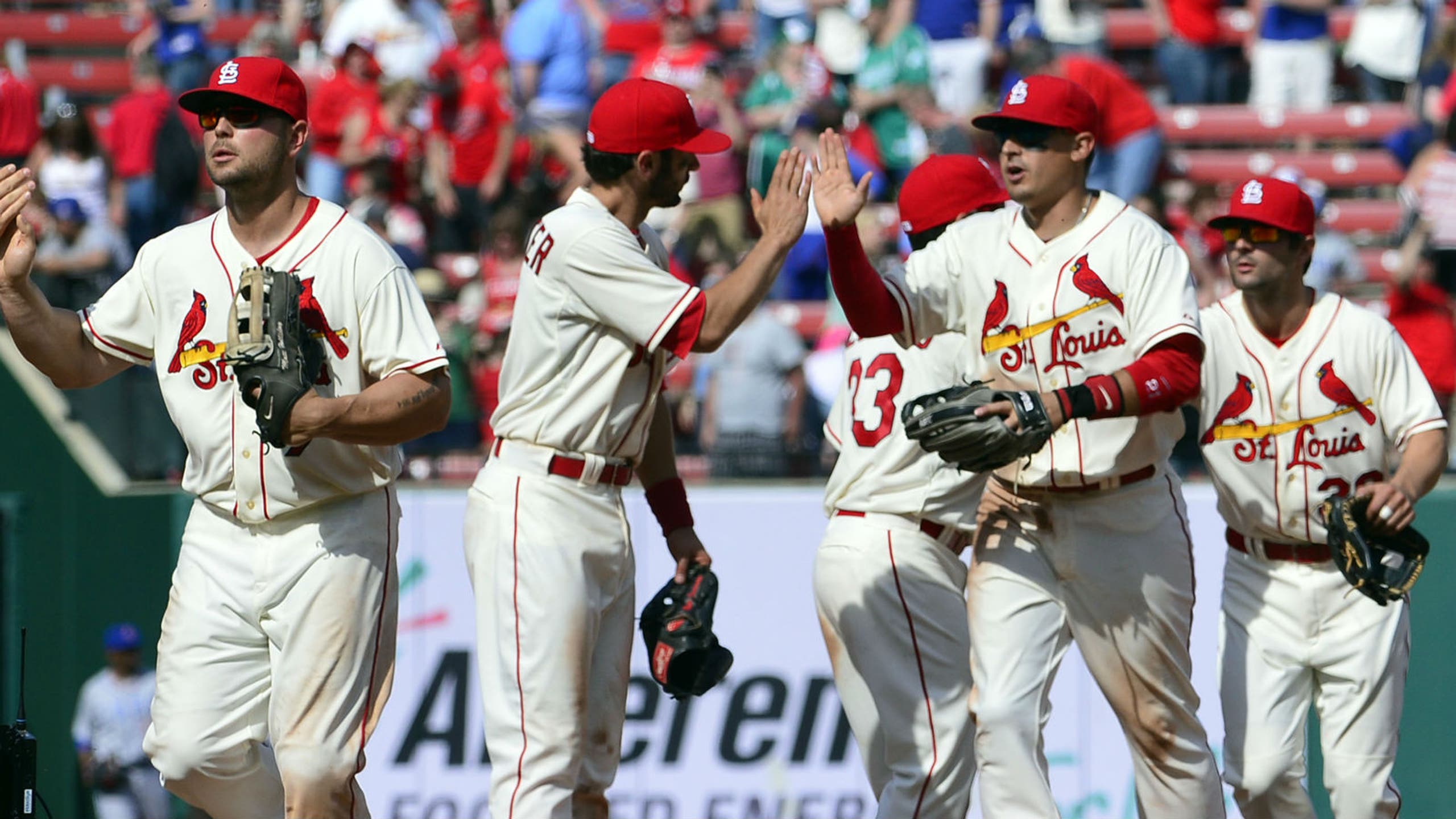 At last! Cards bust out bats in 10-4 win over Chicago
BY foxsports • April 12, 2014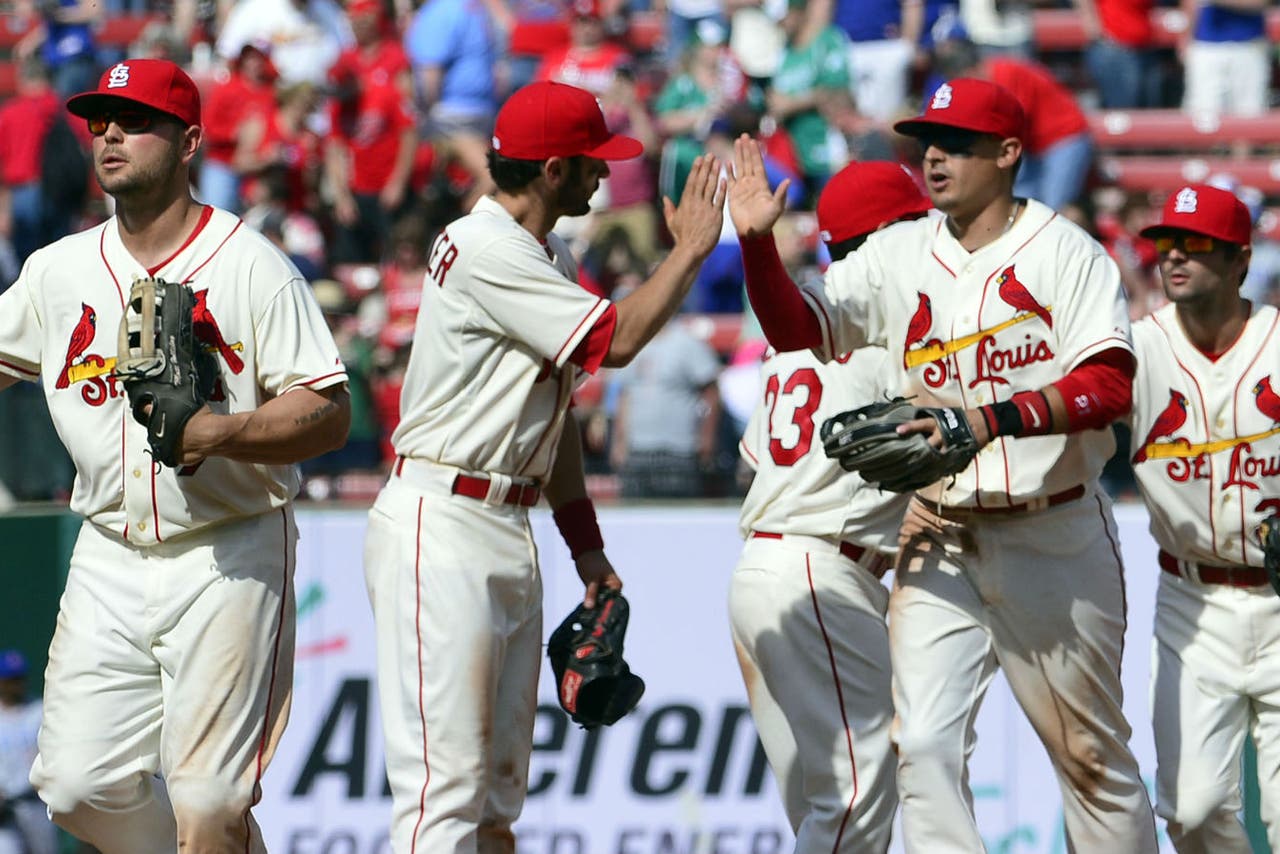 ST. LOUIS -- The Cardinals found a cure for their ailing offense Saturday afternoon in Cubs right-handed picther Carlos Villanueva.
Mike Matheny's lineup broke out for nine runs on 10 hits against the Chicago starter, who lasted just three innings. The Cardinals recorded a season-high 10 runs and 13 hits in the 10-4 victory at Busch Stadium.
"This hitting thing is a hard deal and they may look like they are getting closer," Matheny said. "Obviously, today was a great representation. I think that's the kind of team we have. We can throw up a huge offensive production just about any time. It's just a matter of when they start clicking."
Every player in the starting lineup for St. Louis (6-5) had a hit Saturday, with Matt Carpenter, Yadier Molina and Daniel Descalso getting two apiece. Carpenter and Jon Jay each had two RBI. Matt Adams hit his first home run of the season to open the scoring in the four-run second. St. Louis went 6 for 17 (.353) with runners in scoring position.
"I think they all had good at-bats at times," Matheny said. "It's just going to take time. That's all there is to it. You just have to stick your nose in and grind when those times come because it's not going to be the last one. But it's frustrating for a team that knows that they can put up offensive production when you have this kind of start. We were fortunate we were able to work into some wins. A day like today could be the catalyst to get us going from here."
The Cardinals had scored just three runs total in their back-to-back losses against the Reds on Wednesday and the Cubs on Friday. It was only a matter of time before the bats got going.
The recipient of Saturday's offensive surge was Adam Wainwright (2-1), who allowed a home run on the first pitch of the game but settled down and limited the Cubs to four runs on seven hits in seven innings.
"The offense did a great job today scoring some runs," he said. "It's no surprise to me, we're going to hit fine. We've faced some tough pitching and we've had some things that we usually do really well that we haven't done well, and that's just baseball. There's going to be plenty of times where our hitters pick up our pitchers this year."
3 UP
-- Descalso. The Cardinals' backup utility infielder had been hitless in his first 10 at-bats this season, including an 0 for 2 in Friday's loss, before getting the start at shortstop Saturday with slumping Jhonny Peralta getting a day off. DD had an RBI single and scored in the second inning to keep that rally going and then set the tone for a five-run fourth inning when he led off with a double and scored on a single by Carpenter. "When you get an opportunity, you have to go out there and take advantage of it," Descalso said. "I was happy to be able to have a couple good at-bats and help out today."
-- Wainwright. St. Louis' ace didn't have his best stuff against the Cubs. "Today, instead of being just off the plate I was just on the plate, and usually I'm going to be a little more on the corners," he said. But he was able to battle and get through seven innings, which helped keep Matheny from having to go to the bullpen earlier and use more relievers. Waino struck out eight batters but did not walk any, which helped him limit the damage and prevent a big inning that may have knocked him out of the game earlier. Even when he allowed doubles to three of the first four hitters he faced in the sixth, he buckled down and got the final two outs to escape the trouble.
-- Randy Choate. The left-handed reliever entered the game in the eighth in relief of Wainwright and promptly walked the first batter he saw, pinch hitter Mike Olt. But then Choate, who last pitched in Wednesday's loss, retired three straight left-handed batters -- Anthony Rizzo, Nate Schierholtz and Ryan Sweeney -- to get out of the inning without further damage. He struck out Schierholtz with consecutive 76-mph sliders and then struck out Sweeney with a 75-mph slider. Choate has allowed just one hit in four innings over five appearances. "I really just didn't have any rhythm at first and couldn't find the strike zone at all, but I kind of stepped off after the first ball to the next hitter and kind of gathered myself and tried to make the adjustment, and fortunately for me I was able to do so," he said.
3 DOWN
-- Jhonny Peralta. The Cardinals' shortstop got the day off after a rough start to the season. He had started each of the first 10 games and struggled at the plate with just two hits (both home runs) in 32 at-bats for a batting average of .063. "But we're more concerned with just trying to get him going," Matheny said before the game about the day off for his shortstop. "Sometimes it's just throwing him back in there, but when that doesn't work sometimes you take a little extra rest and then hopefully they can go get in some extra swings and then figure out what they need to do."
-- Pete Kozma. When Matheny needed a shortstop to give Peralta a rest, he turned to Descalso instead of Kozma, who had appeared in just two of the Cardinals' first 10 games and stayed on the bench Friday night as the manager elected to let closer Trevor Rosenthal hit for himself in the 10th inning with two outs and a man in scoring position. Last year's starting shortstop did make an appearance Saturday, however. He pinch hit for Kolten Wong in the eighth inning, his second at-bat of the season, but flew out to right field. He then stayed in the game and played shortstop as Descalso moved from short to second base.
-- Mark Ellis to Memphis. Does sending the second basemen "down" to Triple-A Memphis for a rehab assignment count? Let's say it does. The veteran infielder is getting closer to returning from the disabled list because of left knee tendinitis and is expected, at some point, to head to Tennessee to work his way back into action. "Today was just another day forward and we just kind of keep pushing him and see how those rehabs go," Matheny said before the game. "But right now everything we're giving him, he's pushing forward and he's responding well."
You can follow Nate Latsch on Twitter (@natelatsch) or email him at natelatsch@gmail.com. 
---