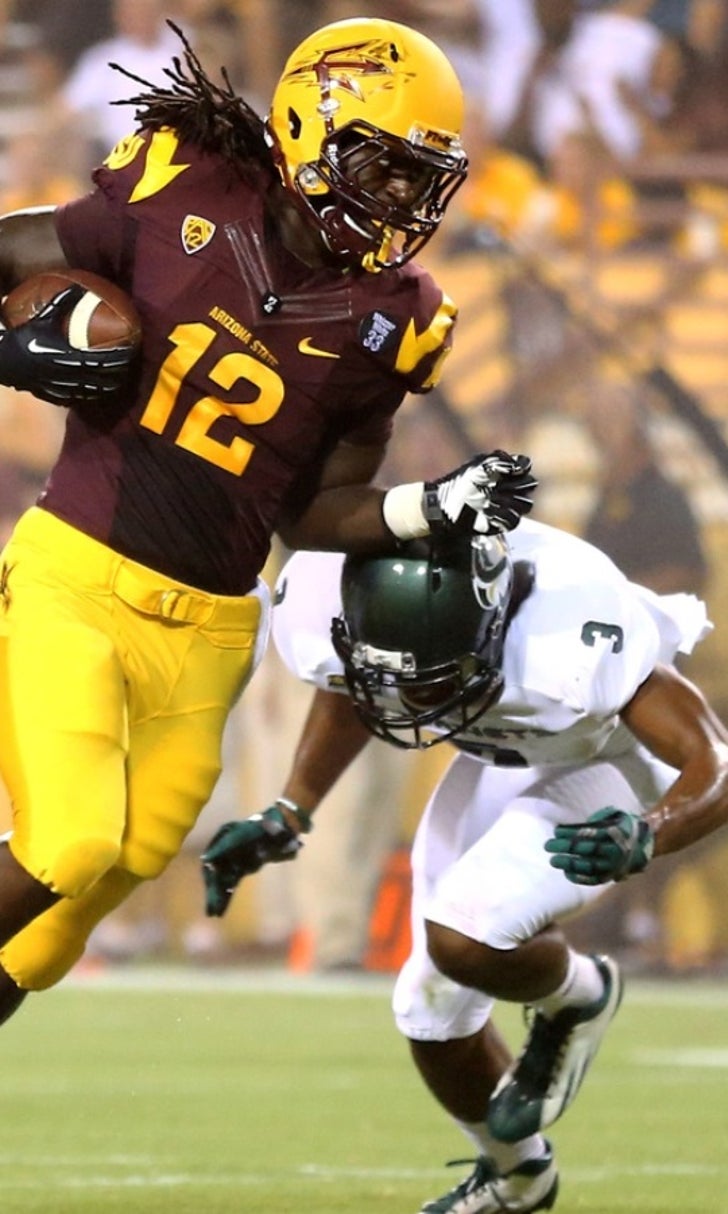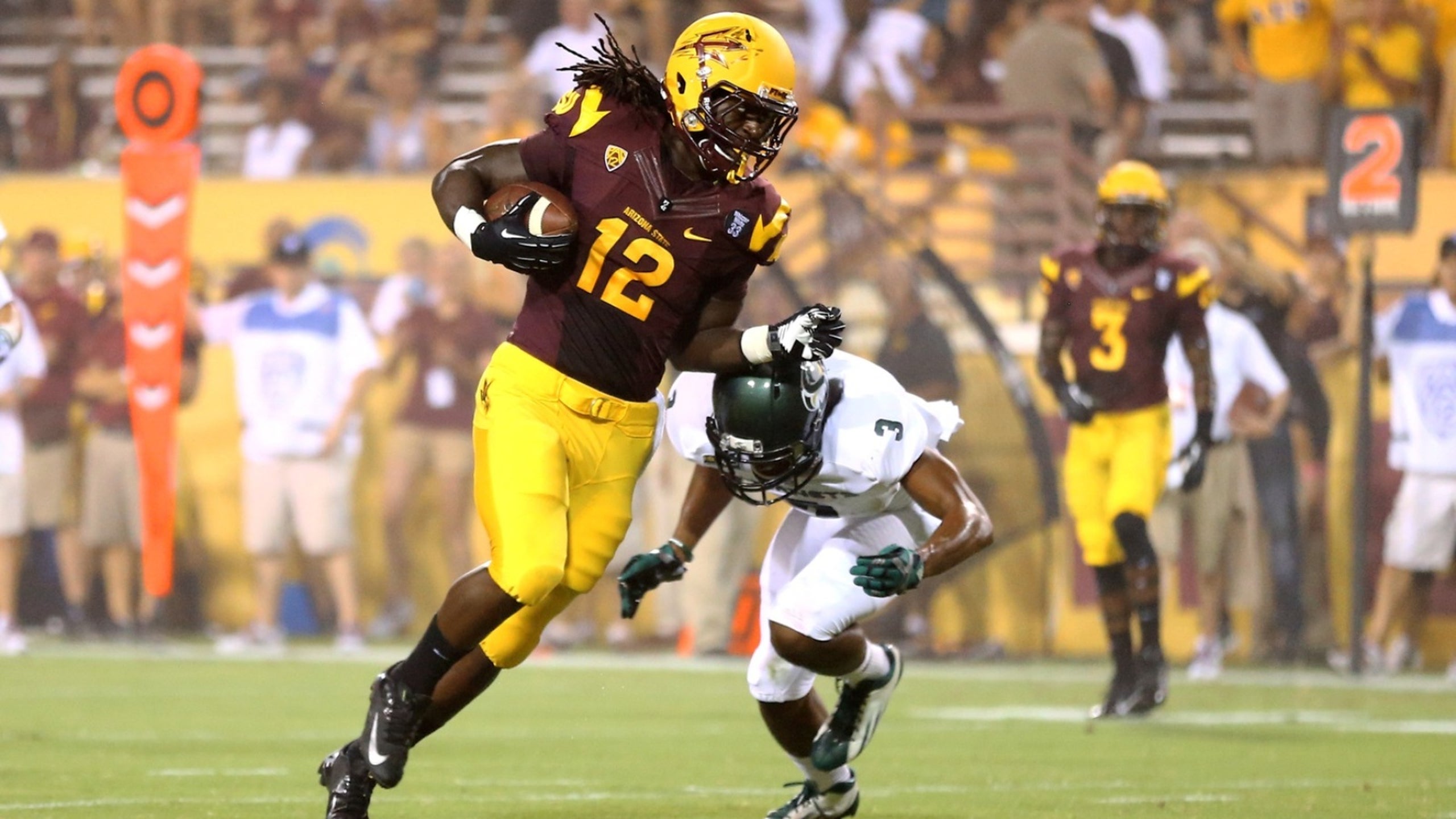 ASU's Nelson embraces chance to play both ways
BY Chris Gabel • August 8, 2014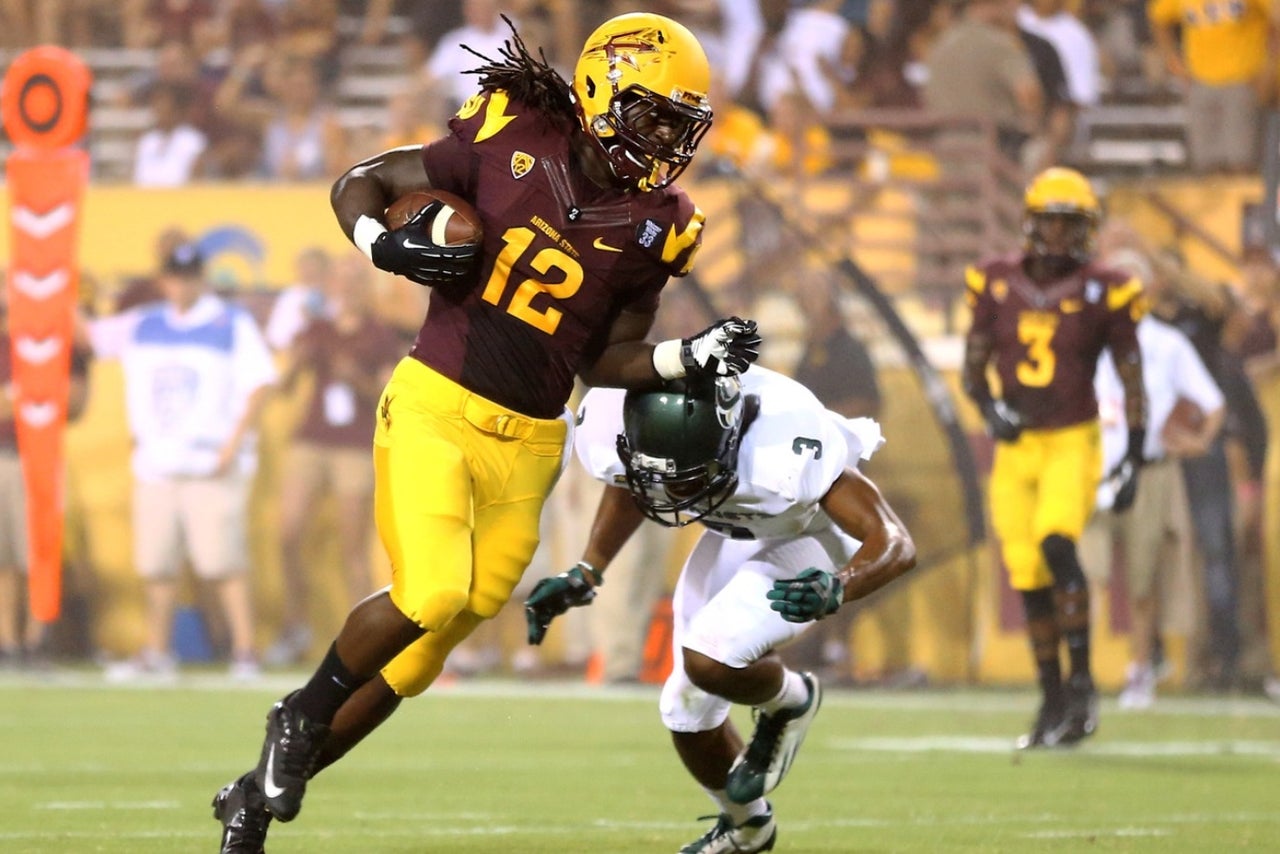 TEMPE, Ariz. -- Exactly one month ago, Arizona State's De'Marieya Nelson earned one of 40 spots on the preseason watch list for the John Mackey Award that honors college football's top tight end each year. Now, he barely plays offense.
ASU took the bold measure of moving Nelson, a potential All-Pac-12 candidate and one of its top offensive weapons, to defense to play one of the unit's most crucial positions amid a major defensive rebuild.
Risky as the move sounds, Nelson relishes the opportunity to contribute on both sides of the ball, putting his offensive duties on the backburner to rush the quarterback as a Devil-backer.
"The team needed somebody to step up and play the position," Nelson said. "I was blessed with the opportunity to do it and the talent to do it, so I'll step up and be there for my team."
Nelson came to ASU last season from San Joaquin Delta College in Stockton, Calif., and took on a reserve role behind Chris Coyle. He made a handful of nice plays throughout the season but didn't truly make his presence known until ASU's regular-season finale against Arizona.
With running back Marion Grice out injured, D.J. Foster stepped in, and Nelson received more touches as a result. He finished with 56 total yards and two touchdowns. He also registered three tackles and a forced fumble as a third-down pass rusher.
A defensive seed was planted. But Nelson still projected as the No. 1 tight end with Coyle graduating. ASU didn't know yet Devil-backer Carl Bradford would leave early for the NFL. Nor did it know none of the returning players would emerge as a replacement, or that junior college transfer Darrius Caldwell, a top candidate for the job, would not qualify academically.
So this fall, Nelson's defensive opportunity became a whole lot more than situational pass rushing.
"Right now, I think he'll play there and then have a package on offense," ASU coach Todd Graham said. "I see him being an every down guy on defense."
Graham maintains Nelson will play 12-20 snaps on offense each game and also said he expects to use multiple players at Devil-backer, with Antonio Longino and former tight end Marcus Washington the other candidates at this time.
"We've gone from not having any Devils to having quite a few that I feel good about," Graham said.
Nelson says he's only working a handful of snaps on offense during practices right now, partially because he's already comfortable on that side of the ball.
"I do know a lot of the fundamentals over there on (offense) and I'm just now learning Devil-backer," Nelson said. "I'm just really trying to focus on getting my fundamentals and my steps down."
The technical differences from offense, Nelson said, have presented the biggest challenge in making the move to defense. Some things are the exact opposite of what offense requires. He's been watching film of Bradford to get a better grasp of how to play the position, and the move overall has gotten a little more difficult the deeper he gets into it.
"When I first started off I was real comfortable, just playing football, but now I'm actually learning the stuff so I've kind of let that affect me and slow me down a little bit," Nelson said.
Still, Nelson is running with the first team in practice every day and hasn't worn an offensive practice jersey since the second day of camp. His move to defense has created a hole on offense, though, as ASU doesn't any other tight end with game experience.
But Graham has expressed confidence in a tight end group that includes redshirt freshmen Grant Martinez and Kody Kohl, freshman Brendan Landman and walk-on junior Dan Vear. Martinez and Kohl have been getting first team reps.
It remains a possibility Nelson will be needed more on defense, but given ASU's host of weapons there it seems likely he'll be able to help the defense more. And while some in Nelson's position might be unreceptive to such a move, particularly on the brink of a potential breakout season, Nelson says he's putting his confidence in Graham's decision to move him.
"I have strong belief in what coach Graham says," Nelson said. "I trust him. So if that's what he thinks and he knows I can do it and he's putting his faith in me then I'm getting it done."
Follow Tyler Lockman on Twitter
---