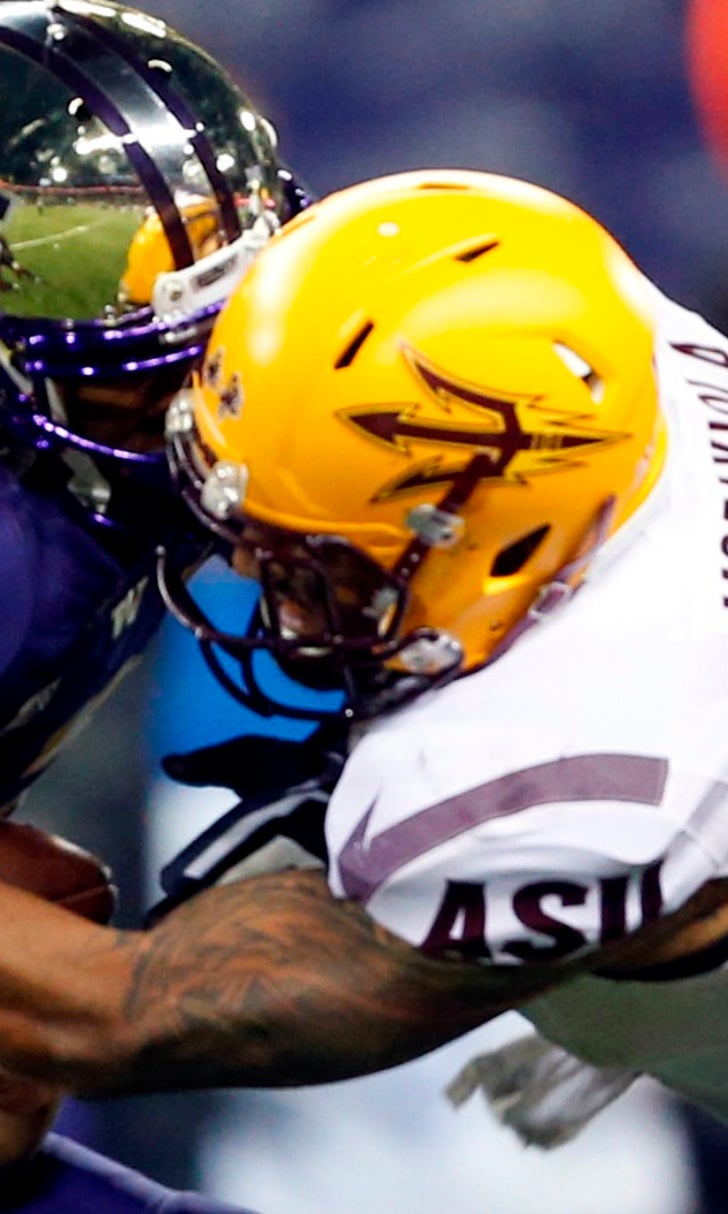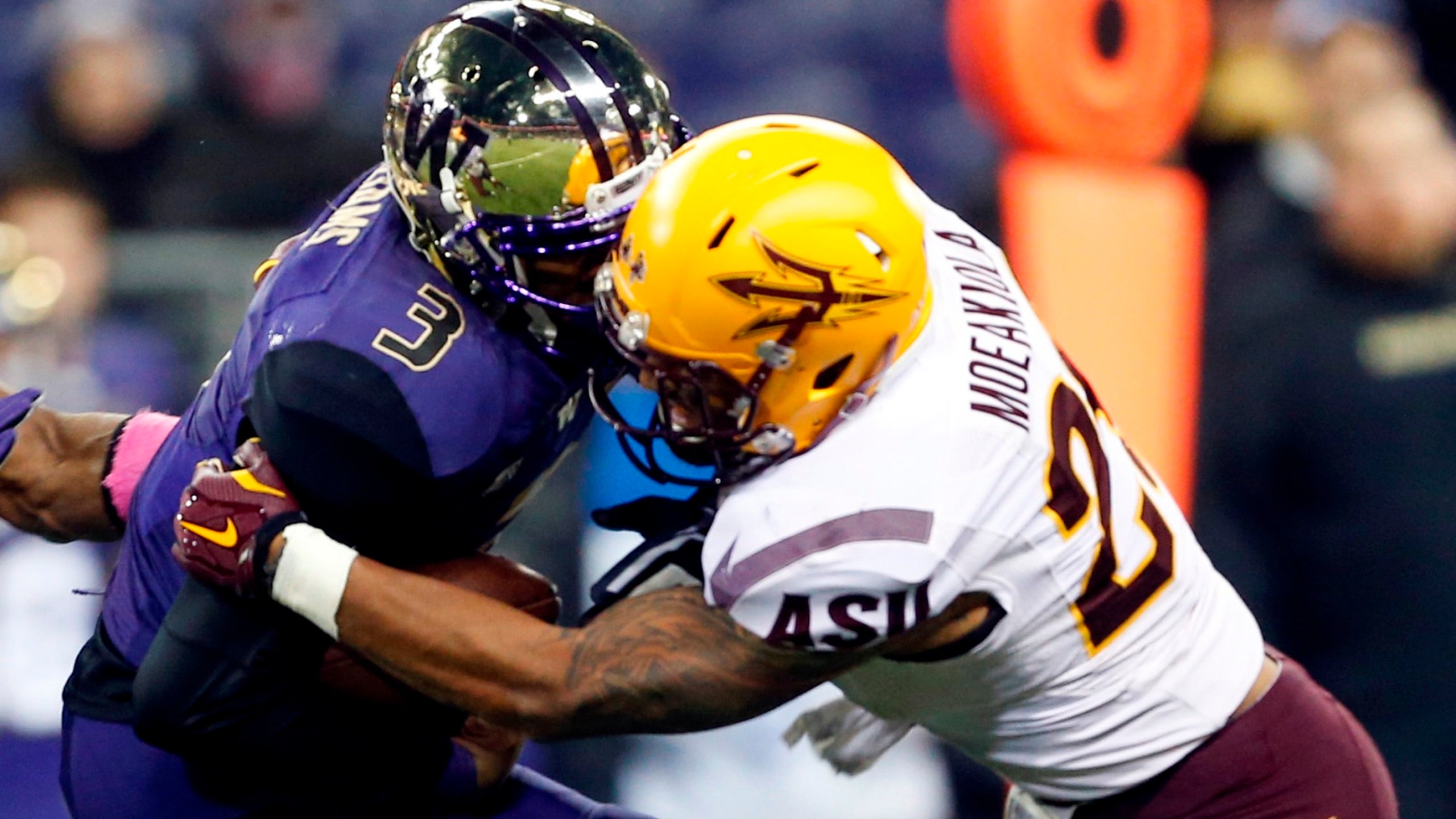 ASU offense sputters but defense leads way past Washington
BY foxsports • October 26, 2014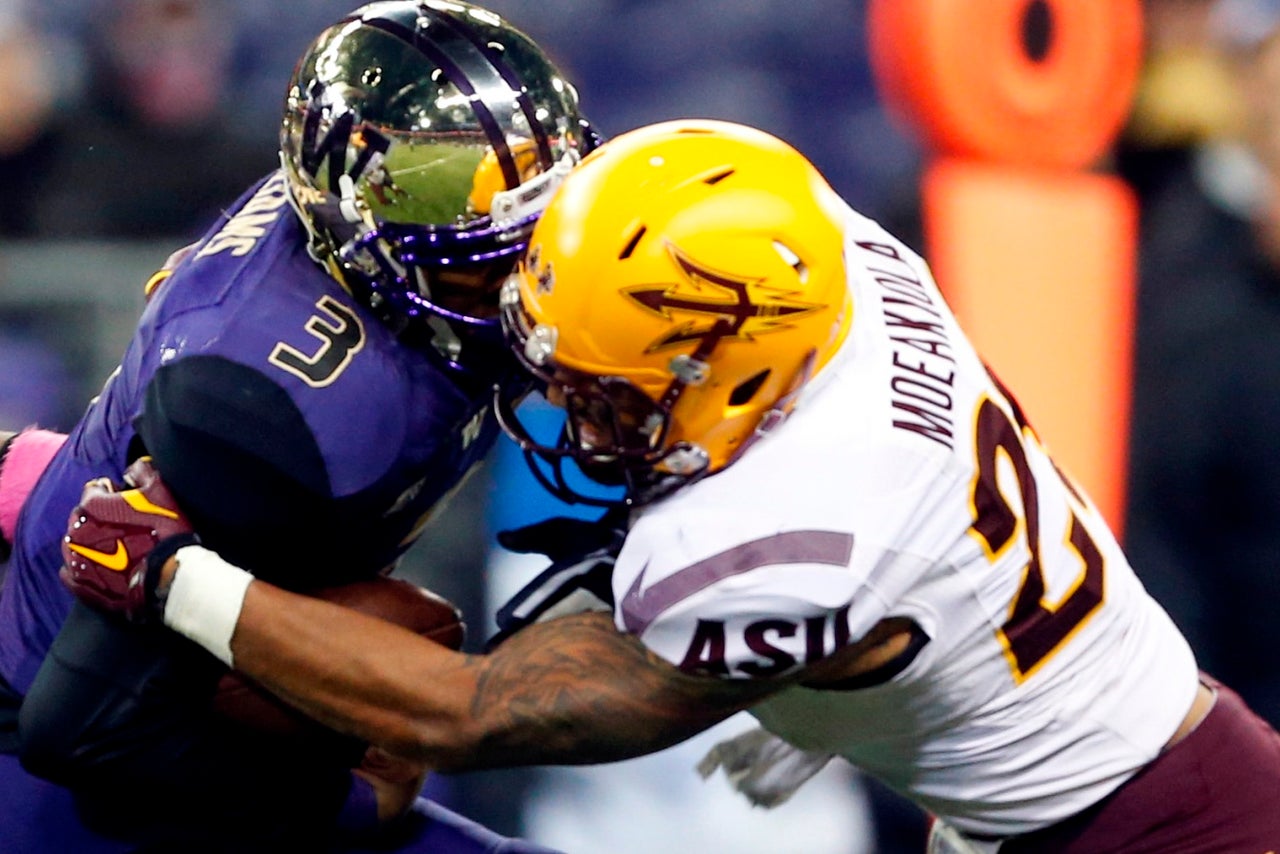 At the start of the season, most people figured Arizona State would have to win a few shootouts to cover for its inexperienced defense, which replaced nine starters. Seven games in, the Sun Devils flipped the script -- at least for a night.
After a defensive breakthrough last week, ASU on Saturday again dominated on defense to beat Washington 24-10 on a night the No. 14 Sun Devils' offense, amid swirling winds and waves of heavy rain, posted its lowest point total in a win the past three seasons.
Led by senior quarterback Taylor Kelly in his first start since a foot injury Sept. 13, the ASU offense put just 17 points on the board -- the last seven came via cornerback Armand Perry's late interception return -- and tallied just 285 yards. That came just shy of the 20 points ASU scored in a 20-19 win over Utah last season, the previous low in a win under coach Todd Graham.
"We all know sometimes you've just got to battle a little adversity," junior receiver Gary Chambers said on the postgame radio show. "Some games are going to be a little harder than others. We all kind of just came together as brothers and kept fighting to the end."
Chambers caught the game-winning touchdown pass from Kelly -- who was rocked enough on the throw to warrant a sideline concussion test -- to put ASU (6-1, 4-1 Pac-12) up 17-10 with less than three minutes left. Kelly finished the night 14 of 25 passing for 180 yards and two touchdowns.
But with the offense battling the elements and trying to find a rhythm with Kelly back, the defense again rose to the occasion. Just as it did against Stanford last week, the unit held Washington (5-3, 1-3) scoreless in the first half. It allowed only a field goal in the second half, as Washington scored on an interception return.
Though the Huskies outgained ASU, they still were held to 290 yards.
ASU's defense forced five 3-and-outs, racked up 13 tackles for loss (five sacks) and registered three takeaways. Save one 80-yard drive on which Washington ran all over a tired defensive front that still held the Huskies to a field goal, the unit looked about as dominant it could.
The defense even set the offense up nicely on more than one occasion. In the third quarter, linebacker Laiu Moeakiola hit Washington quarterback Troy Williams to force a fumble, which ASU defensive lineman Demtrius Cherry recovered at Washington's one-yard line. ASU tried to punch the ball in four times but couldn't and turned the ball over on downs.
Near the end of the same quarter, ASU safety Jordan Simone picked off Williams to give ASU the ball 31yards from the end zone. ASU again came up empty after a bad snap on a field goal attempt led to another turnover on downs.
On the first missed opportunity, Graham appeared to be giving his defense a vote of confidence. ASU was ahead 10-0, and another touchdown seemed at the time like a possible finisher. The vote of confidence was deserved.
This is not the same defense that allowed UCLA to come into Sun Devils Stadium one month ago and score 62 points on 580 yards. The personnel is different and so is the swagger. This defense has an obvious confidence about itself after the Stanford win, and that development bodes well for ASU's pursuit of another Pac-12 title.
The offense's night can in part be attributed to conditions and in part to playing a top notch defense with a powerful front. Kelly took seven sacks Saturday after the offensive line had previously allowed just 11 sacks all season. Washington linebacker Hau'oli Kikaha had two of those sacks and four TFL.
The defense will likely need another big effort next week when ASU hosts Utah for a game that will break the two teams' tie atop the Pac-12 South. Utah, which beat USC on Saturday, ranks second in the Pac-12 in scoring defense and third in total defense.
It seemed reasonable to think ASU's defense would experience growing pains all season, but the young group grew up in a hurry, fast enough to have ASU right in the race for another Pac-12 South title.
Taylor Kelly -- It wasn't a particularly pretty, especially the interception that went for a touchdown, but Kelly made the plays he had to make. He didn't seem quite 100 percent, but was enough. Graham told reporters after the game Kelly was "dinged up" but that he believed the senior would be fine.
Laiu Moeakiola -- After helping to stabilize ASU's defense last week, Moeakiola led the Sun Devils with 10 tackles (2.5 for loss), two sacks and a forced fumble against Washington. He's clearly a playmaker.
-- Kelly moved into fourth place all time on ASU's career touchdowns list, throwing his 64th and 65th career touchdowns to tie and pass Danny White.
-- ASU has now held its last two Pac-12 opponents to 20 combined points, the fewest since shutting out Washington State and holding UCLA to nine points in 2008.
Follow Tyler Lockman on Twitter
---