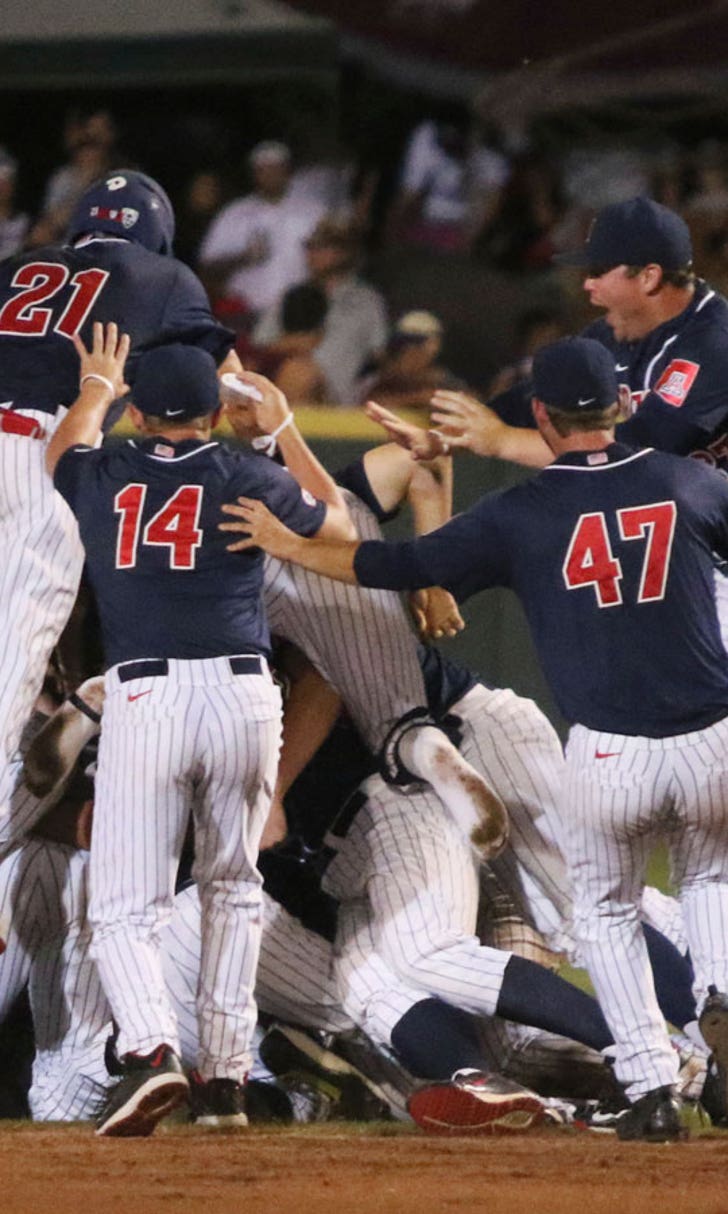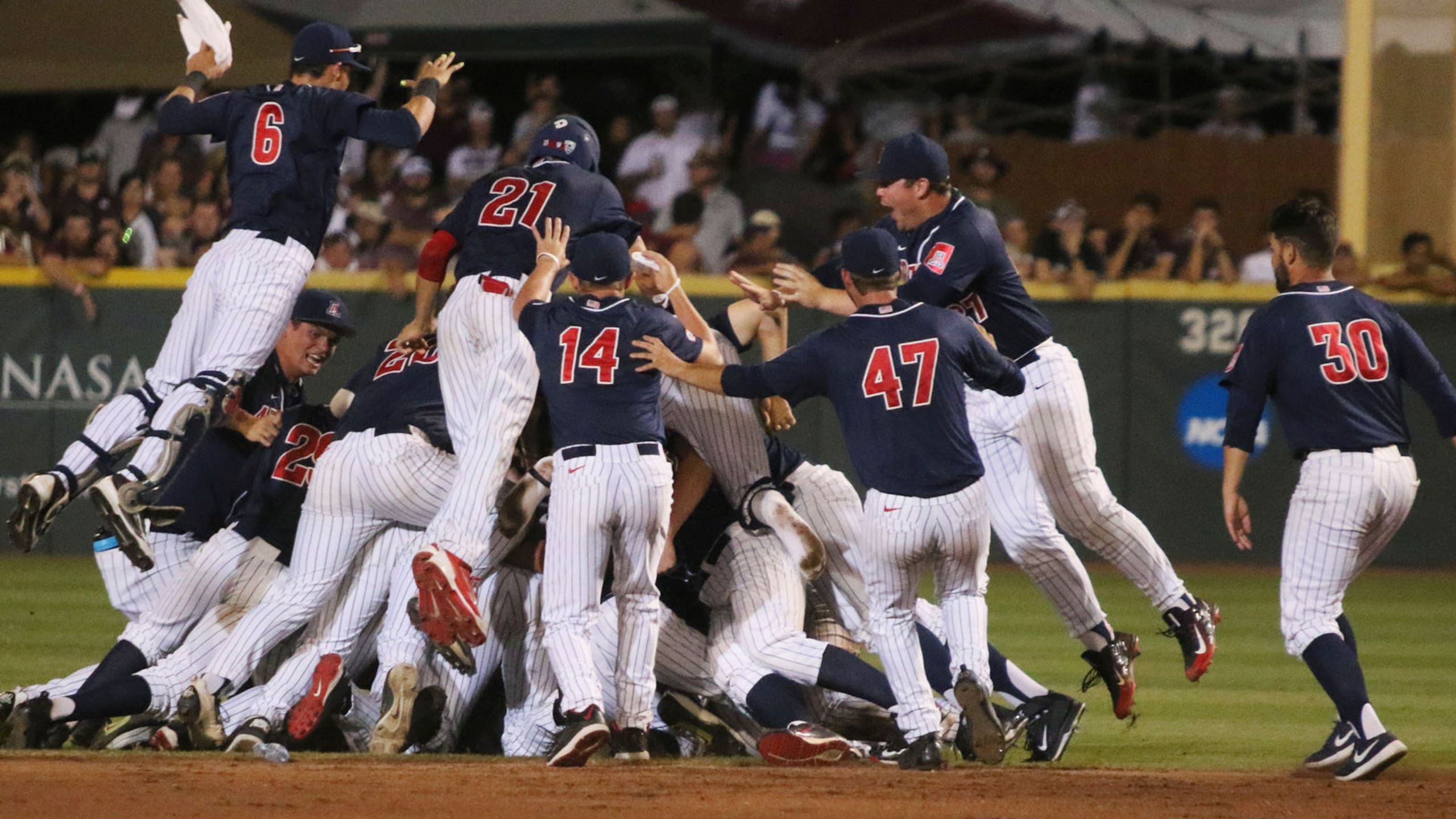 Arizona punches ticket to Omaha with 11-inning victory
BY foxsports • June 12, 2016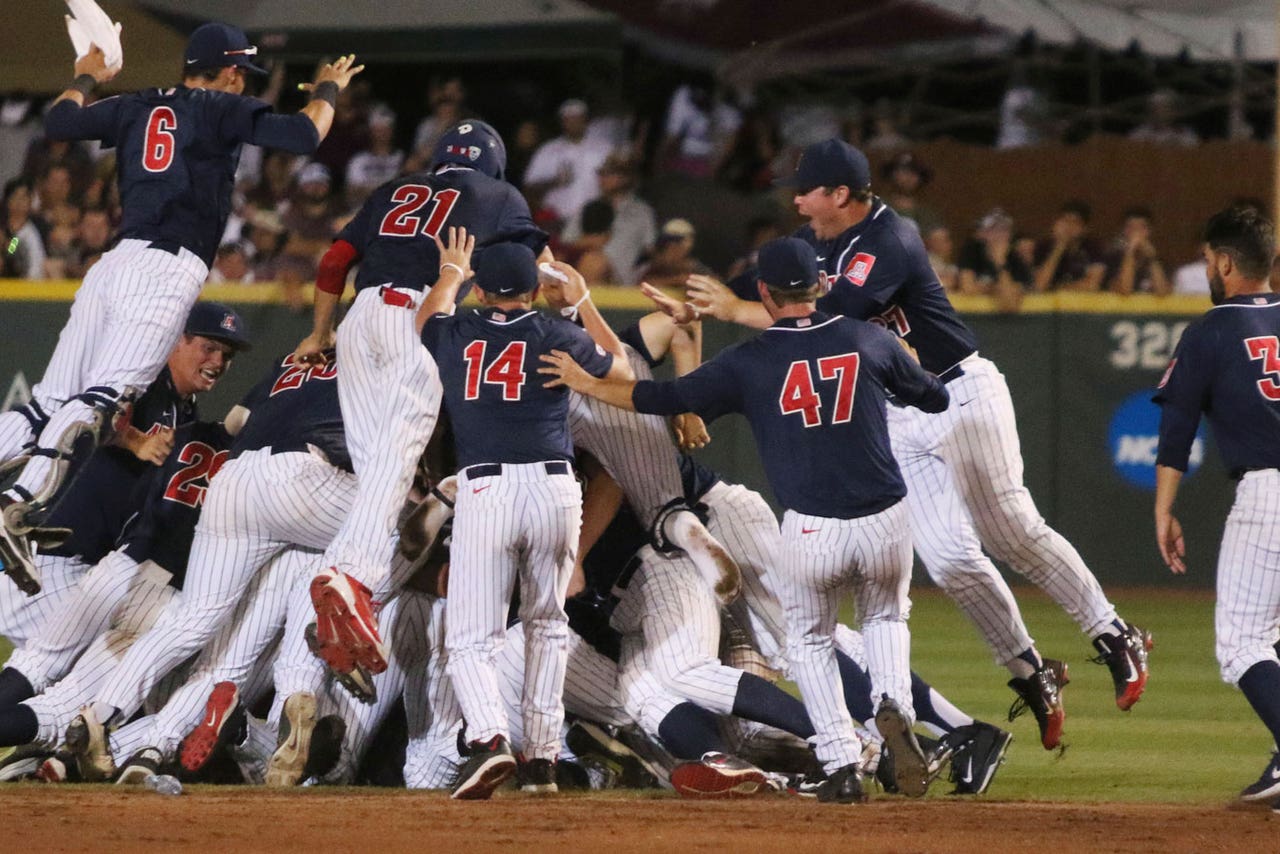 STARKVILLE, Miss. -- Cesar Salazar's first attempt at sending Arizona to a dramatic comeback win and a spot in the College World Series ended with a harmless groundout.
Faced with the same situation two innings later, the freshman catcher didn't disappoint.
Salazar hit a game-winning, two-out single in the 11th inning to cap a stunning rally and Arizona beat Mississippi State 6-5 on Saturday night to advance to the College World Series.
Arizona (44-21) makes it to Omaha for the first time since winning the national title in 2012. The Wildcats trailed 5-1 going into the eighth inning, but Ryan Aguilar's 3-run homer jolted the team's offense awake and sparked a comeback against the NCAA tournament's No. 6 national seed.
Arizona added another run in the ninth to force extra innings and then Salazar smacked a bouncing ball through the right side of the infield for the deciding hit in the best-of-three series.
"We knew (Salazar) was a great hitter," Arizona's Zach Gibbons said. "We knew he could get it done. And after that, it was just a blur."
The Wildcats charged onto the field for a dogpile and a celebration that seemed improbable just a few innings before.
"I try to pride myself on knowing what to say," Arizona's first-year coach Jay Johnson said. "But right now I'm just speechless."
Mississippi State (44-18-1) -- which was regular-season Southeastern Conference champion -- lost two straight games on its home field to end its season. The Bulldogs got two solo homers from Brent Rooker -- his third and fourth of the postseason -- and 5 1/3 solid innings from starter Austin Sexton.
It was the Bulldogs' bullpen that failed them. Ryan Rigby gave up the 3-run homer, Reid Humphreys the tying run and Blake Smith the game winner. The Wildcats outhit Mississippi State 18-7.
"We achieved a lot," Mississippi State coach John Cohen said. "But we wanted to get to Omaha."
Mississippi State was cruising after Rooker's second homer of the night in the eighth inning put the Bulldogs up 5-1. But Arizona's Aguilar quieted the crowd of 13,452 with his 3-run shot over the right field wall.
"I think that after I hit that everyone believed more than ever we could win that game," Aguilar said. "It just gave us that extra boost of confidence we needed to pull it out."
Mississippi State still led 5-4 going into the ninth, but Alfonso Rivas -- another Arizona freshman -- hit a game-tying single. The Bulldogs were able to send the game into extras when Smith managed to coax a strikeout and groundout to end the inning.
It didn't work out for Smith as well in the 11th inning. Salazar didn't hit the ball particularly hard, but it found a hole on the right side.
"I knew he was throwing a lot of sliders, so I was sitting on a slider," Salazar said. "I got my pitch and executed."
Arizona's Cameron Ming pitched two scoreless innings of relief to earn his third win of the season. He also earned the save in the Wildcats' game one victory on Friday.
Arizona has won 12 of 13 games heading into next weekend's College World Series.
Gibbons had four hits and Salazar added three. Bobby Dalbec hit a solo homer in the second inning one night after pitching 8 2/3 scoreless innings to lead the Wildcats in game one.
Mississippi State's last appearance in the College World Series was in 2013, when the Bulldogs finished as the national runner-up after losing in the championship series to UCLA.
---