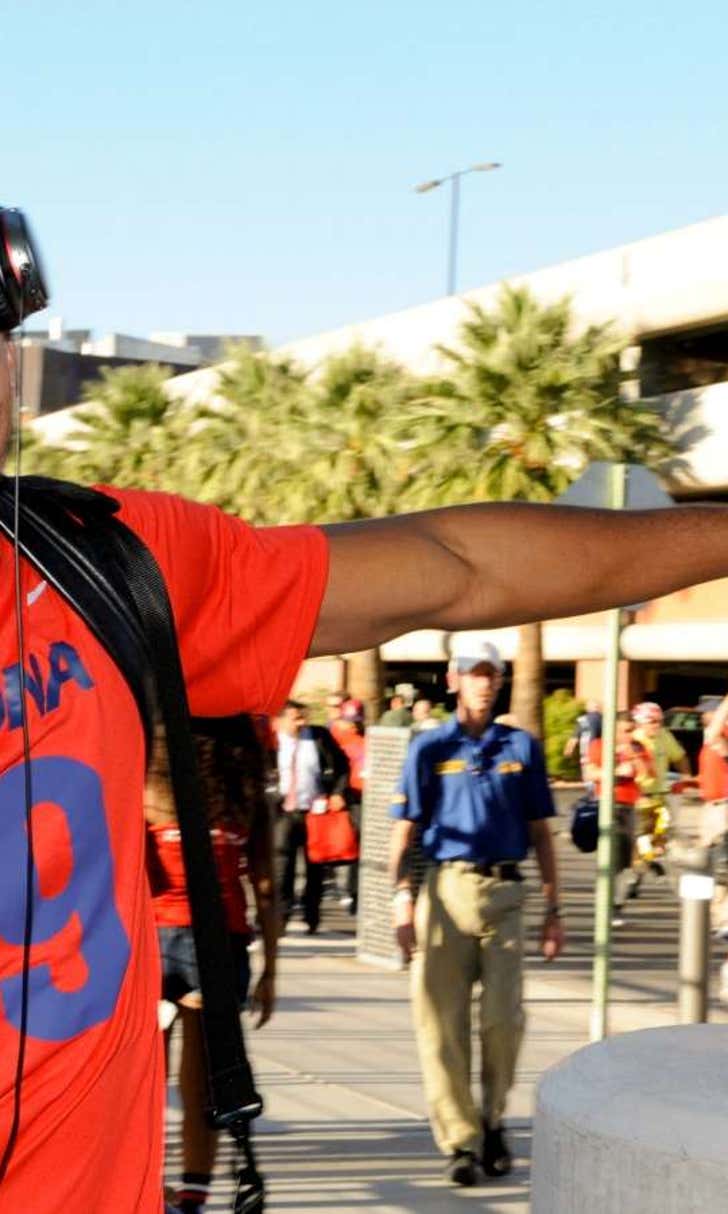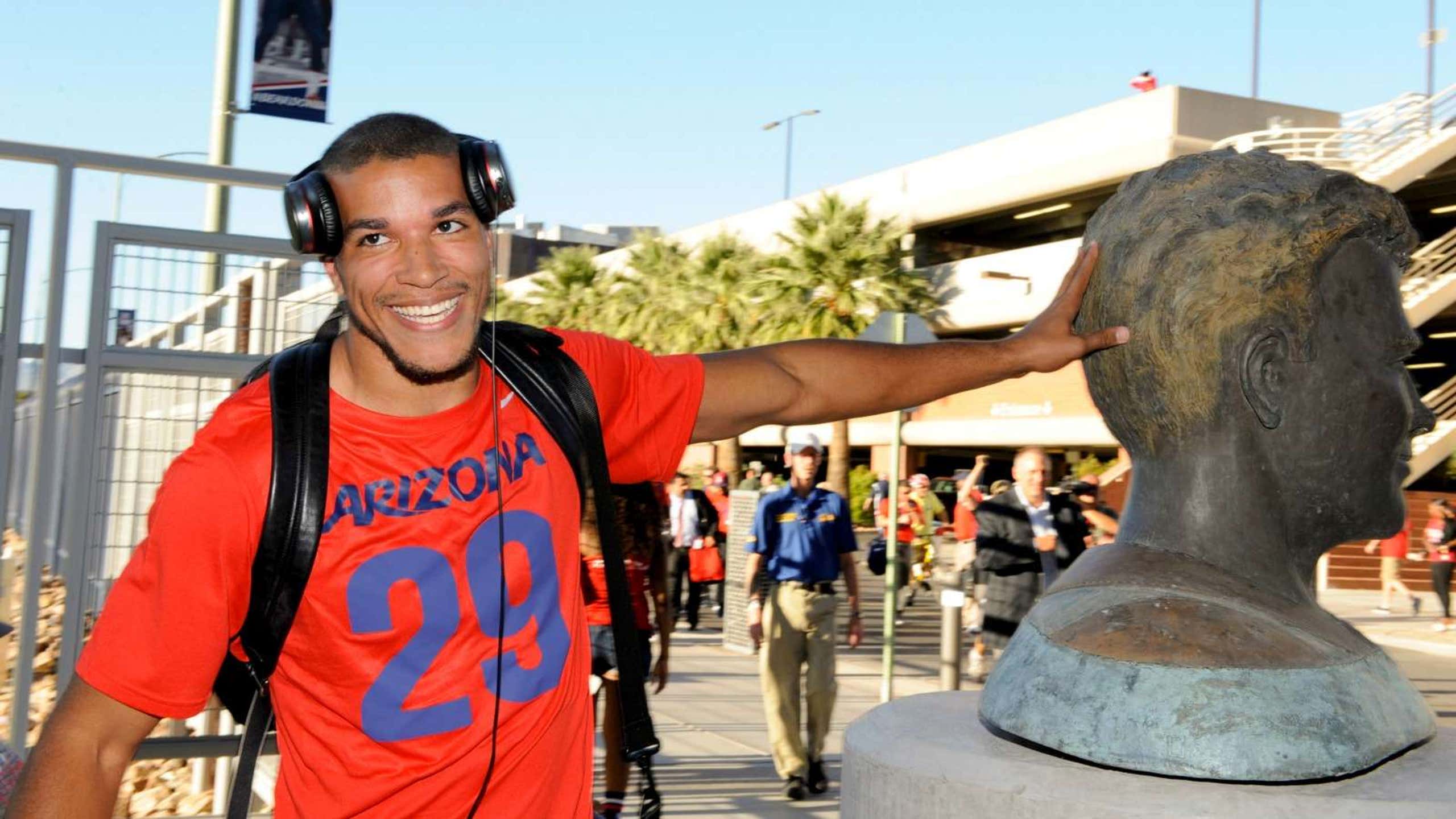 Arizona looks to make big impression in L.A.
BY foxsports • October 31, 2014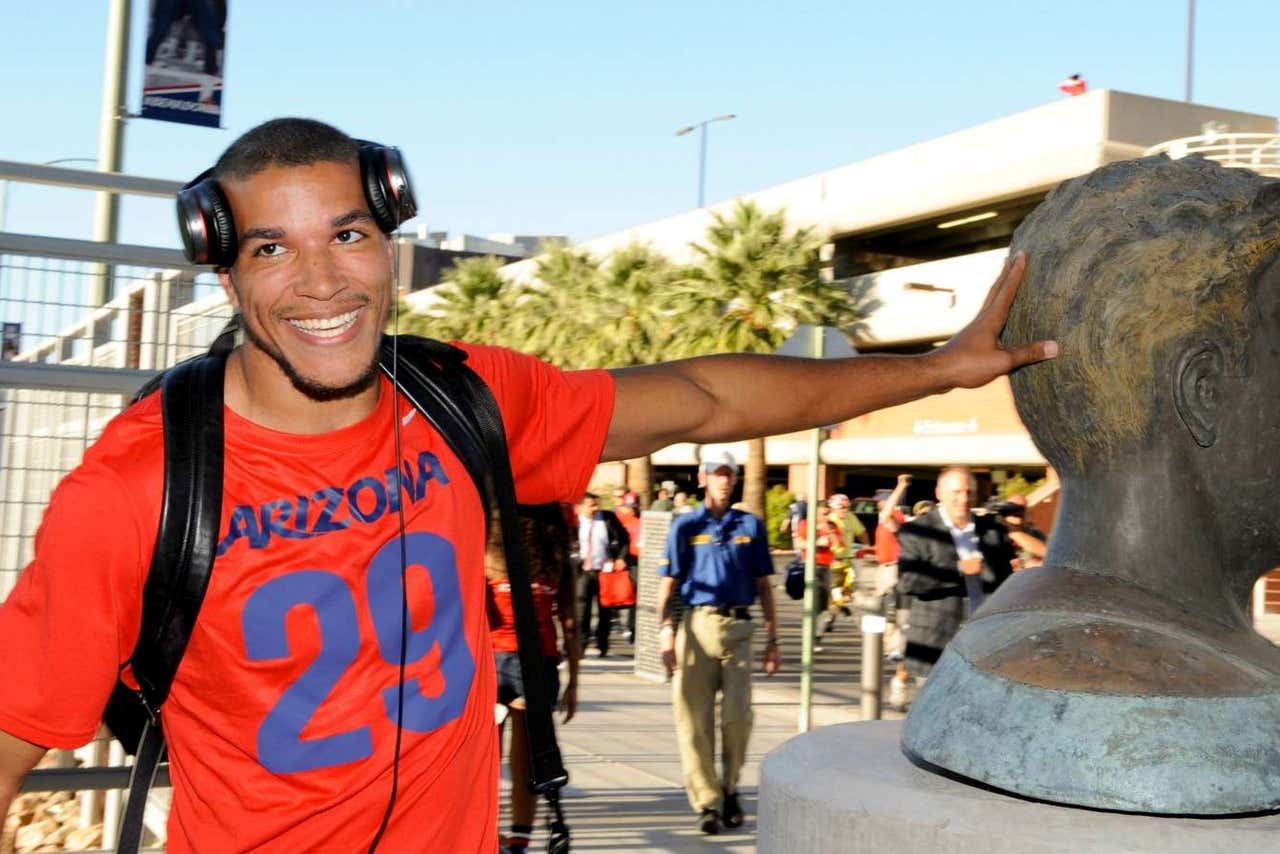 TUCSON, Ariz. -- Arizona goes into the Rose Bowl vs. UCLA on Saturday night with more than one thing on its mind -- win the game and win the hearts of the recruits in the stands.
"That would give Arizona a chance to make a big impression," said Brandon Huffman, director of scouting for Scout.com.
For the Wildcats, ranked No. 14 in the polls, the future is now as it heads into November with a 6-1 record and in the hunt for a Pac-12 South title. Arizona hasn't been in this situation since 2010, when it started 7-1.
What better time than now to impress everyone, from the pollsters to potential players?
"If they can beat UCLA in the Rose Bowl that could have them saying, 'Hey, we've been 7-5 (in the regular season in the past two years) and made it to bowl games but this is a team that can compete for conference title,'" said Huffman, who added there will be a good contingent of recruits at the game.  "This would give them more momentum and a good number (of potential recruits) for 2016 and 2017."
Beat UCLA and it'll help sway California, or at least have a shot at impressing.
"That's a key (area) for us, a primary area," Arizona coach Rich Rodriguez said of the state and more specifically the L.A. area. "We might not get all the best players, but we have to get our fair share of them. In order for us to get a championship, we gotta get contributions from southern California players, in all different areas."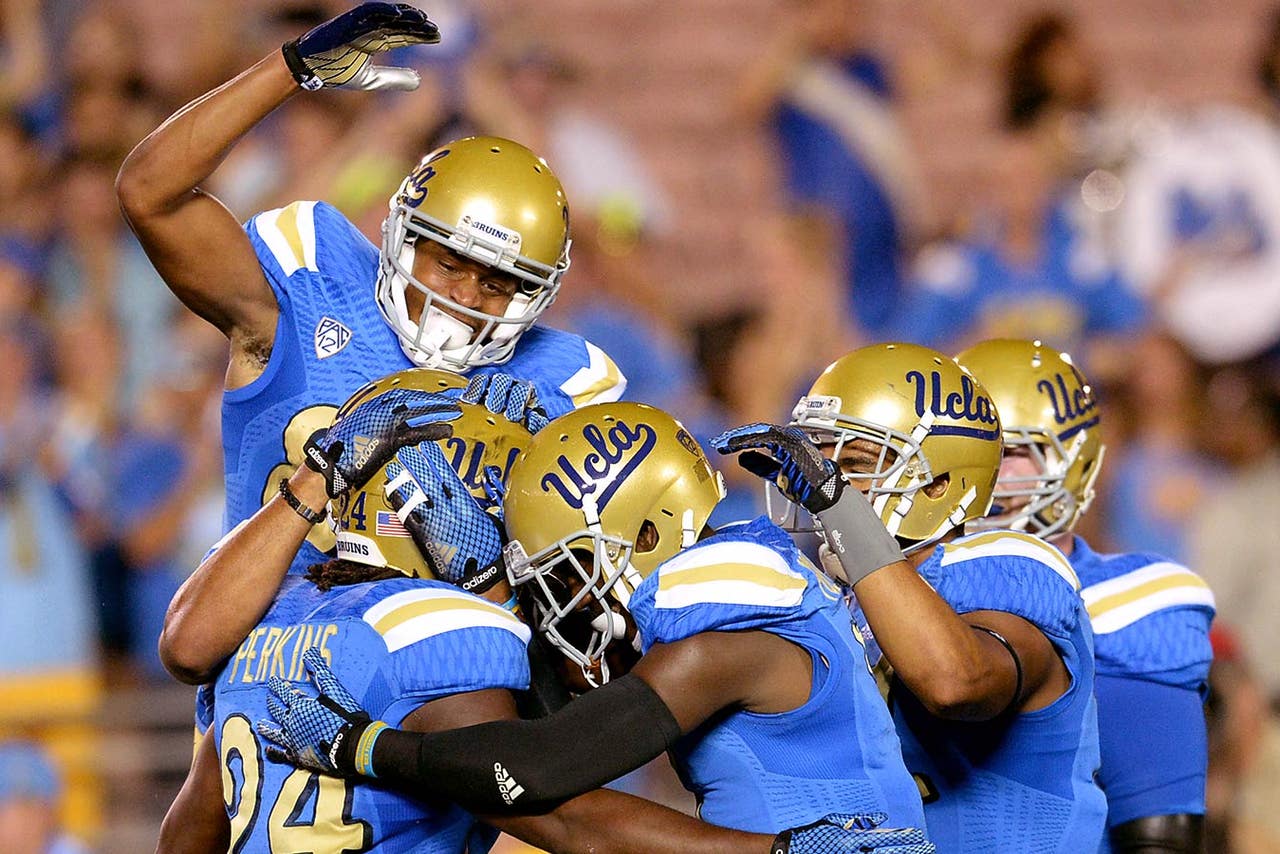 ARIZONA at UCLA
When: 7:30 p.m. Saturday
Where: Rose Bowl, L.A.
Records: Arizona 6-1, 3-1; UCLA 6-2, 3-2
TV: ESPN (Mark Jones, Rod Gilmore)
RELATED: Wildcats prepare for big stage at Rose Bowl
WHAT TO WATCH
What team will show up: The Pac-12 has been a predictably unpredictable week-to-week adventure. Arizona has split its two toughest tests thus far -- winning on the road at Oregon and losing at home to USC. UCLA dominated Pac-12 South leader Arizona State in Tempe but was thoroughly beaten at home by Oregon two weeks ago. UCLA was picked to win the Pac-12 South but hasn't played to that expectation.
Arizona's running game: With Terris Jones-Grigsby and Nick Wilson back healthy, it balances Arizona's attack. The Wildcats need a running game in order for its passing game to succeed.
Skowron back to normal: At some point this season, Arizona is going to need Casey Skowron to come up big in a huge situation. This will be huge. And it would be a perfect time to redeem himself after missing a last-second kick vs. USC. It would be no surprise if this one comes down to a game-winning kick.
KEY PLAYERS
Anu Solomon, QB, Arizona: Arizona's redshirt freshman isn't playing like a redshirt freshman. He's led Arizona all season and typically picks up the pace after halftime. He has 12 touchdown passes to no interceptions in the second half.
Eric Kendricks, LB, UCLA: Kendricks needs seven tackles to join Don Rogers (1981-83) and Jerry Robinson (1976-78) as the only Bruins with three consecutive 100 tackle seasons.
Brett Hundley, QB, UCLA: With 67 touchdown passes, he needs just one more to tie Cade McNown's school record for TDs for a career. He has passed for more than 400 yards in a game five times. It's been done 10 times in school history. 
INJURY REPORT
Arizona -- Questionable: Tra'Mayne Bondurant (knee), DB Jarvis McCall (shoulder).
UCLA -- None reported.
WHAT TO KNOW
-- Arizona is hard to defend when it comes to the pass. Thirteen players have caught at least one and nine different players have caught at least one touchdown. UA truly spreads the field.
-- Arizona is moving the ball and averaging 541 yards per game. It's also getting an average of 29 first downs a game, which is third among all FBS schools.
-- Arizona is 9-4-1 vs. UCLA in Pasadena. Rodriguez hasn't beaten the Bruins in two tries.  
OUTLOOK
This should be another close one, like most of Arizona's games, save for last week's blowout at Washington State. Arizona has exceeded expectations, and UCLA has fallen short of its. Not that the Bruins don't have talent. But there's still a sense that we don't know how good Arizona is. This game might provide some answers.
PREDICTION
UCLA 37, Arizona 34
With more than 15 from southern California on the current roster and more than 25 from the state, Rodriguez works his magic with a mix of Californians. Austin Hill (Corona) and Samajie Grant (Compton) are just two. And, yes, of course, he needs more. Last summer, Rodriguez & Co., spent a time running a satellite camp in southern California and has as many as four coaches devoted to the southern California territory.
"We would go to a lot of different areas in the country but that's an area that understands and knows where Tucson, Arizona is," Rodriguez said, "and knows about UA and the Pac-12."
He also knows UCLA, USC and other schools have an edge because of the home field advantage on the player. "That's always going to help someone," he said. "Helped us get someone like Cam Denson (Salpointe). It was easy (for him) to see our games."
Rodriguez admits to being bias about Arizona, saying it offers something different than being part of a big city.
"It's different in positive ways," he said." All those are good schools and have a lot to sell, but this is a true college town. If you want a college environment and a nice feel in a beautiful place, we can provide that."
Still, with Arizona in the college football spotlight the last month, what's not to know these days? Under Rodriguez the last two-plus seasons, Arizona is 22-11.Winning does a program pretty good. And Arizona is winning with regularity, sometimes in stunning fashion.
"Wins help, no question; wins always help," said Matt Dudek, Arizona's director of on-campus recruiting and player personnel. "You could have the best mailings and the best coaches who talk on the phone but at the end of the day they will see that ticker and see the scores. The more you win - and I think we've done a good job of recruiting since we've been here - guys who like Arizona say they want to visit and are now committed to visiting. Guys who think they will drive a few hours are now driving to the home games."
Realizing he had to get to know and try to attract Los Angeles-area student-athletes to Tucson, Rodriguez had to get out there.  The importance is that big. Getting to and from the schools in the mega-metropolis isn't always easy ... for anybody, especially in the car.
"I'm always a passenger," Rodriguez said. "I rely on the coaches to take me. I've gotten stuck on the 405 (freeway) quite a bit. I can understand the traffic they have to deal with each and every day.  God bless them. Whether it's the 405, the 5 or the 10 (freeways) or whatever there's a whole lot of people there and I don't know any shortcuts. Some of my coaches are starting to know them, but if you're stuck on the 405, you're stuck on the 405."
So many schools, so many players. And Arizona needs it share. In the class of 2015, Arizona has 10 from California, including five from southern California.
"They do have a different swagger," Dudek said. "But it's different wherever you go. In the Northeast they are hard-working, don't run their mouth off. In the south they are fast. In Texas, football is life. In LA, we love what they have. They have that hard edge, kind of grown up to be tough. We like that. Part of being that OKG is the way you carry yourself. It's not arrogance but a confidence. It's what LA brings and something we love here."
Although not recruited by the Rodriguez staff, Austin Hill would do it all over again. And why not? He's turned into one of the premier pass catches in the conference if not the country. With all his success, he may be drawing some recruits to look Arizona's way, thinking they, too, could do what he's doing in Arizona's spread offense.
"I'd like to think I have an impact on some kids and that they look up to me," he said. "I try to be a good role model. I work hard and try to be the best I can be. It's an honor if that happens."
He also says he knows the mindset of California players, having been one.
"We always think we come from one of the best states," he said, smiling. "We bring that killer type of mentality to win, we work hard and do whatever (they have to) to get better. It's big for southern California kids to come out here."
The offense helps, said defensive lineman Jeff Worthy, who came to Arizona the long route. The La Mirada, Calif., native attended Whittier Christian High, went to Boise State, Santa Ana College and is now a junior
"When you look at coach Rich Rod's offense you want to be in that offense," Worthy said. "The guys get the ball five to eight times a game. Naturally you want to play here. They teach you to have that 'hard edge.' And they help you grow up to be men.
"Besides, he said (smiling), it's the west coast offense and you can't run it with anyone else (but people from the west coast). West coast kids are faster and stronger … The spread (offense) is perfect."
What does it take?
"Got to be fast and in shape," he said.
Follow Steve Rivera on Twitter
---