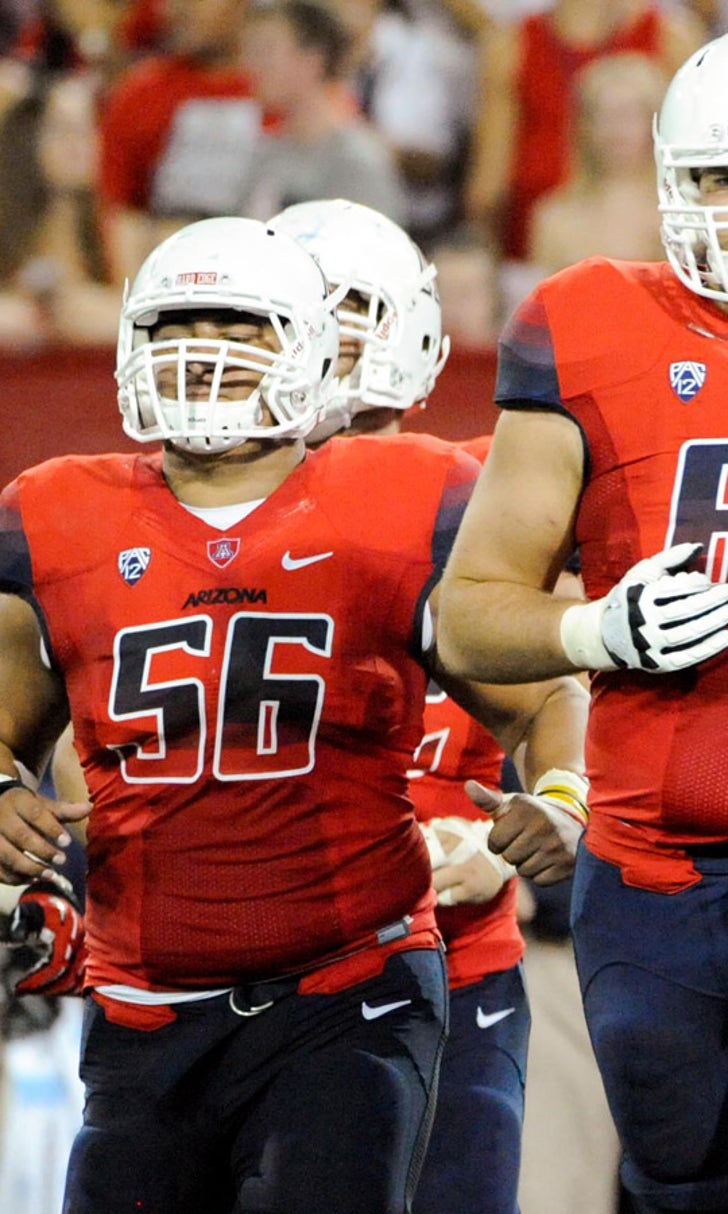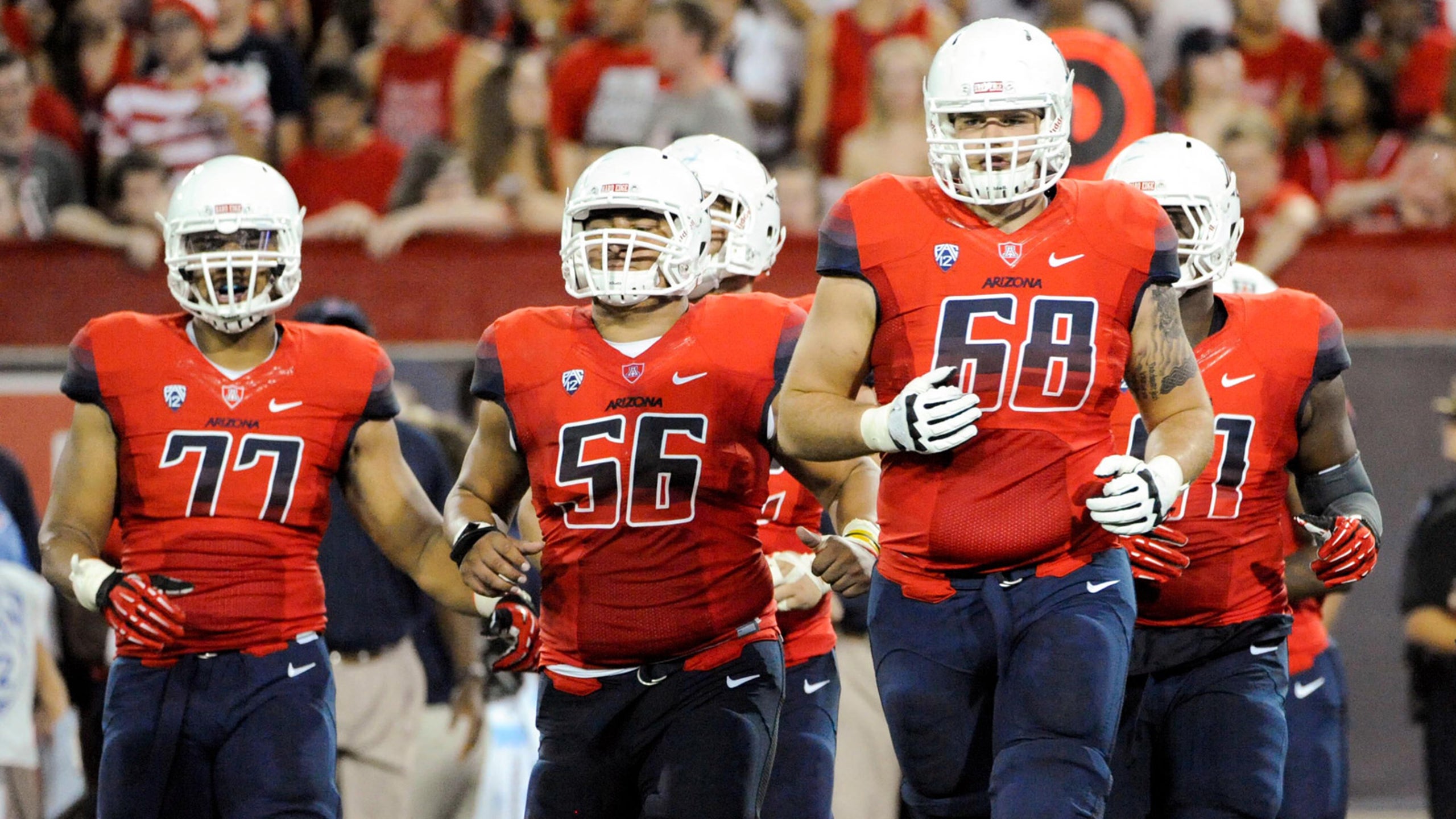 Arizona counts on veteran O-line to ease transition for rebuilt backfield
BY foxsports • August 13, 2014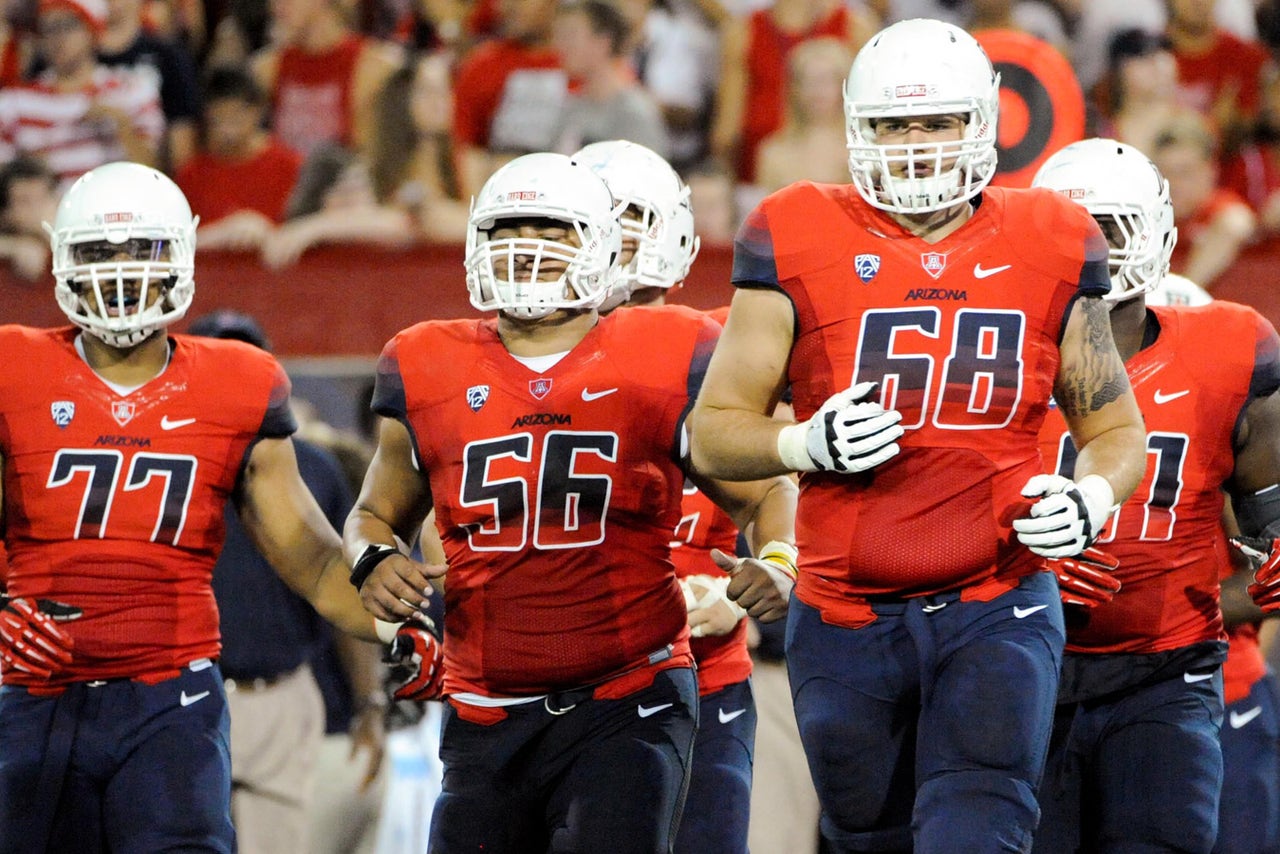 TUCSON, Ariz. -- Steve Gurrola will be perfectly honest when it comes to evaluating Arizona's offensive line play last season:  "We had no clue what we were doing . . . including myself."
That was so 2013 when Arizona's offensive line was still learning the ropes in attempting to block for Ka'Deem Carey.
"It wasn't always a nice thing," said Mickey Baucus. "You had Ka'Deem back there, so he was a pretty good safety valve. If you messed up or made a mistake, he'd at least find someone who missed him."
These days, the line is blocking for an unknown quarterback and an unproven running back or two. There are no safety valves . . . anywhere.
"But the way I look at it is it's going to be the same as it was last year," Gurrola said. "We are going to block our asses off."
They are used to it. Among Gurrola, Baucus, Fabbian Ebbele and Cayman Bundage and others, they have a combined 100-plus starts. Inexperience shouldn't be a problem. Finding some backups could be, although Arizona coach Rich Rodriguez said that's very likely in that he'd like to go at least eight deep.
It's clearly Arizona's most veteran group.
"We're not really complicated in what we are doing," said Rodriguez. "So we shouldn't get a lot of mistakes. And I don't think we're getting many from our first group, but our second group is making some."
The good thing is the unit is jelling "and making good progress," Baucus said. "And we're getting to the gritty part of the camp."
All are good friends and spend a lot of time together, Baucus said. They know what's ahead. But does being a veteran group blocking for untested players in the backfield lead to more pressure?
"All the positions are pressure-packed," said Ebbele. "We're used to the pressure. In games late there is pressure, but that's nothing to us."
Offensive line coach Jim Mihalczik said he's more focused on "reaching our potential."
"We're doing a better job of getting to that point," Mihalczik said. "We're not where we want to be yet.
"We're getting there, but I'm never happy as a coach. I'm happy with the way they working. I happy with the way they are thinking and the way they are approaching things."
Gurrola's camp got off to a rough start. In one of the first practices, he got into it with defensive lineman Dwight Melvin in a quick skirmish. Gurrola, who admits to being a guy who talks a lot of smack, continued to fume and spout off after the break-up. Rodriguez got tired of listening and told him to be quiet -- a number of times.
Gurrola eventually let it go. And by the end of practice, he and Rodriguez were hugging.
Rodriguez joked that he sensed Gurrola needed a hug, and he was the nearest guy to do it.
"It was all love," Gurrola said. "I was in the wrong. I had to take it. At the same time someone said to let him yell at you before it gets worse. When it was all over . . . I knew I was in the wrong. I apologized."
Then came the hug.
"That's how I know he's a people's coach," Gurrola said. "I like to call him that."
Down the road, he'll appreciate it even more.
"I'm going to come back and thank him," he said.
If the offensive line gets the job done, Rodriguez will thank him by the end of the season.
Follow Steve Rivera on Twitter
---