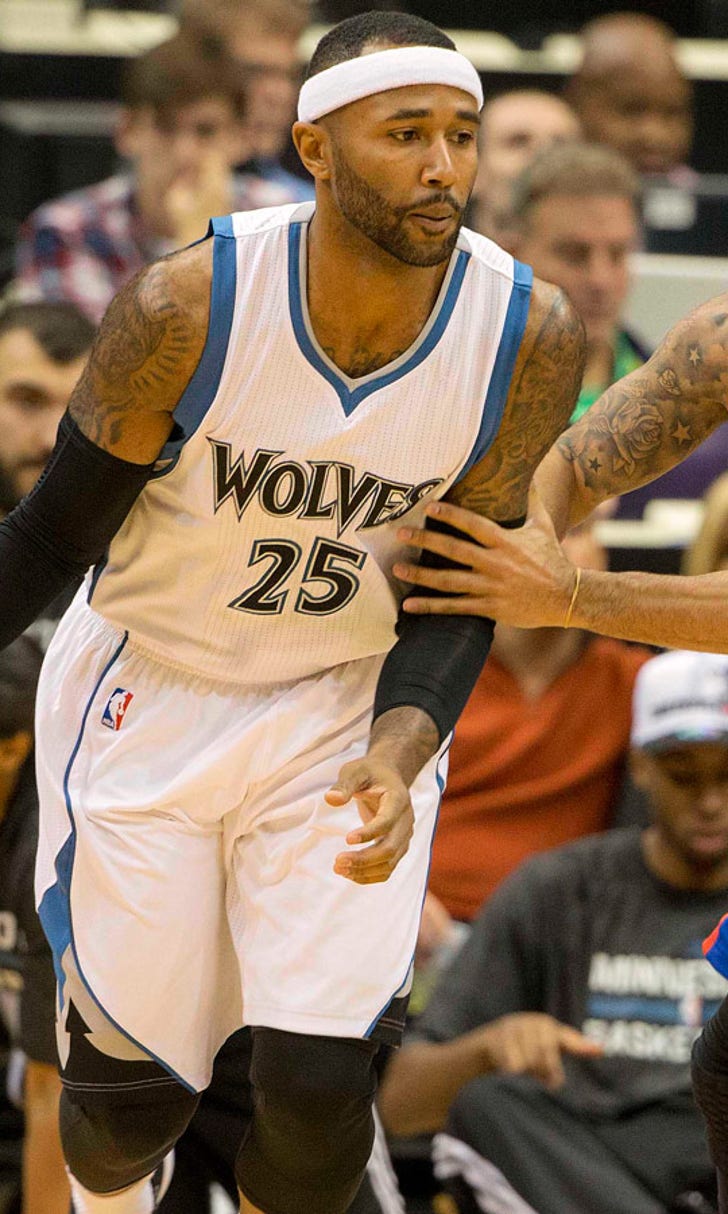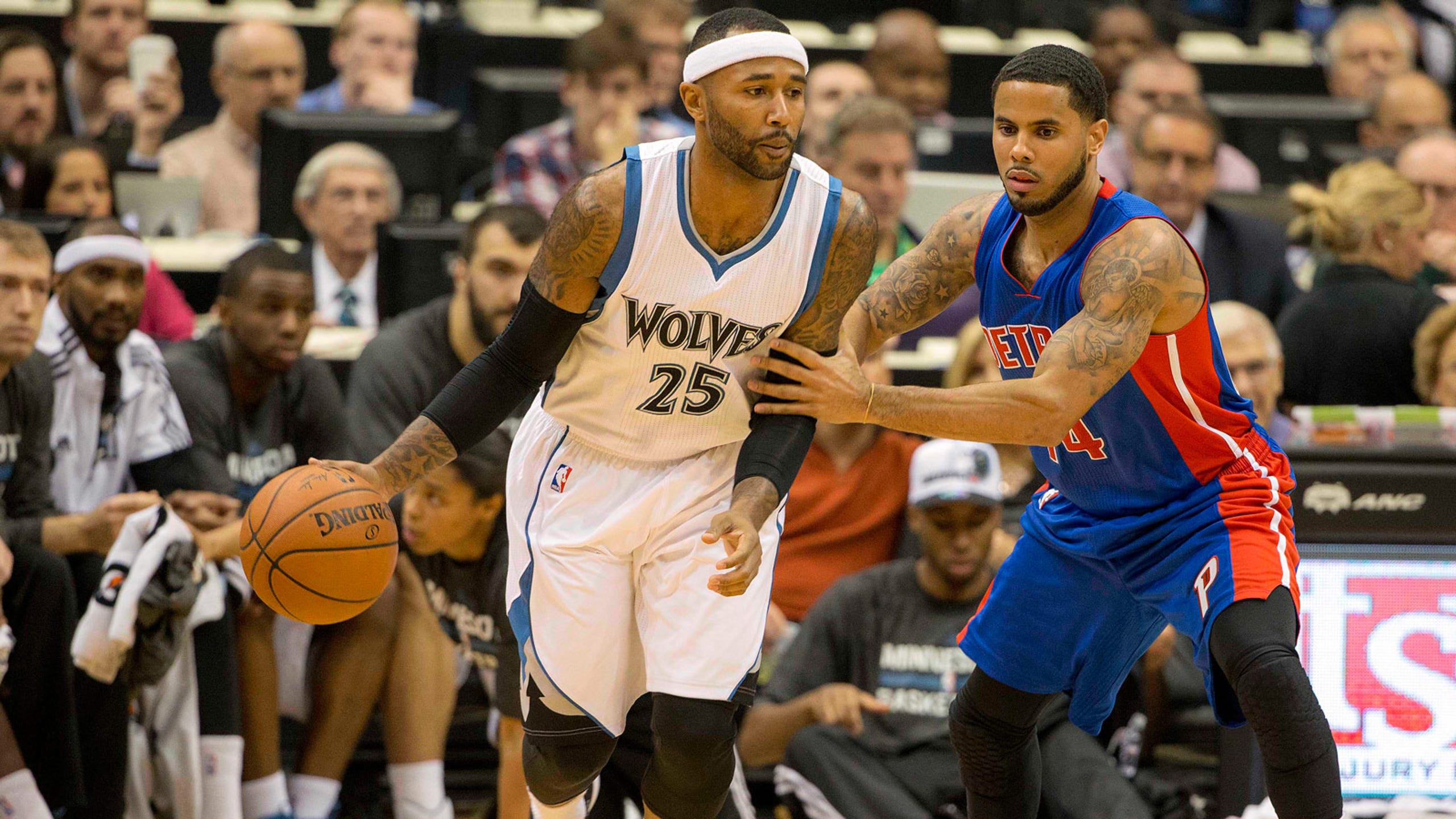 Amid excitement of home opener, veterans lift new-look Wolves to win
BY foxsports • October 31, 2014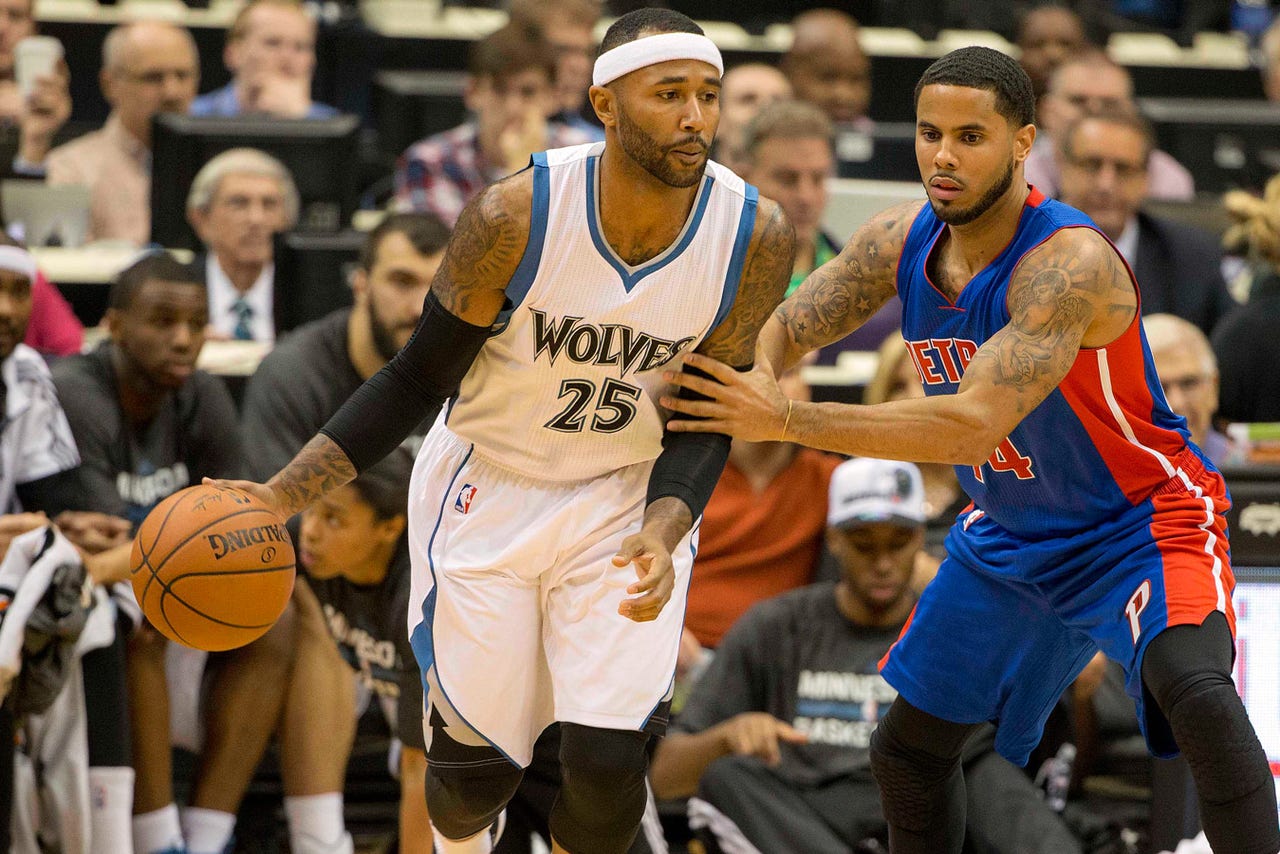 MINNEAPOLIS -- Smoke billowed, laser lights flashed, Metallica faded into dub-step, and the next era of Timberwolves basketball was ushered in Thursday night at the Target Center.
Technically, the program's new age began Wednesday night in Memphis. But Thursday night's 97-91 home victory over Detroit offered the locals their first glimpse at the post-Kevin Love Wolves, the ones built on speed, athleticism, defensive tenacity and youthful upside.
Amid the spectacle of special, video-laced individual pregame introductions and a halftime mini-concert from Vanilla Ice, No. 1 overall pick Andrew Wiggins and the rest of Minnesota's young core received a warm welcome from 18,296 fans.
"The home opener's a little different," said Wiggins, who scored just eight points but came alive with a third-quarter outburst that helped the Wolves build a 19-point lead. "(Our crowd) came out and just showed a lot of love today."
But for the second night in a row, it was Minnesota's veterans that cleaned up shop. And the day after a 105-101, season-opening loss to the Grizzlies, they finished the job this time around.
"I think that's what's so great about this team," said shooting guard Kevin Martin, who made his season debut but didn't start due to a sore left ankle. "It's such a perfect mix of veteran and young players. Some nights on the back-to-backs, Game 30 when we're feeling old, the young guys can come in and play the up-tempo and get us through them moments. And then crunch time, when we need the experienced guys, we can be out there."
Eighth-year power forward Thaddeus Young -- acquired with Wiggins and 2013 No. 1 overall draft selection Anthony Bennett in the Kevin Love trade -- hit a 3-pointer with 1 minute, 28 seconds left to put Minnesota (1-1) ahead for good. Young, Martin, Ricky Rubio, Mo Williams and Nikola Pekovic outscored the Pistons 9-3 during the final 1 1/2 minutes to secure Flip Saunders' first victory since reassuming the Wolves' coaching reins.
He improved to 10-0 all-time in Minnesota season openers. Saunders hadn't coached a game here since 2005.
"We're trying to develop" the young guys, said Saunders, who took over as president of basketball operations in May 2013 and added coaching duties to his job description this offseason. "But we also need some positive reinforcement. And that's by getting some wins. It's a fine line."
Saunders went with experience down the stretch in Wednesday's loss, too. It's a suitable blend, Williams said. Wiggins and second-year up-and-comers Bennett (13:56 Thursday), Shabazz Muhammad (12:15) and Gorgui Dieng (17:20) can play extended minutes, but when clutch moments come, the more seasoned members of the team are available.
"At the end of the day, you want to win," said Williams, who led the second unit with 13 points and four assists. "It's a fine line when you've got young talent and veteran guys that can still get it done."
The latter carried most of the load Thursday.
Young had 19 points, five rebounds and three steals in his Wolves home debut. Pekovic rebounded from a lackluster showing in Memphis to score 17 points and pull down 10 boards. Rubio took much better care of the ball in his second 2014-15 outing, committing just one turnover after being charged with seven the day before.
It was Rubio's no-look bounce pass on a pick-and-pop play that set up Young's eventual game-winning 3 from behind the left elbow.
"Last night, I couldn't fall asleep thinking about how many turnovers I got, especially at the end," Rubio said of his Wednesday performance. "Today, I watched film and see what kind of improvement I could do, and I think I did a pretty good job today."
Detroit had erased its deficit via a 12-3 run to close the third quarter and 12 straight second-half points from Caron Butler, who finished with a game-high 24. Six-foot-11, 295-pound Pekovic and 6-11, 279-pound Pistons big man Andre Drummond (11 points, 12 rebounds) jostled in the post all night, prompting Young to compare them to a pair of grizzly bears fighting.
"I don't know how I got seven rebounds; I didn't want to get into the paint with those two guys," said Rubio, who finished with 11 points, seven boards and eight assists. "Pek is an animal, we know. Drummond is strong, too. It was a great battle to see, and sometime we will let them play one-on-one and see who wins -- not on the court, but boxing or something."
After going 4-for-5 in the third and spurring a 27-7 Wolves run -- they led by one at the break -- Wiggins sat and watched the entire fourth. There will be a day when he and his greener teammates are saddled with more responsibility, but Saunders wanted him to exit the game with confidence, the coach said.
Even though his peskiness on defense might have been valuable during the closing seconds.
"I want to put him in situations where he keeps on having success," Saunders said. "I think right now, his last stage on the floor, he feels really good now going into the Chicago game (at home Saturday)."
Said Young: "I think that's huge. We've got a great mixture of players, mixture of veteran guys . . . We have guys always coming together in timeouts, always talking to each other, always try to help the young guys get better each and every day."
Notes: The deadline for Rubio to sign a contract extension is 11 p.m. Friday. If he doesn't, he'll become a restricted free agent after the season. . . . Rookie guard Zach LaVine made his NBA debut Friday, playing 4 minutes, 34 seconds without recording a stat. . . . Minnesota improved to 18-8 all-time in home openers and won its ninth straight against Detroit. . . . After being traded this offseason, Love tallied 19 points and 14 rebounds in his Cavaliers debut. But Cleveland lost 95-90 to New York.
Follow Phil Ervin on Twitter
---