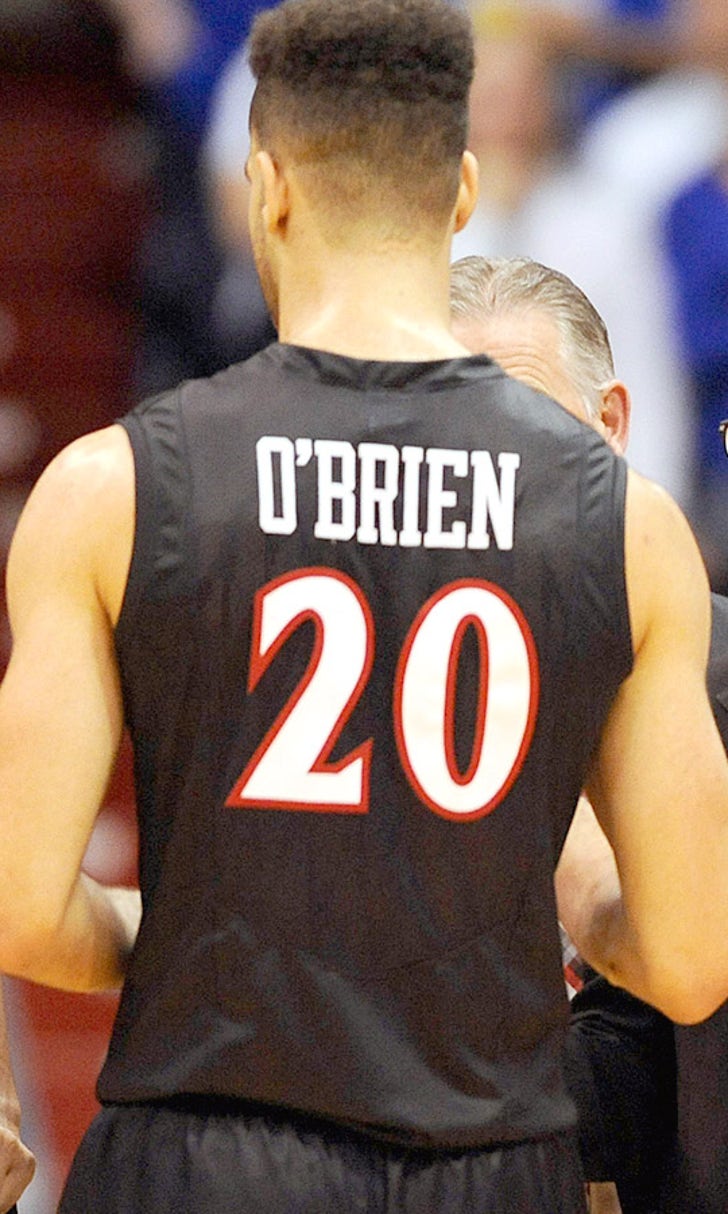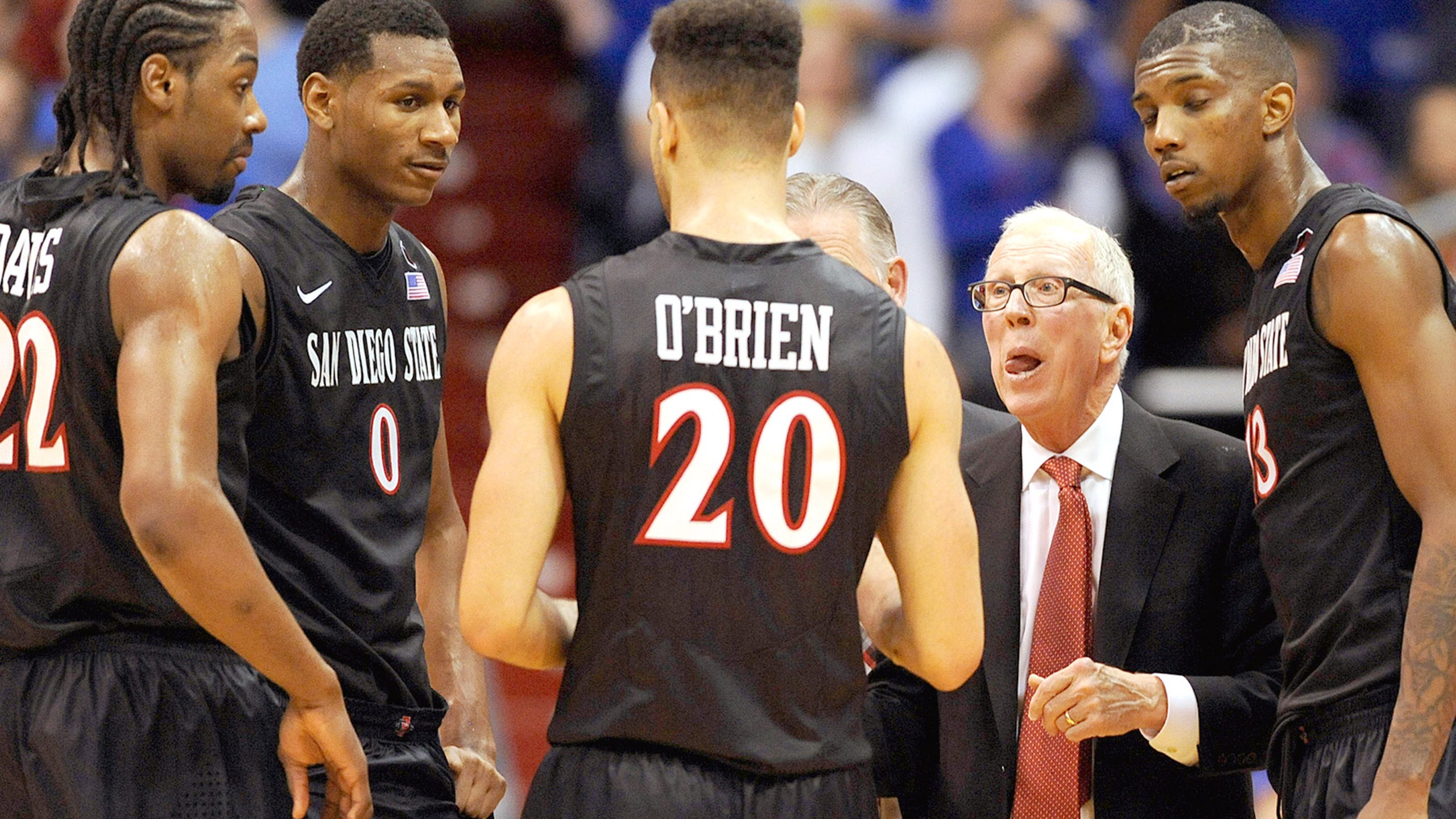 Aggies' big man Bhullar stands in SDSU's way
BY foxsports • March 18, 2014
SAN DIEGO (AP) -- Steve Fisher cut down the final net in the NCAA tournament 25 years ago and reached two other national championship games, so he knows about playing deep into March.
He'd like to think his fourth-seeded San Diego State Aztecs can advance beyond the opening weekend this year. To have that chance, the defensive-minded Aztecs first will have to get past an intriguing matchup Thursday night in Spokane against 13th-seeded New Mexico State and its big, big man, 7-foot-5, 355-pound center Sim Bhullar.
Aztecs forward Winston Shepard recalls beating Bhullar in high school.
"All I can really remember is we had a triple team on him and we still got dunked on," Shepard said Monday.
Was he in on that triple team?
"No, not me. I don't get dunked on," Shepard said.
Have the Aztecs ever played against someone that big?
"No, I don't think anybody in America has," said Fisher, who has the Aztecs in the NCAA tournament for the fifth straight year and seventh time overall since taking over SDSU's previously sad-sack program starting with the 1999-2000 season. "He's a big, big man. Everything about him is so much better than it was a year ago. I believe he's only a sophomore. He will be someone who will make it difficult on us like he has on everybody he's played this year."
Fisher says Bhullar "is a force. He's a hard guy to maneuver around, and they throw it to him early and often in that low post. They are like us -- they have made more free throws than their opponents have shot. I can see why after watching tape on him."
The biggest opponents the Aztecs have played against are Alex Kirk and Cameron Bairstow of New Mexico, which beat SDSU two of three times this season, including in the Mountain West Conference tournament championship game Saturday night.
Bhullar is at least five inches taller than Bairstow and Kirk, and 100 pounds heavier.
"It's going to take a team effort. Everybody just being in held position," forward Josh Davis said. "The main thing is to just try to keep it out of the post."
If Bhullar isn't enough of a load, "they have another 6-9, 250-pounder who looks small by comparison," Fisher said of Tshilidzi Nephawe, who is 6-10 and 265 pounds.
"He will present a challenge for us, no question."
That said, Shepard doesn't think Bhullar is the Aggies' best player.
Bhullar's average of 10.3 points is fourth behind Daniel Mullings (16.8), DK Eldridge (11.5) and Nephawe (11.1). Bhullar does lead the Aggies with 7.9 rebounds, while Nephawe averages 7.8.
NMSU coach Marvin Menzies was on Fisher's first staff at San Diego State.
"We'll be bitter enemies for 40 minutes. Then we'll be great friends, like we are right now, when that game's over," Fisher said.
Fisher said he spoke with Menzies on Sunday night after the pairings were announced, and again on Monday.
"We talked about how we're so happy for each other and our families that we're in the tournament. But we just desperately wished we hadn't been paired up against one another," Fisher said. "That's what the thrust of it was. When I saw our name with them, I said, `Boy, I'm happy we're going to Spokane. I'm happy we're a 4 seed, but I wish it was someone other than Marvin Menzies and New Mexico State we were playing.' `'
Fisher won the national championship with Michigan in 1989. He got the Wolverines back to the title games in 1992 and 1993, although those appearances were vacated following the Ed Martin scandal.
SDSU has reached the Sweet Sixteen once, three years ago when it lost to eventual national champion UConn in the regional semifinals in Anaheim.
The regional is once again in Anaheim.
"I'm hoping we're playing for three weeks. I'm hoping we're doing something that you want to talk about next week and then the week after," Fisher said.
"We're going up to Spokane to win two games. We're going up to Spokane to say we have things to do. We want to be playing a week from now, but we want to take care of business in game one and then in game two. So we're no different than most of the teams. We're not just happy to be here. We want to make some noise and win some games. How much, how many? We'll find out."
---