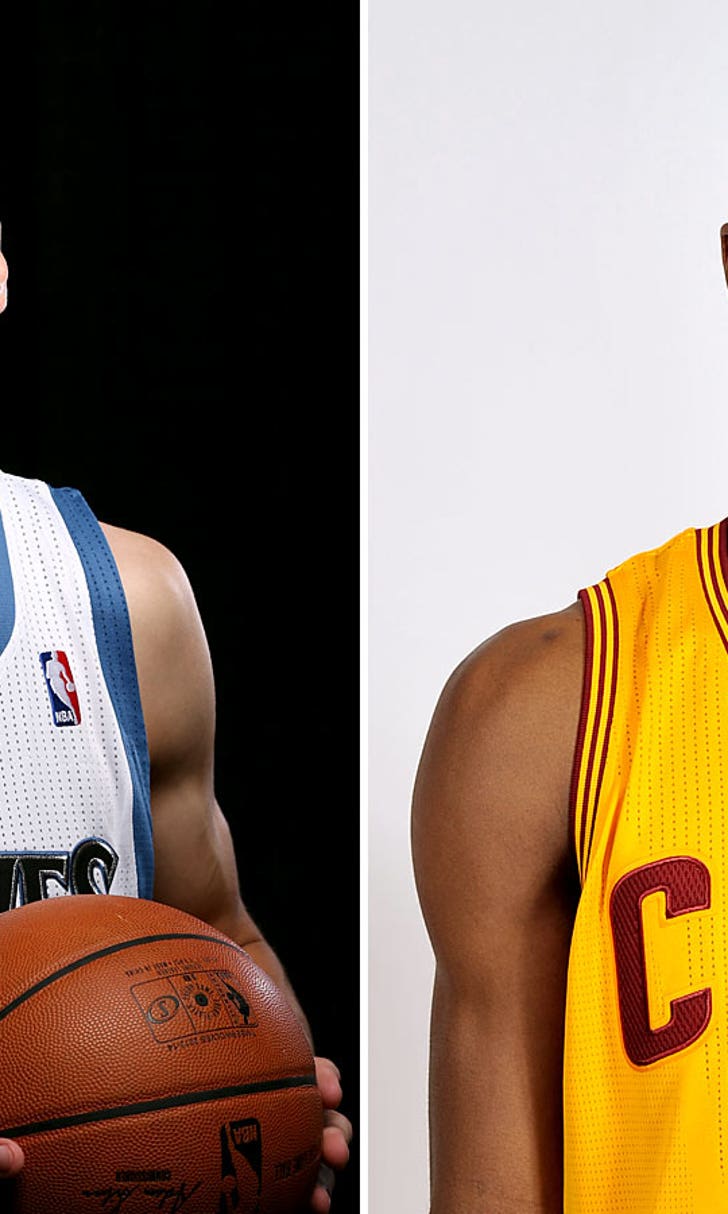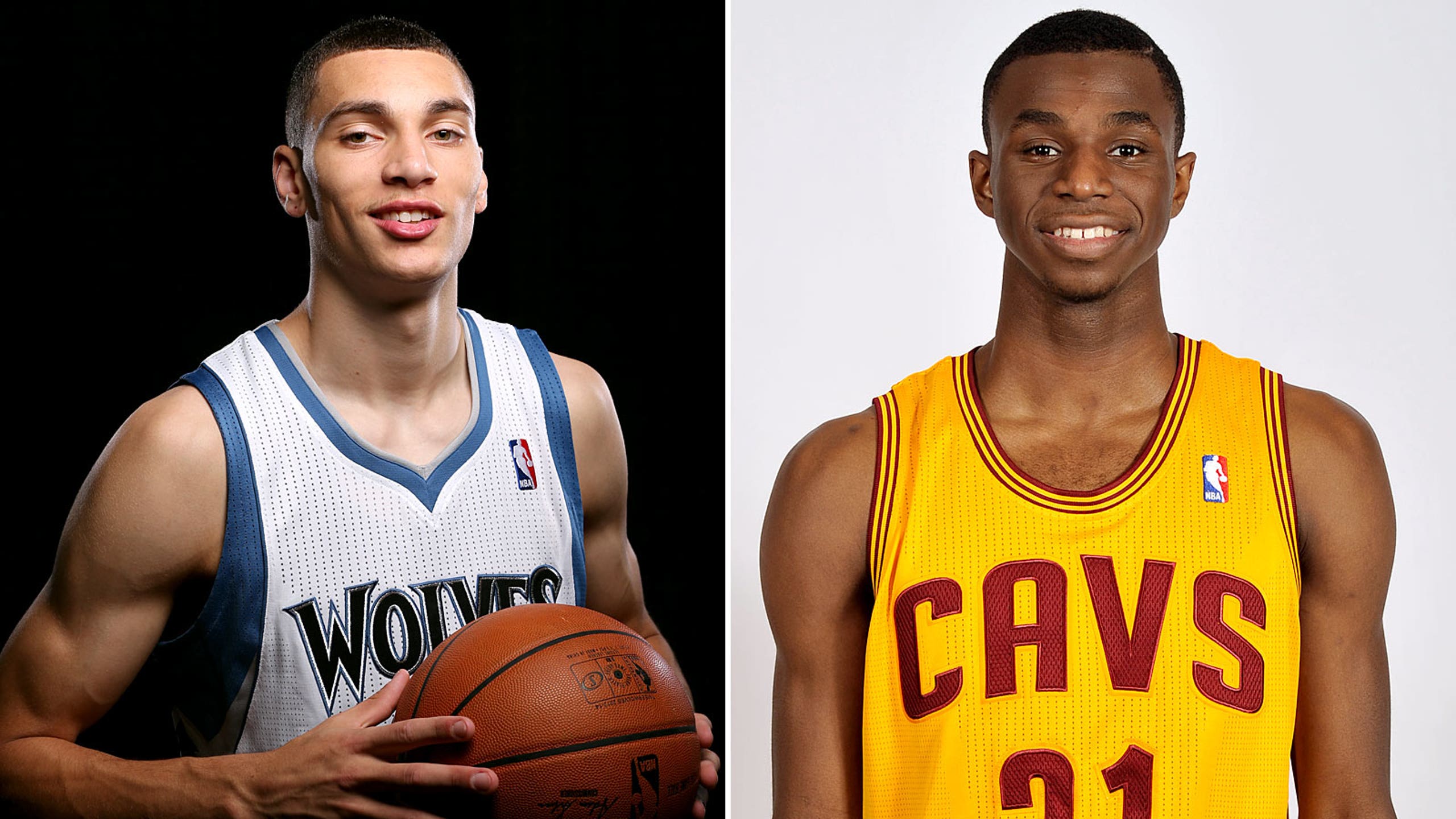 Addition of Wiggins would make Wolves' lineup intriguing
BY foxsports • August 5, 2014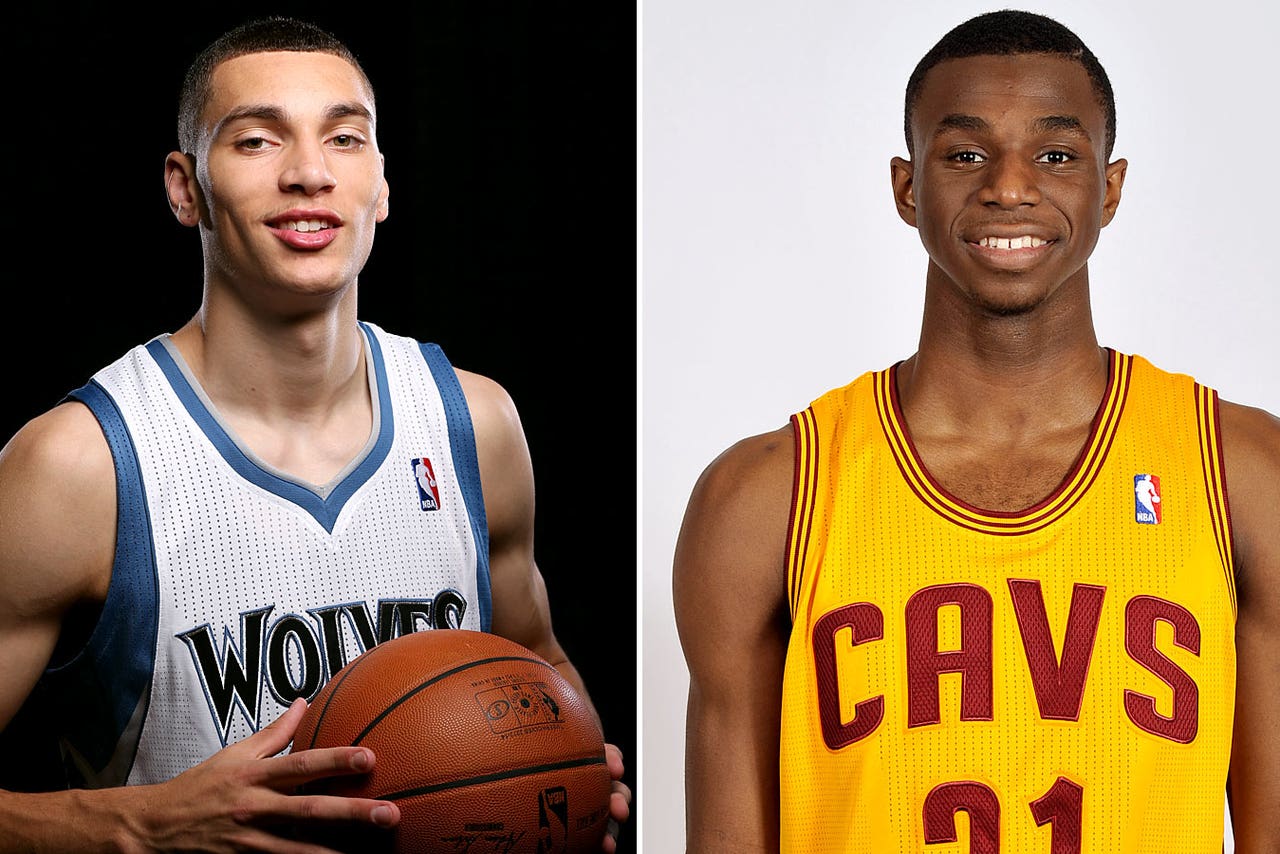 MINNEAPOLIS -- It started out as an annual tradition. It morphed into a potential glimpse into the future.
The power of social media lends itself to inflated perceptions. So proverbial packets of salt are required when the likes of Zach LaVine, Glenn Robinson III and projected teammate Andrew Wiggins team up in a showcase like they did Sunday at the Panini America trading card company's rookie photo shoot in New York.
But the thought of that rookie trio calling out each other in similar dunk contests -- albeit without the Twitter challenges -- after closed Timberwolves practices and throwing down alley-oop lobs from Ricky Rubio has to tingle the Wolves fan's senses just a bit. The same might be said for Wiggins, LaVine and Robinson themselves.
Wiggins wore his maroon, No. 21 Cleveland jersey Sunday, but the chances he's in black and slate blue by the time the season starts are about as high as he can jump. Suitors besides the Cavaliers in the Kevin Love sweepstakes have fallen by the wayside, and no deal is getting done without Wiggins as the other side's centerpiece. Wolves owner Glen Taylor conceded Monday Love is probably gone and that the Wiggins deadline is dictating what steps the club will take.
Wolves small forward Corey Brewer told the Gainesville (Fla.) Sun his former collegiate coach Billy Donovan was right to stay at Florida rather than entertain Minnesota president Flip Saunders' swipes at hiring him to replace retire Rick Adelman.
"If Kevin Love were to stay," Brewer said, "it would be a good move for him."
If.
In the elastic world of NBA personnel transactions, nothing is certain until ink is splashed above dotted lines. In this case, it can't be till Saturday, Aug. 23 at the earliest -- 30 days since Wiggins signed his rookie deal, an NBA trade stipulation.
But this seems about as imminent as it gets.
Wiggins himself says he's trying to steer clear of the rumor mill. "You can't take it personal," he said during an awkward interview with ESPN's SportsCenter on Sunday. "You can't be listening to everything that everyone says.
"I just want to play for a team that wants me, so whichever team wants me I'll play for."
Do you think Cleveland wants you? The question was met with much less resolve.
"Yeah," the 2014 draft's top selection responded sheepishly. "I hope so."
LaVine, an athletic 19-year-old similar to Wiggins in many ways save for draft position, is a shameless hoops media connoisseur. Robinson has admitted to keeping an eye on the LeBron James Decision 2.0 -- the one that has James going back to Cleveland and the Cavs confident Love would sign with them long-term after being traded -- with great interest.
And why wouldn't they want their ears to the ground? A historically woeful-to-mediocre franchise that drafted them is on the cusp of a central overhaul.
Today, it's virtually impossible to stay immune to the news, anyway. So it's worth considering exactly what this thing could look like come October.
LaVine, Robinson and Wiggins have to have given it some thought, at least.
If the reported Love and some unwanted contracts for Wiggins, fellow No. 1 overall pick Anthony Bennett and a future first-round draft selection goes through later this month, Minnesota would be in line to trot out the marquee swingman it's been missing since the mid-2000s. Cleveland picked Wiggins first overall because he's got covetous size (6-foot-8, 197 pounds, 7-foot wingspan), buoyant athleticism and a skill set worthy of the NBA's next star.
He can shoot. Attack the rim. Defend. His 3-point shooting, creating and finishing need some work, but once former Kansas teammate Joel Embiid's stock fell due to an injury, Wiggins topped one of the league's deepest draft classes in some time.
Then, at the NBA's Las Vegas Summer League, he illustrated why, averaging 15.5 points, 3.5 rebounds, 1.5 blocks and 1.3 steals in four games with Cleveland. The defensive numbers are especially enticing for a Wolves squad that lacks a valued on-ball defender and had the league's second-worst opponent field-goal percentage last season.
The image of Wiggins running the floor alongside Rubio, LaVine and perhaps even Robinson -- if the second-round pick is signed -- is intriguing, too.
Saunders hopes to employ a more a run-and-gun, transition-based attack like the ones he used during his first stint as Minnesota's head man.
Target Center rims, beware.
But if Love receives his desired deportation and the only power forward that comes back is Bennett, the Wolves will be left woefully short at the four spot. Bennett improved after a horrendous start to his rookie campaign and finished the year averaging 11.8 points and 8.4 rebounds per game.
That's respectable, but Bennett appears a year or two away from becoming a bona fide NBA starter. For that reason, per reports, the Wolves are taking a hard look at trading for 76ers power forward Thaddeus Young, either within the framework of a Love deal or as a separate transaction.
Young led a tanking Sixers squad in scoring with 17.9 points per game last season and proved a viable defender with 2.1 steals per game. In his seven-year career, the 6-8, 220-pound Georgia Tech product averages 13.7 points, 5.5 rebounds, 1.4 assists and 1.4 steals per game.
That's nowhere near the Kareem-esque metrics Love accounted for last season. But at the very least, Young could provide a stopgap until Bennett or another power forward develops into a central role.
A Wiggins deal is cap-friendly, too. With locked-in rookie salaries, Bennett's owed $18.6 million over the next three seasons, with team options on the final two, while Wiggins is set to make $19.5 million during that time frame.
That leaves plenty of financial real estate to build around them if they end up in the Twin Cities.
"Whatever happens in the future happens," Wiggins told SportsCenter. "I can't control nothing in the future. It's out of my hands. At the end of the day, you've got to realize the NBA is a business before anything, so I'm just waiting. I'm a rookie. I don't really got too much to say."
Follow Phil Ervin on Twitter
---