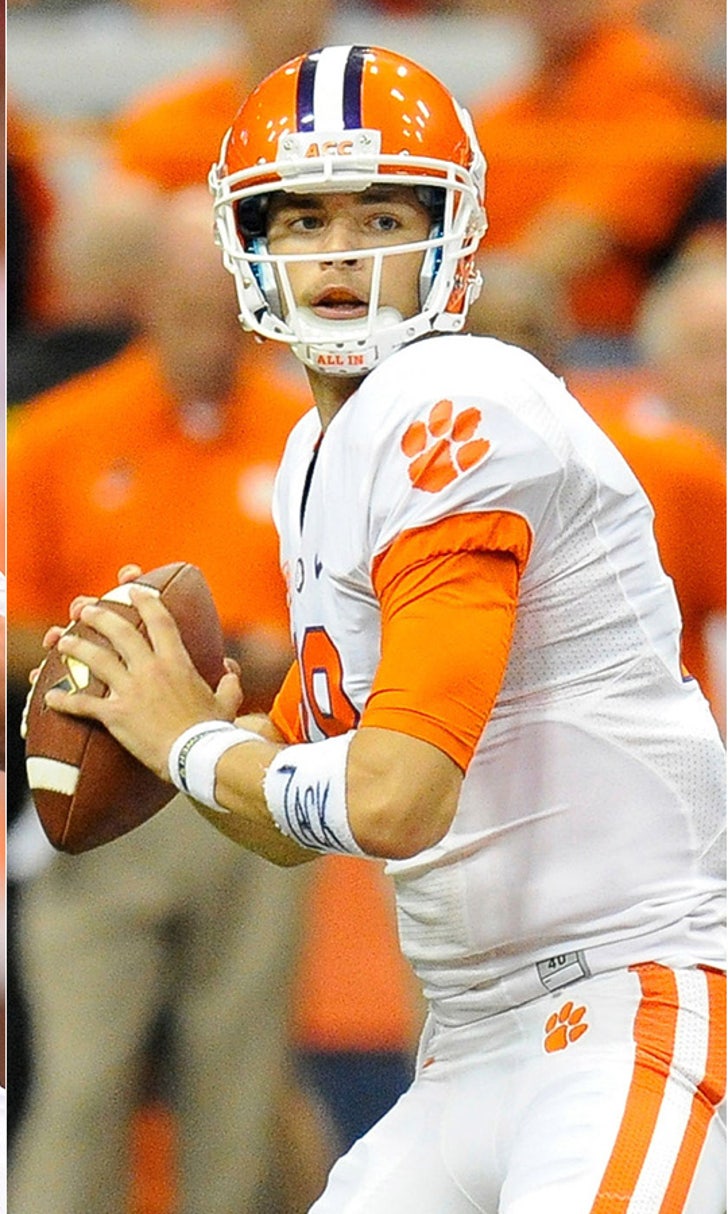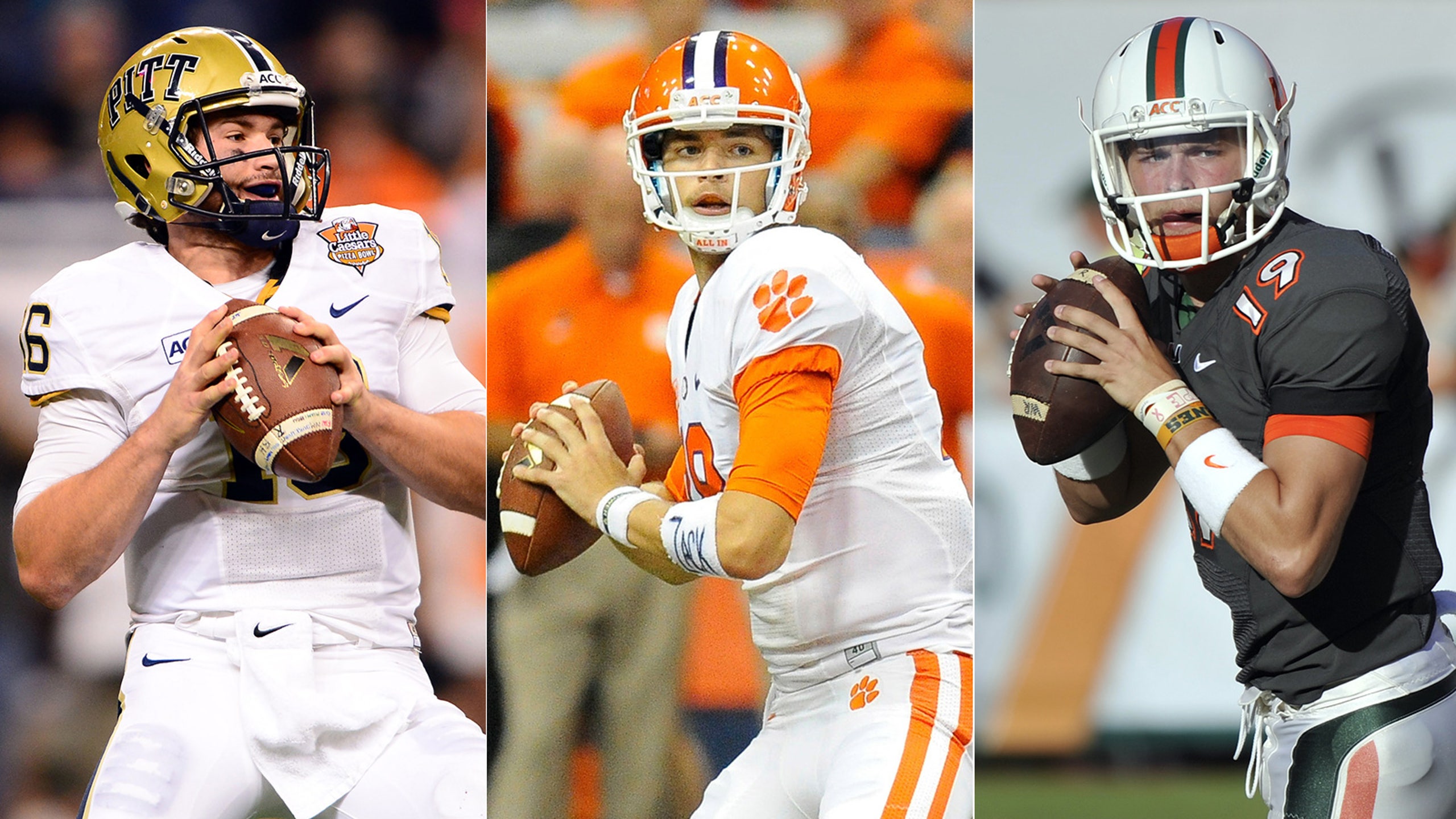 ACC teams return limited experience at quarterback position
BY Zach Dillard • August 1, 2014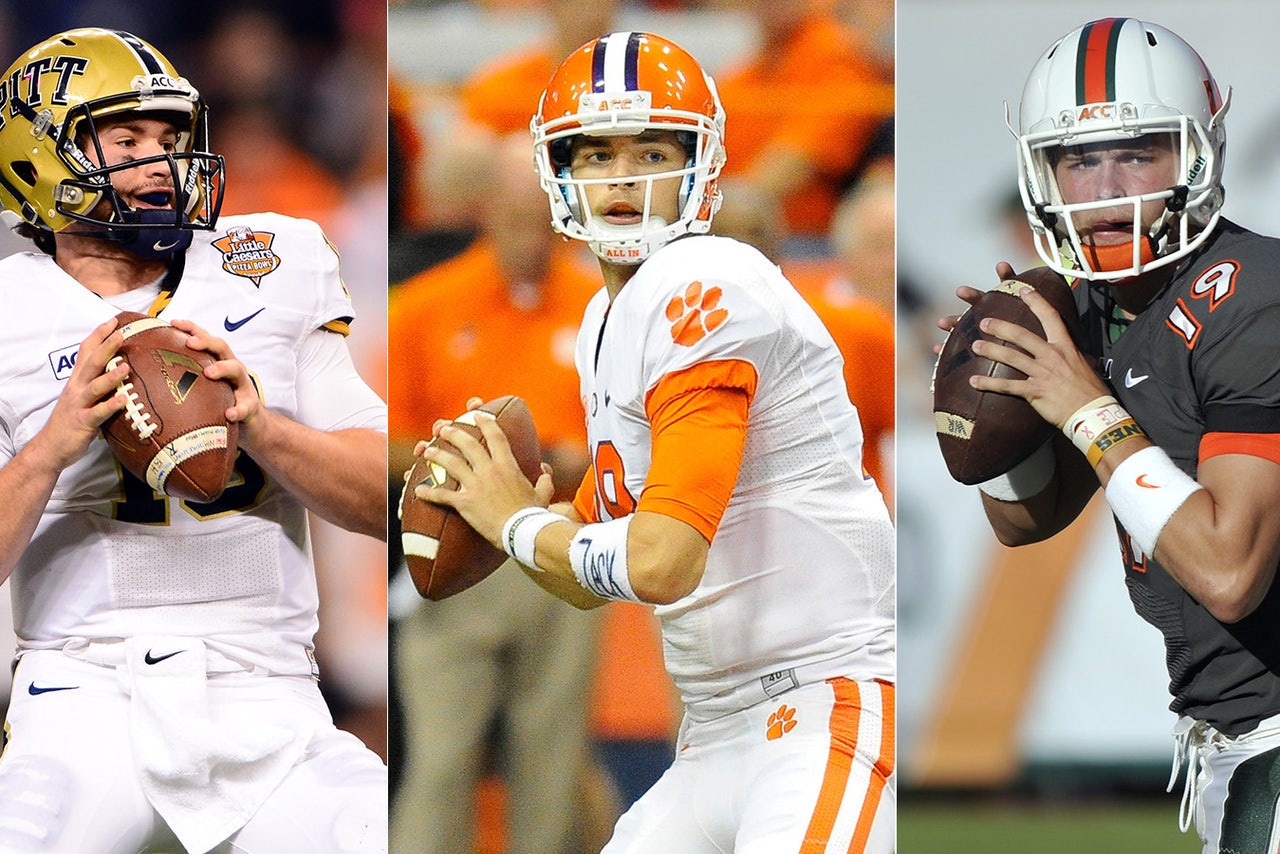 Entering his first spring practice as an FBS coordinator back in 2008, Dave Clawson understood there would be growing pains. He understands the reasoning behind those growing pains perhaps now more than ever.
Hired to replace David Cutcliffe as Tennessee's offensive coordinator under Phillip Fulmer, Clawson, who built a strong reputation as Villanova's offensive play-caller grooming the likes of long-time pros Brian Finneran and Brian Westbrook in the late '90s before turning around FCS programs Fordham and Richmond, knew his biggest task would be to find a quarterback. Fulmer's program was known for churning out the likes of Peyton Manning and BCS title-winning quarterback Tee Martin, and it was then faced with the prospect of replacing productive senior starter Erik Ainge. Despite his ups and downs, Ainge capped his career by passing for more than 3,500 yards and 31 touchdowns while leading the Vols to 10 wins as a senior.
Plug in a brand new offense with a brand new starting quarterback, and there were bound to be problems.
Clawson and Fulmer had two hotshot recruits to choose from: Jonathan Crompton and Nick Stephens. Crompton was a former five-star prospect -- ranked behind only Mark Sanchez and Ryan Perrillouz, according to Scout -- that had waited his turn for two years. Stephens was younger but also came in highly touted, boasting offers from all over the country. The results were disastrous.
Tennessee's passing offense came to a grinding halt in Clawson's first and only season in Knoxville, as both Crompton and Stephens saw time under center. The final tally: 145.8 yards per game and nine interceptions to eight touchdowns. The team finished 5-7 and Fulmer, the most tenured coach in the SEC at the time, was let go right along with his staff.
Two years later, after landing on his feet as Bowling Green's head coach, Clawson faced a similar predicament in replacing Tyler Sheehan, the school's record-breaking signal-caller. The Falcons went 2-10 in Clawson's second season. The theme is simple.
"You would always rather have an established quarterback," Clawson said at the ACC Kickoff.
There were no gift-wrapped, experienced starters waiting for Clawson when arrived in Winston-Salem as Wake Forest's new coach. No quality backups, no five- or four-star prospects ... not even a single completed touchdown pass on the depth chart.
Entering the 2014 season, the Demon Deacons are saddled with both the Atlantic Coast Conference's bleakest and most wide-open position battle under center.
Clawson's options to replace four-year starter Tanner Price include a recently converted receiver who hasn't played the position in two seasons (Kevin Sousa), a backup with miserable numbers in limited action (Tyler Cameron) and two incoming freshmen (Travis Smith, John Wolford). When asked to describe the situation, Clawson gave a comical one-word answer: "Fluid."
There might be a quality starter in the mix, but for now the cupboard looks bare.
"It's wide open. That is never ideal, but that is where it is," Clawson said of his quarterback battle. "This isn't a mind game that I'm playing with guys on the team. Our quarterback situation is wide open right now. There's four guys who could end up being the starting quarterback. The challenge is to negotiate reps, because it can't be four forever. If you're getting four ready, you're getting nobody ready.
" ... A year ago, we were the 118th-ranked offense in the country and we graduated a four-year starter at quarterback, the school's all-time leading receiver and a tailback who's in an NFL camp. There's certainly more holes than answers right now."
Wake Forest is not alone, though.
The ACC hemorrhaged quarterback experience in the offseason. In total, the league's current members return just four quarterbacks that finished the season as a regular starter, with Florida State's Jameis Winston the only player to start every game in 2013. That leaves a redshirt sophomore -- and, coincidentally, college football's reigning Heisman winner -- as the most experienced quarterback (14 starts) of the league's 14 projected starters.
Gone are senior starters Tajh Boyd (Clemson), one of the most prolific signal-callers in conference history, Logan Thomas (Virginia Tech), Stephen Morris (Miami), Tom Savage (Pittsburgh), Chase Rettig (Boston College), Bryn Renner (North Carolina) and Price. Two former starters -- N.C. State's Pete Thomas and Virginia's David Watford -- lost their starting jobs, while Georgia Tech's Vad Lee transferred and Louisville star Teddy Bridgewater left early to become a first-round draft pick.
At least six different schools staged outright position battles during the spring. A few, like the one at Wake Forest, are ongoing.
Virginia Tech coach and FBS active wins leader Frank Beamer, who is choosing from a pool that includes backups Mark Leal and Brenden Motley, Texas Tech transfer Michael Brewer and a couple of incoming freshmen, defined the predicament many of his fellow ACC coaches are facing in the plainest terms possible at ACC Media Days.
"We want to get that (quarterback) position settled," Beamer said. "We know how important it is to the offense, to the whole team, so we're going to work like heck to get it nailed down."
Duke starter Anthony Boone is back after leading the Blue Devils to one of their most successful seasons in decades. But behind the conference's two division winners, there's a quick drop-off in career starts -- only Syracuse's Terrel Hunt and UNC's Marquise Williams have started a game for an ACC program. In fact, here's how Winston and Boone stack up compared to the other 12 projected starters:
Some programs are in better -- or at least clearer -- positions than Wake Forest as the season draws near. Williams boasts excellent career numbers in coach Larry Fedora's offense, claiming 25 total touchdowns and six starts in his career. (Even so, those around the Tar Heels program believe redshirt freshman Mitch Trubisky will see plenty of playing time in Chapel Hill this fall.) Hunt started the final 10 games of the season for the Orange with mixed results, but at least Scott Shafer knows what he has there.
N.C. State and Boston College will feature Florida transfers Jacoby Brissett (three starts) and Tyler Murphy (six starts), respectively, two players that come with upside and some starting experience in the Southeastern Conference. Brissett, in particular, comes with plenty of promise -- he lost the Gators' starting job to former No. 1 quarterback recruit Jeff Driskel, but he's created enough buzz in Raleigh that he's expected to be one of the league's top players this fall.
Outside of those six names, every other projected No. 1 quarterback in the conference will be a first-time starter on opening weekend -- meaning there's plenty of unknown even among the league's best teams.
Replacing Boyd will not be easy for Clemson. The former ACC Player of the Year finished his career with two high-profile bowl wins, the conference's record for passing touchdowns and he ranks second on the ACC's all-time passing yards list behind only Philip Rivers. Adding to the difficulty level for Cole Stoudt, Boyd's long-time backup and '14 replacement, is the loss of top receivers Sammy Watkins and Martavis Bryant. Still, coach Dabo Swinney projects an air of confidence in his new starter ... and if he falls short there's always five-star prospect Deshaun Watson waiting in the wings.
"I think we couldn't have a guy more prepared to be the starter in his first game than Cole Stoudt," Swinney said of his new starter, a senior who was Boyd's primary backup from 2011 to 2013. "He has excellent experience to draw upon, and when he's played, he's played very well, and because of that he has a confidence that most first‑time starters may not have. ... He's been patient. He's prepared every week to be the starter, not knowing if he was even gonna play. He's always been ready."
Louisville is in a similar predicament, losing Bridgewater and a boatload of NFL talent as well as undergoing a coaching change in the offseason. The transition into Bobby Petrino's offense has rarely hurt a quality quarterback's numbers, but Will Gardner, the projected starter, has some big shoes to fill.
Petrino, the former Arkansas and Western Kentucky head coach, seems to like Gardner's fit within his system, although the Cardinals' quarterback race sounds slightly more open-ended.
"He's a good student of the game, and he's a natural leader that the players have already learned to follow. He has no problem in leading and taking control of the offense. He's got a lot of positives," said Petrino, who also has redshirt freshman Kyle Bolin battling for a spot during fall camp. "The down side is (Gardner is) very inexperienced. He hasn't played for a number of games because Teddy played and stayed healthy and played through injury and did all that, so he's just an inexperienced, talented guy.
" ... He has to go out and perform and show it."
Looking across the league, there are varying degrees of confidence in the new arms. If Florida State has already won the arms race before the season even starts, there's going to be an interesting competition to decide No. 2, No. 3 and so on.
Pitt's Chad Voytik played well in the Panthers' bowl win last season, but that's about all there is to go on for him outside of press conference quotes. Virginia Tech's Leal and Brewer and Georgia Tech's Justin Thomas have played sparingly. Motley, a redshirt sophomore for the Hokies who one media member inexplicably voted for preseason Player of the Year, has not stepped on the field during his two seasons in Blacksburg. Virginia plans to feature experience on the bench with Watford, but sophomore Greyson Lambert (340 career passing yards) won the job in the spring.
The Miami Hurricanes, who were voted as the preseason favorites to win the Coastal Division, boast perhaps the most intriguing situation of all. Coach Al Golden was supposed to have what FSU and Duke have -- an experienced starter entering the '14 campaign -- but fifth-year senior Ryan Williams tore his ACL during the spring. Redshirt freshman Kevin Olsen, the younger brother of Carolina Panthers tight end Greg Olsen, was handed the inside track to be under center in the spring. He has yet to take a snap in a college game.
However, the most experienced quarterback in the ACC is also on Miami's roster: former BYU and Kansas starter Jake Heaps transferred in during the summer, and there is the definite possibility the 'Canes could give him the starting nod. It's considered Olsen's job to lose, but Miami could find itself with more experience than anyone else in the league by the end of fall camp, which would give the ACC a total of four quarterbacks boasting double-digit starts.
"I made this decision for a reason. I didn't come here to be the backup," Heaps told the Sun-Sentinel last week. "I came here to play, but you have to come and earn that. No one's going to give that to you."
(UPDATE: It appears Olsen has indeed lost the job, at least for the season opener against Louisville. According to a report, the redshirt freshman has been suspended one game, leaving Heaps in line to take over starting duties. Freshmen Brad Kaaya and Malik Rosier will also be in the conversation for the first-team spot, but with 25 career starts, 5,182 career passing yards and 34 touchdowns, it's difficult not to see Heaps as the favorite if Olsen is out. This obviously skews the Winston-Boone comparison numbers above, although the general idea still holds: experience comes at a premium in the ACC. If Heaps is Golden's choice, Miami becomes one of the few exceptions to the rule.)
Transitioning from one quarterback to the next is a part of the process in college football. The rise in transfers and early NFL departures have only made it more difficult to find The Next Guy, or to stash an upperclassman on the depth chart for when the likes of Tajh Boyd or Teddy Bridgewater move on. Clawson, Swinney, Petrino and every other coach and coordinator has dealt with such losses at some point or another. That doesn't make it any easier in the build-up to a new season, but perhaps it's some consolation that the majority of the conference is in the same boat.
After all, it was just last season that Winston and Boone combined to claim one career start. Things can change quickly. Experience takes hold, stars emerge.
Dave Clawson, like many of his fellow coaches, is just hoping there's one hiding amidst his ragtag bunch in Winston-Salem.
"I think a lot of years you go in and you know a couple of positions who it's going to be and you're hoping other guys step up and fill those voids, and right now certainly on offense we have more questions than answers," Clawson said. "I don't know who our quarterback is, but it's hard to imagine you ever having a good football season without a quarterback stepping up and having a good year."
---