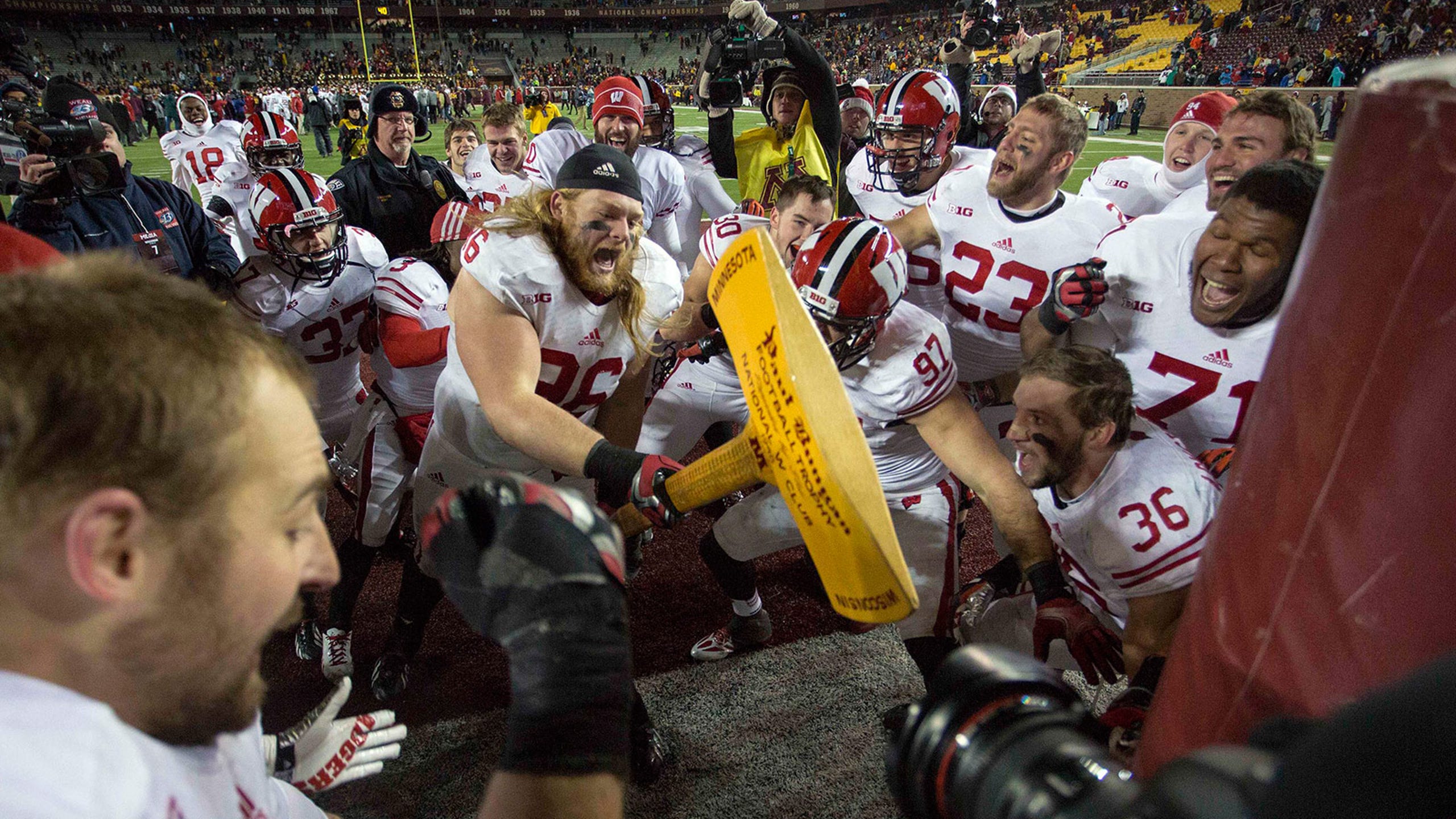 A look at final four games, bowl game prospects for Gophers
BY foxsports • October 28, 2014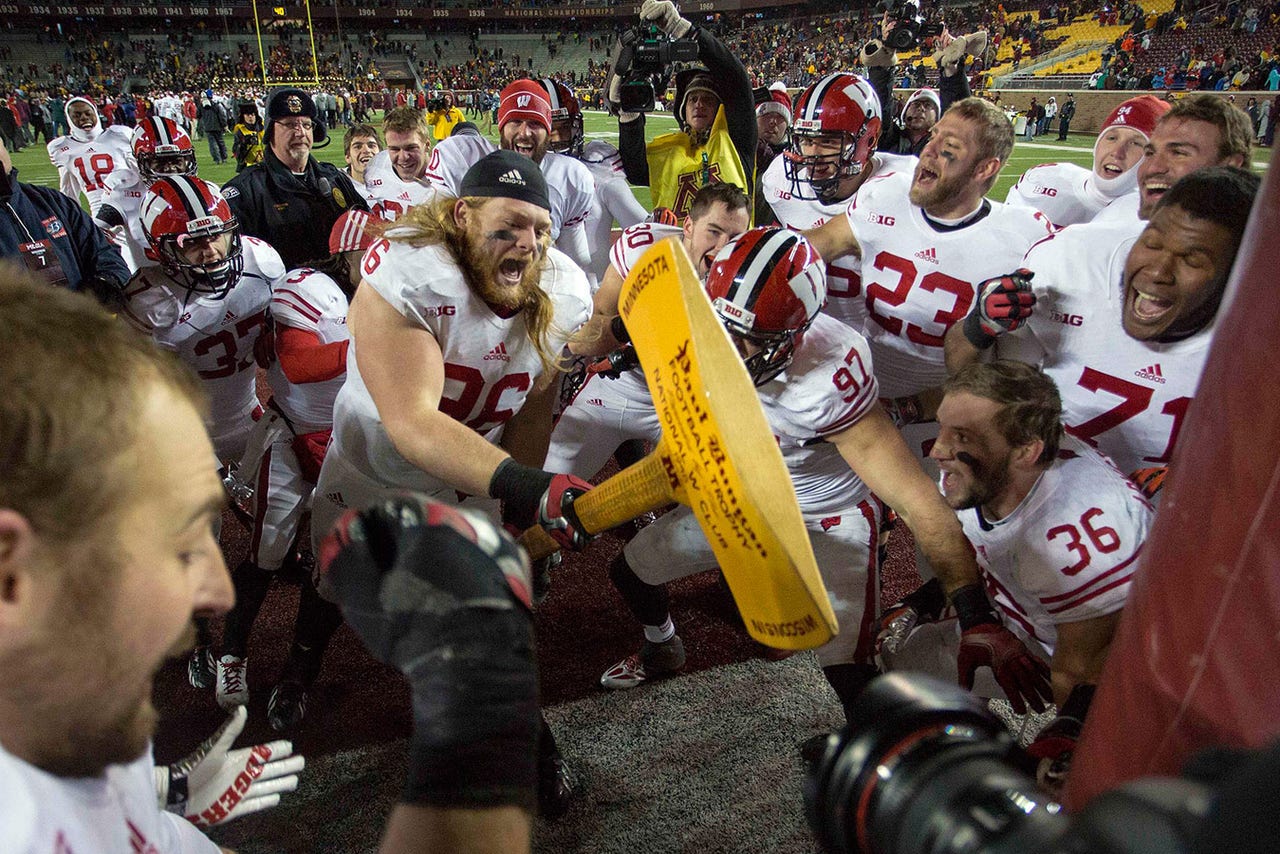 After a surprising loss to Illinois on Saturday, plenty of Gophers fans are now acting as if the sky is falling. While it was no doubt a game Minnesota probably should have won, there are still four big games remaining in the Gophers' season. A strong end to the regular season can help Minnesota redeem itself after Saturday's stumble. But the remainder of the schedule is the toughest stretch the Gophers will endure all year as they face two ranked opponents and two others with just one Big Ten loss. Since Minnesota has a bye week this week, let's take a look ahead at how the rest of the season could shake out for Jerry Kill's team.
GOPHERS VS. IOWA, NOV. 8
Minnesota has two weeks to gear up for one of its biggest rivals, the Iowa Hawkeyes. These two teams battle for the Floyd of Rosedale trophy, a large bronze pig that is currently in the Hawkeyes' possession after Iowa won 23-7 last year at TCF Bank Stadium. The Gophers managed just 30 rushing yards in that loss and trailed 20-0 before finally scoring late in the third quarter. Iowa is coming off a road loss to Maryland but will face Northwestern this Saturday before making the trip north to Minneapolis the following weekend.
This year's Hawkeyes squad is rather balanced, although the defense appears to be the stronger unit for Iowa, which is allowing 21.9 points per game -- slightly better than the 22.2 points Minnesota gives up per game. Though typically a power running team, this year's Iowa squad has had better success throwing the ball -- the Hawkeyes rank sixth in the Big Ten in passing yards per game (242.4) but is 10th in the conference in rushing (146.3). Some of the players on this year's Gophers team have gotten to hold Floyd of Rosedale as Minnesota beat Iowa in back-to-back years in 2010 and 2011. Both Big Ten West teams currently have just one loss in the conference, so next Saturday's game could have plenty of significance in the standings -- not to mention bragging rights between rivals.
GOPHERS VS. OHIO STATE, NOV. 15
Of Minnesota's remaining two home games, this one undoubtedly appears to be the tougher one. The Buckeyes had a close call this past weekend at Penn State, yes, but OSU is 6-1 overall and 3-0 in the Big Ten. The only loss for Urban Meyer's squad came against Virginia Tech back on Sept. 6. Ohio State's offense has been one of the best in the country, averaging a whopping 44.3 points per game. Buckeyes quarterback J.T. Barrett has filled in admirably for Braxton Miller, who's out for the year with an injury. Barrett has averaged 306.7 total yards per game, tops in the Big Ten. He's thrown for six touchdowns and ran for six more to pace OSU's offense. Minnesota hasn't faced an offense of this caliber yet, and we've seen the Gophers struggle against lesser offenses in recent weeks. That could spell trouble.
Defensively, the Buckeyes aren't allowing much -- just 20.7 points and 308.1 yards per game. OSU is also one of the best teams in regards to turnover margin and is tied with Minnesota at +5 for the season in takeaways. Though Ohio State showed its vulnerability by barely squeaking by the Nittany Lions, this Buckeyes team might be the toughest opponent Minnesota faces all year. History isn't exactly on the Gophers' side, either. Ohio State has won the last eight meetings between these two schools, with Minnesota's last win coming back in 2000. Before that, the Gophers hadn't won since 1981. In their history, the Buckeyes are 43-7 in 50 matchups with Minnesota.
GOPHERS AT NEBRASKA, NOV. 22
The Huskers arguably have the conference's best player on their roster in senior running back Ameer Abdullah. Though he's only third in the Big Ten in rushing average (156.1 ypg), he's first in all-purpose yards (211.2), second in kick return average (24.7) and second in scoring. Abdullah's impressive season has garnered some Heisman Trophy talks, as he's entered the conversation for college football's prestigious award. Though Abdullah rushed for 165 yards last year against Minnesota, it was the Gophers who emerged victorious in a 34-23 win at TCF Bank Stadium, perhaps Kill's biggest win of the season. It was Minnesota's first win over Nebraska since 1960 -- a span of 16 straight losses to the Huskers.
Both Nebraska and Minnesota are 3-1 in the Big Ten, but plenty could change in the next few weeks as the Huskers face Purdue and Wisconsin before hosing the Gophers. Nebraska might be one of the most balanced teams not only in the conference but in college football. The Huskers' offense has been one of the most prolific in the nation (41.1 ppg), but their defense has been equally up to the task (20.4 ppg allowed). And thanks in large part to Abdullah, Nebraska's special teams is also solid. That 1960 victory was the last time Minnesota won in Lincoln, a place the Huskers rarely lose. Nebraska's only loss this season came against No. 10 Michigan State on the road, a 27-22 defeat.
GOPHERS AT WISCONSIN, NOV. 29
One week after the Gophers face Abdullah, they'll have their hands full again with another of the conference's top running backs in Wisconsin's Melvin Gordon. Gordon is currently second in the Big Ten in rushing yards per game (166.9), trailing only Indiana's Tevin Coleman. Wisconsin has been a run-focused team for years, and that's especially the case this year. Only one team passes for fewer yards per game than the Badgers (151.7), and that's Minnesota (140.5). Safe to say, it probably won't be much of an aerial display when these two teams face off in late November.
The Gophers are trying to reclaim Paul Bunyan's Axe for the first time in a decade. Like the aforementioned Floyd of Rosedale, the Axe is awarded annually to the winner of another Minnesota rivalry game. Wisconsin has the last 10 times, with the Gophers' most recent victory against the Badgers coming in 2003. The last time Minnesota has won at Camp Randall Stadium? Not since 1994. Given how well the Gophers have played this year (aside from Saturday's loss to Illinois), this appears to be Minnesota's best chance in years to beat its rival to the east. That game is more than a month away, so a lot can change for both teams between now and then, but there will no doubt be plenty on the line when the Gophers travel to Madison.
POSSIBLE BOWL GAMES
After Minnesota's 6-1 start, Gophers fans had high hopes for a bowl game. Some were even starting to think of the Rose Bowl as a possible goal. After Saturday's loss, dreams of the Rose Bowl were tempered a bit. Still, Minnesota has a chance to get to a better bowl game than the Texas Bowl, which it played in last year.
Depending on who you ask, the Gophers could end up in any number of bowl games. Scout.com predicts Minnesota will play in the Music City Bowl in Nashville on Dec. 30, which wouldn't exactly be the most glamorous landing spot for Kill and Co. The Big Ten Network has the Gophers in the Holiday Bowl in San Diego on Dec. 27 in its latest projections, which would be an improvement from last year as a mid-tier Big Ten bowl game. One ESPN.com expert predicts the Gophers will play in the San Francisco Bowl on Dec. 30, while another has them in the Outback Bowl. Of any of these predictions, the Outback Bowl would be a dream scenario for Kill. It's not only one of the best Big Ten bowls, but it's also a New Year's Day game; Minnesota's last two bowl games have been in late December. Whether it actually means much or not, there's a certain prominence to playing on Jan. 1. Of course, to get to the Outback Bowl, Minnesota will likely have to win at least two of its remaining four games, which is no small task.
Follow Tyler Mason on Twitter
---