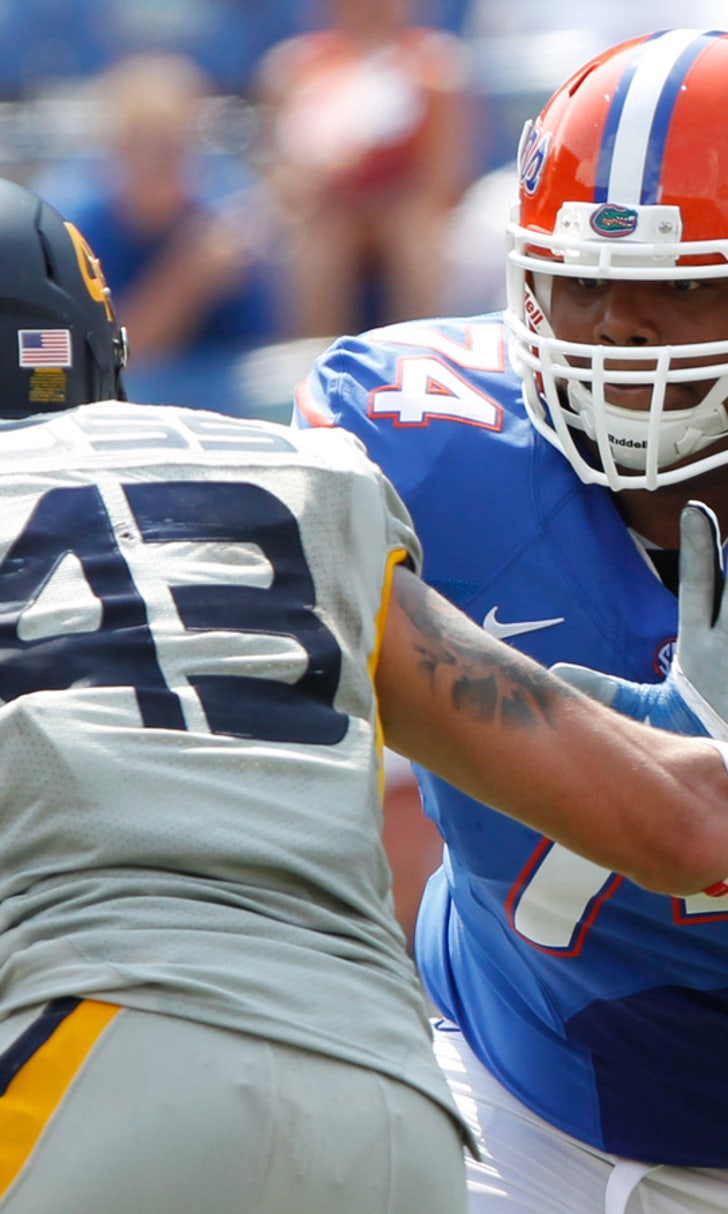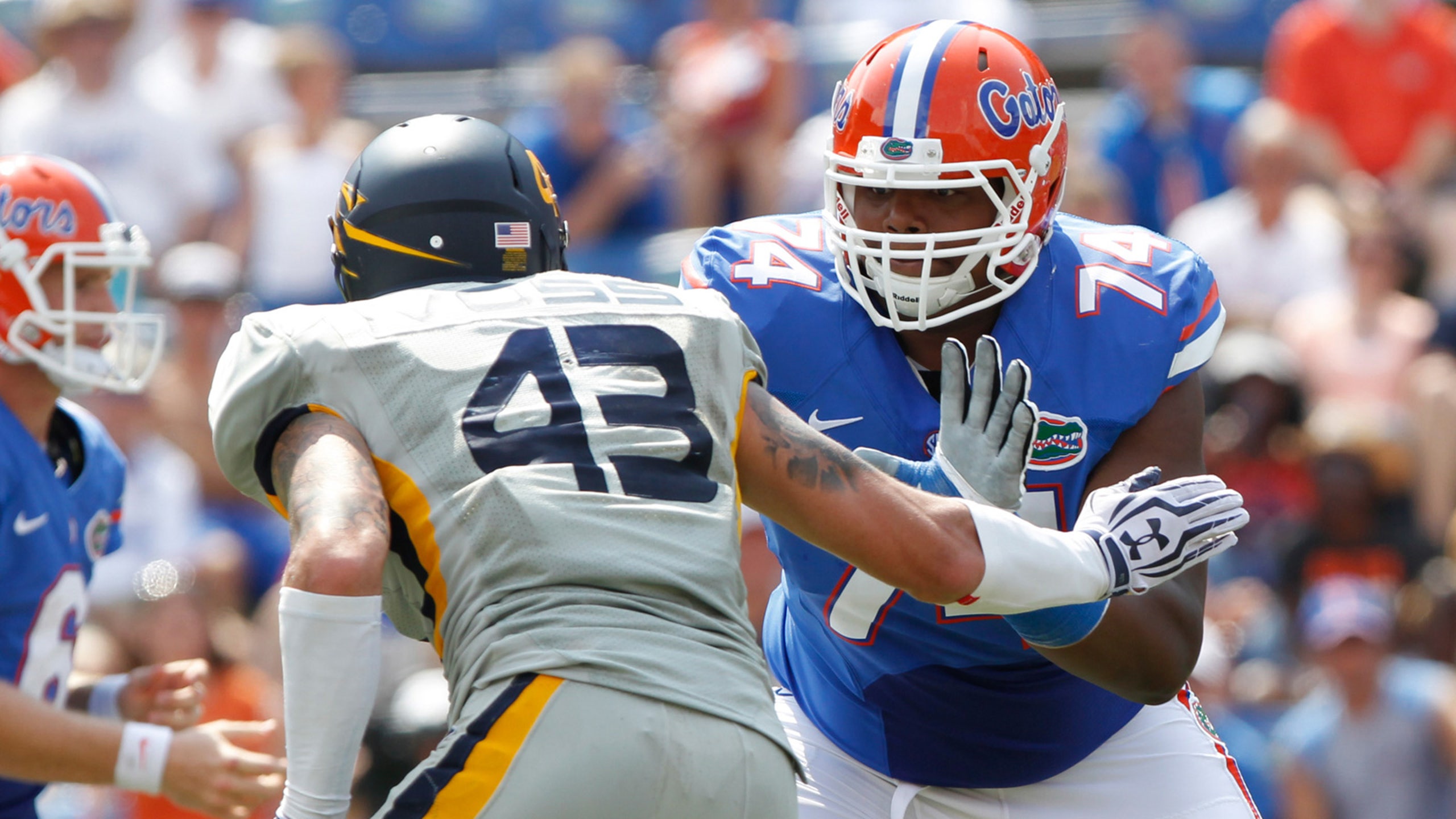 A blocker and a singer: Gators' Brown a man of many talents
BY foxsports • August 11, 2014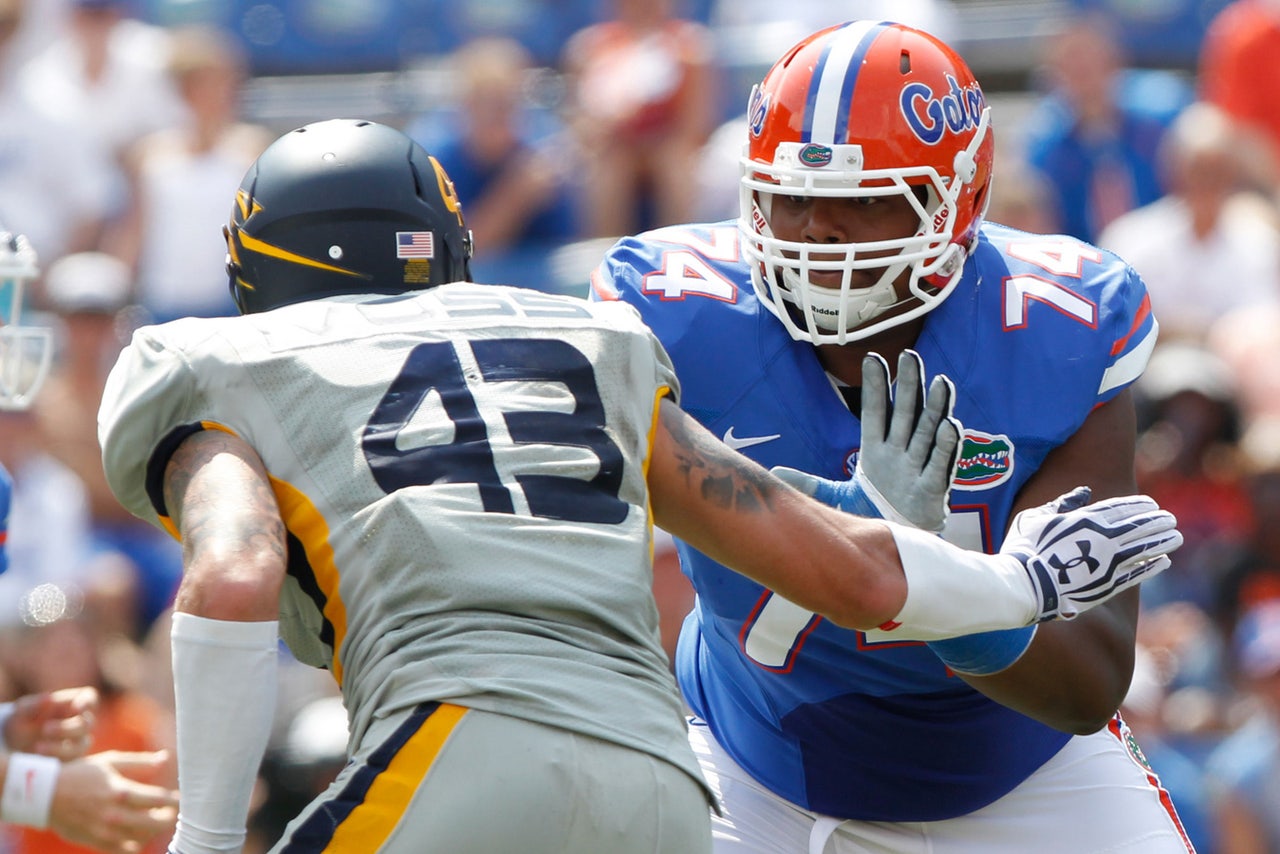 GAINESVILLE, Fla. -- Trenton Brown has surprised people from the very beginning.
Brown was born prematurely, arriving a month early and providing no indication of the Redwood of an offensive lineman he would become.
''He weighed about six pounds,'' said Reginald Brown, Trenton's father. ''Probably around sixth- or seventh-grade I just noticed he really started shooting up and getting wide. Next thing you know I have a gentle giant.''
Today, Brown checks in at 6-foot-8 and 355 pounds, a senior offensive lineman for the Gators in his second year in the program after transferring last season from Georgia Military College.
The soft-spoken Brown is impossible to miss. He is used to others staring his way when he walks into a room or down the sidewalk. You should see the looks when Brown goes somewhere with his dad and brother, Reginald Brown Jr.
Reginald Sr., a captain with the Albany (Ga.) Police Department, is 6-7 and played basketball at the University of Mobile and professionally in China prior to meeting his wife, Tiffany, when both were in the Army. The couple's other son, Reginald Jr., also stands 6-7 and is entering his senior season at Auburn University-Montgomery.
Still, Trenton stands out.
''He's the biggest,'' Reginald said.
Gators offensive lineman Chaz Green is not a small man. Green is 6-5 and 300 pounds. Yet, when he first met Brown, an odd feeling came over Green.
''I think that was the first time in my life someone made me feel small,'' Green said. ''I figured right away we could use him.''
Brown was raw and out of shape when he first got to UF last summer. And then the Gators started losing offensive linemen like a hockey player loses teeth in a fight.
First, Green underwent shoulder surgery and missed the season. Next, Jon Halapio suffered a chest injury, followed by a knee injury to left tackle D.J. Humphries and an elbow injury to Tyler Moore.
By the end of the season Brown, expected to provide depth, was the starting right tackle. He started the final five games of the regular season at right tackle and is battling for a starting position in camp.
While oversized even by offensive lineman standards, Brown's athleticism is evident. The former high school basketball standout has nimble feet as a moving roadblock.
The coaching staff is confident Brown can make big strides in his final season of eligibility due to a better understanding of the program and, most importantly, Brown is physically stronger and in much better shape.
''I'm a lot more focused,'' Brown said. ''Knowing this is my last year, my last opportunity to make some big things happen for me, my future and my family, I know this camp is key to my success and starting that first game on Aug. 30.''
Unable to finish all the conditioning tests last season at the start of camp, Brown passed this year. That was a good start. He spent the summer more aware of his diet and committed to fitness.
Brown said he's actually gained a couple of pounds from when he first got to UF, but that his body has undergone a major transformation.
''I've come a long way. First and foremost, starting to take it more serious,'' Brown said. ''My body looks totally different. I was fat when I got here. I mean, I still am, but I look way better with my shirt off now. I put on a lot of muscle.''
Brown relies on his father as a road map, calling Reginald his most important influence.
On those rare times he gets to go home, Brown knows what awaits back in Albany. There won't be a lot of resting on the couch.
''He didn't have a father, so he always made a point to show us what it was like to have a father in your life in every facet,'' Brown said. ''He always pushed us to be better.''
The one piece of advice Reginald stresses most is that you can't expect anything to be given to you. You have to work hard and earn it.
In Brown's case, there does appear to be one special gift handed out by genetic fate or some other unknown source.
The big man has a big voice.
''He's good. And he sings a little bit of everything,'' teammate Humphries said. ''Put him in the back of the choir and he'd be the bass. There's a lot more to Trenton Brown than meets the eye. He's not just this big offensive lineman.''
Brown is reluctant to let many in on his secret. However, he recently belted out a tune in front of his teammates and word in the locker room is that there is video of his performance.
Center Max Garcia offered his analysis:
''There's a quote in the movie 'Step Brothers' where the guy says, 'You got a voice like a combination of Fergie and Jesus.' That's Trenton. That's his voice,'' Garcia said. ''It really catches you off guard. He's this big guy who's pretty quiet for the most part. He has a big, strong, powerful voice.''
''Not a lot of people know I can do it,'' Brown said.
That included his father until a few years ago.
Reginald got home one day and heard a sound on the other side of the house. He thought someone had left the stereo on, unaware Trenton was home.
He was shocked at what he heard.
''He really can sing,'' Reginald said. ''I thought I was listening to the radio.''
Nope. Just another surprise from the biggest member of the family.
---