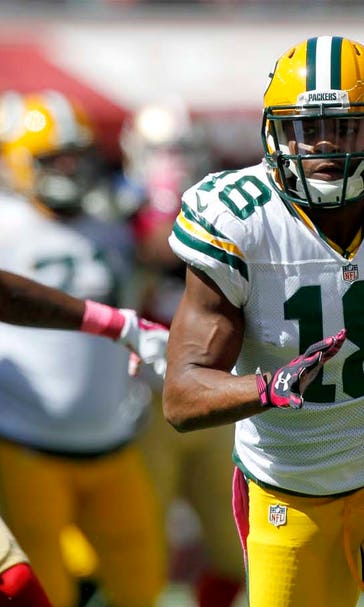 5-year analysis: Grading the 2011 Packers draft class
April 12, 2016

We all know the mantra by now: You can't really tell anything about a draft until 3-5 years down the road.
With that in mind, we're here to see exactly how the Green Bay Packers fared in the NFL Draft five years ago, in 2011. Certainly draft grades were handed out way back when, but for a true perspective read on.
Derek Sherrod, OT, Mississippi State (1st round, No. 32 overall)
If the No. 32 overall wasn't a giveaway, if you remember the Packers were coming off a Super Bowl and thus has the last pick of the first round. A draft is seven rounds long, though, so there are still gems to be found after the first 31 picks. Green Bay, however, easily had the worst first-round pick of the 2012 draft. Sherrod struggled to get on the field in his rookie season. He played in just five games, his season ending after he broke his leg in Kansas City. That injury cost him the entire 2012 season as well, and he started 2013 on the PUP list. Sherrod played in seven games that year and eight in 2014 (which included his only NFL start) before being cut on Oct. 27. He later would sign with, ironically, the Chiefs, but would be cut before the 2015 season. It is easy to say "What if?" five years later, but among second-round picks were tight end Kyle Rudolph (43) and wide receiver Torrey Smith (58).
Grade 5 years later: F
Randall Cobb, WR, Kentucky (2nd round, No. 64)
How does one judge Cobb? Is it by how he has done with the Packers? Cobb has obviously been an impact player, as his 91 catches and 12 receiving touchdowns in 2014 would attest. He also was useful in the return game his first couple of seasons and has had success running the ball, especially in 2012 and '13. But as a second-round pick, has he emerged as a No. 1 receiver? Cobb had that chance last year after Jordy Nelson was injured, but he couldn't replicate his past years when he was the No. 2 or No. 3 WR. While Cobb did have 79 catches, it came on a career-high 129 targets and his 10.5 yards per reception was a career low. In addition, the threat of a run hasn't been there for a couple of seasons as Cobb has averaged just 3.6 yards per carry (on 24 rushes), with a long of 12 yards, the past two seasons. He has turned out to be a very good complementary wide receiver, and there's nothing wrong with that. However, do we consider how Cobb stacks up against the rest of the 2011 draft class? According to pro-football-reference.com, Cobb has the 14th highest weighted Career Approximated Value, with only three players above him having been drafted later (and he's higher than Torrey Smith, who was taken six picks earlier). No matter how you stack it, though, Cobb was Ted Thompson's best pick of the 2011 draft.
Grade 5 years later: B+
Alex Green, RB, Hawaii (3rd round, No. 96)
Davon House, CB, New Mexico State (4th round, No. 131)
House was a quality backup for the Packers who never quite could crack the starting lineup. He played in 40 games for Green Bay with 14 starts. In 2014, the year before he left via free agency, House played in 37.02 percent of the Packers' defensive snaps and 39.64 percent of the special teams snaps (note: he did miss three games that season). The year before he had played in 44.14 percent of the defensive snaps and 68.25 percent of the special teams snaps. House wanted to start and signed with the Jaguars, where he ended up starting all 16 games and playing 1,036 defensive snaps, or 89.08 percent. House offered good depth at corner in his time with Green Bay but meant enough that the Packers received a fourth-round compensation pick for losing him in free agency. By the way, 23 picks after House was selected, Seattle chose Richard Sherman.
Grade 5 years later: C+
D.J. Williams, TE, Arkansas (5th round, No. 141)
Williams had the pedigree as a pass-catching tight end,  hauling in 152 catches in four years at Arkansas, including 61 in 2008 and 54 in 2010. As a senior, Williams was the winner of the John Mackey Award, given to the nation's top tight end. In two seasons with the Packers, Williams had nine receptions for 70 yards. He later spent time with Jacksonville, New England and Tampa Bay and was in camp with Washington in 2015, but he never had another catch in the NFL. To make matters worse for the Packers, Green Bay traded down with Denver, getting the Broncos' fifth- and sixth-round picks in exchange for a fourth and seventh. With those two picks Denver selected tight ends Julius Thomas and Virgil Green. Ouch.
Grade 5 years later: D-
Caleb Schlauderaff, OG, Utah (6th round, No. 179)
The Packers traded down in the sixth round with Miami (which moved up to grab yet another tight end Green Bay missed out on, Charles Clay) and grabbed Schlauderaff, a four-year starter in college. Schlauderaff couldn't crack Green Bay's roster, however the Packers were able to at least get a conditional draft pick from the Jets for him. That pick turned out to be a seventh-rounder, which Green  Bay would use in a package to move up into the fifth round in 2012. Late-round picks certainly are no guarantees in the NFL Draft, but at least the Packers got a little something out of this one, so that counts for something in our book. Schlauderaff, by the way, would spend three years with the Jets.
Grade 5 years later: D
D.J. Smith, LB, Appalachian State (6th round, No. 186)
The Packers grabbed what appeared to be an eventual starter in Smith in the sixth round. After a productive rookie season in which he played all 16 games -- with three starts -- he was installed as a starter in 2012 after Desmond Bishop was hurt and started every game before suffering a knee injury which, as it turned out, ended his Packers career. Smith was cut right before the 2013 draft. He would be signed by San Diego, although he'd never play for the Chargers. He played one game with Houston in 2013 and one with Carolina in '14.
Grade 5 years later: C-
Ricky Elmore, DL, Arizona (6th round, No. 197)
Elmore never played a game for the Packers, cut before the start of the season. He'd sign with San Diego, Arizona, Cleveland and Washington, but he never appeared in an NFL game.
Grade 5 years later: F
Ryan Taylor, TE, North Carolina (7th round, No. 218)
Taylor caught 11 passes in a little over three seasons with the Packers -- nine of those came in 2013. While he wasn't used much on offense, Taylor was a vital part of Green Bay's special teams. In 2012, for example, he got over 80 percent of the snaps in that phase of the game. Taylor was eventually cut during the 2014 season to make room on the roster for wide receiver Kevin Dorsey. He'd sign with a number of teams, but wouldn't record another catch. Green Bay got good value for a seventh-rounder, though.
Grade 5 years later: C+
Lawrence Guy, DT, Arizona State (7th round, No. 233)
Guy has carved out a decent career, but unfortunately it hasn't been with the Packers. Guy suffered a concussion in 2011 and spent the season on injured reserve. He didn't make the team the following year but was signed to the practice squad. However, the Colts signed him to their roster later that season and he bounced between the Colts, San Diego and Baltimore since, seemingly having found a home with the Ravens. In 2015, he played 16 games (7 starts) and had 46 tackles with 4.5 sacks.
Grade 5 years later: D
Overall:
Ted Thompson has had some great drafts with the Green Bay Packers. This, however, wasn't one of them. Only one player remains on the roster from this draft five years ago: Cobb, who didn't continue his ascension last season showing that perhaps he is at best a No. 2 receiver (nothing wrong with that, of course). Three players -- Bryan Bulaga, Mike Neal and James Starks -- remain on the team from the previous year's draft and two from 2009 (Clay Matthews, T.J. Lang).
Injuries took a toll on this draft as well. But that's the nature of the game, too. Sherrod likely was a bust even before he got hurt. We'll never know how good Green or Smith could have been. While it is easy to say Green Bay should have drafted so-and-so, missing out on tight ends Thomas and Green, when the team was clearly looking at tight ends as evidenced by the fact they drafted two of them, stings.
Overall, Cobb was a nice pick, the Packers got some value out of Taylor, but overall it was one to forget. Luckily for the Packers, Thompson has had plenty of other memorable drafts.
Grade 5 years later: C-
Follow Dave Heller on Twitter 
---
---