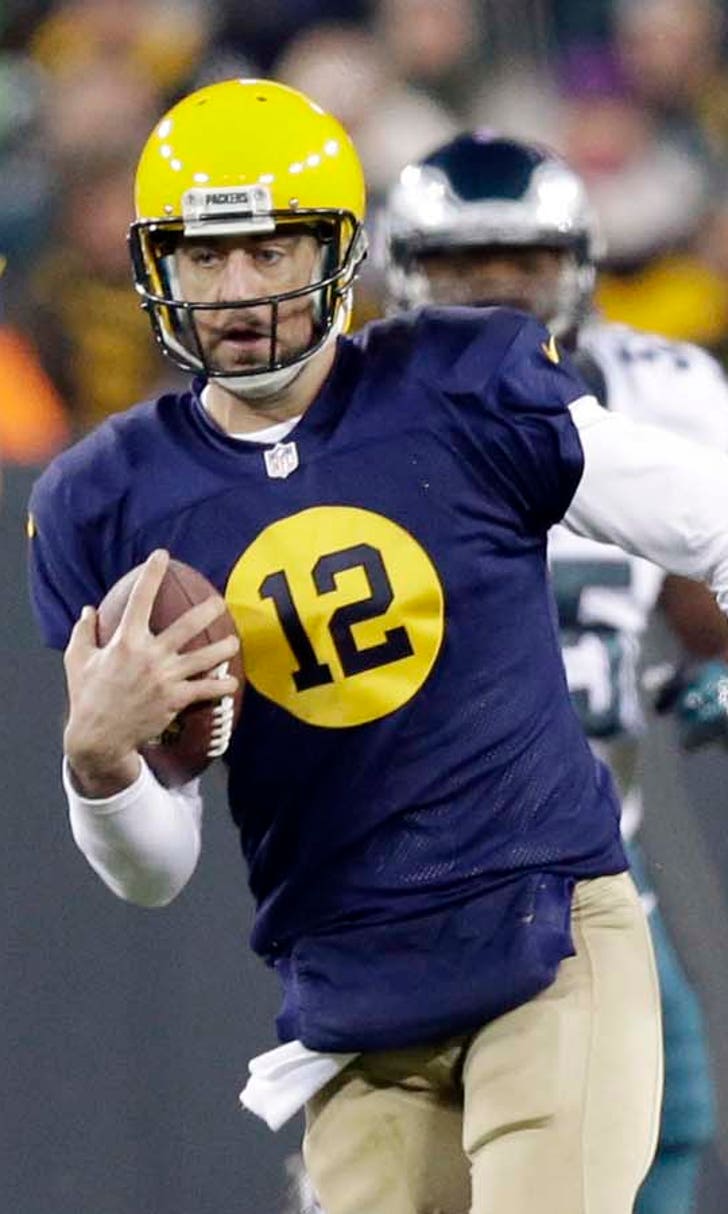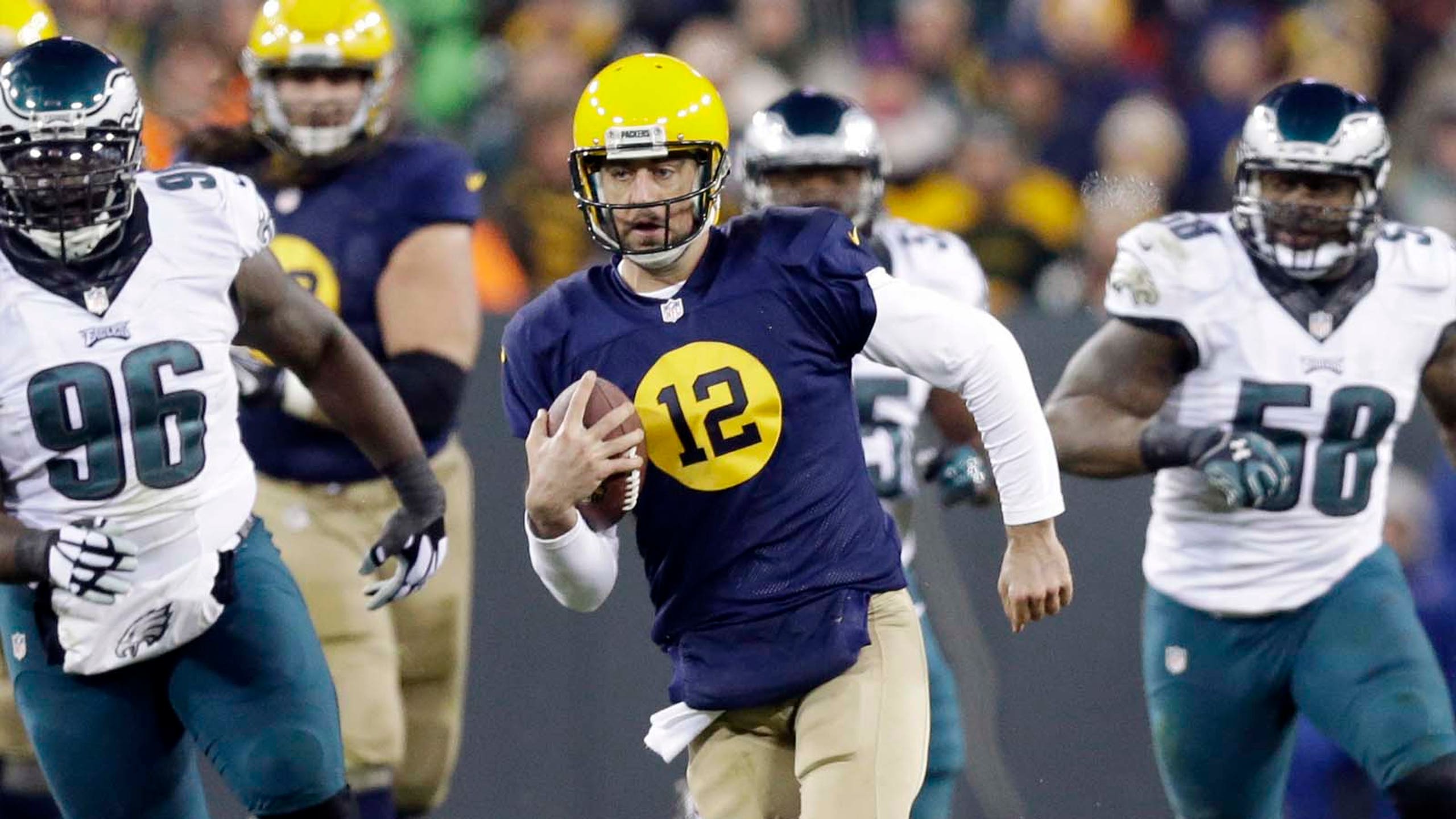 5 things to watch: Packers vs. Falcons
BY foxsports • December 8, 2014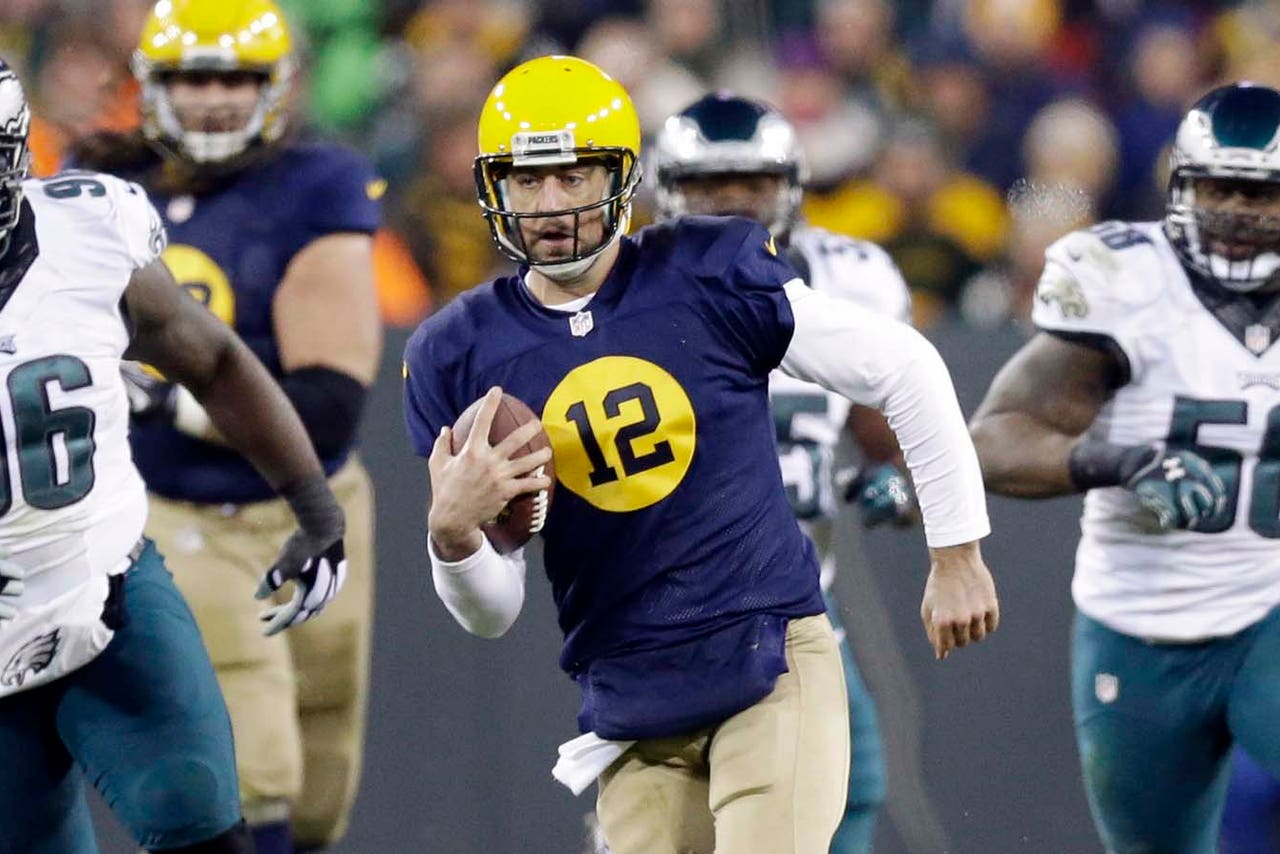 GREEN BAY, Wis. -- Five things to watch for in the Week 14 Monday night matchup when the Green Bay Packers (9-3) host the Atlanta Falcons (5-7) at Lambeau Field:
1. Aaron Rodgers vs. NFL's last-ranked defense
With 32 touchdown passes and only three interceptions this season leading to a league-best 118.6 passer rating, Aaron Rodgers is likely on his way to winning a second NFL Most Valuable Player award. So, what happens when a quarterback with those credentials faces an Atlanta Falcons defense that is ranked last in the league in passing yards allowed and total yards allowed, while also having the second-fewest sacks? That's to be determined Monday night, but it sure is a substantial mismatch on paper.
Atlanta is led in sacks by Osi Umenyiora and Kroy Biermann, both of whom only have 2.5. The Falcons pass-rush rating on ProFootballFocus is 30th out of the 32 NFL teams. Last weekend against the Arizona Cardinals, Atlanta blitzed on 15 of Drew Stanton's 40 dropbacks and it still didn't result in a sack. The Falcons will likely know better than to blitz Rodgers too often. Rodgers' passer rating is better when blitzed (130.9 compared to 112.0 when not blitzed) due to his ability to make plays with his feet and throw on the run. The New England Patriots knew this information well and only blitzed Rodgers on four of his 43 dropbacks. If Atlanta can't generate any pressure without blitzing, though, it may have no other choice but to take some risks.
To make matters more challenging for the Falcons defense, they'll be going up against the league's top-rated (by far) pass-blocking offensive line. ProFootballFocus has the Packers' offensive line rating nearly twice as high as the NFL's second-rated unit, the Dallas Cowboys. Josh Sitton has yet to allow a sack all season. Head coach Mike McCarthy believes this is the best offensive line he's had in his nine seasons in Green Bay. Rodgers agrees with that, as does Sitton. With the amount of time Rodgers has had to throw on many occasions, it's difficult to argue against that.
2. Davante Adams' follow-up performance
In the first three games after the Packers' bye, Davante Adams totaled four catches for 33 yards while playing 128 snaps. That's not nearly good enough for a No. 3 wide receiver on a playoff-bound team. Last weekend was a much different story, however, with Adams posting a career-high 121 yards on six catches. He had 90 receiving yards in the win over New England before either Jordy Nelson or Randall Cobb recorded their first catch of the game. Nelson credited Adams with being the sole reason that the Patriots were forced to change their coverage.
Adams now enters a crucial stretch of his rookie season. Each of the first three times Adams had a good game earlier in the year, he responded with a poor statistical outing. He's yet to have back-to-back high-quality performances. This will be his chance to prove that he's turned a corner in his development. It's not that Adams should be expected to have 100-plus receiving yards every game, but he can't revert back to a game like he had at Minnesota with one catch on four targets for 10 yards.
Nelson and Cobb will continue to be options No. 1 and 2 for opposing defenses to take away no matter what. But as the postseason nears, Rodgers has to know he can count on Adams in every game, not just once out of every four games.
3. Stopping Julio Jones
Arizona's Patrick Peterson signed a $70 million contract this year to play like one of the league's best shutdown cornerbacks. Peterson didn't look like it last week against Falcons star receiver Julio Jones. Of Jones' 10 catches for 189 yards, it was Peterson in coverage on him nearly the entire game.
Green Bay doesn't have a cornerback quite like Peterson, but it's a group of four players that position coach Joe Whitt thinks are all fairly equal. That theory could be tested if Sam Shields isn't cleared from his concussion in time for kickoff. If Shields is out, it would give more snaps to Davon House and Casey Hayward.
The Packers have mostly done well this season against the top NFL receivers they've faced. Brandon Marshall (Week 10) is the only wide receiver to gain more than 100 yards in 2014, and that came in a Packers 41-point blowout victory. Jones already has five 100-plus-yard games and is ranked third in the league in receiving yards.
Atlanta is also expected to get Roddy White back after the 33-year-old receiver missed last week's game. White had between 66 and 100 receiving yards in the five games before suffering an ankle injury. Jones by himself is a significant challenge, but if it's the duo of Jones and White, the Packers will need big performances from the secondary.
4. Matthews vs. Matthews
Clay Matthews will likely start at inside linebacker for the fifth consecutive game and play the majority of his snaps at that position. But he does go back to his old right outside linebacker spot at times, and when he does that Monday night, he'll be staring across at his cousin, Falcons left tackle Jake Matthews.
The sixth-overall pick in this year's draft, Jake Matthews' rookie season has come with a steep learning curve. He is ProFootballFocus' worst-rated offensive tackle in the entire NFL. He's allowed 29 quarterback hurries this season, but he has shown improvement the past two games.
This will be the second Matthews versus Matthews game this season, as Clay faced his brother Casey when the Philadelphia Eagles were in Green Bay three weeks ago.
Keeping an eye on where Clay Matthews is lined up has become a chore for offensive coordinators. He's at inside linebacker, then standard outside linebacker and is then lined up outside of the outside linebacker. He even added the responsibility of being the sole linebacker on the field in the dime package, or what the team is calling the "dollar package." Clay Matthews said this week that maybe it's time for him to start playing offense, too. It will continue to be noteworthy to see where he lines up and find out whether defensive coordinator Dom Capers has anything more in store for the four-time Pro Bowl selection.
5. Lambeau Field dominance
Traveling to Lambeau Field has resulted in a loss for the first six road teams this season that tried their hand at beating the Packers in Green Bay. In those games, the Packers have scored 245 points (nearly 41 points per game average). Most recently, Green Bay defeated two teams that now boast 9-3 records, Philadelphia and New England. While anything can happen in the NFL on any given week, it sure seems unlikely that the 5-7 Falcons would be able to do what the Eagles and Patriots couldn't. Bovada agreed, making the Packers a 13-point favorite.
The weather shouldn't play much of a factor, with no snow expected around kickoff and a temperature in the low-30s with only 5 mile-per-hour wind.
Green Bay is in first place in the NFC North right now, but it has little room to breathe. A loss coupled with the Detroit Lions' win over Tampa Bay could put the Packers all the way back at the No. 6 seed -- or even out of the playoff picture with the seventh seed. It can be debated that Atlanta might not deserve to be in postseason contention at the moment, but leading a division is still leading a division, and that means the opportunity to host a playoff game if the Falcons can hold off the 5-8 Saints and the 4-8-1 Panthers.
Given the chance of making Lambeau Field the venue through which the Super Bowl representative from the NFC must come, Green Bay will need to take care of a lesser opponent. Because as Rodgers said after the win over New England, he would "love home-field advantage . . . a lot." The Packers have to continue to show why that's the case.
Follow Paul Imig on Twitter
---