11 for '11: Megatron sparks Lions comeback
BY foxsports • June 13, 2012
The Following is the 4th in an 11-part weekly series throughout the summer that will focus on the eleven plays that shaped 2011 for the Dallas Cowboys. Every game, about 130 actual plays happen and over the course of a season that number can exceed 2,000. But, we have selected 11 and will pick one each week and break it down from standpoint of "X's and O's" and see what we can learn looking back. The plays are not ranked, simply presented as the season unfolded. We hope you enjoy.

This week, in our 11 plays that shaped 2011 series, we need to visit about one of the plays of sheer, physical dominance that was performed at the expense of the Dallas Cowboys season. But, before we discuss the Lions' Calvin Johnson turning a poor QB decision into a great play for his offense, we need to remember (painfully) how the Cowboys were put in this position in the first place.

This Week 4 game against Detroit helped determine the Cowboys' early season mood. At one point, early in the 3rd Quarter, Tony Romo hit Jason Witten for a touchdown pass that put the Cowboys comfortably ahead, 27-3. But, by the end of that same 3rd Quarter, one in which the Cowboys would run 25 plays and the Lions would run just 8, the margin had shrunk considerably, to 30-17.

And, the game turned -- hard and unpredictably -- on three 1st Down passes. Two from Romo and one from Stafford.

Before we spend time on today's feature play, let us spend a moment discussing the concept of QB decision making with regard to knowing which down it is. Downs, like strikes in baseball, are all equal in literal value. They are each a play. Strike one and strike three are both strikes. But, obviously, strike one is not a very big moment in an at-bat, whereas strike three has very sudden consequences.

The same is very true with downs for a QB and an offense -- 1st Down and 3rd Down are each one play. But QBs are taught that good decisions on a play cannot be judged without knowing the down and distance. On 1st down, we need to be very conservative in our risk level. On 2nd down, we allow a bit more risk, but still err on the side of conservative decision making. On 3rd down, especially late in games, we may have to try to fit the ball into tighter spaces, but for the most part, we need to remember that a punt is almost always better than an interception. Only when you are down to your final bullet in a game do you allow the QB to simply throw caution to the wind and take a low-percentage chance.

And yet, here are two very good QBs, ignoring this discussion altogether. They don't ignore down relevance in their decision making very often. Matthew Stafford, who had a 41 TD/16 INT 2011, threw just 3 1st Down interceptions all season long versus 17 Touchdowns. That 113.5 QB Rating on 1st Downs demonstrates that he is a very intelligent QB who understands on 1st Down to only take what is presented by the defense. Only Aaron Rodgers and Matt Schaub had better 1st Down passer ratings than Stafford.

Romo, with 31 TDs and just 10 INTs overall in 2011, had great 1st Down results as well. He threw 13 TDs against just 4 INTs all season long. Trouble is, of his 4 1st Down interceptions, 3 were quite memorable. The INT to Revis in Week 1 and 2 giant 1st Down interceptions in the 2nd half of a Detroit game in which they had a 27-3 lead and let it all slip away with Romo's poor decisions that led to all sorts of developments (including a more conservative play-calling offense the next game in New England) as 2011 took shape.

Truth be told, we should likely assign one of those interceptions for the breakdown below. Instead, I selected the Lions 1st of 2 4th Quarter Touchdowns to Calvin Johnson for the duty. But, in terms of which plays turned an easy win into a frustrating loss, it was quite clearly a 1st Down interception that was returned for a Touchdown by former Cowboys' LB Bobby Carpenter when he dropped into his zone below a Dez Bryant route and had the ball thrown right to him.

The next possession, on 3rd down and 2, Romo trusted new weapon Laurent Robinson to cross the face of the cornerback Chris Houston on a slant route. This imperative move from the WR never happened, and Houston jumped the slant and returned another pick for a Touchdown, inexplicably closing a 27-3 lead to 27-17 without the Lions offense ever taking a snap.

Late in the game, with the Cowboys holding a 30-27 lead and having the ball with 4:22 to go, at their own 20 yard line, Romo committed maybe his worst pass of 2011. They were just a 4-minute drill from killing off this game despite all of the problems that led up to it, but on 1st Down, saw Jason Witten in a matchup with a linebacker that would be a converted route into a vertical past the safeties. If Romo delivers the ball, it might be an 80-yard Touchdown. Instead, the pocket is pushed back into Romo and he is forced to try to throw a deep pass while leaning on his back foot. He cannot get much on the throw and the ball flutters and falls into the hands of a waiting Lions' LB, Stephen Tollach. It is a perfect example of why coaches must still remind veteran QBs that there are times to try risky passes and times not to. Being ahead in the game and sitting on 1st Down is not one of them. Know the game situation or throw the game away.

Despite those very poor decisions from Romo that the national media would feast on for the remainder of the season, the most memorable play for me from this Week 4 battle was not those picks, nor was it the sack of Romo with 0:35 left in the game when rookie tackle Tyron Smith was tossed aside by Willie Young. That was the only time all year where Smith just looked physically dominated with a bull rush from another Lions' talent along their defensive front.

The play I will never forget -- and I suspect the Cowboys defense would concur with this -- was the play where Megatron made a very poor QB decision look like a brilliant one. Let's examine it.

THE PLAY: 13:47 left in 4th Quarter. Lions 1/10/Dallas 23 - (Shotgun) M.Stafford pass deep left to C.Johnson for 23 yards, TOUCHDOWN. Pass caught back of the end zone.




The Lions are in a very interesting 1st Down personnel package that is labeled "02 personnel". This is a 0RB 2TE 3WR package. Both tight ends are lined up off of right tackle and will both stay in for a maximum protection look. This is not typical of a 1st Down strategy, but perhaps that is why it works so well. They send Titus Young wide right, Nate Burleson wide left, and Megatron is in the slot to the left and is notated with the red circle in Picture #1. (CLICK ON ANY PICTURE TO ENLARGE)

#1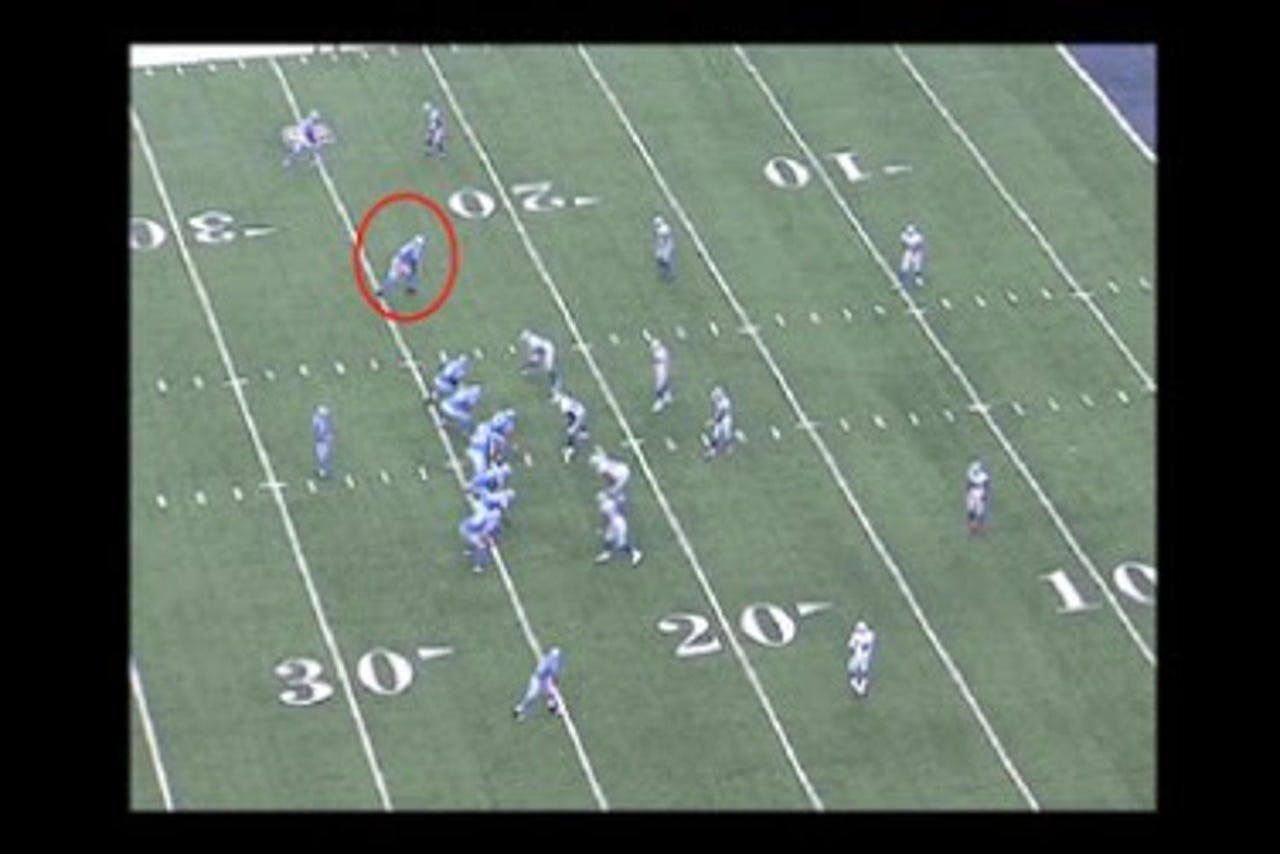 Picture #2 shows a blue circle around Cowboys MLB Sean Lee who is getting a deep drop in his zone, making us think that the Cowboys are in some sort of Tampa 2 with Lee turning his hips at the snap and heading into the deep middle. Alan Ball, the slot corner, is in the shallow zone with Johnson in the left slot. He does not go with the receiver at all, but rather gives him a near free release into the secondary.

#2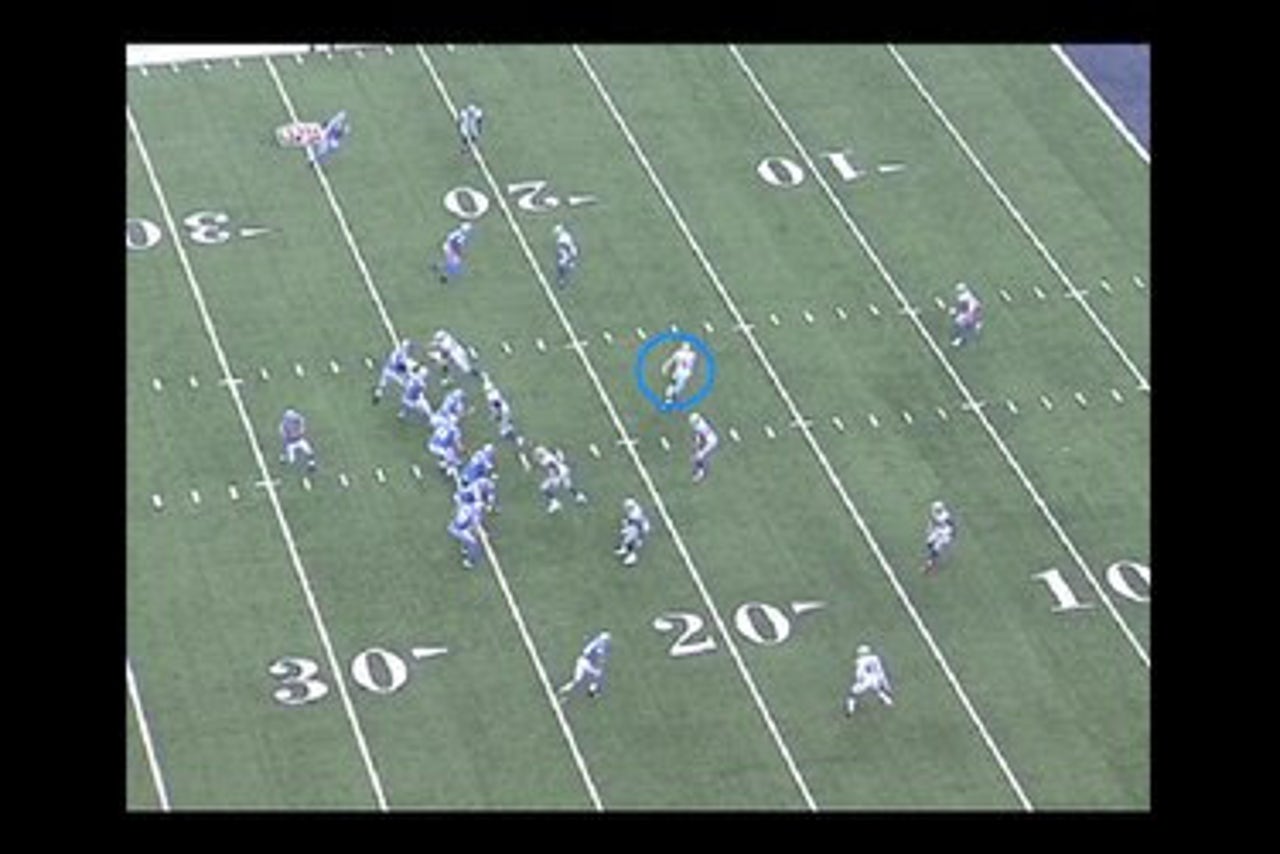 Alan Ball is in for Orlando Scandrick. Also, earlier in the game, the Cowboys lost Gerald Sensabaugh to injury and Barry Church has replaced him as the safety that is over to Johnson's side. The idea here with Lee and both safeties deep is to have a 5-3 zone and have 2-3 bodies around any deep threats. As Ball let's Johnson go, Church - in the white circle on Picture #3 - now takes over on Johnson who can either head to the corner or back to the post.

#3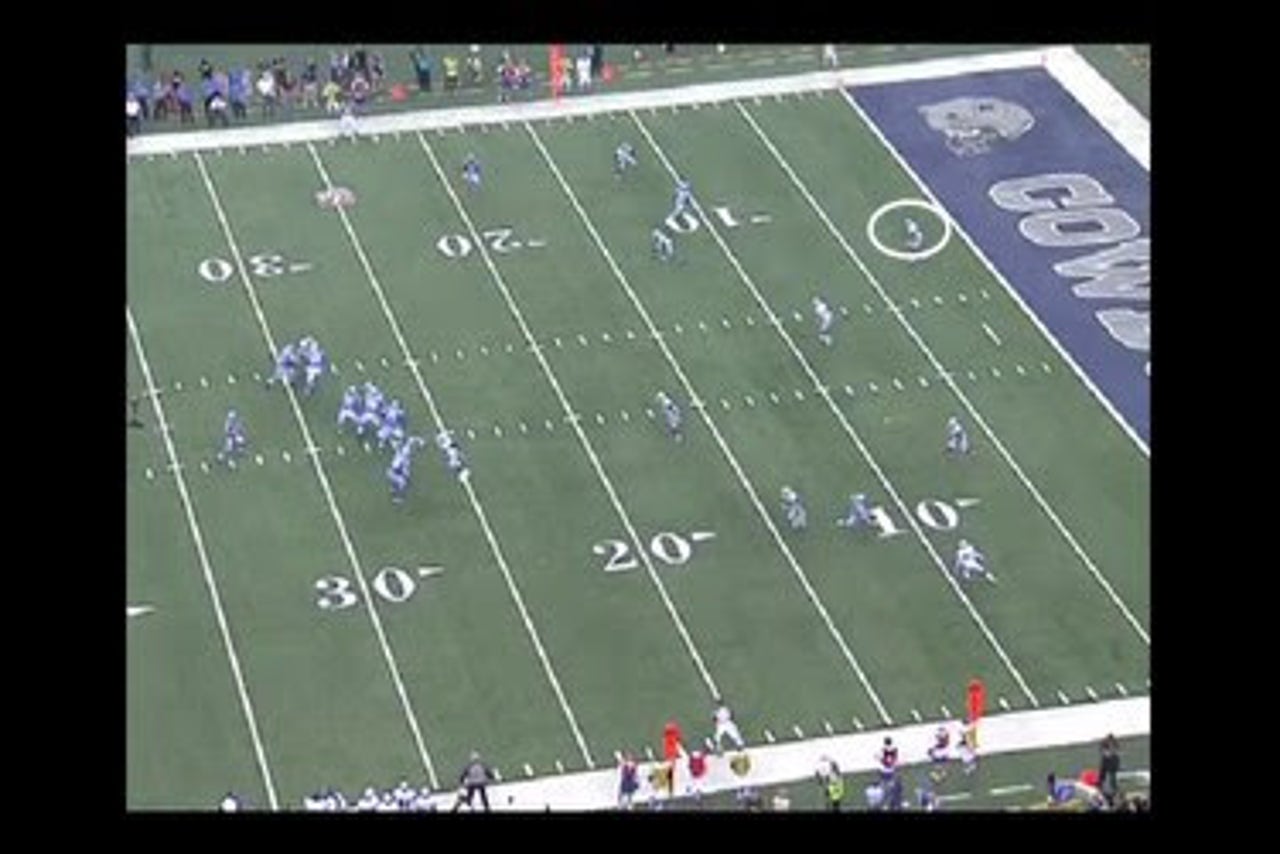 What makes this play frustrating is that since the Cowboys are only rushing 3 against the Lions max protection, that means the Lions only have 3 receivers in routes against 8 Cowboys defenders in the secondary. The Cowboys have no coverage issues here at all, but conversely, Stafford has no pass rush at all with which to bother with. But, picture #4 shows us that Stafford has no business making this throw. We can certainly agree that Johnson can out-leap any player in the league and he is never truly "covered", but from the perspective of the Lions coaches - Jim Schwartz and offensive coordinator Scott Linehan - there is simply no way that they can look at this picture and say the risk is worth the reward on 1st Down. Take the underneath pass in the flat to Burleson and go to 2nd Down. Don't throw away a chance at points by tossing up a jump ball on 1st Down. It makes no sense.

#4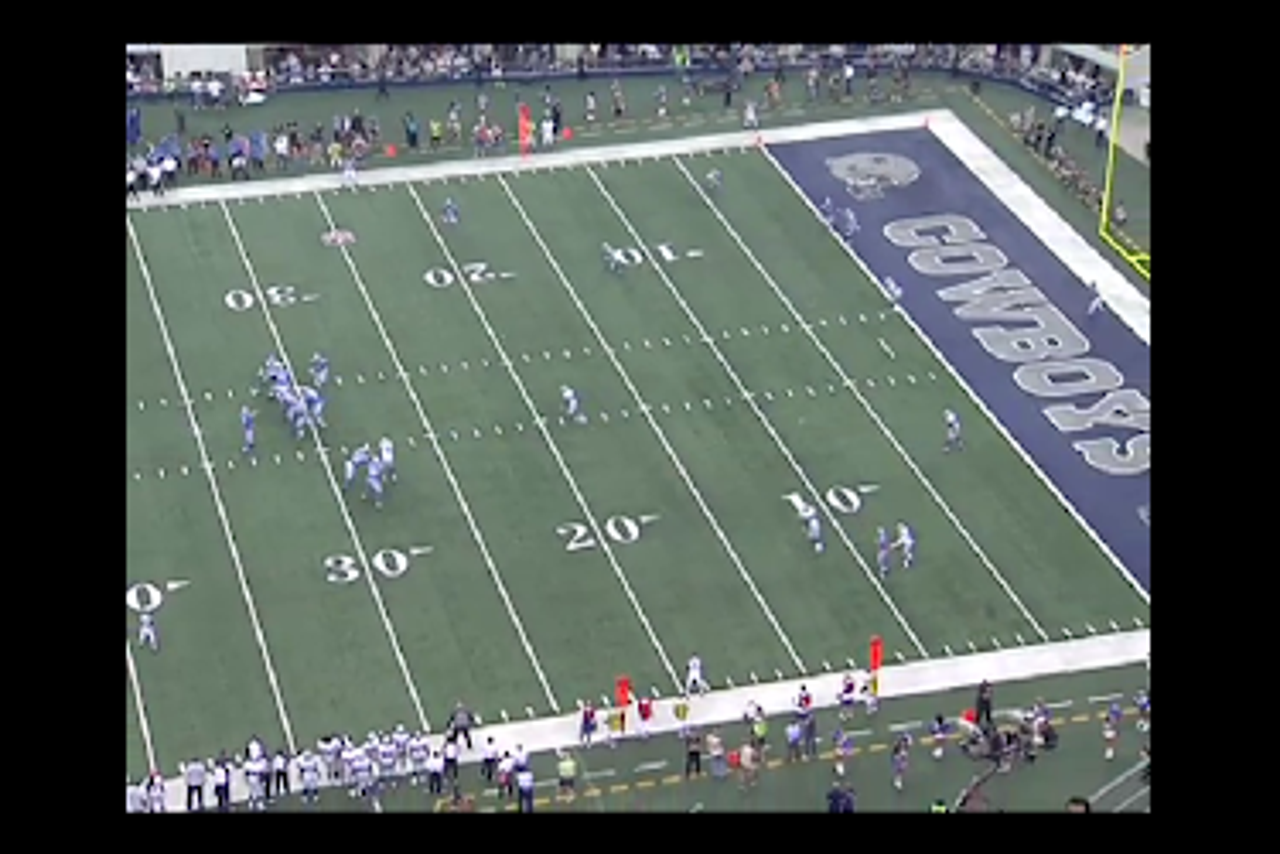 Stafford throws caution to the wind - perhaps because he plays with Johnson every day he knows that if he is going to roll the dice, this is the player to do it with against Barry Church - and lobs a pass up. In Picture #5, Johnson is in hand-to-hand combat with Church, with Mike Jenkins arriving to the outside and Sean Lee. Johnson is able to hold off Church with the arm fighting and time his leap wonderfully. By the end of the play, it looks like a man playing with his kids. It is about as physically dominating a moment as you will see in the NFL.

#5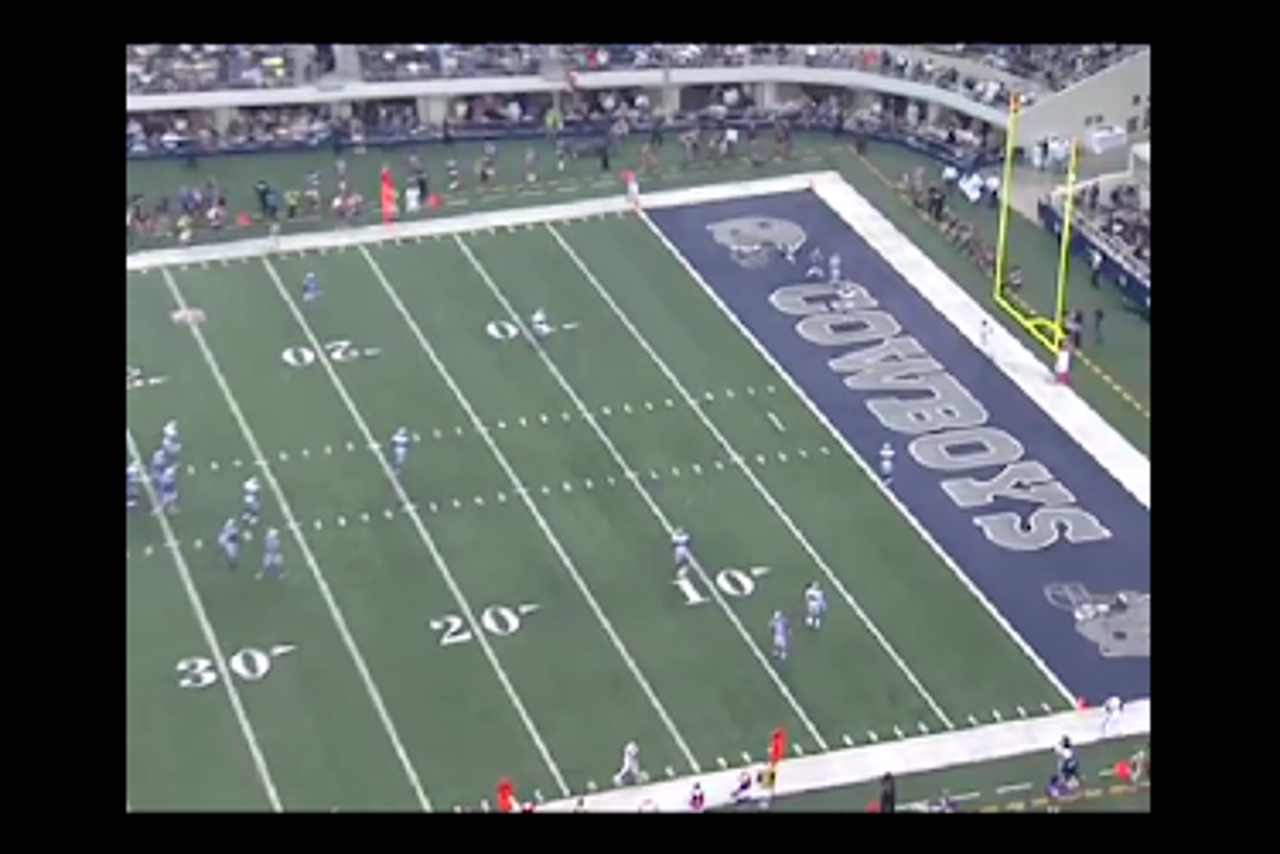 Here is the play from the end zone camera, as the ball is arriving. Again, from the Detroit coaching staff's perspective, this throw is ill-advised. From the Cowboys coaching perspective, this is as covered as a player can get. Now, someone needs to simply knock the ball away. But, when you are facing a player with Johnson's height, strength, speed, and leaping ability, that is significantly easier-said-than-done.

#6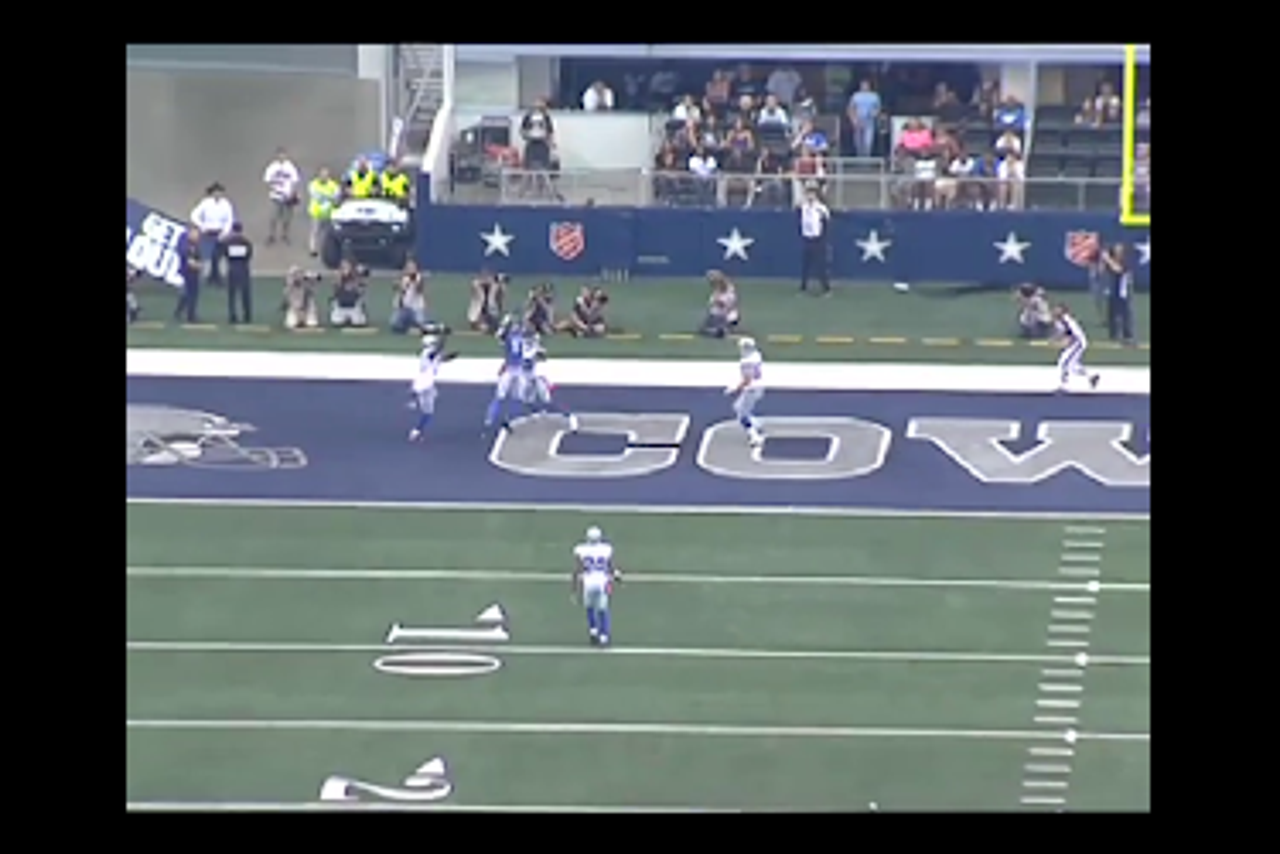 1st Down throws should always be high-percentage throws. Tossing the ball into triple coverage should be as crazy as the throws Romo made on 1st Down. But, Stafford had the wildcard of a receiver that makes all throws to him a high percentage decision. Would Sensabugh have done a better job than Church? I have no idea what he would have tried that wouldn't have either resulted in this same touchdown or a pass interference call. The officials will not call offensive pass interference unless there is a clear push, and on this play, it wasn't a clear push as much as two players fighting for space.

In breakdowns like this, you want to provide alternative ideas for defending that play. But, given the way the Lions defied all strategic decision making and just asked a player to make a play, you might just tip your cap. It was counterintuitive to smart football, but it certainly worked for them on this occasion.

The Lions scored here, Romo threw his 3rd pick on 1st Down with 4 minutes left, and then another TD to Johnson sealed the fate of the Cowboys. Their record fell to 2-2 and on their way to 8-8. Of all of the games they would want back that could have secured the NFC East title, this and the Arizona games would have to be those that really smart.

11 for '11 series:

1. The Revis Interception 2. The Home Run to Holley 3. 3rd And 21 to Dez

---