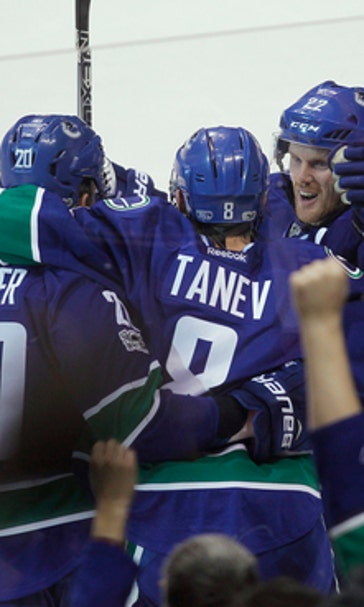 Tanev scores in overtime, Canucks edge Flames 2-1 (Feb 18, 2017)
February 19, 2017

VANCOUVER, British Columbia (AP) After giving up a tying goal in the waning seconds of regulation, the Vancouver Canucks could have been discouraged.
Instead, they quickly regrouped and secured the victory they almost let slip away.
Chris Tanev's goal 34 seconds into overtime gave Vancouver a 2-1 win over the Calgary Flames on Saturday night. Tanev converted a 2-on-1 with Daniel Sedin after Flames captain Mark Giordano scored on a long shot from the boards with 5.6 seconds left in the third period to tie it.
''I got it up to Danny and then I skated as fast as I could. I knew he would get the puck over if I could beat my guy up the ice,'' Tanev said.
The Canucks (26-27-6) moved within four points of the Flames (29-26-4) in the race for the second wild card and final playoff spot in the Western Conference.
Calgary lost for the second time in three games. It was Vancouver's first win in three games.
''That was a good way to win a game - to stick with it and get rewarded. So that might give us some life for tomorrow,'' Canucks coach Willie Desjardins said.
The goal was Tanev's first of the season. Fellow defenseman Alex Edler also scored for the Canucks, who played their first home game following a difficult six-game road trip in the United States.
Vancouver goalie Ryan Miller stopped 35 shots, while Calgary counterpart Brian Elliott made 17 saves.
''We were emotional. We were intense. I thought there was a little bit of a playoff atmosphere out there,'' Flames coach Glen Gulutzan said.
Edler unexpectedly opened the scoring 12:44 into the game on a slap shot from near center ice that fooled Elliott.
''Just probably (a) 5-foot sinker-curveball and not one that you want to give up,'' Elliott said. ''But you can't really get hung up on it. You've got to move on from it, and I thought we did that as a team pretty well.''
The Canucks thought they had scored again during a scramble late in the first, but officials ruled that a referee lost sight of the puck and whistled the play dead before the puck crossed the goal line.
Neither team scored in the second period despite some dangerous chances. Elliott stopped Jason Megna's one-timer from the slot during a power play in the early going. With eight minutes left in the period, Miller foiled Troy Brouwer on a 2-on-1 and, moments later, Calgary defenseman Matt Bartkowski rang a slap shot off the post.
Elliott later thwarted Brendan Gaunce on a partial breakaway and held the puck out with players falling all around him. Elliott also tussled with Troy Stecher after Giordano cross-checked the Canucks player and sent him crashing into the net.
Early in the third period, Miller stopped Brouwer on an in-tight rebound during a Calgary power play. It was the first of two power plays in less than four minutes, but the Flames could not beat Miller. With just more than 12 minutes left, he robbed Brouwer yet again on a one-timer, again from point-blank range.
The Flames had three unsuccessful power-play chances in the third, including one with 2:11 left when Henrik Sedin was sent off for hooking. Gulutzan pulled Elliott in favor of an extra attacker, giving the Flames a two-man advantage.
After the power play expired, Giordano spoiled Miller's shutout bid and sent the game to overtime.
''You get that far and you do get frustrated about handing a point back, but we stepped up in overtime and got it done,'' Miller said. ''Right now, we just needed the win. I try not to dwell too much on the last one.''
NOTES: Late NHL player, coach and executive Pat Quinn, who also coached Canada's men's Olympic team, was honored before the game with a statue unveiled outside Rogers Arena. ... It was the fifth and final regular-season meeting between the teams.
UP NEXT
Flames: At the Nashville Predators on Tuesday in the second of five straight road games.
Canucks: Host the Philadelphia Flyers on Sunday.
---
---