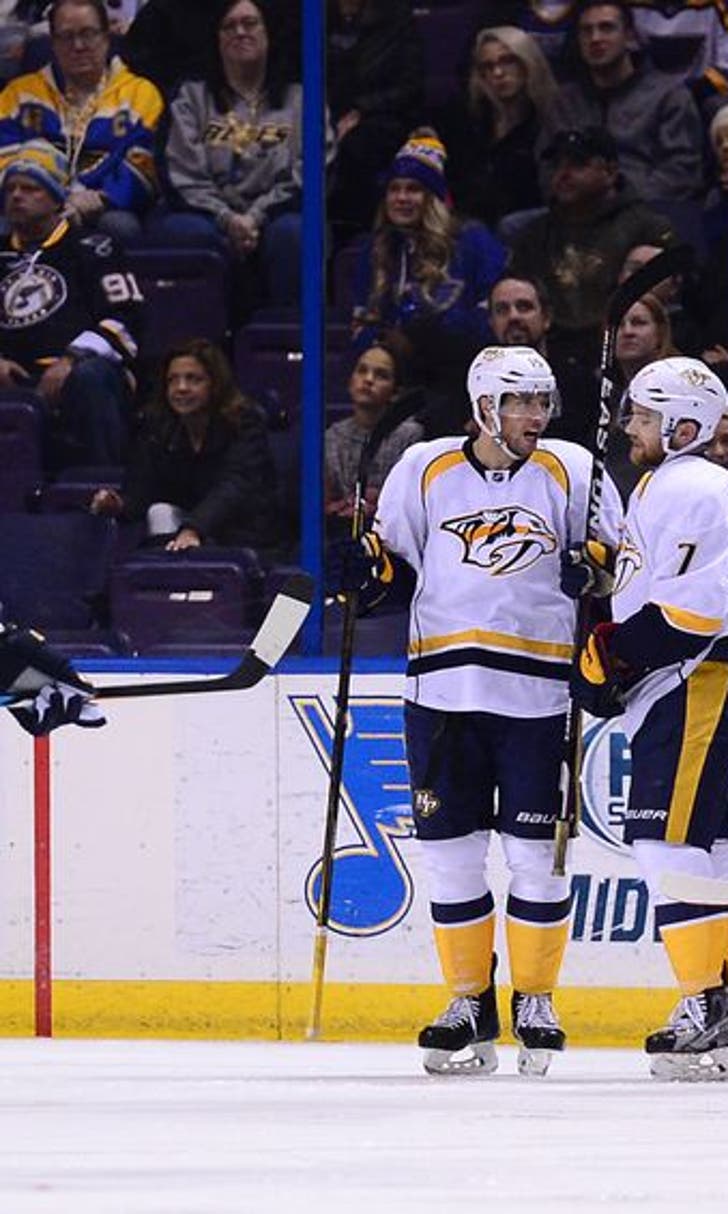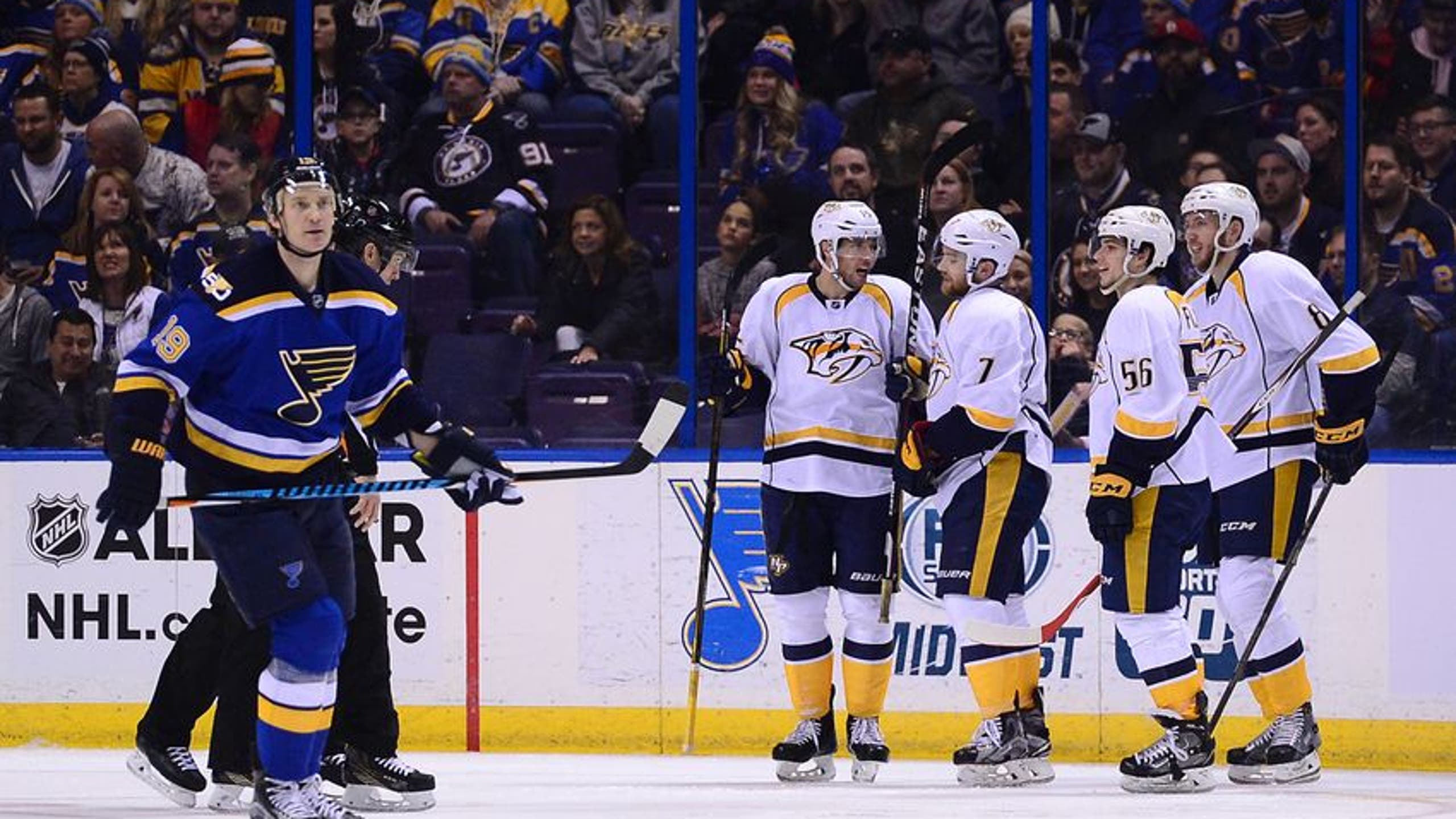 St. Louis Blues Lack Focus And Killer Instinct
BY Fansided and Todd Panula/FanSided via Bleedin' Blue • December 30, 2016
The St. Louis Blues laid an egg, literally and figuratively, against the Nashville Predators. It was basically the nail in the coffin of what many have suspected for a long time.
The St. Louis Blues made a mess in the bed against the Nashville Predators to take a popular saying and clean it up a bit. A 4-0 loss could have been worse and was the culmination of some truly awful play by the team in recent times.
For the first time, perhaps ever, I have been pushed toward the side that says the Blues miss the players they lost last year. Defense remains the main problem of this team, but there just is not any fight in them at times.
That has to come down to leadership. That is not to say Alex Pietrangelo is a bad captain, but there just does not look like anyone in the locker room is capable of shaking this roster up.
David Backes' postgame comments had grown tiresome. It was the same old spiel loss after loss. It only got worse after playoff losses as well.
Nov 22, 2016; Boston, MA, USA; Boston Bruins right wing David Backes (42) scores a goal on St. Louis Blues goalie Jake Allen (34) during the first period at TD Garden. Mandatory Credit: Greg M. Cooper-USA TODAY Sports
That said, you at least got the sense that Backes was chewing someone's butt behind closed doors. You felt that the locker room was holding people accountable and telling them they were not doing enough for the cause.
There doesn't seem to be that with today's St. Louis Blues. Whether they win or they lose, it is the same mistakes over and over again.
I could list them off again, but it has been done so much that it doesn't even bear repeating. This incarnation of the Blues just doesn't seem to get it.
Nobody can pinpoint what the problems might be either. There are plenty of ideas, but none satisfy everyone and some just don't have full logic behind them.
We are at a point where perhaps even the staunchest supporter has to wonder if Ken Hitchcock can do anything to turn this team right. However, when his replacement is already on the bench, you cannot say that Mike Yeo is not part of the problem as well.
If the players are wondering who to look to, then clearly Yeo is not leading them in the right direction either. Some will say he might not be going against Hitchcock's philosophy.
If that is true, then there would be no conflict of who to listen to anyway then. So either the entire coaching staff is part of the problem or not.
Conversely, it does not matter who is the coach at this point. If this team is so fragile that they can't band together for a departing coach or at least attempt to make the coach in waiting look good, then we are in trouble now and in the future.
It is also time for the players and fans to start looking in the mirror. We all have our people we pick on or want to defend. This is a team epidemic though.
Blame Jake Allen if you will. He has not been good enough this season, at least from a consistency standpoint. He has been given next to no defensive support though and both Blues goaltenders have kept even bad games from being God awful scores on many nights.
Pick on Jay Bouwmeester. He is not strong on the puck defensively and still makes odd mistakes. But using his poor play and contract as defense for Kevin Shattenkirk is just silly.
Shattenkirk is just bad defensively on many nights. We can rip on Doug Armstrong all we want, but the truth may be that the rest of the NHL knows that Shattenkirk is nothing but an offensive force and was not going to sell the farm for a one dimensional player.
Taking the focus away from specific players, this team is just insanely inconsistent. They can go from a brilliant six goal offensive night and then get shutout.
Scores change and goals are hard to come by, but when the effort is not there to fight back when you have been slapped in the face, that's not good.
The Blues can't ever take advantage of other team's misfortunes either. Tampa Bay was missing their starting goaltender and a handful of key players and they lit the Blues up for five.
The same was true in the final game of 2016. Nashville was without Pekka Rinne and P.K. Subban.
The Predators were also terrible on the road. You would not have known that when they laid a 4-0 beat down on St. Louis.
The Blues consistently make backup goaltenders look like Hall of Famers.  They seem to always lose games when their opponent is on the wrong end of a back-to-back and the Blues are rested.
There is just something wrong with this team at the moment. Hopefully it is just a middle of the season swoon, but we've been hoping for a turnaround and it just has not happened.
They can't put their foot on anyone's throat. They don't defend well after being one of the better defensive teams last year.
The focus is lax or nonexistent.  There are whispers of the Winter Classic or the media attention being a distraction.  That has been true of teams in the past, but it is very disappointing if true of St. Louis and shows a lack character if you cannot handle a few extra cameras.
Their scoring comes in bunches and then disappears. They don't fight.
That last statement is the scariest of all. Blues teams traditionally, especially the last couple years, fought until the end. You never thought they were out of it and often expected a furious comeback in the third period.
Now, it seems like they lay down. You feel as though there is a shrug of the shoulders and a look to the next game.
You cannot have that if you want to be a champion. Teams are going to have bad nights. It is impossible to summon the same energy for 82 games in a year.
At this point you do have to wonder what this team is capable of. Wins don't alleviate anything anymore and the losses are disheartening.
Who knows.  Maybe sneaking into the playoffs will set up a Kings-style run to the finals (LA was not great in that regular season).
Nobody should give up. That's not what fans do. When your team doesn't follow that advice though, it's hard to keep the faith.
More from Bleedin' Blue
This article originally appeared on
---
---