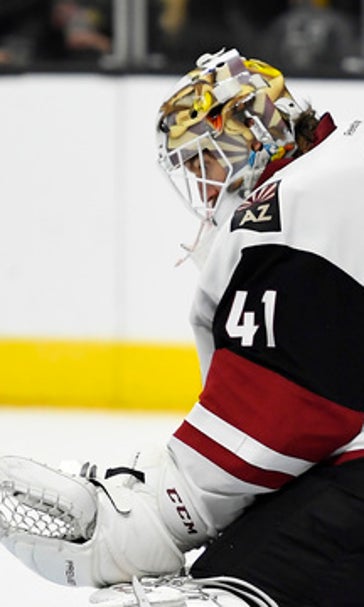 Perlini, Martinook help Coyotes hold off Kings for 5-3 win (Feb 16, 2017)
February 17, 2017

LOS ANGELES (AP) The Arizona Coyotes haven't had many chances to protect a lead this season. They're starting to learn what it takes.
Against the desperate Los Angeles Kings, battling to make the playoffs, Coyotes youngsters Brendan Perlini and Jordan Martinook got prime chances to put those lessons into practice.
Perlini scored twice and Martinook added short-handed and empty-net goals in the third period as Arizona held off the Kings' late attempt at a comeback for a 5-3 win Thursday night.
''If you have a lead more, then you learn more about it,'' said Coyotes goalie Mike Smith, who made 41 saves. ''We've been doing that a little bit more. Sooner or later, we'll figure it out.''
After Tanner Pearson scored midway through the third period to cut the Coyotes' lead to 2-1, Perlini responded with a clever wrist shot. Dustin Brown's goal was answered by Martinook's short-handed goal.
Both goals were the kind of gut checks that the Coyotes couldn't - or wouldn't - have made earlier in the season, Perlini said, but are finally coming as they picked up their fourth win in their last six games.
''It shows how our group has kind of come together,'' Martinook said. ''They score and we score right back. Obviously it kind of kept going that way.''
Tobias Rieder chipped in with his 13th goal of the season and Oliver Ekman-Larsson picked up a point for the fifth consecutive game with his sixth assist in that span.
Pearson scored twice, Brown had a goal and an assist and Peter Budaj had 17 saves for the Kings, who trail Calgary by one point for the second wild-card spot in the Western Conference.
While the Kings were coming off a four-game road trip and their bye week as Staples Center hosted the Grammy Awards, the Coyotes mustered more energy early on. Perlini scored a power-play goal 4:51 into the first period, and Rieder followed up 16 seconds later.
Perlini initially missed completely on his first shot attempt after Radim Vrbata's pass deflected off Drew Doughty, but was able to recover with a shot over Budaj's left shoulder into the top corner. It was Perlini's ninth goal of the season and second on the power play.
''We did that against Calgary the other night,'' Perlini said. ''We knew it's tough coming off a break, obviously. You don't have your legs or whatever, so we tried to capitalize early and did.''
Before the Kings could regroup, Alex Goligoski poked the puck from Brown in the neutral zone to start a wild sequence. Rieder scored over Budaj's right stick side, but the referee initially waived off a clear goal. Josh Jooris then scored as play continued with Budaj buried on his back by a Kings player and a Coyotes player, but it was superseded by Rieder's initial shot following a video review.
''You fell behind a couple early and you are chasing the game,'' Kings captain Anze Kopitar said. ''Like I said, we've just got to play better. When you are down two, you are just trying to push the envelope as much as you can.''
Pearson finally got the Kings on the board with 11:22 remaining in the third period, only for Perlini to notch his second career multigoal game. Brown followed up his own miss to cut the Kings' deficit to 3-2 with 8:53 to play, but Martinook delivered on the penalty kill after Smith hit Brown in the face with his stick in a typically chippy divisional rivalry.
Martinook scored into an empty net with 1:25 left, but Pearson made it a two-goal deficit again with 23 seconds remaining.
NOTES: Arizona scored multiple goals in the first period for the first time since Jan. 21. ... The Coyotes had just three first-period goals in their previous nine games. ... Rookie Adrian Kempe made his NHL debut for Los Angeles, starting alongside Anze Kopitar and Tyler Toffoli. Kempe, who was selected No. 29 overall in the 2014 draft, played 15:18 and put a breakaway shot wide of Smith late in the first period.
UP NEXT
Arizona: Host San Jose on Saturday.
Los Angeles: Host Florida on Saturday.
---
---