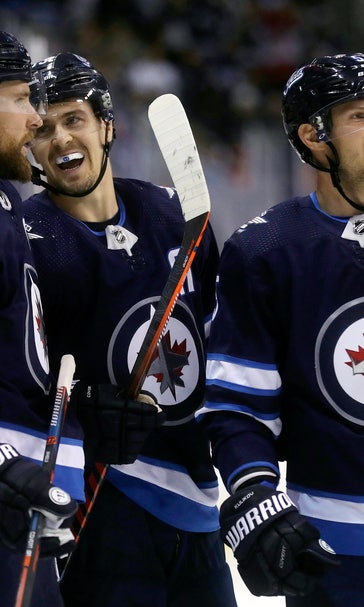 NHL Canadian Teams Capsules
September 25, 2018
MONTREAL CANADIENS
LAST SEASON: 29-40-31, 71 points. Finished sixth in Atlantic Division and missed playoffs.
COACH: Claude Julien (third season, 17th NHL season)
ADDED: F Max Domi, F Tomas Tatar, C Tomas Plekanec, F Joel Armia
LOST: LW Max Pacioretty, F Alex Galchenyuk
PLAYER TO WATCH: Carey Price. The all-world goaltender could be the difference between Montreal being one of the worst teams in the NHL and a playoff contender. He has the ability to steal games and will have to stay healthy and be at his best to have the Canadiens even dreaming about returning to the postseason.
OUTLOOK: Absent a heroic performance from Price, the Canadiens are in rebuilding territory after trading Pacioretty and Galchenyuk and counting on Domi and a youth movement to generate some optimism in hockey-mad Montreal. It's tough to see this as a playoff team on paper, especially with top defenseman Shea Weber out for at least the first couple of months of the regular season.
OTTAWA SENATORS
LAST SEASON: 28-43-11, 67 points. Finished seventh in Atlantic Division and missed playoffs.
COACH: Guy Boucher (Third season, sixth NHL season)
ADDED: F Mikkel Boedker, C Chris Tierney, D Dylan DeMelo
LOST: D Erik Karlsson, RW Mike Hoffman
PLAYER TO WATCH: Mark Stone. Karlsson is gone, Hoffman is gone and the high-scoring 26-year-old forward is one of the only stars left with the Senators as they go into what owner Eugene Melnyk is unafraid to call a rebuild. Stone had 20 goals and 42 assists last season for a team that finished well out of the playoff race and will have to produce at least that much with less talent around them.
OUTLOOK: Pain. It's going to be a rough season in Ottawa and likely several of them after trading two-time Norris Trophy-winning Karlsson to San Jose for spare parts, prospects and draft picks. The Senators are in for a lot of losing and more trades, including pending free agents like Matt Duchene and maybe even Stone to make way for more teenagers and young players.
TORONTO MAPLE LEAFS
LAST SEASON: 49-26-7, 105 points. Finished third in Atlantic Division. Lost to Boston Bruins in first round of playoffs.
COACH: Mike Babcock (Fourth season, 16th NHL season)
ADDED: C John Tavares, F Tyler Ennis
LOST: LW James van Riemsdyk, C Tyler Bozak, F Leo Komarov, F Matt Martin, D Roman Polak
PLAYER TO WATCH: Tavares. Even on a team with Auston Matthews, all eyes are on Tavares after the Toronto native signed a $77 million, seven-year contract to play for his hometown Leafs. He's a point-a-game playmaker, and with Matthews and Nazem Kadri following Tavares down the middle of the lineup, Toronto has arguably the best center depth in the league.
OUTLOOK: The Maple Leafs are a legitimate Stanley Cup contender for the first time in the salary-cap era that began in 2005. The goaltending of Frederik Andersen has to be on point, and the suspect defense has to perform, but Toronto should make the playoffs easily and could become the first Canadian-based team in the final since Vancouver in 2011.
WINNIPEG JETS
LAST SEASON: 52-20-10, 114 points. Finished second in Central Division. Lost to Vegas Golden Knights in Western Conference final.
COACH: Paul Maurice (Sixth season, 21st NHL season)
ADDED: G Laurent Brossoit
LOST: C Paul Stastny, F Matt Hendricks, F Joel Armia, G Steve Mason
PLAYER TO WATCH: RW Patrik Laine. The Finnish phenom's 44 goals were second in the NHL last season to Alex Ovechkin' 49, and he's only 20 years old. Maurice thinks Laine's game is becoming more mature and well-rounded, and it has to be to carry the Jets back to title-contending status. Laine also could score 40-plus goals again because his shot is just that wicked.
OUTLOOK: Winnipeg has been on the rise in recent seasons and should be even better after its playoff run ended in the West final in five games. With Mark Scheifele, Blake Wheeler, Bryan Little and Dustin Byfuglien still in their primes, and Laine, Nikolai Ehlers, Joshua Morrissey and goaltender Connor Hellebuyck still improving, the Jets are among the favorites to come out of the West — if they can get past Nashville again.
CALGARY FLAMES
LAST SEASON: 37-35-10, 84 points. Finished fifth in Pacific Division and missed playoffs.
COACH: Bill Peters (first season, fifth NHL season)
ADDED: F James Neal, D Noah Hanifin, F Elias Lindholm
LOST: D Dougie Hamilton, F Micheal Ferland, RW Troy Brouwer
PLAYER TO WATCH: LW Johnny Gaudreau. Calgary's top line of Gaudreau, center Sean Monahan and anyone on right wing can be one of the best in the NHL. The 5-foot-9 playmaker from South Jersey is primed for another big season after putting up 84 points in 80 games. It's no exaggeration to say he has become one of the best players in hockey.
OUTLOOK: The Flames should be much improved after firing coach Glen Gulutzan, replacing him with Peters, trading Hamilton and Ferland to Carolina for Hanifin and Lindholm and signing Neal. Captain Mark Giordano can go back to playing with old defense partner T.J. Brodie on a deep blue line. Calgary's playoff hopes rest on veteran goaltender Mike Smith in net, or, if he falters, 24-year-old Jon Gillies.
EDMONTON OILERS
LAST SEASON: 36-40-6, 78 points. Finished sixth in Pacific Division and missed playoffs.
COACH: Todd McLellan (Fourth season, 11th NHL season)
ADDED: D Jakub Jerabek, G Mikko Koskinen
LOST: D Eric Gryba
PLAYER TO WATCH: C Connor McDavid. Last season's Art Ross Trophy winner with a league-high 108 points, McDavid also won the Ted Lindsay Award as the most outstanding player as voted by the NHLPA. McDavid is the fastest, most dynamic and best player in hockey and is must-see entertainment every time he steps on the ice. Watch him as much as possible.
OUTLOOK: Who knows? McDavid can't carry the Oilers to the playoffs by himself, and general manager Peter Chiarelli didn't do anything to shake up Edmonton's mix after such a disappointing year. Goaltender Cam Talbot needs to rebound and a young, unproven defense must be significantly better for playoff hockey to return to Edmonton.
VANCOUVER CANUCKS
LAST SEASON: 31-40-11, 73 points. Finished seventh in Pacific Division and missed playoffs.
COACH: Travis Green (Second season, second NHL season)
ADDED: LW Antoine Roussel, C Jay Beagle
LOST: LW Daniel Sedin, C Henrik Sedin
PLAYER TO WATCH: RW Brock Boeser. In the post-Sedins era, the Canucks have a budding superstar in Boeser, who led them with 55 points in 62 games last season as a rookie. The sharpshooter from Minnesota should just be getting started and is a bright spot for a Vancouver team without a lot in the present to get excited about.
OUTLOOK: Probably a fourth consecutive season without a trip to the playoffs. Canucks general manager Jim Benning continues making stopgap moves to help Vancouver avoid bottoming out, but at some point, that needs to happen to build up the kind of next-generation talent needed to get back to contending again. It's not there yet.
---
---